Michelin-Starred Chefs Serve Rustic 9-Course Tasting Menu Under Sweden's Northern Lights
Stars du Nord brought the culinary celebs together in remote Swedish Lapland for the posh pop-up.
In a remote clearing in Swedish Lapland near the Arctic Circle, nine Michelin-starred chefs are racing around to various fire pits and makeshift prep stations, plating rustic-looking delicacies for diners perched on stools carved from tree trunks.
What's remarkable is not only the isolated majesty of the location, but the way the men and women—gastronomic celebrities in their own right—work together on each course, an all-hands-on-deck approach necessitated by the lack of electricity and kitchen equipment.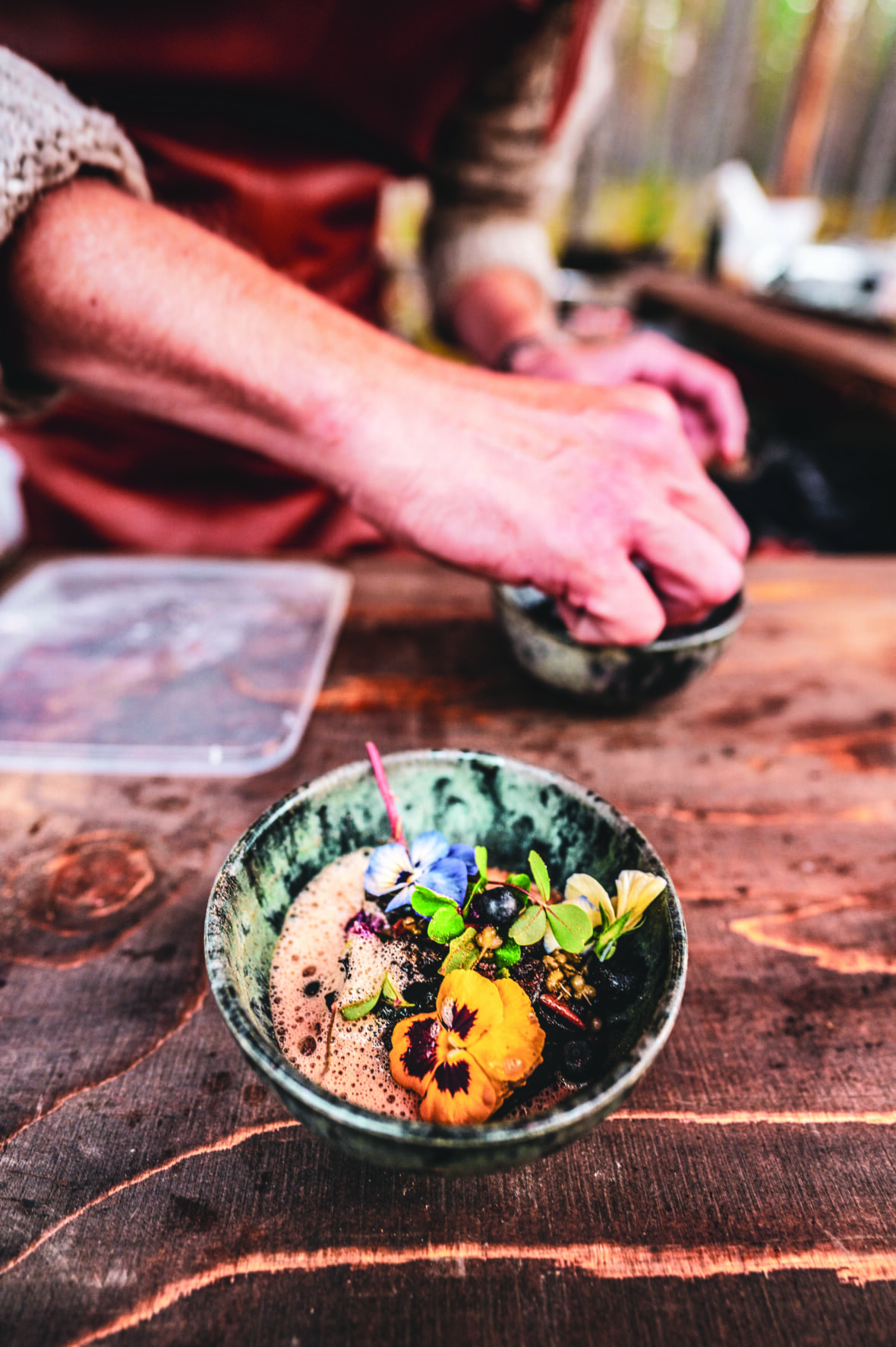 The cooking utensils and methods run the gamut from rough hewn to downright medieval, as the chefs from Sweden, Denmark, Finland, Norway and Iceland successfully execute a nine-course tasting menu that's been almost a year in the making.
For the two night-only, $700 per person pop-up, part of the nascent Stars du Nord dining concept, everything was sourced and foraged within a 120-mile radius from the surrounding woods, mountains, and sea, and prepared using only traditional methods, including fermentation, fresh spring water, and open fire.
Torsten Vildgaard, formerly of world-famous Noma in Copenhagen, prepared tartare of reindeer heart dressed with porcini marinade and topped with fried ants. Tommi Tuominen, of Finnjävel in Helsinki, roasted lamb under hot coals for six hours in a deep pit using a Finnish technique the name of which translates to "bandit roast."
And Nicolai Tram of Knystaforsen, a Michelin-starred open-fire restaurant housed in an old sawmill in southern Sweden, prepared reindeer meat using a flambadou, a cone-shaped cast iron tool from the Middle Ages that he made red hot in order to ignite and melt fat, searing the meat in the process.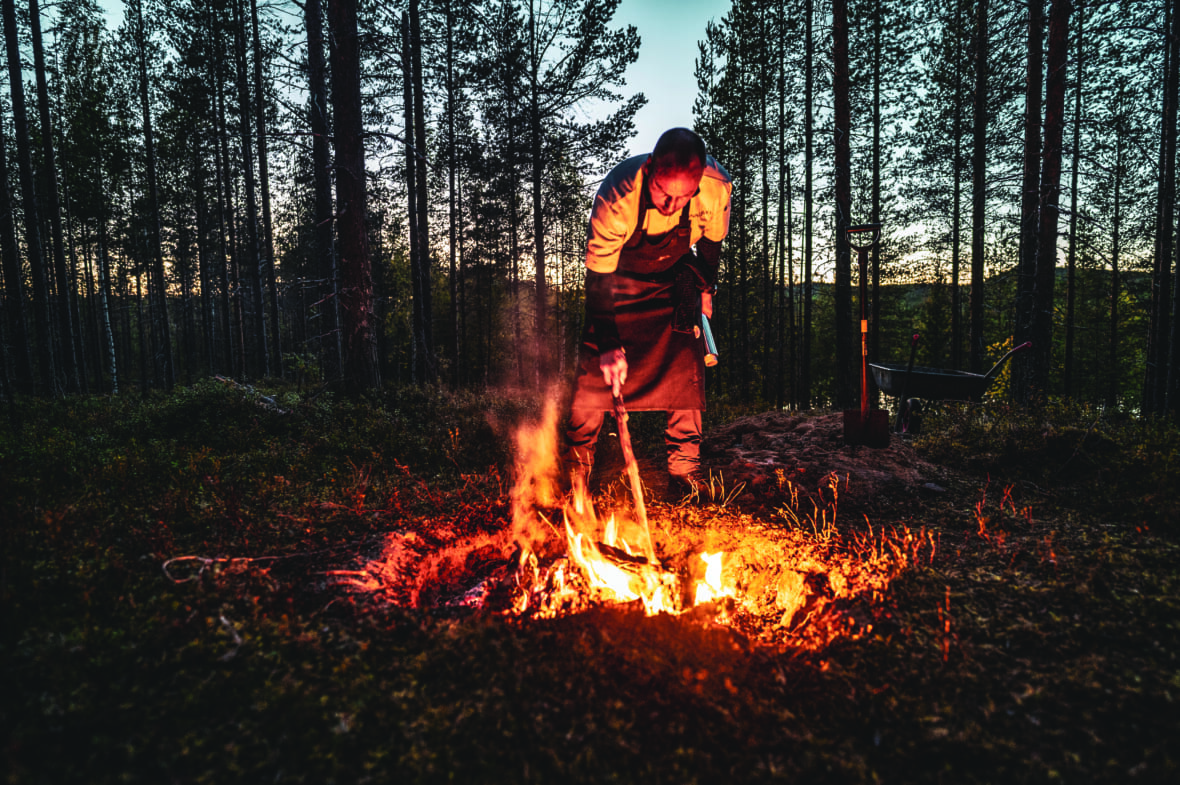 Other courses featured the likes of fresh cut grass, moss, pine cones and foraged berries, chanterelles and other fungi, with tasting notes such as "like licking the forest floor." Each course was paired with wine from the Nordic region curated by Ellen Franzén, the area's reigning sommelier. Northern Scandinavia is "well on its way to becoming the new Napa Valley," the event's founder Caroline Thörnholm tells us.
The idea behind Stars du Nord, she says, was to "create a platform for Scandinavia's most cutting-edge Michelin chefs to take a journey back to nature and rediscover our food heritage." As for the location (which is set to rotate through Scandinavia year by year), "Swedish Lapland has always been well known as 'the wild pantry of the North," and in many ways has helped shape the Nordic kitchen to where it is today," Thörnholm says.
"The chefs truly got to showcase sustainable gastronomy on a macro level under the stars. It was impossible dining made possible."
As if on cue, at the conclusion of the meal, as darkness fell, the northern lights (aurora borealis) burst forth in the skies above, sending out shockwaves of brilliant green, white and purple. We were not far from the spot in Lapland named by Lonely Planet as the best place in the world to experience the phenomenon, which occur from August to April; and polar light research stations abound in the nearby Arctic Circle. None of which made it seem any less otherworldly.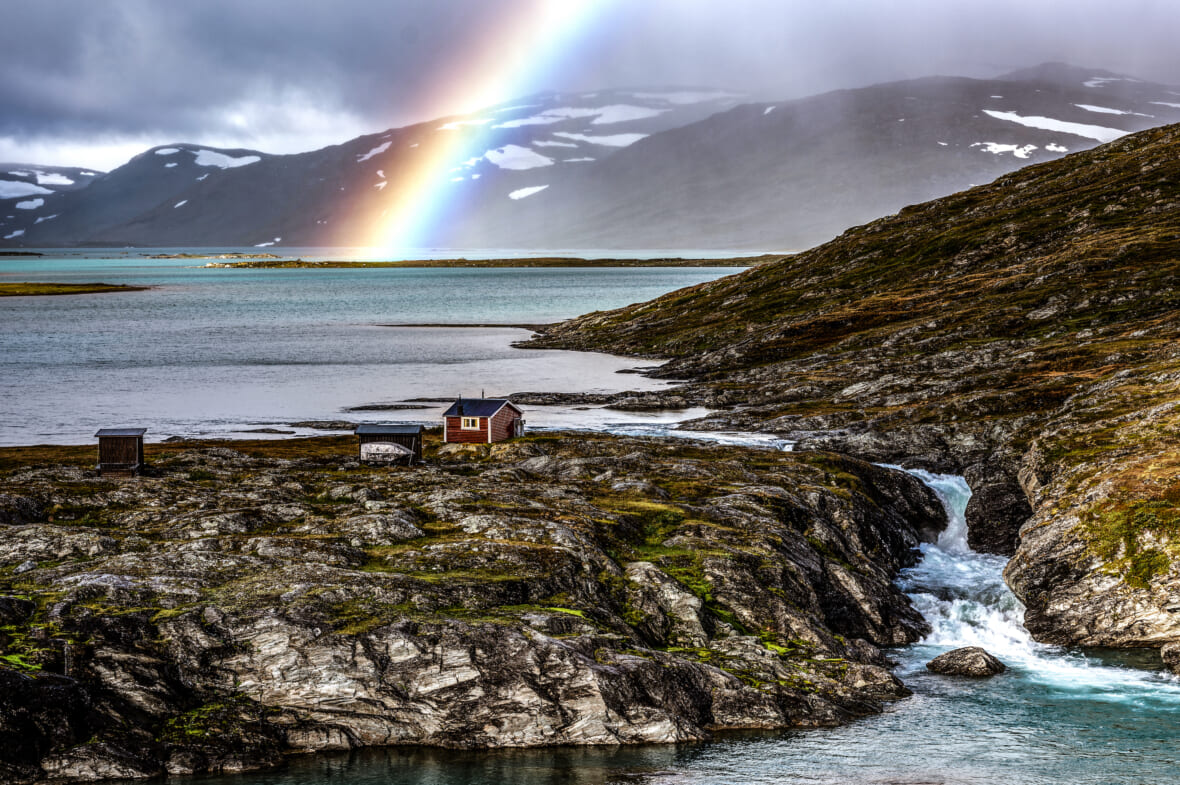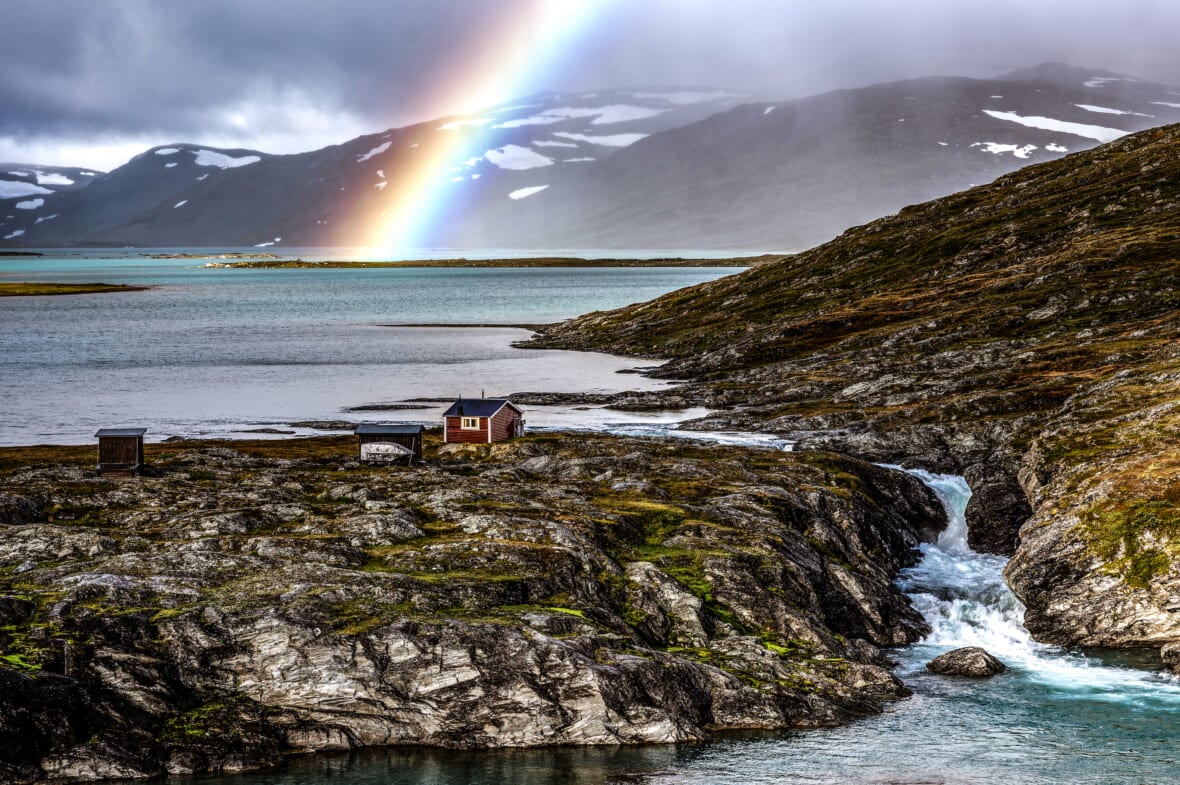 At one point in the evening, Knystaforsen's Nicolai Tram, wearing a leather apron and alpine-green hat, barked a command: "Now build a big ass fire!"
One of the undisputed masters of wood-fire cooking in Sweden and the author of an acclaimed book on the subject, Tram describes his cooking style as "New Nordic, which means that I only work with ingredients found in my local area and foraged in nature," in "constant collaboration with the flames. It is not the kind of kitchen that is the most normal today, but if you go back 100 years, it was this kitchen that was the most widespread in our latitudes."
More locally, chefs like Simon Laiti of Hemmagastronomi and Jón Óskar Arnason of Bryggargatan have put Lapland on the culinary map.
Condé Nast Traveler's Lane Nieset recently called the region "Scandinavia's most interesting dining destination," noting: "It's here that fishermen source the traffic cone-orange caviar, Kalix Löjrom—dubbed the 'gold of the north'—the country's first food product to receive protected designation of origin status; the forest offers roadside dandelions, for frying or pickling, pure birch sap to be concentrated into a balsamic-style sauce, and pine bark that can be ground into a fine flour for bread. Fresh Arctic char and reindeer are protein sources; foraging, smoking, pickling, and salting, long-honed techniques."
Home to several UNESCO World Heritage sites, eight national parks, and an abundance of wildlife, as well as around 100,000 wild salmon which ascend the Torne River every summer, its easy to see Swedish Lapland's draw for chefs, and increasingly, distillers.
Jón Óskar Arnason is both, having followed up his success with Bryggargatan in Skellefteå, where tables are booked months in advance, with the launch of Ógin, a range of gastronomic, gin-style spirits made exclusively with locally-foraged ingredients and aged in Swedish oak barrels. Naturally it pairs extremely well with the local fish and game.
"I spend a lot of my spare time hunting," Arnason tells us. "I hunt a lot on my own hunting ground, but I also organize hunting trips with friends and business partners. The ptarmigan hunt is my favorite, a week of hanging out with friends in the wild Lapland mountains. And I serve everything that I hunt in my restaurant, from wild duck to moose." At other times he can be found foraging.
"When I started the Ógin distillery, I really wanted to explore the nature around me, the subarctic flora with all its amazing botanicals and berries," he says. "My theory is that the long summer days we have here due to the midnight sun"—when essentially, the sun never sets—"combined with relatively low temperatures even during summer, gives everything that grows here a unique and intensive flavor profile."
Hemmagastronomi's Simon Laiti is also an avid hunter whose bag of game birds often end up on his restaurant's menu. "All the best things come from Lapland," he told us over dinner at his beautiful waterfront dining space in Luleå, to which he recently added an impeccable gourmet market.
"That's why I moved back here after working in Michelin restaurants in the south." Laiti has his own farm, and is intimately connected with the local growers and fishermen who supply anything else he needs.
With destination dining on the rise in Lapland, design-centric hotels such as the iconic Icehotel and Treehotel have now been joined by the likes of the Arctic Bath in Harads, a member of the prestigious, globally-renowned Small Luxury Hotels of the World (SLH); The Wood Hotel in Skellefteå; and Niehku Mountain Villa in Riksgränsen near the border with Norway, offering visitors world-class accommodations with a uniquely Nordic flare that can't be found elsewhere.
Nor are they merely "so hygge it hurts" temples to the sort of Scandinavian design seen in the Styles section of the New York Times.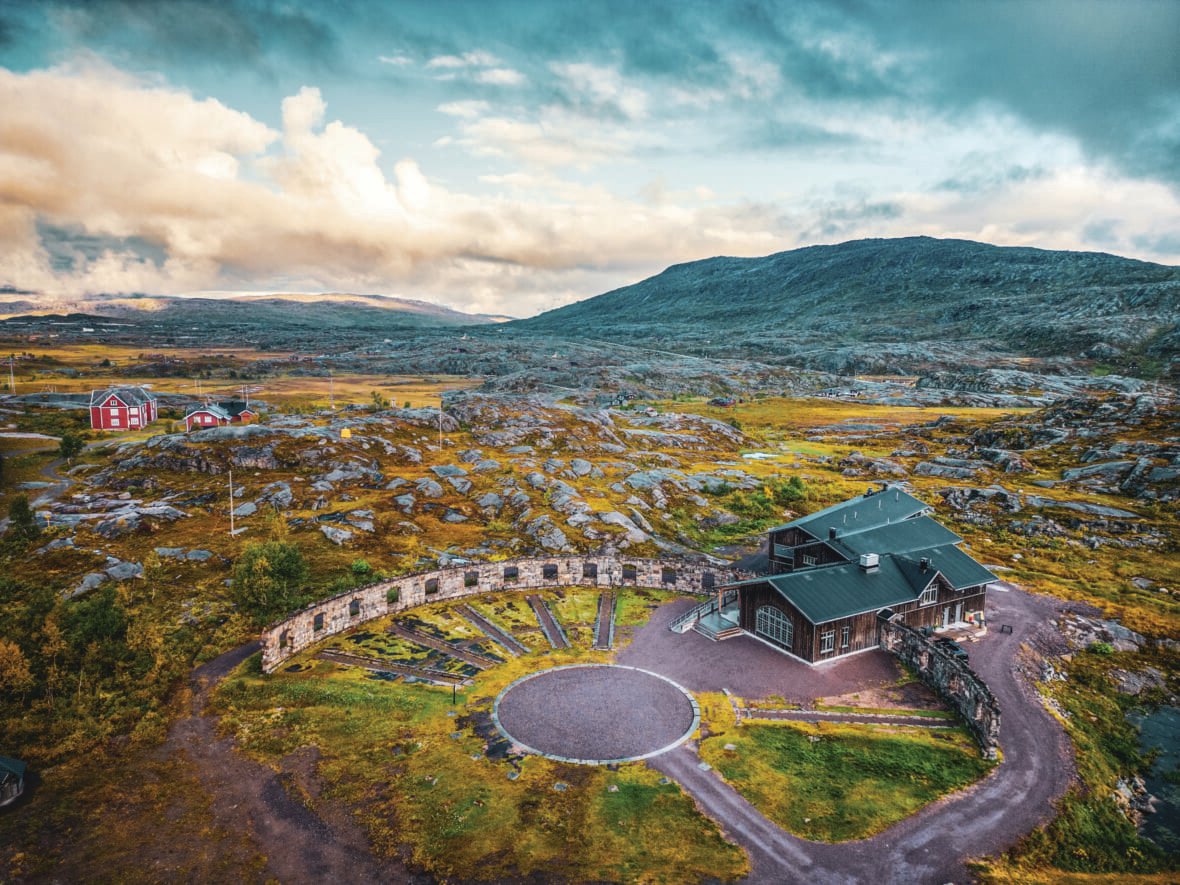 At Niehku, on the site of a century-old railway depot built of stone blocks where steam locomotives were once overhauled, you can literally lie in bed and look at the Northern Lights. Heli-skiing is ostensibly the main attraction—Lapland is also home to the world's toughest cross-country ski race—though co-owner Thomas Eidefors has helped turn it into a temple to new Nordic food and fine wine, with an impressive glass-topped cellar located under the floor of the main dining room accessible via hydraulic staircase.
On the day we visited, reindeer stew and French grower champagne was served for lunch to a soundtrack by Charlotte Gainsbourg while a massive cast iron wood stove roared away.
"My colleague, cofounder and mountain guide Jossi Lindblom grew up in a village close by, and decided after numerous years of traveling the world guiding skiing and heli-skiing, that coming back to the roots and his childhood backyard, with its beautiful, vast, uncrowded terrain, was the best place to create the unique concept of Niehku," which means "dream" in the native Sami language, Eidefors tells us.
Niehku received UNESCO's Prix Versailles for the world's best interior in the hotel category in 2019; this is rugged elegance at its best, an ethos also found at Arctic Bath, just south of the Arctic Circle on the Lule River, where we established base camp during the Stars du Nord event.
The stunning 12-cabin hotel and spa with a main lodge influenced by the "timber floating" era, when woodsmen used the river to transport logs, sits atop the water and is open year-round; in winter the thick ice has to be cut so adventurous bathers can take a plunge before beelining it for the traditional Swedish sauna. Its small but excellent restaurant serves a five-course tasting menu influenced by its setting that changes with the seasons.
Nearby at the Treehotel, which has played host to supermodels Kate Moss and Karlie Kloss among others, eight suspended and cantilevered structures make up the magical accommodations, each designed by a different Scandinavian architect, including Danish star Bjarke Ingels.
At other, more rustic but no less appealing places to stay in Lapland, teams of husky dogs provide the primary means of transportation, as opposed to the helicopters that regularly touch down at Niehku and the Treehotel.
Whatever method of conveyance you choose, your chief concern is likely to be figuring out how soon you can find your way back to the land of the northern lights and the midnight sun.
This article originally appeared in the Jan/Feb 2023 issue of Maxim magazine.