Pappy Van Winkle Unveils 6 Limited Edition Bourbons
The coveted bourbon brand is celebrating 20 years of partnering with Buffalo Trace.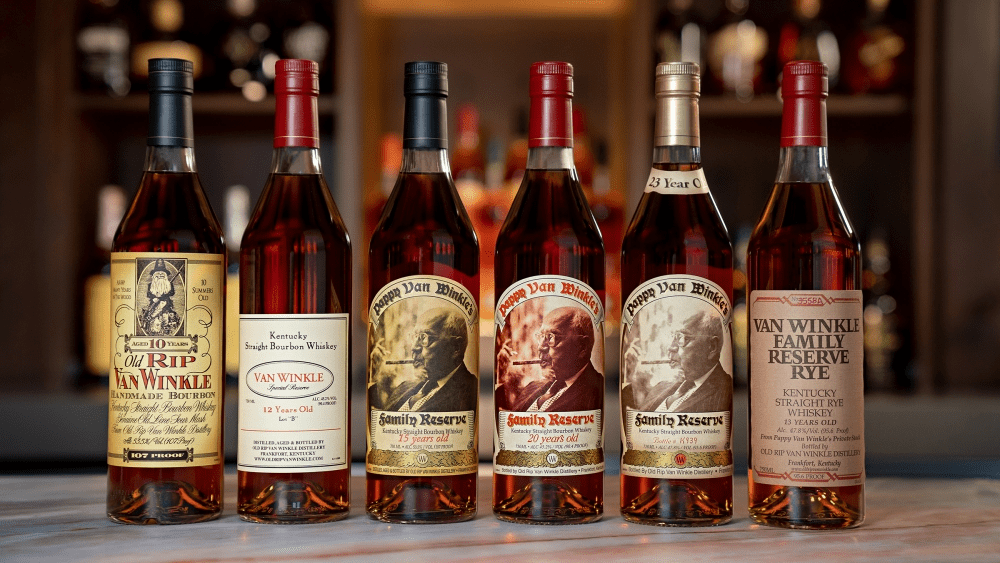 If you've been searching high and low for some of the best bourbon on the planet, your search just acquired a new target: Buffalo Trace just announced a highly coveted set of 2022 releases of famed Pappy Van Winkle whiskey, and rarity remains the name of the game.
The announcement arrives in conjunction with 20 years of the Van Winkle family's partnership with Buffalo Trace (the production, aging and bottling of all of its whiskey), and the market for Pappy has only grown exponentially since then.
Bottles of Old Rip Van Winkle 10-Year, for instance, can sometimes fetch close to $1,300 through retailers, and this year's slate promises to be no less covetable.
Notably, collectors and whiskey enthusiasts covet the Van Winkle approach for its use of a wheated recipe that allows for longer aging (that includes this year's Pappy Van Winkle's Family Reserve 23-Year-Old Bourbon), and bottles go for often-astronomical amounts on the secondary market.
Those looking to track down bottles of the "good stuff" at a more agreeable price might set their sights on a release like the Van Winkle Special Reserve Bourbon 12-Year-Old, with tasting notes focused on praline, butterscotch and toffee, with a suggested retail price of $79.99.
Helpfully, Buffalo Trace notes that a slightly higher number of Van Winkle bottles will be available this year in most every Van Winkle expression, thanks to more whiskey set aside for aging more than a decade ago.
This year's slate of releases includes the praiseworthy Family Reserve 15-Year-Old, which Buffalo Trace touts as an "opulent and flawless bourbon that takes wood and distillate to its absolute pinnacle."
It also features a price tag to match, with an MSRP of $119.99. Releases like the 2022 Family Reserve Bourbon 20-Year-Old clock in at an MSRP of $199.99, while the 23-year expression retails for $299.99.
There's no denying that Van Winkle releases are coveted, hard to find and worthy of the hype — as Buffalo Trace and Van Winkle wisely note, despite the higher whiskey yield than normal, "bottles will be hard to find in stores, bars and restaurants."
That's an understatement: Whiskey enthusiasts, keep your eyes peeled carefully and accordingly. If you're lucky, you'll need to make room in your bar cart.