Pedialyte Debuts New Packets That Are 100% Hangover Cures For Adults
"Pedialyte can help with the dehydration you may experience after a couple of cocktails."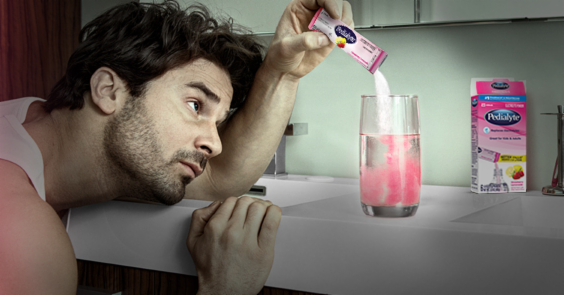 Pedialyte
Pedialyte, the brand of low-calorie electrolyte drinks originally designed to help sick children rehydrate, is leaning into its once-underground status as a hangover cure for adults. 
Just in time for New Year's, Pedialyte manufacturer Abbott is launching a fortified bubbly drink mix called Sparkling Rush powder packs.
"If you look at the U.S. retail landscape, you see this tremendous growth in sparkling water," Chris Calamari, vice president of pediatric nutrition at Abbott, told USA Today.
"You get the electrolytes you need with that great tasting fizz. It's a really exciting product."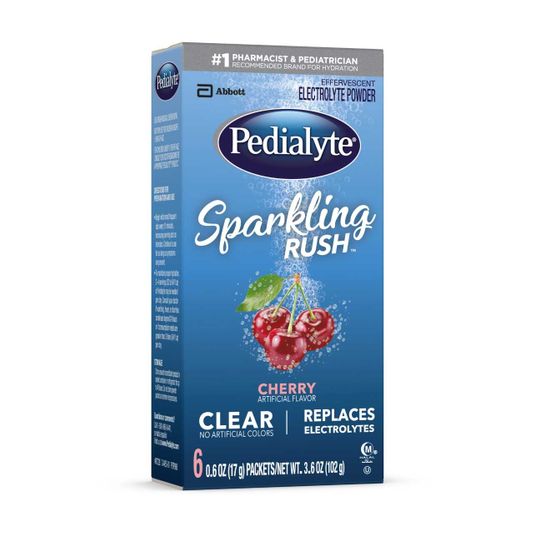 While the press release doesn't explicitly cite the new product as a hangover cure, it implies as much by saying it's "just in time for the holidays" to fight dehydration spawned by "those late nights out with friends." 
Still unsure of its target market? The Sparkling Rush powder packs join the company's line of freezer pops, fizz-less powder packs and original formula, all of which are listed at the bottom of the "Alcohol and Dehydration" section of the Pedialyte website. 
"Pedialyte is not a hangover cure," reads text conveniently located directly below a photo of a clearly hungover man pouring Pedialyte powder into a glass, "but it can help with the dehydration you may experience after a couple of cocktails." 
https://twitter.com/caseymikeska/status/1076123388358414341
As Munchies notes, data from Nielsen shows that adult use of Pedialyte grew 57 percent  between 2012 and 2015.
It's not a stretch to imagine that many of those "adults" are actually college students who've been known to shotgun bottles of Pedialyte after a night out. 
https://twitter.com/5thYear/status/1029025696709058560
So long as the word "hangover" isn't mentioned, the official Pedialyte Twitter account also has no problem endorsing it as a morning-after staple with a retweet.  
https://twitter.com/pooleparty23/status/1076227199366254592https://twitter.com/BasedGilbert/status/1076223525659205633
In fact, the account's pinned tweet includes a photo of bottles of Pedialyte Advanced Care chilling amid what appears to be an assortment of beer. 
https://twitter.com/pedialyte/status/1035862337029324800
One thing's for sure—everyone will be chugging Pedialyte come New Year's Day.