Scorpion Pizza Is Here, Whether You Like It Or Not
The "Insect Pizza" is topped with an actual scorpion *and* a sprinkling of ants.
Luzzo's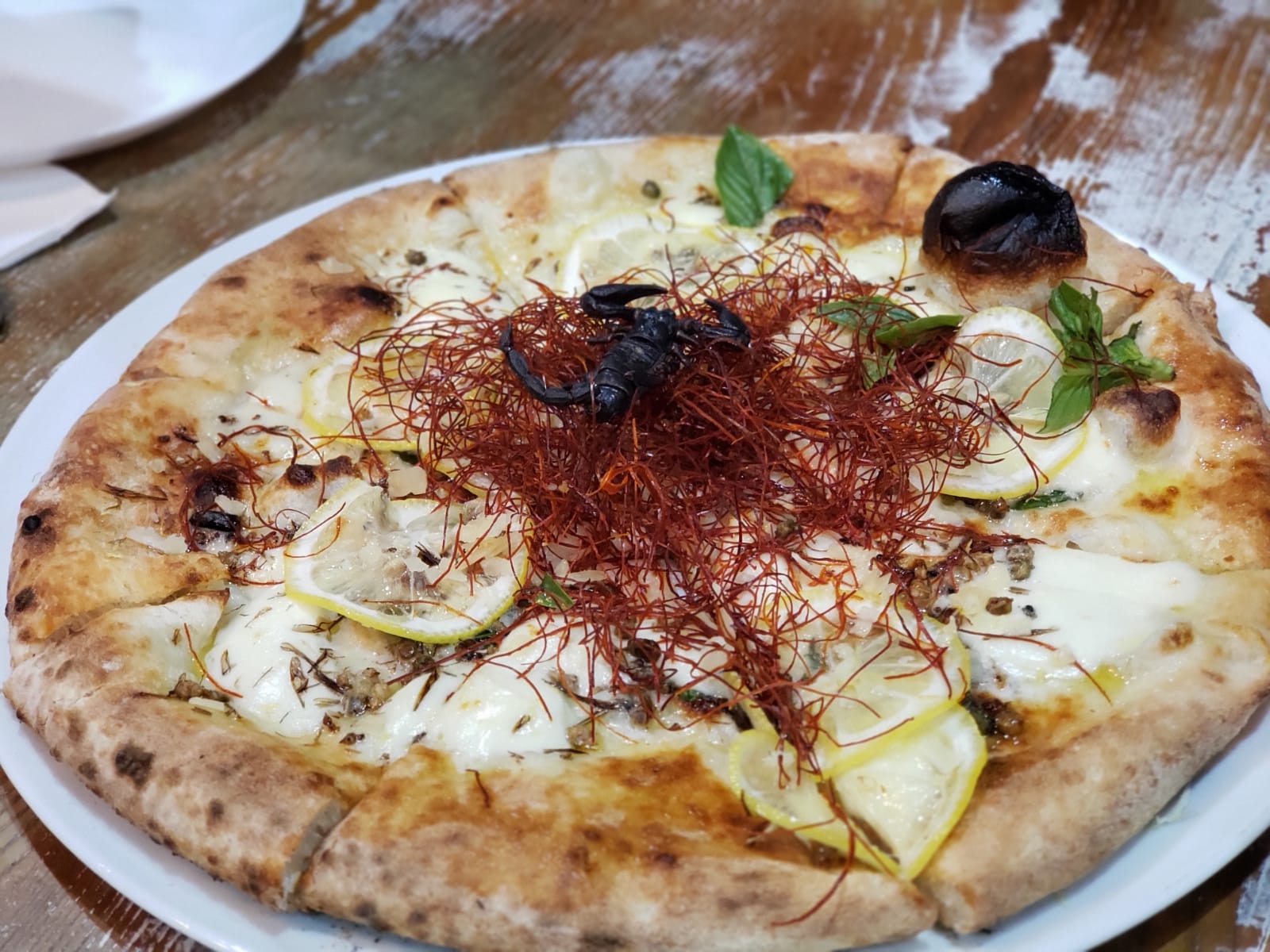 Intrepid pizzerias across the country are bugging out with insect-adorned pies. 
Last week, Evel Pie in Las Vegas made headlines when it started selling a grasshopper-topped pizza in honor of the recent invasion of green insects that have swarmed Sin City. 
Meanwhile, at Luzzo's La Pizza Napoletana in New York City's East Village, chef Michele Iuliano upped the insect ante even further by creating a pizza sprinkled with ants and an actual dried scorpion as a centerpiece.
The creepy-crawly new pie, dubbed "The Insect Pizza", is first topped with mozzarella, basil and olive oil, then placed in the restaurant's coal-fired oven for a few minutes.
Iuliano cooks the ants, sourced from an organic farm in Maine, in extra virgin olive oil with salt, pepper and bread crumbs, and sprinkles them over thin slices of lemon placed on the pie. Then he adds a veritable bird's nest of dark red dried pepperoncino calabrese strands and a drizzle of hot honey. Lastly, a small scorpion is placed right in the middle of the pizza, just for fun.
"I think it's the future," Iuliano says of his insect ingredients, which he became interested in after eating a Mexican pork chop dish that utilized ants. "The ants taste a little like smoked fish. In Italy, we make anchovies, salt, pepper and bread crumbs. The scorpion is more of a decoration–it tastes like chips."
The hollowed-out scorpion does pack a noticeable crunch, while the slightly briny ants could easily double as potato chip shards soaking up the other flavors, much like the ants and grasshoppers used in traditional Oaxacan cuisine.
" tml-render-layout="inline
Thanks to the layer of lemon slices, the Insect Pie offers considerably more of a lemony kick rather than anything aggressively buggy. And while you may end up picking stuff out of your teeth after eating a slice, that's thankfully the pepperonicni strands, not pieces of any disembodied critters.
Adventurous eaters who are game to sample a scorpion-and-ant-topped pizza can get The Insect Pizza at Luzzo's beginning in September, while the grasshopper-studded Canyon Hopper pizza is available at Evel Pie in Vegas while supplies last.