The Best Bars and Hotels In Singapore
Featuring the high-end hotel bar that invented the iconic Singapore Sling cocktail.
Raffles Singapore
It first opened in 1887 with just 10 rooms, was declared a National Monument a century later by the Singapore government, and has played host to everyone from Grace Kelly and Queen Elizabeth to Karl Lagerfeld. The iconic Raffles Hotel Singapore at 1 Beach Road is one of the most famous hotels in Southeast Asia, and with good reason. 
And it recently reopened after 18 months, having undergone a reportedly multimillion-dollar restoration led by designer Alexandra Champalimaud, looking better than ever. 
"There are few hotels in the world whose names have become virtually synonymous with the cities in which they are located, and none more so than the Raffles Hotel in Singapore," notes Christian Westbeld, the property's General Manager, who cites its unique combination of "distinctive architecture, heritage and legendary service." 
From the famous Long Bar, where the Singapore Sling is often said to have been invented in 1915, to the gracious palm-lined courtyard, the place simply exudes luxury, style and timeless sophistication with a uniquely tropical and colonial air. 
The revitalized hotel is designed to offer an even more attractive mix of "culture, beauty and gentility." Among the improvements are lavish new suites, exclusive dining concepts, including one by famed chef Alain Ducasse, and "vibrant lifestyle experiences," while guests are waited on hand and foot by the iconic Raffles Butlers. 
Their pair of Presidential Suites, Singapore's grandest, are particularly impressive at nearly 2,800 square feet, complete with parlor, dining room, living room, dressing area and a private balcony overlooking the Palm Court.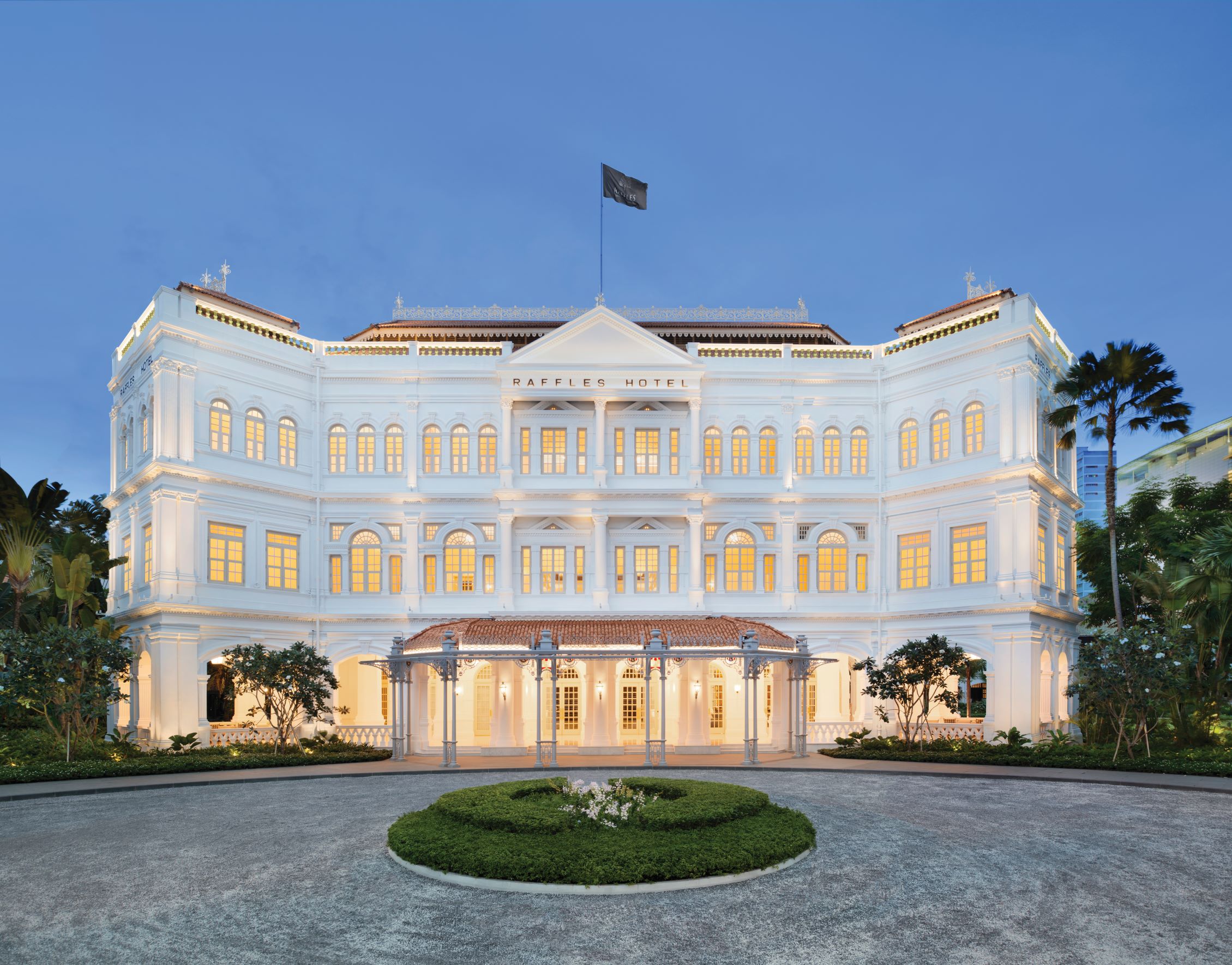 And a new chapter in cocktail history is set to be made with the renovation of the Writers Bar, which pays tribute to the many famous authors who have stayed at the hotel over the years, including Rudyard Kipling, Noël Coward and Somerset Maugham. We hope they're saving a barstool for us.  
The Long Bar may have been one of Singapore's first cocktail havens, but these days the sovereign city state is home to a number of the best bars in the world. Each year at the Tales of the Cocktail Foundation's Spirited Awards, the high-end drinks industry conference and festival held in New Orleans, the trade's top professionals present awards honoring the world's top bars, bartenders, and cocktail experts, both here and abroad. 
And 2019 was something of a sweep for Singapore in the latter category. Two of the city's most famous bars took home top honors: Atlas bar won Best International Cocktail Bar while Manhattan bar at the Regent Singapore hotel claimed Best International Hotel Bar. 
Singapore can now legitimately assert supremacy on the international cocktail scene, and with good reason. Although historians of mixology will tell you this is actually nothing new. As we noted, the Singapore Sling is said to have been invented in 1915 at the Long Bar at Raffles Hotel. However drinks called slings were apparently being slung in Singapore as far back as 1897, according to Imbibe magazine. 
Regardless, Singapore's bars have moved on to more modern concoctions—although a Sling at Raffles is still de rigeur; the decor has evolved as well. Rather than imitate the Long Bar's impeccable colonial style, Atlas bar and Manhattan evoke the Gatsby-esque glamour of other bygone eras. 
Atlas was designed as a celebration of "the great Art Deco lobbies of Europe and their rich culinary and beverage traditions," as the bar puts it. Manhattan meanwhile is a "grand hotel bar inspired by the 19th century's Golden Age of cocktails and fine drinking[,] delivering on its name with a glamorous yet modern space reminiscent of old New York." 
Ranked as Asia's Best Bar for two consecutive years on the list of Asia's 50 Best Bars, it is also home to to the world's first in-hotel rickhouse, referring to a space used to store barrels of aging whiskey—about 100 of them, in this case. 
In his gorgeous and thirst-provoking 2018 book 150 Bars You Need to Visit Before You Die, sommelier and spirits connoisseur Jurgen Lijcops lists a total of 10 must-visit watering holes in Singapore. In addition to Atlas and Manhattan, he cites Gibson bar, Smoke & Mirrors and the aptly-named Tippling Club (a Tales of the Cocktail winner in 2017), among others, as being remarkable for both the beauty of their design and the quality of their libations. 
Smoke & Mirrors, an indoor-outdoor aerie located on the roof of the National Gallery Singapore, offers up incredible views of Marina Bay along with its riffs on classic cocktails. 
Singapore Tatler notes it "sets out to elevate guests' cocktail experience by bringing the three senses of taste, sight and touch into every sip," via "cocktails that use chef-inspired techniques to artfully challenge perceptions with an intricate play on names, presentation and flavors." Make mine a double…