6 Luxurious Hotel Bowling Alleys That Are Truly Striking
Grab a drink, bowl a few frames, then take an elevator back to your room.
Flashy perks and over-the-top amenities are no rarity in the world of hospitality. Hotels across the globe have long coaxed guests with quirky on-site activities to keep them entertained, including everything from restaurants and bars to movie theaters and casinos.
But every once in a while, travelers come across an unexpected offering that truly leaves a lasting impression – and hotel bowling alleys certainly fall into this category. Here, a few striking standouts that will be right up any bowler's alley.
Omni Louisville Hotel
Louisville, Kentucky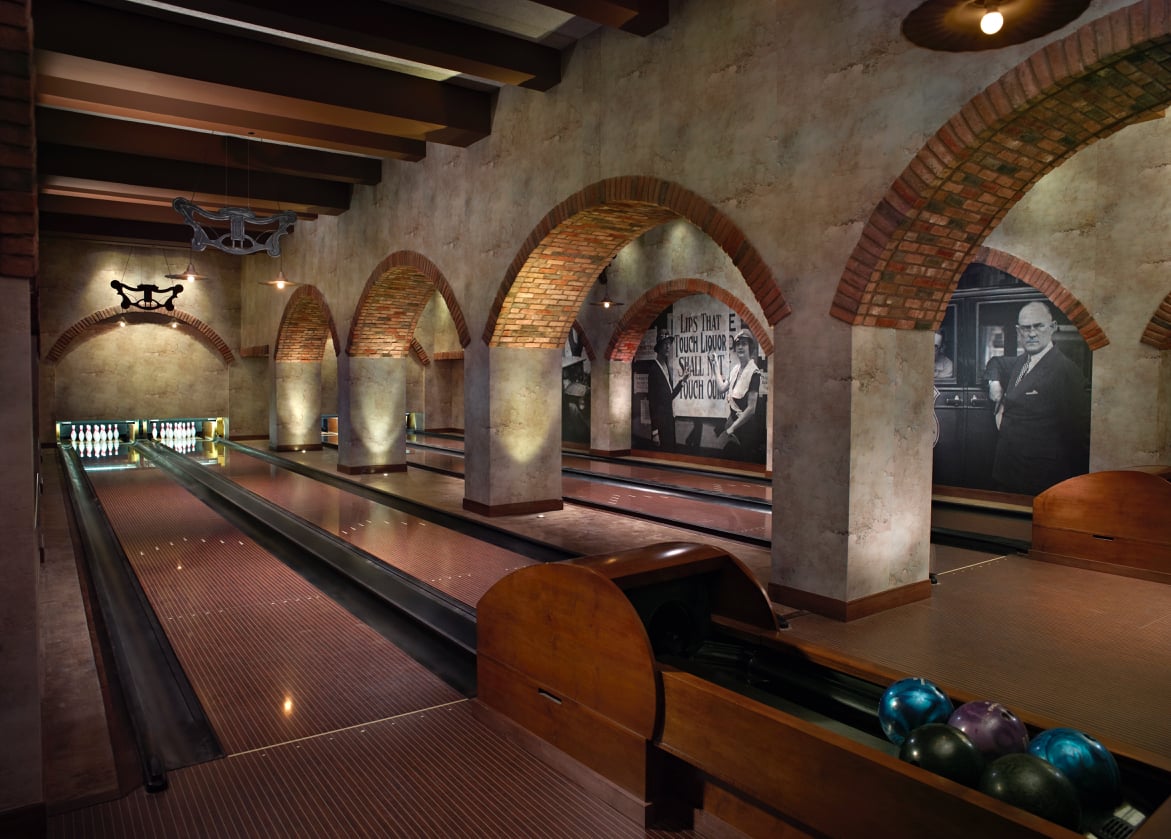 Louisville is a truly fascinating city that has an effortless way of blending old world charms while looking ahead toward a vibrant future. The Omni Louisville Hotel quickly became one of the destination's most buzzed about newcomers after arriving on the scene in March 2018. 
Located just steps from Whiskey Row, the colossal property houses 612 handsome guest rooms, and plenty of perks for out-of-towners. Pin + Proof is one of them; a speakeasy-inspired retreat that serves up a mysterious atmosphere along with killer cocktails. Score big on one of their four bowling lanes and allow yourself to be transported back to the Prohibition-era of the Roaring Twenties.
Ham Yard Hotel
London, England
Sitting in the heart of Soho and just moments from Mayfair is one of London's most stylish hotels. The five-star, 91-room Ham Yard Hotel is upscale but playful, and doesn't take itself too seriously. Its interiors boast a modern British aesthetic conceptualized by award-winning designer Kit Kemp, and the hotel is teeming with whimsical personality. Take The Croc Bowling Alley for example. 
The private space includes an original 1950's bowling alley with a hip bar and lounge, as well as a dance floor. The team had the solid maple lanes specially commissioned, and the vintage bowling ball returns were imported from Texas to add a touch of nostalgia. Visitors also relish The Croc's backlit bowling balls, old-fashioned bowling shoes, and eccentric artwork throughout the space. 
The Miami Beach EDITION
Miami, Florida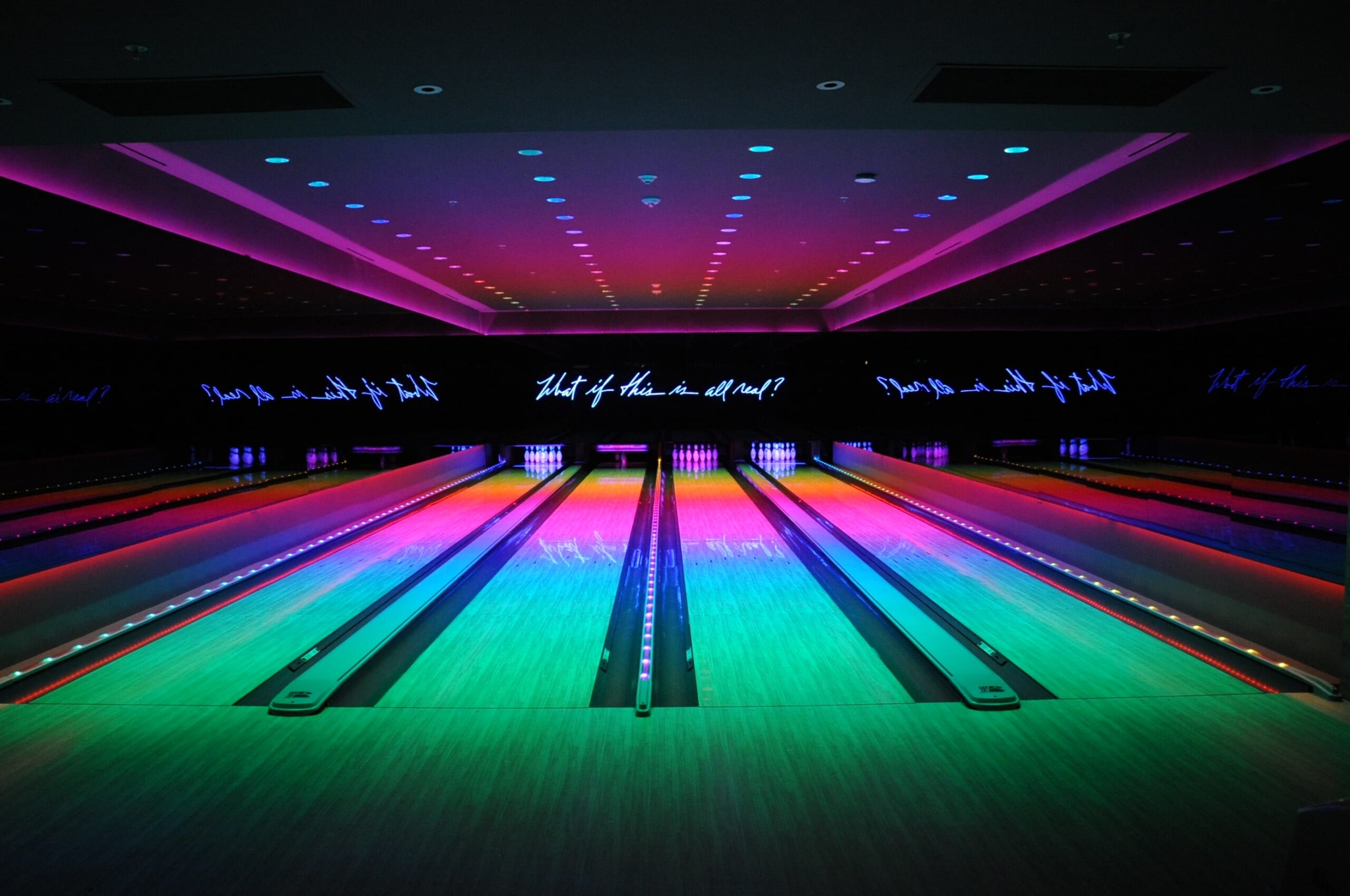 Sure, Miami may be best known for its white sand beaches and boisterous party scene, but sometimes you just need a night in. If that's the case, look no further than The Miami Beach EDITION, a luxurious property beloved for its oceanfront suites and exceptional dining venues spearheaded by Michelin-starred Chef Jean-Georges Vongerichten. 
Holidaymakers flock to Basement Miami, their subterranean venue complete with a 2,000-square foot indoor ice-skating rink and a micro-club that pays homage to Ian Schrager's legendary Studio 54. But the main draw is its four-lane bowling alley, featuring gourmet bites, a state-of-the-art sound system, oversized LED display screens, luminescent bowling balls, and interactive lighting that synchronizes with bowlers' movements.
Dream Midtown
New York, New York
Dream Hotels is known for being a trendsetter in the hospitality industry, and their chic properties span the globe from Manhattan to Bangkok, with a slew of new openings in the pipeline (including the Maldives, India, and Qatar). But Dream Midtown is located in the center of it all, just a few minutes removed from Times Square. 
The hotspot is revered for its PHD Terrace rooftop lounge, as well as its deluxe guestrooms. But savvy city slickers know the real action takes place at FISHBOWL. The upscale game room spans 2,500 square feet, and features a massive, 5,000-gallon fish tank, exposed brick bar, and a couple of bowling lanes where visitors can blow off some steam over a ten-pin showdown.
The Hollywood Roosevelt
Los Angeles, California
Situated in the center of Tinseltown, The Hollywood Roosevelt is another storied hotel that has seen its fair share of celebrity guests over the decades. In fact, Marilyn Monroe famously lived at the hotel for two years before her career launched her to international stardom. 
But tucked away on the mezzanine level, guests will stumble upon The Spare Room, a polished cocktail lounge and gaming parlor offering timeless favorites like chess, dominoes, and backgammon. After a drink, lace up a pair of George Esquivel bowling shoes and hit one of their vintage lanes. Don't leave without locating the hidden photo booth and snapping a few pictures for the perfect souvenir.
Hotel Blackhawk
Davenport, Iowa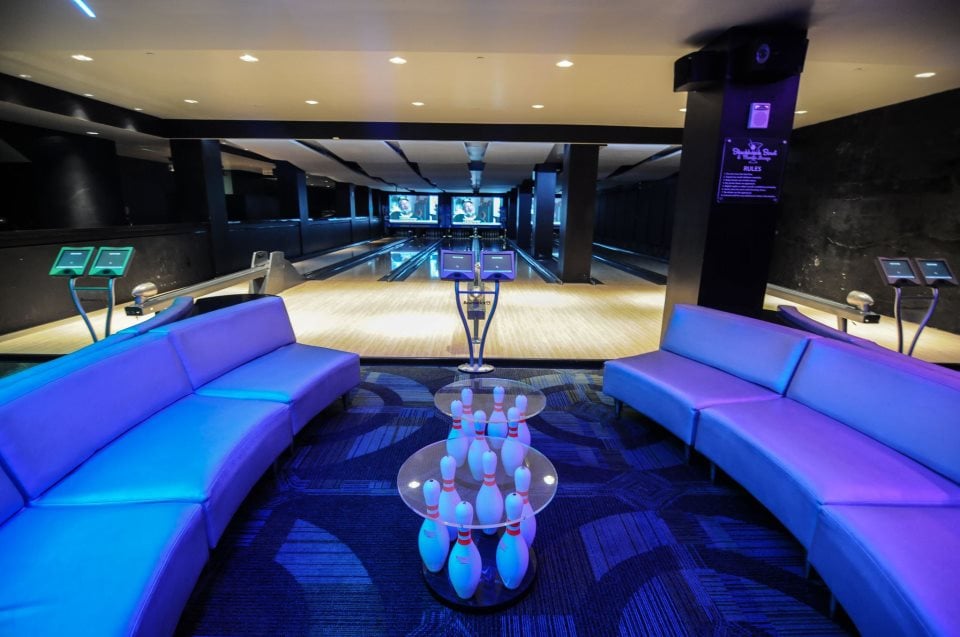 Iowa's historic Hotel Blackhawk first debuted in 1915 and quickly became one of the most sought after properties in the region, welcoming distinguished guests including presidents, athletes, and movie stars. Set along the Mississippi River, the hotel recently got a much deserved, multi-million dollar renovation. 
Guests love on-site amenities like the indoor pool and plush spa, but Blackhawk Bowl & Martini Lounge is the real showstopper. Bowl a few frames in the expansive space while sipping on a range of expertly crafted concoctions, like the Main Squeeze (a trio of vanilla, almond, and orange) or the Sapor Syphon (made with gin, cucumber, and pinot grigio).