Spirit Of The Week: Glenfiddich Grand Yozakura 29-Year-Old Scotch
This exquisite $1,850 Scotch was finished in rare Awamori wood casks.
(Glenfiddich)
Ever since William Grant first fired up the stills in his Dufftown distillery on Christmas Day, 1887, Glenfiddich has been crafting some of the finest single malts the world over. Consider their recently rebranded "Time Re:Imagined Collection"—a series of 30-Year, 40-Year and 50-Year-Old Scotches that have spent more time aging on this planet Leonardo DiCaprio's girlfriends.
For their newest gleaming expression of ultra-opulence, Grand Yozakura, Glenfiddich sought to honor the combined whisky-making heritages of Scotland and Japan. To represent the latter Malt Master Brian Kinsman and his Dufftown brain trust opted to experiment with the oldest distilled spirit in Japan, Awamori—an endemic Okinawan liquor. 
The most beloved spirit from this ancient Japanese isle (there are over 40 Awamori distilleries on an island with fewer than 1.5 million people), Awamori is crafted from Indica rice fermented by black koji yeast, then distilled only once in a pot still. Most of the resulting spirit is aged in clay pots, however a tiny fraction is set aside to be matured in oak— making these Awamori-soaked barrels both incredibly rare and difficult to source.
With wood this special Glenfiddich selected an extraordinary juice to match it with: a 29-year-old single malt Scotch matured entirely in Dufftown, then finished in the Awamori wood—making Grand Yozakura the first single malt Scotch to ever be finished in these rare casks.
The fourth in Glenfiddich's Uber-premium Grand Series, Grand Yozakura follows exceptional single malts like the 21-Year Gran Reserva, 23-Year Grand Cru and 26-Year Grande Couronne. However Grand Yozakura is the first of the Grand Series expressions to be finished in rare casks sourced from around the globe—but most likely not the last.
"I'm going to be very honest: my knowledge of Awamori cask is probably as limited as most people's because it's such a unique, special spirit coming from the islands," Glenfiddich U.S. Ambassador David Allardice told us recently.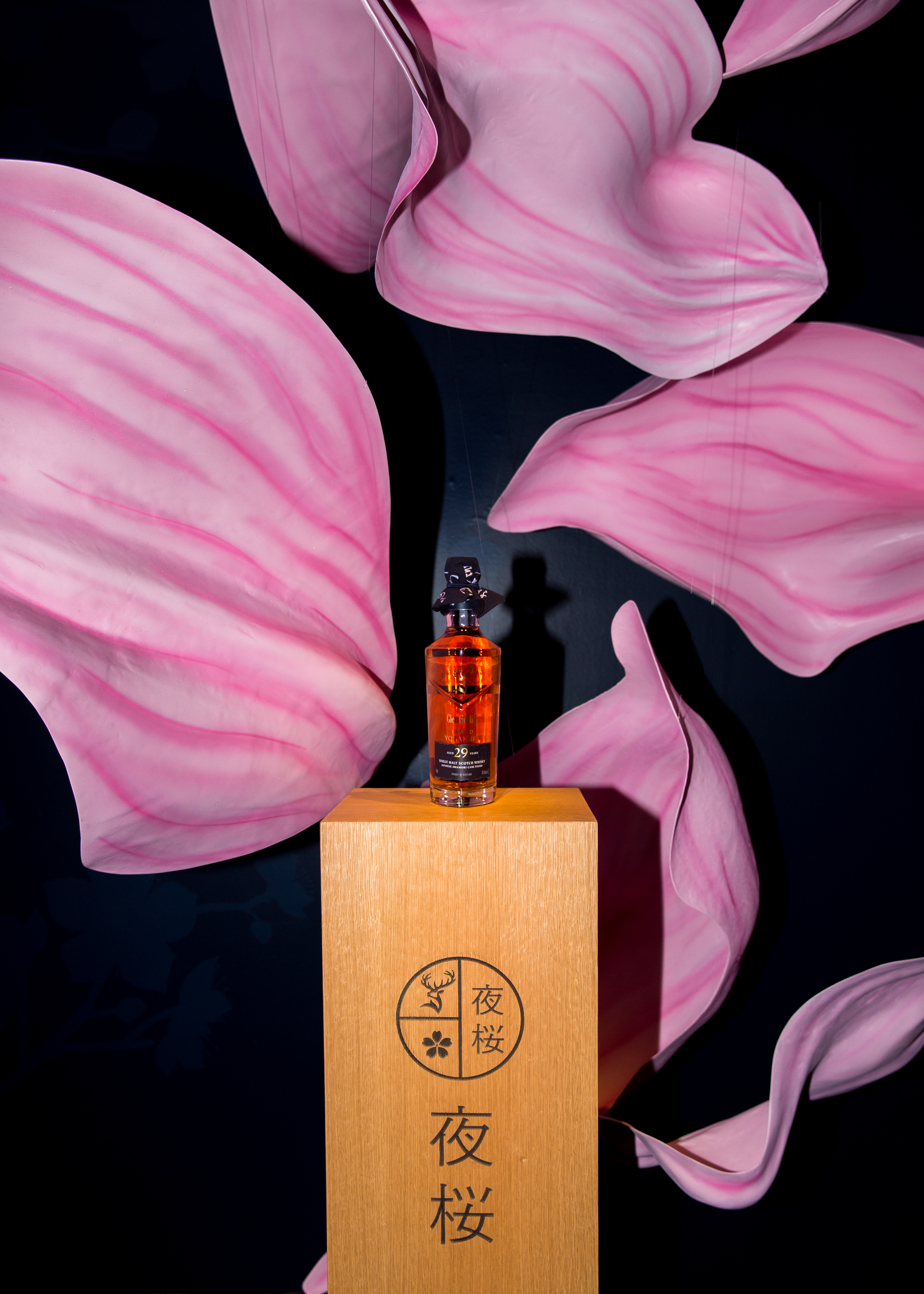 "But I like when this happens with whiskey, because you're going in with a fresh mind. When it's a sherry cask whisky you've got an idea of what's going to happen; with a rum cask you know what it's going to deliver."
To debut this exquisite bottle Glenfiddich and Allardice hosted a yakiniku feast at Niku X in downtown Los Angeles, where alongside indulgent plates of caviar-topped tartare and seared A5 Wagyu, we were able to taste Grand Yozakura along with the other Grand Series collection expressions.
"You can read all the tasting notes—the citrus, the tanginess—but what I found was a slightly umami, earthy taste coming through," the amicable Ambassador explained. "And the oakiness that came through is more than I thought—but it's actually pretty bright, more of a spice note."
The name derives from the Japanese sakura (aka cherry blossom) festival Hanami, specifically the evening celebrationYozakura or "night sakura." Hence the rotating box Grand Yozakura comes packaged in, painted with delicate cherry blossoms by Adachi Contemporary Ukiyoe Award-winning artist Jun. The stunning set includes an embossed glass bottle, Hanko stamp engraving and a sakura-inspired poem. $1,850
Follow Contributing Spirits Editor Nicolas Stecher at @nickstecher and @boozeoftheday.