Spirit Of The Week: Rabbit Hole Founder's Collection 'Nevallier' Bourbon
The Kentucky whiskey brand takes their finest 15-year-old bourbon and finishes it for another year in French Oak barrels.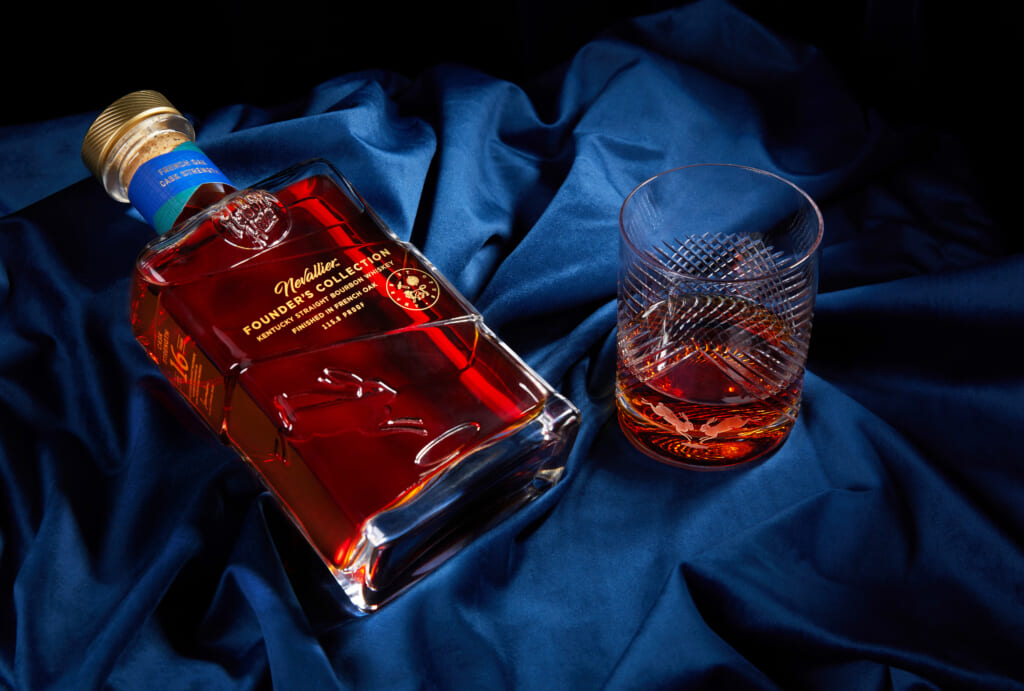 Rabbit Hole quickly elevated itself in the bourbon world via a diligent approach to quality, not to mention following the imagination of founder and lead whiskey maker Kaveh Zamanian. Among its core portfolio (Boxergrail Rye is a personal favorite) Rabbit Hole's annual Founder's Collection takes their superb whiskey and employs a creative twist.
This year Nevallier does so by starting with a blend of 15-year-old bourbon and adding a full year of second finishing in new French Oak barrels. And while you might guess they'd be from the famed Limousin forest they are not — Zamanian searched for the perfect wood and instead sourced from both the Nevers and Allier forests. Hence the "Nevallier" portmanteau.
We spoke with the eminently curious founder of Rabbit Hole about his fourth and latest Founder's Collection. His words below come through pure and uncut — much like this cask-strength bourbon.
Why did it take so long to experiment with French Oak? Seems like a staple in the whiskey world and Rabbit Hole is very innovative.
Innovation for Rabbit Hole is multi-faceted. It is as much a matter of our process and our commitment to doing things the right way as it is a matter of our bringing originality and one-of-a-kind spirits to the bourbon space.
Just as we did with our previous Founder's Collection release where we took our time to source the Mizunara, we did the same for Nevallier. We built a relationship with Leroy Cooperage in France where the barrels were made and I believe the time and attention we took to detail shows in the liquid.
For us at Rabbit Hole, it ultimately comes down to sourcing the right casks, the readiness of the liquid, and making sure everything is pitch perfect. Nevallier represents our commitment to expanding bourbon past its borders, in this case both literally and figuratively, and we gave the process the time it needed to yield the spirit we wanted to create.
What particular flavor notes does this rare wood bring to the overall profile?
Nevallier delivers a unique sensory experience that begins with aromatics of custard, orange, cherry, and caramel. On the palate, an intricate dance of tobacco, vanilla, fig, blackcurrant, spice and cinnamon culminate to a long and dramatic finish sparked by intense spice and floral notes.
Was it what you were expecting? Were there any surprises?
With Nevallier, we started with a 15-year-old blend and set out to intensify the bourbon through the oak we selected for an additional year of secondary aging to make it a very special Double Oak Bourbon. We knew going into this project that the wood from Nevers and Allier could offer tannin with notes of cinnamon and spice.
What surprised us from a taste standpoint was that the wood imparted layers of dried fruit flavors and brought a deeper sweetness than we originally expected. Of the spirits we have released to date, I believe that Nevallier is the most unique from a taste perspective.
As with their previous Mizunara Founder's Collection, the limited edition Nevallier (only 1,155 bottles) comes topped with a gold cork and beautifully packaged in an individually numbered wooden box. The box comes magnetically sealed on two sides so you can easily display (and consume) your prized bourbon. Retails for $895, but you'll likely have to pay a premium. $1,300
Follow our Contributing Spirits Editor on Instagram at @nickstecher and @boozeoftheday.