Spirit Of The Week–Russell's Reserve Bourbon 'Single Rickhouse Series: Camp Nelson C'
Wild Turkey handpicked 72 honey barrels from its decommissioned rickhouse for a new limited edition whiskey series.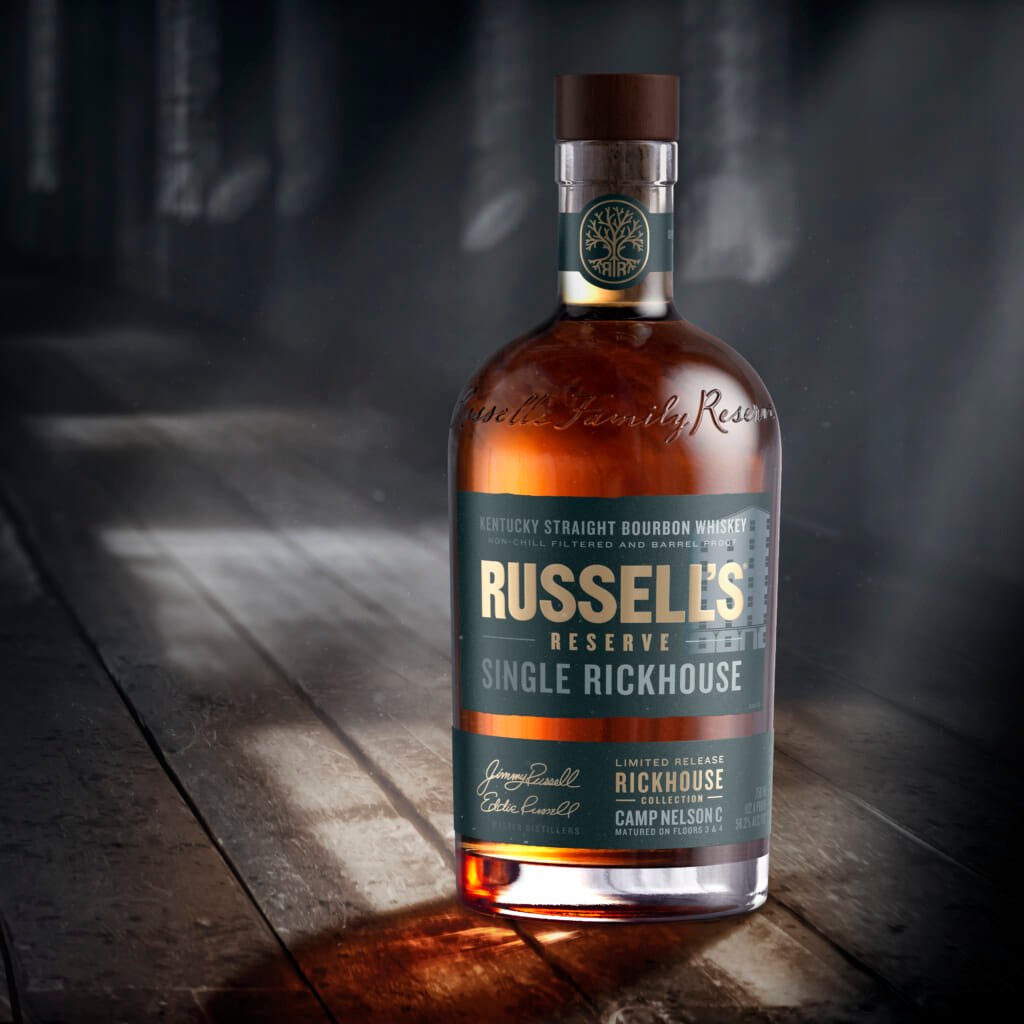 Elevating the concept of "single barrel" to the next level, Russell's Reserve now not only shares single barrels but also highlights and labels the exact rickhouse and location on their Lawrenceburg campus where the whiskey was aged. A step in transparency sure to thrill the nerdiest of bourbon enthusiasts everywhere.
Fittingly for the inaugural edition of their new "Single Rickhouse Series," Wild Turkey's renown Master Distiller Eddie Russell chose warehouse Camp Nelson C—long sought after by the most selective of whiskey enthusiasts for its unique maturing properties.
Apparently the seven-story wood and tin structure's airy design and location on top of a hill by the Kentucky River lend Camp C an ideal bourbon aging climate.
"When I tasted this liquid from Camp Nelson C, I knew it deserved its own place in Russell's history," Eddie explains.
"It's a little different from what folks have come to expect from our whiskies, and even though we all personally enjoy different flavor profiles, Dad, myself and my son, Bruce all agreed instantly—this is a once-in-a-blue-moon kind of whiskey and deserving of being the first release in this special series."
Seeing as Wild Turkey recently revealed the beloved rickhouse—built in 1946—was decommissioned and razed last year only makes this small batch bourbon release all the more coveted. Perfect for the inaugural limited edition annual release.
Russell's Reserve Single Rickhouse Series: Camp Nelson C was sourced from only 72 barrels hand-picked from the center cut of Camp Nelson C's third and fourth floors, the bullseye climate for many of Wild Turkey's honey barrels over the years.
Each barrel aged in this unique environment for at least 10 years, bestowing the liquid with some unorthodox elements, like hints of coconut and chocolate complimenting the more traditional Wild Turkey notes of apple, toasted pecan, brown sugar and dried fruit. The luxurious mouthfeel inspires Eddie to label this bourbon as a "five-star liquid."
Bottled at 112.4 proof, Camp Nelson C will hit shelves in early October and retail for $250.
Follow our Contributing Spirits Editor on Instagram at @nickstecher and @boozeoftheday.