Spirit Of The Week: Westland Solum Edition 1 American Single Malt Whiskey
The Seattle distillery reveals the first whiskey smoked with all-American peat.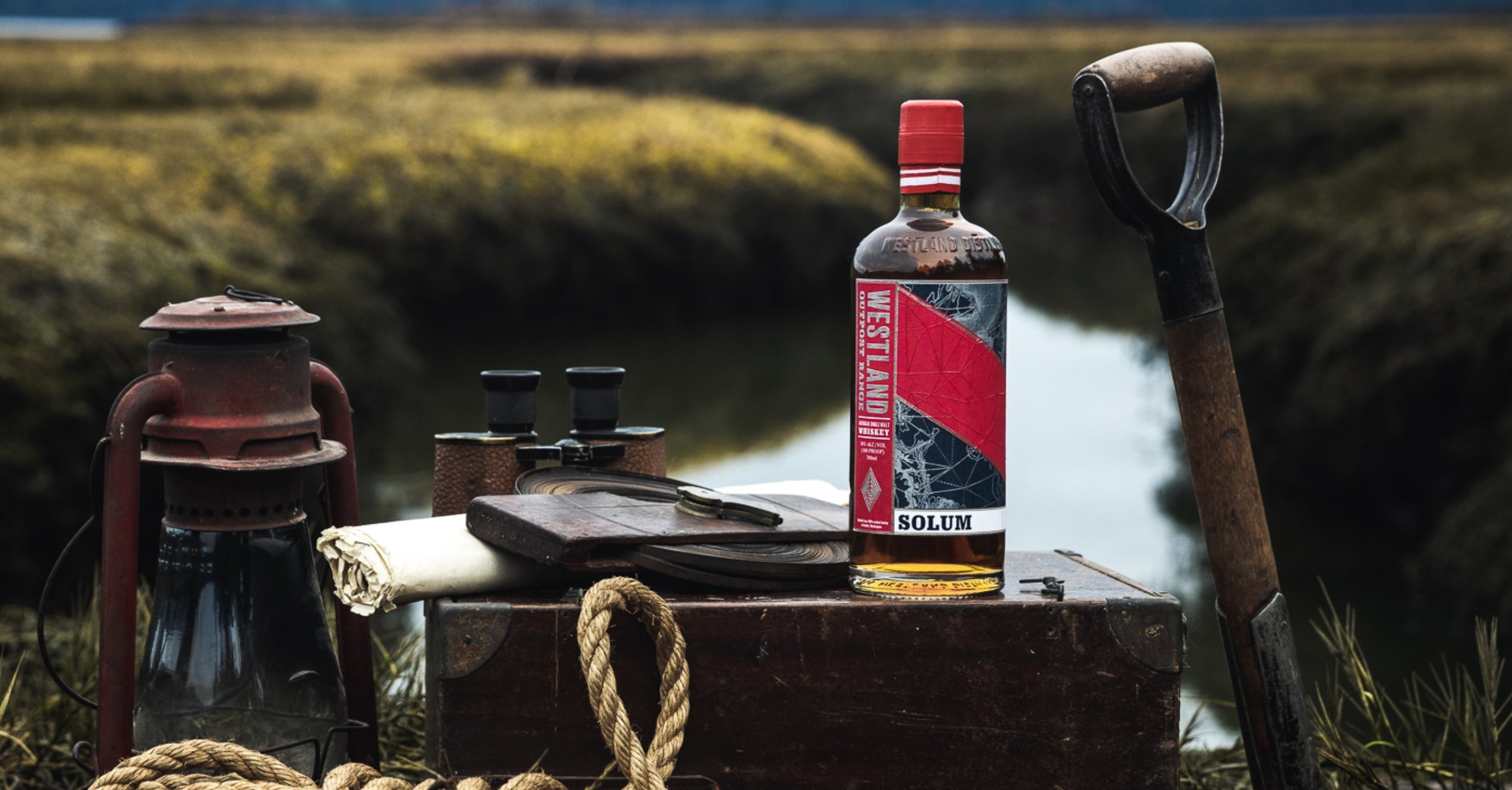 (Westland)
Since its inception in 2010 Westland has been among the top handful of distilleries writing and re-writing what is possible in the robust American Single Malt category. The Seattle whiskey maker has long focused on what they dub a "sense of place"—aka terroir, specifically ingredients that are indigenous to their beloved Pacific Northwest.
Now the third and final expression in their innovative Outpost Range takes abstractions in terroir to the terminal point. Following experiments in Northwest oak (Garryana, its seventh edition released in February) and barley (Colere, the second edition released in May 2022), their new Solum label becomes the first nationally released whiskey peated entirely with American peat.
"These elements [oak, barley, peat] define whiskey fundamentally and are the lens through which we showcase Westland's unique sense of place," explains Westland Distillery Blender Shane Armstrong.
Westland credits the Washington state climate for offering so many singular elements that define its whiskey—unique maritime and semi-arid microclimates of the Cascade Mountains and Skagit Valley, different soils and barley grains, endemic Garryana oak, and one-of-a-kind peat sustainably harvested from bogs only a couple hours south of the distillery.
After experimentations in homegrown barley and oak, the focus on local peat seems almost preordained.
"We love the added complexity that peat smoke has brought to some of our favorite whiskies, so making the style was something we were always excited to do," reveals Westland Distillery Manager Tyler Pederson.
"Peated whiskey often pairs wonderfully with the brooding climate of the Pacific Northwest; the rich layers of smoke provide a great sense of warmth on those cold and drizzly days," Pederson continues. "While Solum is very much a love letter to the classic whiskies of Islay, it's also a reflection of our perspective that is firmly rooted in the Pacific Northwest.
"Our local peat bogs, from which we source the peat used in the creation of Solum, have a different composition than anywhere else in the world. The end result is a very distinct American peated single malt."
After harvesting the local barley is smoked by longtime collaborators Skagit Valley Malting, then fermented at Westland with Belgian Saison brewer's yeast, distilled and aged for 3 to 5 years. The resulting Solum whiskey features notes of "biscuits, cereals, nuts, caramel, and chocolate," according to Pederson.
The limited run Westland 'Solum Edition 1' American Single Malt whiskey comes bottled at 50% ABV, with a SRP of $150.
Follow Contributing Spirits Editor Nicolas Stecher at @nickstecher and @boozeoftheday.