Spirit Of The Week: Westward X Ken's Artisan Sourdough Whiskey Vintage Blend
The Oregon distillery teamed up with a James Beard Award-winning baker for a stellar American single malt.
The American single malt category is arguably the most innovative and interesting in the global whiskey market today. And while some giants have recently thrown their hats into the ASM ring (Jack Daniel's new American Single Malt expression and Jim Beam's Clermont Steep label jump to mind), the category was built on the backs of young, imaginatively thirsty labels that aspired to think outside the confines of traditional American whiskey to create an entirely new category.
Launched back in 2004, you can safely put Westward in the above "League of Champions" for ASM. Along with McCarthy's (whom some credit with starting the entire ASM concept) and later nearby Westland, Westward aims to explore the unique elements that make its Pacific Northwest home a singular distilling and aging environment. As with most, if not all, American single malts, the idea is to explore, exploit and expand on the terroir of their unique environments.
"Westward is a whiskey that was and is always inspired by place: by the culture, climate, and abundant ingredients found here naturally in the American Northwest," vows Westward Master Blender Miles Munroe. He goes on to list such elements as the Pacific Northwest's unique aging climate (i.e. hot, arid summers balanced by cool, wet winters), the area's fertile soil and the inimitable provenance of being book-ended from the west by the Pacific Ocean and a high-elevation desert from the east.
"We sit in one of the most fertile barley-growing regions in the world," continues Munroe, "which means we have direct access to incredible and local ingredients."
Another cultural element which Munroe credits is Oregon's homegrown agricultural, winemaking and brewing virtuosity—anchored by a highly creative mindset which lubricates partnerships with widely respected local vintners and craft breweries to contribute barrels for coveted Westward core offerings like their Pinot Noir and stout cask-finished whiskeys.
And now you can also credit the region's rich culinary scene which begat their most recent offering, a unique collaboration that taps the flour-dusted fingers of James Beard Award-winning baker Ken Forkish—namesake to Portland's Ken's Artisan Bakery and Ken's Artisan Pizza, and author of the New York Times Bestseller Flour Water Salt Yeast.
Westward's newest (and arguably wildest) offering is also one of its most creative—made exactly like its flagship ASM, except instead of using their usual yeast to kickstart fermentation they swapped it for the levain yeast used to make Forkish's mouthwatering sourdough.
"Around the world and in our own backyard, the vast majority of distilleries rely on distillers' yeast, a highly efficient and mass-produced strain that is designed to produce as much alcohol as possible," explains Munroe.
"At Westward we prioritize flavor over yield, however, and we typically use an American ale yeast, often called 'Chico' yeast, rather than a distiller's yeast," the veteran Master Blender continues. "We chose our ale yeast strain for its fruity esters—specifically for the signature stone fruit and berry notes created through this process that complement our malty flavors.
"As ex-brewers we know that over 600 flavor compounds can be created from yeasts, and believe the resulting fermentation produces a wash that is as drinkable as a delicious pale ale… without the hops, of course."
Beyond drawing heavily from their brewing roots, Munroe underscores how Westward also borrows from the rich heritages of both Scotch and bourbon.
"Westward is brewed like a craft ale, distilled like a single malt, and aged like a bourbon," Munroe tells Maxim. "Our goal is to build flavor in every step of the way, and that of course begins with excellent local ingredients and an emphasis on the brewing process."
Other than serious aficionados, most casual whiskey drinkers don't think about the effect yeast has on fermentation, and therefore the final distillate. But it has long been a fascination of Westward, who as Munroe explained long eschewed the highly efficient and mass-produced distillers' yeast for the more challenging Chico. And for this rare limited edition Sourdough expression, they dig even deeper into the yeast well to experiment with this unique levain strain — which proved more difficult than simply swapping yeasts.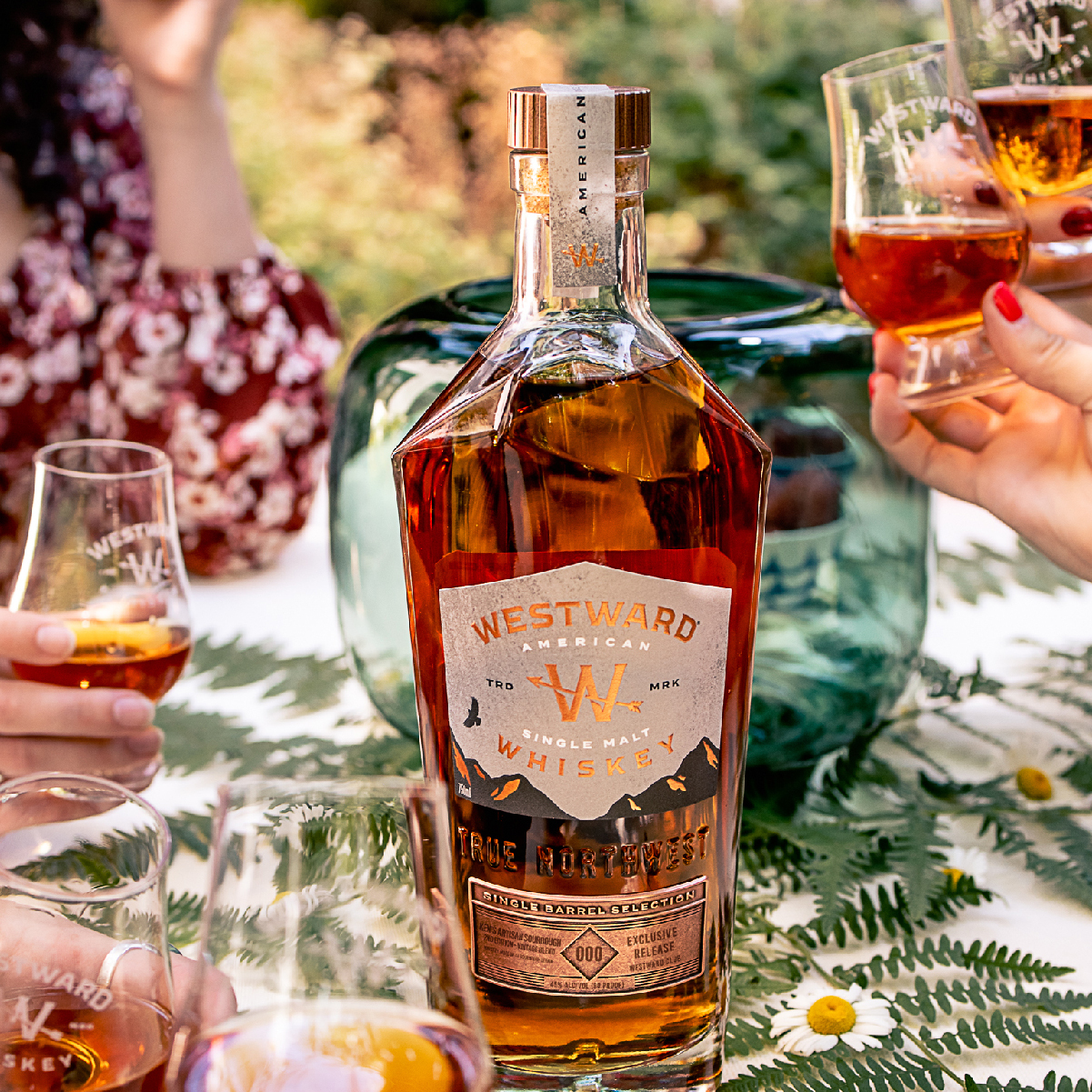 Munroe notes this Sourdough strain resulted in "by far" the longest and most challenging ferment in Westward's near two-decade history, clocking in at 13 days. "While we now know what to expect, these two-week fermentations take our emphasis on brewing and flavor to a whole new level."
The results are a whiskey that elevates Westward's signature fruit notes exponentially. He lists ripe peach, fresh apple and pear complementing tropical fruit and pineapple notes, adding to a rye whiskey-reminiscent minerality and spice that complements Westward's better known toffee, chocolate and citrus flavors to "anchor the overall profile."
This 2023 Sourdough release marries four different vintages (2017, 2018, 2019 and 2020) for the final blend, hinting this levain yeast creates a whiskey that ages differently than others.
"We've found that Sourdough matures quickly, within 30 months it's ready. But it continues to change at that rate as it ages longer in casks," adds Munroe, noting how over time the toffee and spice notes deepen further to reveal a rich tobacco character.
The latest offering in the Westward Whiskey Club—a national membership available in over 35 states, releasing one club-exclusive bottle per quarter—the Westward x Ken's Artisan Sourdough Whiskey 2023 Vintage Blend, can still be found online for the right price.
If you want to explore Westward's unique Pacific Northwest experimentations with a more available expression, start with one of their four core expressions: Original ASM, Pinot Cask, Stout Cask and Cask Strength—the latter taking our nod, as well as No. 5 in Whisky Advocate's "World Whiskeys of 2022." Prices vary
Follow Nick Stetcher on Instagram at @nickstecher and @boozeoftheday.