Spirit Of The Week: Wild Turkey Master's Keep Unforgotten Whiskey
This year's addition to Wild Turkey's halo series revisits a fortuitous mistake, blending a 13-year-old bourbon with extra-aged ryes.
Named Wild Turkey's Master Distiller in 2015, that same year Eddie Russell meaningfully launched the Master's Keep collection. The concept was simple: to offer the freshly minted chieftain an avenue to experiment with and release his most innovative and aged whiskies.
Starting with the inaugural Master's Keep 17 Year, Wild Turkey took off 2016 but then every year since have followed with special Kentucky whiskies—such as 2019's Cornerstone Rye, featuring the oldest rye the Lawrenceburg distillery ever released.
Now that wonderful time of the year is upon us when Wild Turkey once again blesses the whiskey world with the latest addition to this halo series: Wild Turkey Master's Keep Unforgotten.
Unforgotten actually harkens back to a mistake made well over a decade ago. In 2010 Eddie made a fortuitous mishap when he accidentally contaminated a barrel of valuable mature bourbon with a batch of young rye. The resulting juice was so delicious, Wild Turkey released it in very limited amounts under the "Forgiven" label.
Now Eddie returns to the generous Forgiven well, except this time opting for much more mature versions of each whiskey—blending a 13-year-old bourbon with ryes aged 8- and 9-years old. The marriage is then matured for a second time in rye casks stashed in Wild Turkey's pre-prohibition Rickhouse B—the favorite of Eddie's father and erstwhile Master Distiller Jimmy Russell.
"Twelve years ago I tasted the result of the distillery mishap that would become Wild Turkey Forgiven and was amazed. It was unlike anything I had ever tasted before, and I knew we had stumbled upon something special," Eddie explains of the serendipitous origins of his latest LTO. "Master's Keep Unforgotten pays homage to this happy accident."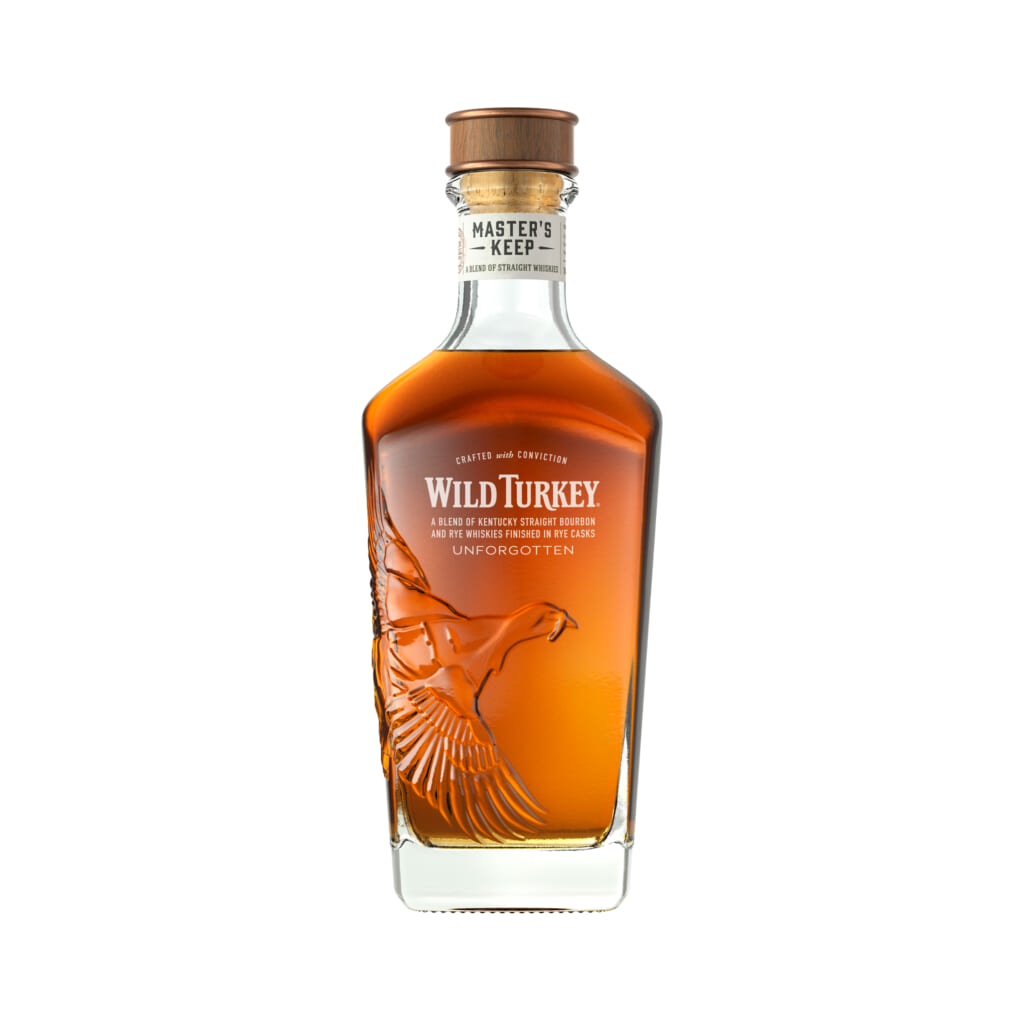 The extra-aged, high-proof (52.5% ABV) Forgiven variation features a similar but evolved flavor profile, the aged ryes adding notes of honey, black pepper and baking spice to the bourbon's mature themes of caramel, figs and oak earned from 13 years in wood.
Wild Turkey Master's Keep Unforgotten comes packaged in a sturdy olive green display box, bottled at 105 proof and available for only a limited time at $200 SRP. Of course, you'll probably have to dish a bit more to get your hands on one. $700
Follow Contributing Spirits Editor Nicolas Stecher on Instagram at @nickstecher and @boozeoftheday.