Spirit of The Week: Woodinville Straight Bourbon Whiskey Finished With Toasted Applewood Staves
Washington state's finest craft whiskey distiller takes its rarefied bourbon nationwide.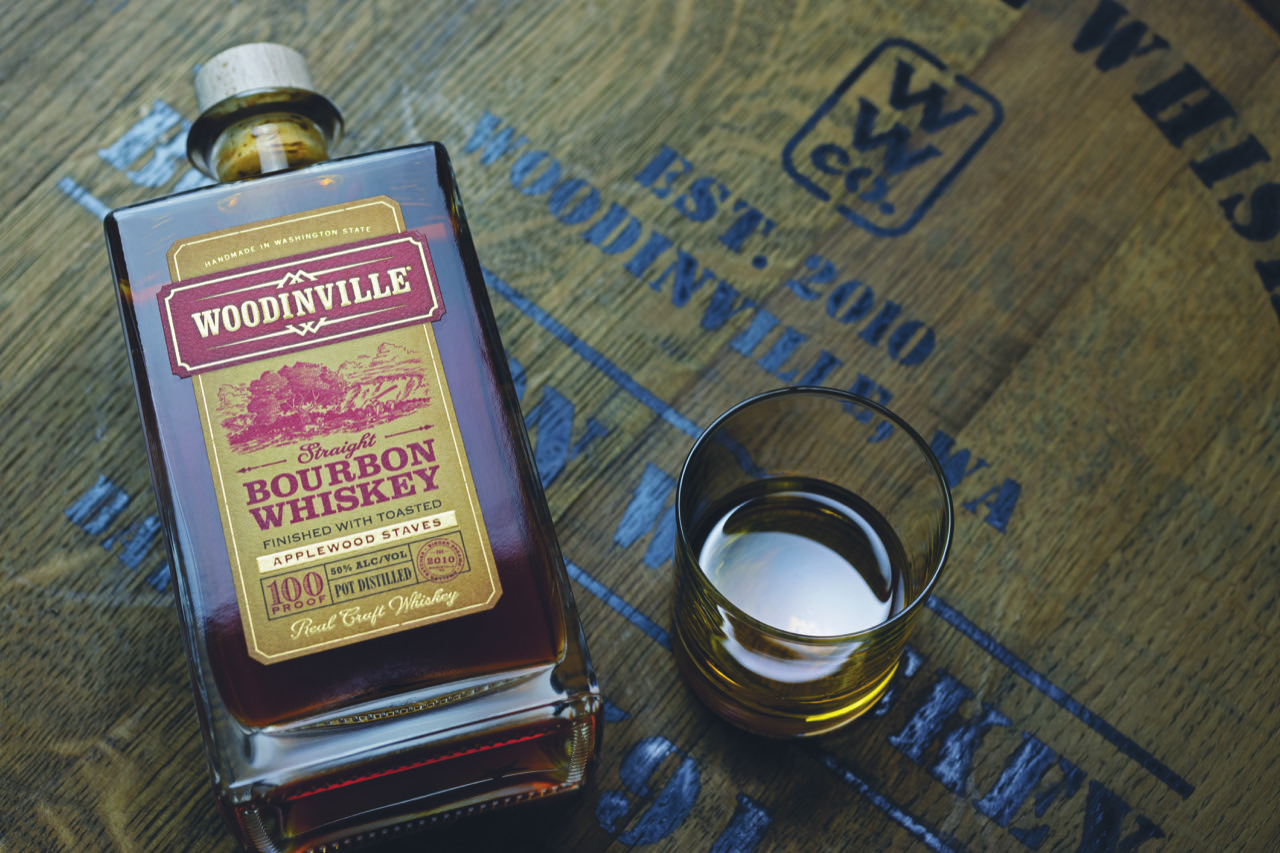 Every year the beloved Woodinville Whiskey drops a distillery-only "Harvest Release" from their Tasting Room in Washington state. The tradition started in November of 2011 by friends and co-founders Brett Carlile and Orlin Sorensen, and has grown into a sought-after holiday gift for American whiskey fans every autumn. 
It's become so popular lines and tents start forming the night before, earning the event the "annual whiskey camping trip" nickname.
"We've done a lot of different finishing experiments at Woodinville over the years, but the one most asked for by our customers is the Applewood Finished Bourbon," Carlile says of their 2017 Harvest Release— a small run of their flagship Bourbon finished with applewood staves thrown in. The LTO was such a mega-hit the duo decided to take the beloved expression nationwide this fall.
"The beauty of releasing them at the distillery Tasting Room is we get instant and constant feedback from our consumers," Carlile responds when asked how they realized the Applewood Finish was so popular.
"If you polled our tasting staff and distillers, who are interacting with customers on a daily basis, they could easily give you a top five of the most requested specialty whiskies our fans ask us to bring back. Number one is always Applewood Finished Bourbon."
The success of Woodinville nearly from the gate was not a result of beginner's luck. Quite the opposite: when launching in 2010, Carlile and Sorensen had the supreme luck (and honor) of somehow tapping the legendary Dave Pickerell, widely referred to as the "Johnny Appleseed" of craft distilling, to help guide them every step of the process.
And not just the art and science of crafting whiskey, mind you, but also "the ins and outs of distribution, sales, marketing and packaging of distilled spirits…Dave was extremely influential in everything we did."
The first critical step was deciding on a mashbill. According to Carlile they began with a wheated bourbon recipe, continuously adjusting and refining the ratios of corn, rye and barley until the braintrust settled upon rye as the secondary grain — a 72% corn / 22% rye / 6% malted barley mashbill that acts as the foundation for all their bourbons… so far, that is.
"That's not to say that we haven't played around with different mashbills over the years," the Woodinville co-founder playfully hints. "I won't disclose all of the details, but in 2024 we will release one of our experimental Bourbon mashbills we played around with years ago; one I'm very excited about.
"We also have a second experimental Bourbon mashbill that could potentially be released in late 2024," Carlile continues. "But time will tell if it's ready or not. My gut and palate are telling me it's on track, but I won't know for sure until later next year."
Another critical aspect of the handcrafted farm-to-bottle philosophy is the fact that Woodinville sources all their grains from the Omlins farm in Quincy, Washington. After transporting the harvest over the Cascade Mountains to the Woodinville Distillery where they're mashed, distilled and barreled, the casks are then sloshed back to the family farm in Quincy to mature in the care of Woodinville's rick houses.
The resulting bourbon has won Woodinville 'Best Straight Bourbon' at the 2020 San Francisco World Spirits Competition, and 'Craft Whiskey of the Year' by the American Distilling Institute in 2016 — a scant six-years after launch.
If you want to try a twist on Woodinville's heralded bourbon, this firm (50% ABV) Toasted Applewood StaveLTO is a good place to start. The steeping process adds subtle apple and berry to both the palate and nose, complimenting Woodinville's already well-awarded profile rich in caramel, dark chocolate and vanilla bean notes.
Check out their Product Locator to see where you can find a shop selling Woodinville Toasted Applewood Stave Finished Bourbon at the SRP of $100 per bottle. 
Follow Nicolas Stecher on Instagram at @nickstecher and @boozeoftheday.