How Stanley Tucci Became An Unexpected Quarantine Cocktail Hero
The veteran actor is serving up "Quarantucci" cocktails in viral videos.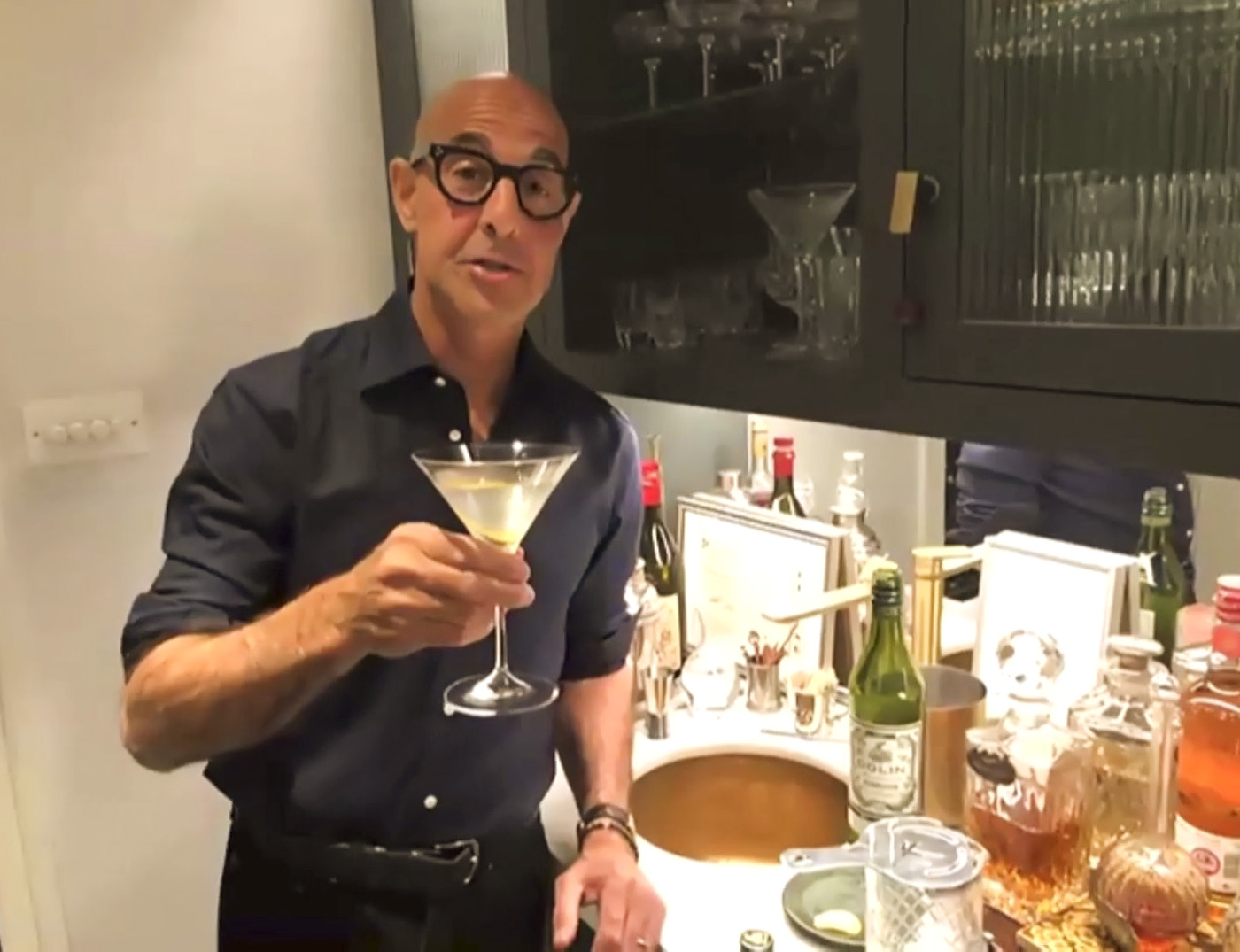 It was just days ago when the legend of the "Quarantucci" was born. Stanley Tucci, the character actor known for The Devil Wears Prada as well as the 1996 culinary classic Big Night, took to Instagram to share a tutorial of himself making a Negroni cocktail for his wife, Felicity Blunt, the British literary agent and sister of actress Emily Blunt. 
While Tucci's mixological prowess was impressive, some Twitter users were even thirstier for Tucci himself. 
It's safe to say that Tucci's mixology skills have also left people shook, just like his Negroni.
While there may be a growing sentiment surrounding Tucci's suaveness, his negroni has divided opinions. He strayed from the classic measurements—which call for equal parts of gin, Campari, and sweet vermouth—and went with a shaken and served-up method, as opposed to the traditional stirred and served down — a cringeworthy offense to many cocktail enthusiasts, but to each their own, right?
Tucci's version of the classic Negroni calls for a 'double shot' of gin—he recommends 'lacing' it with vodka if you aren't a fan of gin—then adding one shot of both sweet vermouth and Campari. 
He playfully instructs his followers to add "A fair amount of ice in a shaker…and use your hands because it's the most hygenic way of getting ice into a shaker," followed with a shake, et voilà, you have yourself a 'quarantucci'.
https://www.instagram.com/p/B_NkcbTgVfy
Tucci's viral Instagram cocktail tutorial was such a hit that James Corden, host of The Late Late Show, brought him on to show him how to make his version of the Martini — a cocktail that Corden confesses he's never drunk before (I know, wild.)
Tucci, once again, puts his own unorthodox riff on the classic, making viewers question where he learned his mixology skills from, but most of them were too distracted by his suave attire that contradicts the quarantine norm. He opts for making vodka martini, 'stirred, not shaken,' defying the iconic order associated with James Bond.
Tucci started the tutorial by pouring a half shot of dry vermouth into his mixing glass and then stirred it with the ice, which Corden joked was turning him on. (While Corden was joking, some viewers likely resonated with that statement.) Tucci then strained the vermouth into the sink, essentially just seasoning the ice with vermouth.
Next up was the vodka: the popular, but less flavorful spirit compared to gin in a martini, but on he went.
"We'll do a shot. Really, like, two shots, big shots," Tucci instructed, which he followed by demonstrating his sophisticated stirring skills, mixing the vodka with the vermouth-seasoned ice. "Are you stirring?"
https://www.instagram.com/p/B6OPUGlAYbZ
"Oh yeah, I'm stirring in a big way," Corden joked.
"So stir, now let it sit. Let it sit for a minute. We can chit-chat," Tucci said. Tucci finishes the Vodka Martini with a lemon twist like the classy lad that he is, leaving both the viewers, and Corden, thoroughly impressed. Watch the full video above.
A few days later, John Krasinski featured Tucci on his weekly news segment called Some Good News, which shares uplifting news during the difficult times of quarantine. Tucci was sipping on one of his daily, five-o'-clock cocktail hour concoctions which he described as "delicious," and participated in a group cheers with Krasinski. He is the spreader of both good news and good drinks, it seems.
https://www.instagram.com/p/B3XAUfig1OK
Yeah, we know he shook his damn Negroni instead of stirring it; and yeah, we know his peculiar martini-making methods aren't perfect, but the man knows how to entertain and get the job done. Tucci is quickly becoming an icon for cocktail-making at home during quarantine and is showing no signs of stopping. 
So, will we get to experience more of the magic that is the "Quarantucci"? Will he give the people what they so desperately want and need? The ball is now in Tucci's court. Considering this is a daily occurrence of his, the odds might just be in favor of the people.