The Taco Bell Pop-Up Hotel Sold Out in Just Two Minutes
Welcome to the hotel where "taco dreams really do come true."
(Photo: Taco Bell)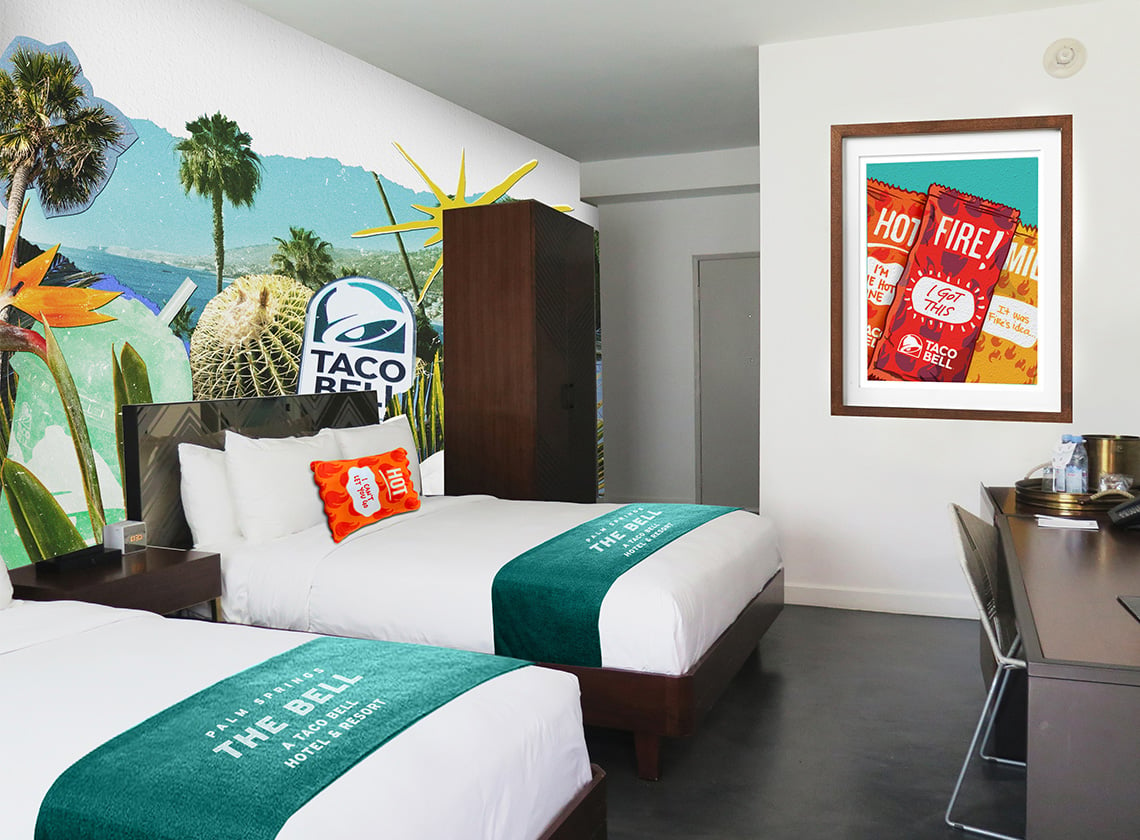 Taco Bell superfans, take note: The fast food chain beloved by stoners and late-night binge eaters alike is launching a Taco Bell-branded hotel is Palm Springs.

The California pop-up hotel, called "The Bell: A Taco Bell Hotel and Resort", will take over the V Palm Springs Hotel, where the rooms will be decked out in floor-to-ceiling Taco Bell decor, and guests will have the pleasure of waking up to a delicious Taco Bell breakfast.
After enjoying their morning feast, guests can float around on giant hot sauce packet floaties at the pool or cool off at the Baja Blast-inspired Freeze Lounge.
The hotel is where "taco dreams really do come true," according to Taco Bell's senior director of retail engagement and experience Jennifer Arnoldt.
"The moment you arrive at the hotel, we're going to be handing you over a sauce packet room key and then we just take it from there," she said.
The pop-up will only be open for four days from August 8 to 12 with prices starting at $169, but unfortunately for anyone interested, all 70 rooms sold out in just two minutes after reservations opened on June 27.
"Taco Bell fans are truly one of a kind, and today was one of the best expressions of that fandom yet," Taco Bell Global Chief Brand Officer Marisa Thalberg said. "The Bell: A Taco Bell Hotel and Resort officially sold out in just 2 minutes. 
"We would like to extend a big 'thank you' for those who have come along on this journey with us and even though The Bell is sold out, we'll have more to share on exclusive merchandise, food and more in the coming weeks so those unable to score a room can still experience the fun from home."
Sounds like the perfect place to "make a run for the border."