The Best Cannabis Products to Get You Through the Holidays (California-Only)
From tasty gummies to eaze your stress to buzzworthy beverages to replace boozy nights to edibles that'll help you sleep it all off, we've got you covered.
Presented by Eaze
We all know the holidays can be stressful. Whether it's the anxiety of impending travel, the inexorable visit from the in-laws, or just having to buy gifts for everyone — from your girl to friends and family to something small for your treasured FedEx guy — you've got a lot on your mind.
Eaze is looking to alleviate some those pressures, be it by offering soothing cannabis-induced relaxation when you need it or packaging thoughtful gifts for those who appreciate a stony outlook on life.
California's largest legal cannabis marketplace and delivery service aims to make things super easy for you: Simply go to Eaze, scroll through their extensive library of Dank Selections, and choose the best offerings for the loved one in your life… or yourself. And they'll drop it off direct to your door, as they've already done some 8 million deliveries to-date.
Lord knows you're gonna need it! While you may know exactly what you're looking for, we've curated our favorite 14 products to survive the holidays.
From creative flowers to get you motivated and gummies that'll help you eaze the stress to buzzworthy bevs that'll substitute for any heavy boozing you had planned and edibles that'll help you deeply sleep it all off, Maxim has you covered keeping it Eaze.
Energize for Social Commitments
Gelato Jack (3.5g)
Everyday Flower's Gelato Jack is the perfect dessert to add to your day! This Sativa whole flower is a sweet and smooth strain that has a balanced effect (24% THC). Circles works with a premier network of growers across the state to ensure that consumers can experience the best in California cannabis at a price for all. $44
Jack Cake (3.5g/7g)
This strain from Ember Valley is a cross between Jack Herer and Wedding Cake: it has a strong Jack Herer Nose that produces large, chunky buds. A true sativa hybrid, this one mixes the blissful, clear-headed effects of the Jack strain with the calming euphoric effects of Wedding Cake (29% THC). This is a perfectly balanced choice for anytime use, day or night. $45 for 3.5g, $75 for 7g
Booze Substitute
Strawberry Lemonade THC Beverage Enhancer (150mg)
With so many events the temptation/opportunity to indulge in social lubricants can result in a very boozey month. Take a break from the whiskey but still catch a buzz with sweet strawberry flavored, fast-acting happy vibes:
Select's quick-release water-soluble formula disperses instantly in your favorite beverage. Just squeeze gently to fill the 5mg easy-dose reservoir, add the Sativa Edible Tincture to your drink/soda water, then mix and go feel good. 5mg of THC per 1ml dose, 150mg of THC per bottle. $23
Cranberry Sage (6-Pack)
A delicious mix of tart and savory, Cann's limited edition Cranberry Sage flavor will give you the uplifting buzz we all need (12mg THC / 24mg CBD). With no hangover, all-natural ingredients, a fast onset, and only 35 calories per can, it's perfectly crafted to be your go-to treat all winter long. This carbonated seasonal flavor won't last long, so get it before it's gone. $19
Grapefruit Hibiscus Higher Vibes (4-Pack)
Wunder's Grapefruit Hibiscus is a higher-dose THC beverage (20mg per can) to elevate your mind and soothe your body. With 10mg Delta-9 THC and 10mg Delta-8 THC, enjoy a bold and delightful shift in perception followed by waves of calm. Effervescent and crafted with all-natural fruit juice. Serve chilled, straight from the can or over ice. Just 50 calories and 6g sugar per 12 fl oz. $18
Easing the Road to Recovery
Tranquility 1:1:1 Gummies with CBN
Blue Raspberry Tranquility gummies are the satisfyingly sweet calm you've been seeking. These 1:1:1 gummies from Kanha are formulated to give you a restful night's sleep, with more sleep-inducing CBN than any other edible, and a blend of terpenes and essential oils that provide a relaxing and soothing effect.
Kanha gummies are made with all-natural ingredients, coloring, and flavoring. Each gummy is infused with the highest quality cannabis oils to provide a highly consistent and safe experience. 50mg CBD x 50mg THC x 50mg CBN per bag. $25
Get Some Much Needed Sleep
SLEEP Cloudberry Nano Gummies
One bite and it's goodnight! New and improved PLUS SLEEP Cloudberry Nano Gummies are the first Dual Action edibles to combine fast-acting and long-lasting formulas in one product.
Fall asleep quickly with 5mg of PLUS' cutting-edge, nano emulsified Indica THC which provides rapid onset in just 8 minutes. Stay asleep longer with the powerful sedating effect from our blend of CBN, CBD, and 10 sleep terpenes delivered via extended-release technology.
Enjoy mild psychoactivity as you drift off to dreamland and wake up feeling refreshed. Made with 5mg of THC, 1mg of CBN, and 1mg of CBD per piece and all-natural flavors and colors. Each gummy contains less than 1g of sugar and only 5 calories. 20 servings per container. 100mg THC and 20 mg CBD. $20
Gifts for Discriminating Foodies
Camino Holiday Punch Gummies
Get all the feels of Christmas morning with these limited edition Holiday Punch gummies. Kiva Confections is renowned for their high-quality flavors, so their gummies' energizing terpenes with notes of cranberry and cinnamon will have you leaping out of bed with joyful anticipation.
Since 2010 Kiva's goal has been to create an edible that redefines what a cannabis confection can be. From their artisanal approach to making chocolates to their inventive take on gummies, Kiva has dedicated themselves to crafting delicious, trustworthy, and premium edibles you can feel good about eating. 20 servings per package. Each serving contains 5mg Sativa THC and a custom blend of terpenes, for a uniquely uplifting experience. $18
Your Travel Buddy
Gummy Worms Universal Cartridge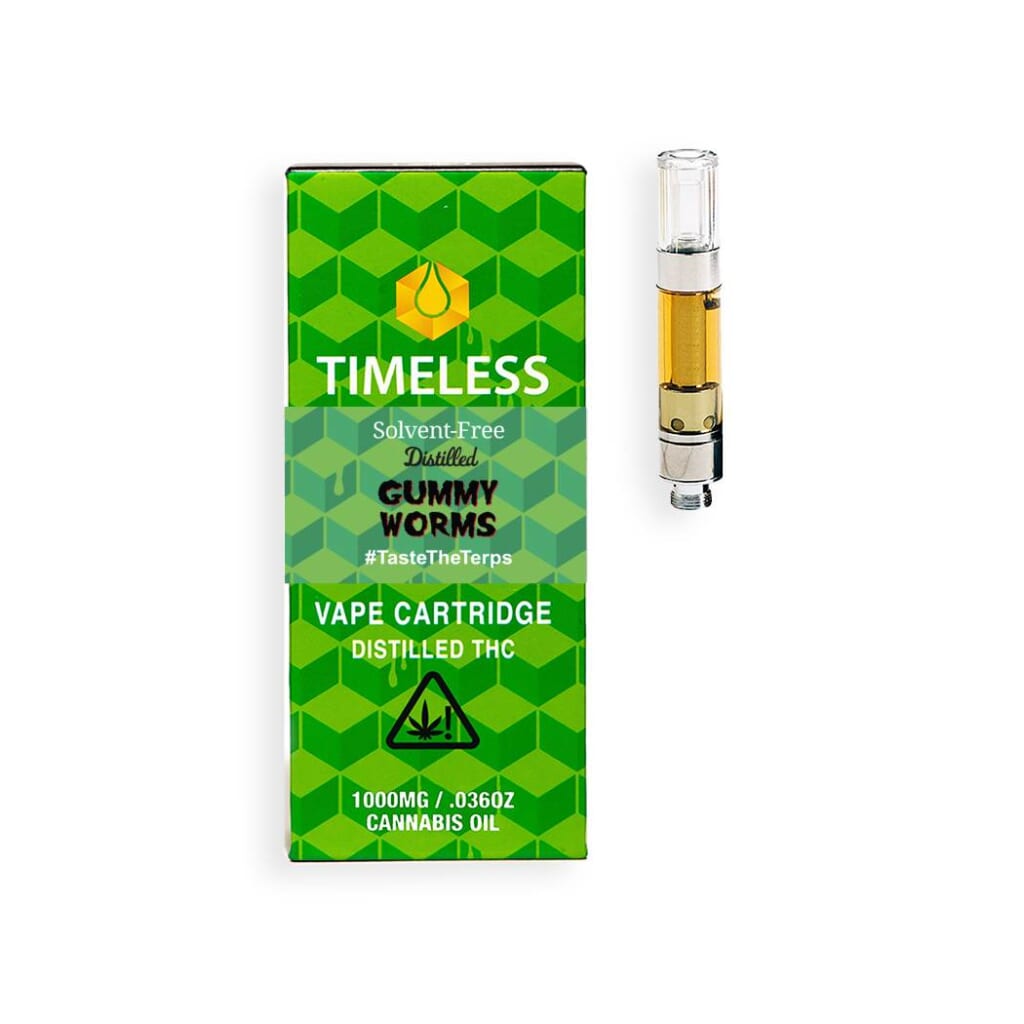 If you've got to journey across Cali and need a travel buddy to ease the stress airports offer, Timeless' Gummy Worms vape oil is an essential tool to get high without attracting too much attention. A seasonal favorite that's the result of blending Pink Starburst and Pineapple Express, Gummy Worms will give you a focused high (84% THC) while leaving the mind upbeat and energized.
Flavors of pineapple, berries, and citrus are all present on inhale, with a light skunk and floral exhale. It's like taking the best vacation ever — no matter where you really are. Compatible with USB Universal Battery, sold separately on Eaze. $45
Great Cannabis Gifting
Strawberry Kush Preroll (7-Pack)
Give the gift of a doobie this Christmas with Circles' Strawberry Kush Prerolls! Each jay features delicious berry flavors and scent profiles. Circles works with a premier network of growers across the state to ensure that consumers can experience the best in California cannabis (19% Indica THC) at a price for all. Contains seven prerolls. $35
Sour Cake Unrefined Live Resin Preroll (3-Pack)
Cake on cake! Jetty's Sour Cake is a new flower cross of Sour Diesel x Wedding Cake that's a super-potent pairing with our Wedding Crasher UNREFINED Live Resin (Purple Punch x Wedding Cake). This dessert strain combo has heavy sweet and earthy notes — it packs a big punch (26% Sativa THC). Contains three prerolls. $27
Pink Cookies (3.5g)
Everyday Flower's Pink Cookies is a perfect balance. This hybrid strain features a combination of sweet and earthy flavors that lead you into a happy, relaxed feeling. Everyday partners with master indoor growers to produce exotic bud tailored to the discerning consumer. This is cannabis made for daily consumption (25% Hybrid THC), with 100% recyclable packaging. $44
Ital Bananas Farmer's Reserve (3.5g)
For those smokers always searching for the next exciting and delicious strain, Flow Kana's Ital Bananas — grown in small batches by Livicated Farms in Mendocino County — is a rejuvenating cultivar, with a vibrant mix of Banana Punch and Garlic Cookies.
This colorful flower has a fruity and earthy aroma, with an inhale of sweet citrus. This remarkable cultivar is said to boost your mood and relax the body (25% Sativa THC), so spark up and enjoy the ride! $40
Service and products are only available in California. Maxim is not responsible for any misleading information or harmful results and is not a licensee, distributor or seller of any related products shown or statements or claims made. Products featured are meant for residents of California only.