The Best Grills, Gear and Goods For Outdoor Cooking
Feast on the ultimate gear guide to outdoor cooking and entertaining.
There have never been more options for outdoor cooking, but it can be hard to separate the gimmicks from the gold. This guide will help you live your best outdoor cooking life, from pizza slinger to pitmaster to wood-oven wizard.
The Best Grills, Pizza Ovens & Smokers
Large Big Green Egg
If you're just looking to grill some steaks and burgers, there are lower-cost alternatives, but if you want to seriously improve your cooking skills, the Big Green Egg is outdoor cooking grad school––a grill, an oven, a pizza oven, and a smoker. Plus, it looks great compared to most backyard grill setups. The Big Green Egg is an investment, but it does more than other grills and will last much longer, especially if you live in a place where high humidity or saltwater air is prone to rusting out other grills.
The thick ceramic walls are so efficient that you can cook for hours and only burn through a small amount of charcoal. I filled it with a load of BGE Oak & Hickory Charcoal and smoked a pork shoulder for nine hours, then closed the upper and lower vents to quickly shut down the fire. The next day more than half of the charcoal was still pristine, and I could've cooked the same charcoal load for another nine hours.
Be sure to get the convEGGtor or half-moon convEGGtors for indirect cooking of things like ribs, brisket and pulled pork. The pizza stone is another must accessory, as is the Egg Genius––a small computer-controlled fan that attaches to the lower vent and takes all the guess work out of air flow control to maintain a certain temperature. Using the companion app with the Genius, you can control the temperature of the egg, monitor the temperature of your meat, and set alerts to tell you when your meat reaches target temperature. $999
Gozney Dome Wood-Fired Oven
With the Dome, Gozney brings a residential version of their commercial wood-fired ovens, adding a more pro-level option alongside their well-regarded compact Roccbox pizza oven. The Dome lets you take your wood-fired cooking beyond pizza and is large enough for steaks, roasts, and even a whole chicken. You can get a wood-only version for $300 less, but the dual fuel allows you to use hardwood charcoal, wood, or even propane for when you don't have time to get a fire going.
The temperature gauge makes it easy to monitor the internal temperature—even if you're cooking with wood or hardwood charcoal—and has an integrated meat probe. When cooking pizza on the Dome, there's plenty of room to adjust the distance to the open flame for the perfect crust. Using cast-iron roasting pans with steaks and vegetables will give anything you cook a nice char and a woody flavor. The entire set up with the stand, fold-out side tables, and shelving make this a patio centerpiece to channel your inner Wolfgang Puck. $1,799
RECTEQ RT-B380 Bullseye Wood Pellet Grill
If I had to use one grill daily, it would be the Recteq Bullseye. It has the ease and instant start-up of a gas grill with the flavor of hardwood smoke. Even within my Southern, owning-every-grill-under-the-sun in-laws, it's number one on their list. While the build is not as robust as some more expensive grills on this list, it's the most affordable and it does everything. Ribs and wings cooked low are smoky and delicious, but you can turn it up to "Riot" mode for a 749-degree char on your steak.
The griddle top is a great addition and works like a giant cast-iron skillet—perfect for sautéing, cooking hibachi style, or getting a better char on a steak than you can get with the grates. This is the only grill on which I was able to create a true Pittsburgh style rare, charred on the outside and rare inside. The Bullseye is extremely easy to use—just a couple of button pushes to get exactly what you want, whether a smoky 225-degrees or a white-hot 749 or somewhere in between. If you're used to tinkering with your grill constantly, get ready to have extra time on your hands (just don't tell your significant other). $399
Breeo X-Series 24 Fire Pit
Breeo X-series fire pits are perfect for those who want a fire to sit around in the colder months and one to cook on during warmer months. Plus, they look great in your yard after they develop a nice patina. They are built like tanks, and the 24 is the perfect size for both socializing and cooking. A key feature is Breeo's smokeless design, which dramatically reduces the amount of smoke it puts out by promoting optimal air flow under the fire.
You can order it with a wide lip around the top edge that serves as a griddle surface, and when hot, it becomes concave so that any grease will channel into the fire rather than your yard or patio. The optional cooking grate is easy to install on the fly, height adjustable, and sturdy enough to load up with steaks, chops, chicken or even a cast-iron skillet.
Just bear in mind that because the coals are at the bottom of the fire pit, you can't get the grate as close to the coals as you can with an asado grill. For enjoying the fire when you're not cooking on it, Breeo's X Series Chair looks great next to the pit, and it's made of poly lumber that is impervious to the elements. $579
For fire pit cooking, Cutting Edge Firewood's cooking wood comes in different varieties—like pecan, oak, hickory, or maple—so you can control exactly what wood flavor your food picks up. Prices vary
Ooni Karu 12 Multi-Fuel Pizza Oven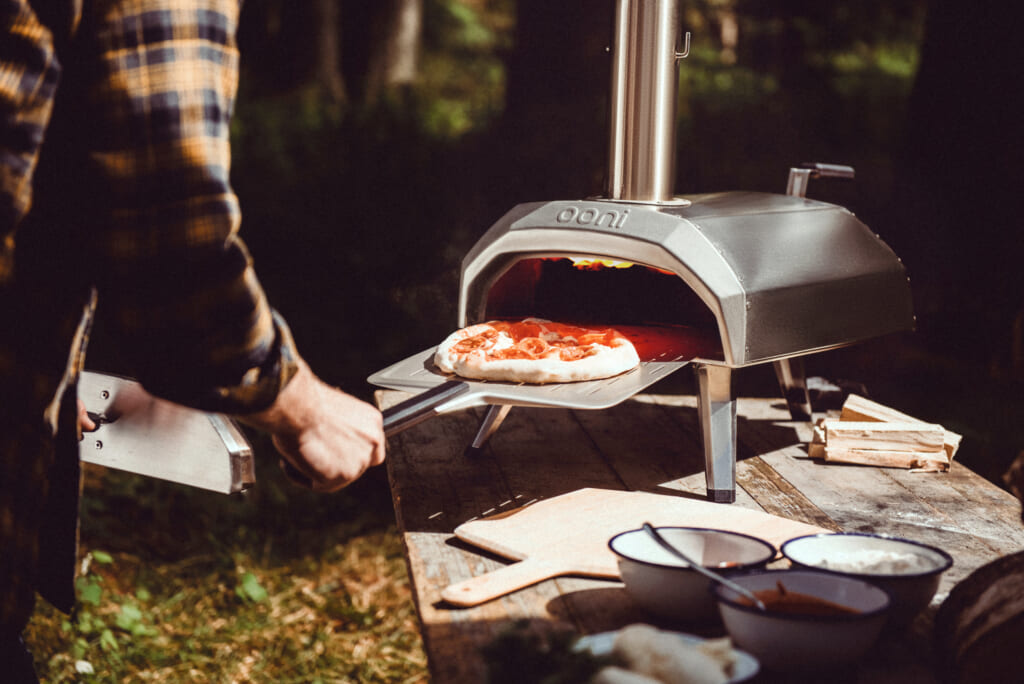 If you're interested in getting into pizza cooking for the first time, the Ooni Karu 12 is a great entry point. The legs fold in and the chimney is removable so you can pack it into your vehicle easily. In my testing, I found the Karu works best with a mix of hardwood charcoal, such as Fogo Super Premium, and Cutting Edge Firewood Mini Pizza Cuts. With an adapter (sold separately) it can also work with propane, allowing you to ditch the chimney for a far more svelte cooking setup.
Having the option to get it up and running fast with propane when you don't have time to mess with wood or charcoal is a nice convenience. And between the three fuel modes you will always have some way to heat the Karu, no matter where your adventures take you. The only downside to the light weight and portability is that the heat retention is not as good as heavier and thicker-walled ovens, so you've got to keep the fuel going to maintain optimal temperature for pizza. $399
B.B. Prime Salamander Broiler
Salamander broilers are the secret to that steakhouse crust while keeping a medium rare center. This propane broiler has a 1,500-degree heat element that will give you that crust in seconds. There's a lower tray for melted butter so you can dredge a fillet through it to maximize the crust, and a warming tray up top that works great for buns if you're making burgers on it, which cook in seconds per side. I found that the best way to use this was to smoke a steak low, and at the very end, put it on the BB prime for a crust à la Ruth's Chris. $399
Fuego F24C Gas Grill
Gas grills are boringly boxy and tend to take up too much space for what they do, but the Fuego fixes that. The circular grill offers plenty of surface area for grilling and the round shape optimizes both grilling space and storage for your propane tank. Design-wise, if you appreciate a grill that doesn't look like every other grill out there, the Fuego has its own personality. The small footprint makes it ideal for an apartment balcony or small porch, but unlike other "small" grills, grilling can be done at normal height and with the capacity to cook for a group. $599
Magma Crossover Series Modular Grill
If you want to seamlessly move from backyard cooking to tailgating or camping, the Magma crossover series is designed around flexibility. You buy a base "firebox" with one or two burners, and then you can configure it however you want: Use a hitch mount for your vehicle, get a quad-pod and make it free-standing, and then add accessories to use the firebox in different applications.
There's a pizza oven, a griddle top, a traditional gas grill top, and a steel plancha top. I tried out the pizza oven and the griddle top and that covered everything. You can use the pizza oven as an all-purpose oven, and the griddle not only makes killer pancakes and eggs, but also gives your steak a perfect char. $399
PK300 Charcoal Grill
PK Grills are made of cast aluminum that is hand poured, giving them excellent heat retention and an incredibly long rust-free lifespan. PK (originally Portable Kitchen) has been making charcoal grills since the 1950's, and the PK300 is their flagship grill—blending a modern wheeled carriage with a retro grill capsule that evokes the original.
The frame of the carriage is extremely sturdy and well designed, and the vents have precise marking lines so you can consistently dial in your air flow for longer cooks and follow recipes that require specific airflow measurements. It comes with grates for grilling and smoking, and if you buy one currently, they'll throw in a stainless-steel griddle top for searing and sautéing, meaning you can cook nearly anything on a PK300. While it's not a small grill, it detaches easily from the wheeled carriage making it easy to load into the back of your SUV or truck bed for travel. $559
The Best Gear & Supplies for Outdoor Cooking & Entertaining
Zwilling Kramer Damascus Chef's Knife
Bob Kramer is a legend in the world of knife making. His handmade blades sell for tens of thousands of dollars and have been prized by chefs such as Anthony Bourdain, Thomas Keller, and Mario Batali, among others. Kramer partnered with Zwilling to create a line of knives that are up to his standards, but obtainable for those without Keller or Batali's knife budget.
"Zwilling was willing to go the extra effort to do some of my designs," says Kramer, "They tell me 150 people touch each one of these knives." Kramer says that the average consumer may not be able to tell how much has gone into it, adding, "Some of that is difficult to feel unless you have a lot of experience, but you will certainly notice it down the road." This chef's knife is made of stainless Damascus with a micarta handle. Kramer advises that you cut on a wood cutting board, never cut on granite, stainless steel, or in a pan. And don't ever put your knives in the dishwasher. "Store them where the edge is protected, get [it] sharpened once a year or learn to do it yourself, and that knife will give you great service for your whole life," says Kramer. $429
Stella Falone Reversible Ebony Cutting Board
Speaking of cutting boards, Stella Falone cutting boards are made from the same high-end ebony used in Taylor guitars. They are thick and heavy, which makes them a great base for carving up a cut of meat, and the gorgeous grain of the ebony is also a good foundation for an artfully-arranged cheese board. $199
Anova Precision Cooker Pro
Imagine you're cooking steaks for eight people. You could throw them on a grill and hope to nail a medium rare for all of them. Or, you could sous vide those steaks all to a perfect medium rare, and then reverse sear them at the end on a grill. Boom, eight perfect steaks and all you had to do was give them grill marks. Sous vide may not seem like an outdoor cooking accessory, but it's a secret weapon for consistency, and for pre-cooking things that tend to dry out, such as venison, before it hits the grill.
Anova's Precision Cooker Pro is designed to circulate enough water to cook a large roast or a large batch of steaks, chops, or chicken breasts simultaneously. In testing with lobster, chicken, venison, ribeye and vegetables, the Precision Cooker Pro was a breeze to learn as a first-time sous vide user. It's also nice to be able to seal your meat or vegetables with butter and herbs to impart flavor while they're cooking. $399
Thermapen One
With the money, time, and effort that goes into grilling and smoking, you can't afford to overcook your tomahawk or your brisket. And with the dangers of serving foodborne illnesses to your entire family over Labor Day weekend, you can't afford to undercook chicken or pork. The Thermapen One is the last instant-read thermometer you'll ever need to buy. It gives you an accurate reading in one second, so you can know exactly where you stand without interrupting the cooking process. $105
Looft Lighter X
I'm still not quite sure if the Looft Lighter appeals to the mature cook in me or the pyro boy in me, but the ability to turn it on a pile of coals and have them flaming up in a matter of minutes is fun no matter how you look at it. The freedom of the rechargeable battery makes it perfect in the back yard, where you may not have a plug handy. Turn it on and it reaches 1,200 degrees within a few seconds, and then once it gets a spark going it engages a fan to stoke the flames. This gadget is a great gift for a grill master who has everything. $299
Filson Tin Cloth Apron
A grill master needs a suitable apron, and chances are, you want an apron that looks like it belongs outside by an open flame instead of in a fancy kitchen. Filson's Tin Cloth apron strikes a nice balance—rugged looks without being as heavy or hot as leather aprons that can be cumbersome if you're out for a long cook. $125
Smithey Ironware Carbon Steel Party Pan
Smithey makes its cast iron and carbon steel cookware in an old shipyard warehouse in Charleston, South Carolina. Their carbon steel line is made by hand, and once you pull it off the grill or out of the oven it looks stunning on a table. The Party Pan is perfect for serving things like Paella or Jambalaya for outdoor parties, and if you want something smaller that will easily fit in a wood-fired oven, the Carbon Steel Oval Roaster is a more versatile every day size. $400
Staub Cast Iron Deep Skillet
A good cast-iron skillet adds another layer of versatility to a grill without having to commit to a dedicated griddle top. Staub cast iron will last a lifetime, and the pour-spout edges are particularly useful for grilling because they allow you to easily pour off rendered fat before serving. $180
Hults Bruk Almike Hatchet
Sweden has a rich history with lumber, so it should come as no surprise that the Swedes make many of the world's finest axes and hatches. The Hults Bruk Almike is made of hand-forged steel sharpened to a razor edge, with an American Hickory handle. It's great in the back yard but also the perfect compact size to take car camping or even hiking. It comes with a cool riveted leather cover for the safety of the blade and your fingers. $169
Best Made Hudson Bay Axe
USA-made of hand-ground alloyed steel, the 2-pound axe has a 26-inch hickory handle with a slim profile, making it light but also large and hefty enough to handle chopping larger pieces of wood. In the hand, it feels incredibly svelte for its size, and it comes with a nice leather blade cover. This is no Home Depot axe, and the difference is very clear when you hold it and realize you never want to let go. $225
Straight Grain Supply Axe Tools
These leather Chore Gloves will keep blisters away and add an extra layer of safety for swinging your axe or hatchet. Keep your blade razor sharp with this Sharpening Stone, and keep the handle from drying out with their boiled linseed axe handle oil. Prices vary
Lamson Barbecue Set
Made in Massachusetts out of stainless steel and solid walnut, Lamson barbecue tools have a quality you'd expect from fine cutlery, not your typical mediocre fork and tong set dangling from the side of a grill. They come in a set that can be rolled up to take tailgating or cook at the house of a friend who's still using sub-optimal tools. $99
Yeti Tundra 45 Hard Cooler
Yeti Tundra coolers need no introduction. Put anything on ice in a Tundra and it will stay cold far longer than science should seemingly allow, whether that's beer, a fillet of fish, steaks, or all of the above. But it's not just for keeping things cold—the Tundra will also keep your food warm until it's ready for serving. $325
Yeti also makes a number of clutch backyard cooking helpers: the $40 Loadout bucket can haul dry or wet cargo and serve as a makeshift trash can, and the Camino 50 Carryall is big enough to bring your pantry into the back yard. Prices vary
Dometic CFX3 45 Powered Cooler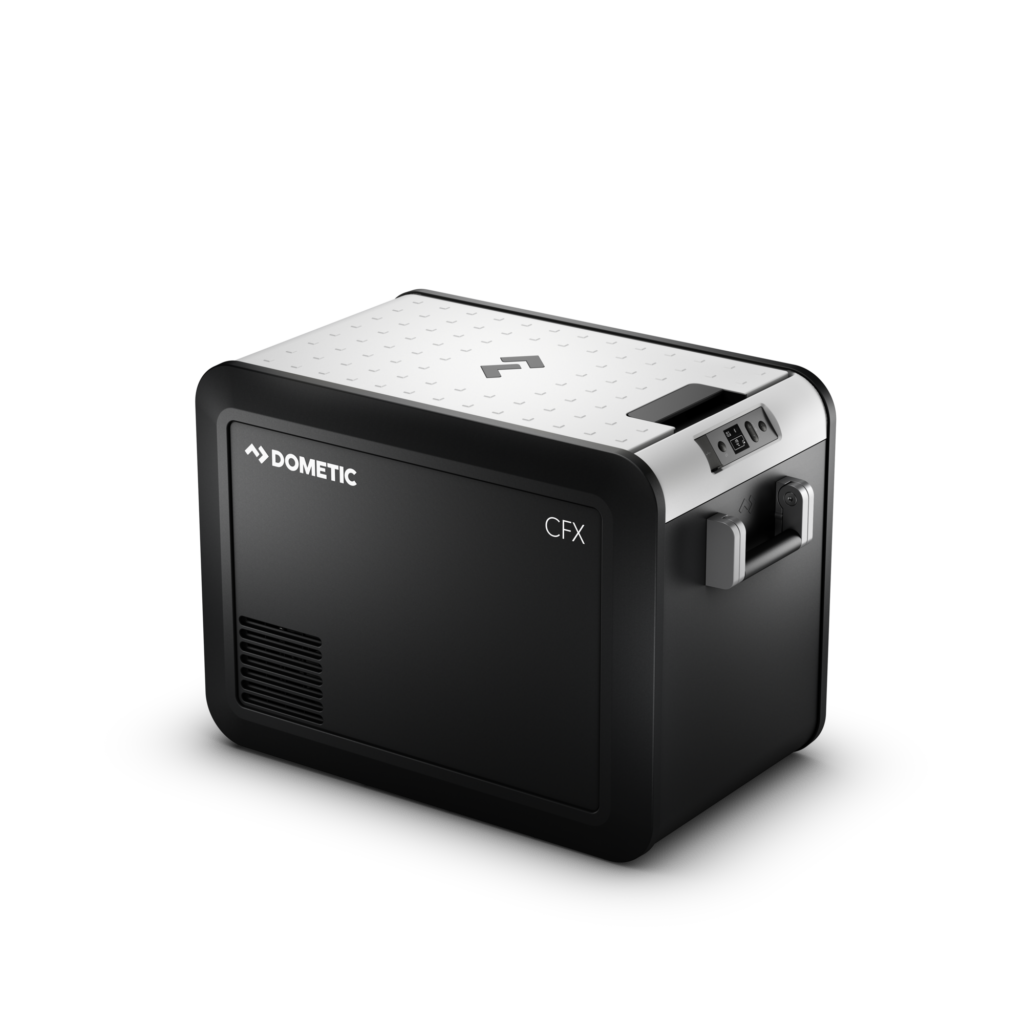 Dometic's powered coolers are a game changer for anyone who wants the freedom to have a fully-functional fridge along on their adventures. It can live in your vehicle and run off the 12-volt plug, it can live at home as an extra fridge or freezer on the porch or in the back yard using a standard AC plug, and if you want to go off-grid for long periods of time, you can power it with a Dometic portable battery charged with either AC power or a solar panel. $1,049
Sonos Move Smart Speaker
Music while you're grilling, and music for when the night turns into a party, the Sonos Move is drop resistant, water resistant, and has an 11-hour battery on board. If you're within Wi-Fi range, you can sync it with any other Sonos speakers and control it with Alexa or stream via AirPlay. When you get out of Wi-Fi range, you can still stream via Bluetooth from your phone. The Move automatically tunes itself to the surroundings for the best possible sound no matter where you take it. $399
Parkit Voyager Chair
This is a modern version of the classic woven lawn chair. It's light, it can be worn as a backpack for easy hands-free portability, and it comes with a detachable zippered cooler underneath that will keep things cool for 8 hours. The Voyager serves as your pack and your chair, with a cupholder added in for good measure—and comes in five colors. $203
Dometic Go Camp Chair
Dometic's folding chair is a simple but durable and comfortable chair for your backyard, but it's also slim and light enough for camping. This is the most durable chair tested, holding up to 280 pounds, and the most compact when folded. It's a no-frills chair that does its job incredibly well. $149
Yeti Trailhead Camp Chair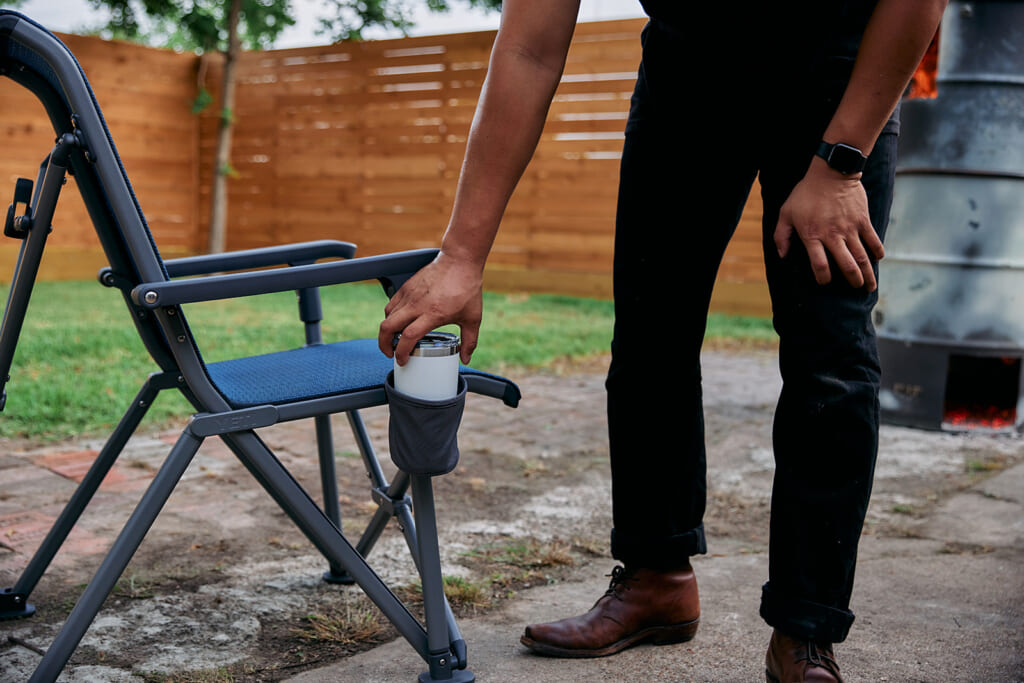 This is the most comfortable outdoor folding chair I've ever sat in. You could sit in this for an eight-hour tailgating session and never complain. It has an integrated cup holder, and the feet are wide enough to use it in sand or gravel. Not the smallest chair when folded, but comfort-wise, it blows everything else away. $300
Standout Subscriptions for Meat & Seafood
Holy Grail Steak Co.
The name "Holy Grail" is no exaggeration here. They sell steaks that you will truly enjoy over the course of a meal and savor as a memory, like dry-aged prime tomahawks for two and Japanese wagyu snow beef. These are not steaks you'd get in a grocery store, and you'd likely be hard pressed-to find a local butcher with this kind of selection. Well, unless you live in Manhattan or Tokyo. Prices vary
Porter Road
Porter Road handles every step of the process of getting meat and poultry to you, from pasture raising, dry-aging, and packing. Offering steaks, pork, poultry, and charcuterie, what truly sets Porter Road apart for me are their unique cuts, which make it more like a true butcher shop experience—things like beef bacon, Denver steaks, Picanha, and Teres Major, in addition to more common cuts like bone-in ribeye and tenderloin. Prices vary
Crowd Cow
Crowd Cow offers far more than the name would suggest, and in fact could replace any protein buying at the grocery store. Prices are reasonable for fresh meat, poultry, and seafood. You also get significant discounts like free shipping and free bonus items the more you buy. Crowd Cow has close relationships with their farmers, and you can even shop by individual farms once you find one you really like. Prices vary
Cousin's Maine Lobster
Lobster is a delicacy that, no matter what it costs, can either blow your mind or let you down. You've got to know you're investing in a trustworthy source. These tails are the finest Maine cold water lobstah and add next-level decadence to a backyard grilling session. Cousin's also sells filet mignon medallions for surf n' turf, lobster mac and cheese, lobster pot pie, chowders, crab cakes, and other Maine delicacies. Prices vary
Pat LaFrieda
Pat LaFrieda was the first butcher whose name appeared on the menus of top New York steakhouses, and his company now offers home delivery. For exceptional, well-marbled prime steaks that you'd find in a classic steakhouse, Pat LaFrieda ships the same quality steaks they supply to restaurants to your door. Prices vary
Prairie Street Prime
Offering home delivery of Prime and High Choice kosher beef, as well as lamb and veal, Prairie Street Prime is a truly high-end kosher meat experience. In addition to their steaks and chops, their ground meat is extraordinary. I made the best Bolognese of my life with PSP's ground veal. Prices vary
Buy Good Rubs or Make Your Own
The best Montreal Steak seasoning I've tasted comes from the Canadian spice merchant, A Spice Affair, but they also sell a global range of spice blends with collections curated just for grilling. For seasoned salts, Osmo Smoked Bacon Sea Salt adds a little magic to lean cuts that don't have the same inherent flavor as a marbled cut. Rec-Teq's Four Letter Rub is four-letter good on chicken, and Big Green Egg's Ancho Chile & Coffee rub gives a sweet and savory punch to meat that is addictive.
Brød & Taylor Sahara Dehydrator
You've never tasted garlic powder like it tastes homemade, and the same goes for pepper flakes, dried herbs, and more. So, if you want to make your own signature grilling or smoking rub and take your backyard cooking to another level, you need a good dehydrator. This folding dehydrator from Brød & Taylor is easy to store, and the seven-tray capacity allows you to dehydrate everything in one watch. Once you get that spice blend right, this also makes incredible beef and turkey jerky. $395
The Original Duck Fat Spray
This duck fat spray is a secret ingredient for getting perfect crusts on steaks, chops, and chicken. Particularly if you're working with fillet, venison, or chicken breasts that don't have any fat to crisp up on the surface, this adds just what you need to get a crust without sticking to the grill grates. No BS inside, just pure ducking fat. $14