The Best New American Rye Whiskeys of 2021
From evolved expressions by venerated whiskey brands like WhistlePig and Basil Hayden to a far-out collab with GWAR and excellent debut bottles, there's a lot to love in the world of rye.
In what's becoming an annual tradition launched all the way back in 2019, we're here to collect the best new American whiskey we've tried in 2021.
One of the decadent benefits of the gig is the sheer volume of spirits that come across our desk, so we take great diligence in sampling each and every bottle and delivering to you the best in each category we see as relevant and trending.
Because the spirit-swigging people demand it: According to DISCUS data, sales of American whiskey have almost doubled (from 15,000 cases to 28,000) in the last decade, and even more recently showed explosive growth in the Premium (+46%), High-End Premium (+29%) and Super Premium (+122%) categories.
So the overall desire is not only there, but the thirst for truly excellent top-shelf liquor is driving the surge.
For our first roundup we bring you the best new American rye for 2021, one of the most exciting spaces across spirits. The entire category is exploding, with seemingly every label under the sun releasing their own version of the spicy spirit. Here are our 14 favorites.
Blue Run Kentucky Straight Golden Rye Whiskey
Although fairly new on the scene, Blue Run Spirits have come out of the gate dropping one delicious expression after the next.
In November the upstart luxury label's first whiskey with bourbon legend Jim Rutledge serving as Master Distiller was released: Blue Run Kentucky Straight High Rye Bourbon Whiskey (65% Yellow Corn, 30% Rye, 5% Malted Barley).
Consisting of only 100 carefully selected barrels handpicked for this bottling, each is toasted to a #4 alligator char and aged in Frankfort and Bardstown, Kentucky at the Castle and Key Distillery (111 proof).
But the release that came out just prior in early fall, Golden Rye, may barely take our preference. Unsurprisingly this inaugural Rye from Blue Run picked up a Gold Medal at the recent 2021 San Francisco World Spirits Competition, its aroma of graham cracker matched with notes of pear and ginger. $150 / 47.5% ABV
Wolves The Rye Project – Vol. One, Batch One
We'll be honest: we were dubious of Wolves' debut expression, the aptly named First Run. Knowing it was the brainchild of streetwear design + marketing gurus (UNDFTD's James Bond + Jon Buscemi of Oliver Peoples/Gourmet) we thought Wolves was simply the product of the immaculate hype machine.
Then we tried it. A mouthwatering blend of whiskies (one distilled from craft stout beer, another from craft pilsner beer, plus a rye and single malt) First Run was whiskey heaven in a glass. No wonder their first two outings sold out in less than a week each.
Their latest — The Rye Project Vol. One — is Wolves' first foray into Rye, a collaboration with venerable Kentucky house Willett, sold out in half an hour.
The blend is "anchored" by an Indiana-sourced rye (51% rye mash bill) aged for 6 years in new American oak, then finished in Sonoma County for another 6 months (also in new American oak). Willett then contributes its own 6 and 7 year Rye (74% rye) hand-picked by both brands' Master Distillers (Wolves' Marko Karakasevic and Willett's Drew Kulsveen) to complete the tri-state collaboration (57% Willett / 43% Wolves.).
As can be expected Wolves kills the presentation with a baseball bat-inspired cork topper and clean cotton bag.
Wolves' The Rye Project Vol. One will be released in two batches: roughly 7,000 bottles of Batch One (51.5 ABV) is out, and Batch Two (Barrel Strength) will be released this coming Spring. $300 / 51.5% ABV
WhistlePig 'The Boss Hog VIII: LapuLapu's Pacific'
Now in the 8th edition of WhistlePig's innovative annual The Boss Hog series, LapuLapu's Pacific explores uncharted territory in the world of rye by doubling down on last year's Boss Hog VII: Magellan's Atlantic global circumnavigation.
This year their Straight Rye Whiskey aged for 18 years in new American Oak continues sailing across the Pacific (in spirit, anyway), by ending its maturation with a double finish in high-toast barrels that previously held small batch, single island Philippine Rum (7-year-old + 10-year-old).
The name comes in homage to Filipino hero LapuLapu who defeated Magellan and the Spanish fleet on April 27, 1521 — exactly half a millennia ago. Ending Magellan's life and his personal journey, it makes sense that LapuLapu picks up WhistlePig's quest from here.
Taking things a step further, the Vermont distillery honored LapuLapu by capturing an anthropomorphic Mortimer the Pig (their mascot) in hand-made, collectible pewter crowning the bottle. $600 / 53% ABV
291 Colorado M (Maple) Rye
There's a cornucopia of goodness coming from another of our favorite craft distillers, Colorado's great Distillery 291.
291 Colorado M (Maple) starts life as the award-winning 291 Colorado Rye (aged in new American White Oak barrels with Aspen staves thrown in) and is then poured into Distillery 291 whiskey barrels formerly used to barrel-age Wisconsin maple syrup by Lincoln County Reserve. Here it sits for another four months, gaining pronounced French toast notes and a luscious mouthfeel — despite its power (62.5% ABV).
Little surprise the growing label has earned no less than 9 Liquid Gold designations from Jim Murray's Whisky Bible. $108 / 62.5% ABV
Catoctin Creek x GWAR Ragnarök Rye
Catoctin Creek teams up with metal maestros of havoc, gore and monstrosity GWAR for their highly limited edition Ragnarök Rye release. The intergalactic monsters apparently traveled to Purcellville, Virginia to destroy Planet Earth, as they are wont to do.
"We were quite surprised when GWAR showed up at our distillery," Catoctin Creek founder Scott Harris tells us. "Purcellville is a quiet town, so to have these intergalactic visitors was honestly a little stressful. We had to constantly keep an eye on them to keep them from breaking stuff, and they even tried to eat our dog, Otto. The only way we could get them to leave was to agree to bottle their whiskey for them."
So Harris and Catoctin Creek did, crafting a 92-proof rye first aged in charred new white oak, then sent for another sentence in both sugar maple and Cherrywood barrels. Beyond brokering galactic peace Catoctin Creek also managed to make one helluva rye. $100 / 46% ABV
Barrell Craft 'Seagrass' Rye
Barrell Craft spirits releases so many different expressions every year it can make your head spin.
The prolific whiskey house were just awarded 14 Gold medals or higher at the 2021 San Francisco World Spirits Competition: 2 Best in Class, 8 Double Gold medals and 6 Gold medals in total. Many are single barrel and difficult to source, but one of their more available offerings, Seagrass, is a wonderful introduction to the brand.
Seagrass takes American and Canadian rye whiskeys, each sourced and finished separately in Martinique Rhum Agricole casks, apricot brandy casks and Madeira barrels, and then blends them to create a unique and award-winning whiskey.
Their collaboration with The Ocean Foundation promises proceeds from the sale of Seagrass go to restore and preserve shore environments around the world — so this rye will not only cleanse your palate but also help conserve and restore seagrass meadows. Win win. $80 / 59.2% ABV
Corsair Dark Rye
One of the most unique ryes on this list — which shouldn't surprise, as the impulse to experiment plays strong in the Corsair distillery.
Instead of filling their mashbill's rye balance with corn, the Bowling Green distillery opts for malted rye (61%), malted chocolate rye (4%) and malted barley (35%) to create what is technically both a rye whiskey and a malt whiskey. The mashbill provides chocolate and coffee notes that complement the rye spice and smooths out to a velvety, almost oily experience.
Corsair Dark Rye claimed the 2021 San Francisco World Spirits Competition Double Gold, best in Category Rye Whiskeys and also won Gold at the 2021 Proof Awards. $50 / 42.5% ABV
SLO Stills 'Rod & Hammer' Rye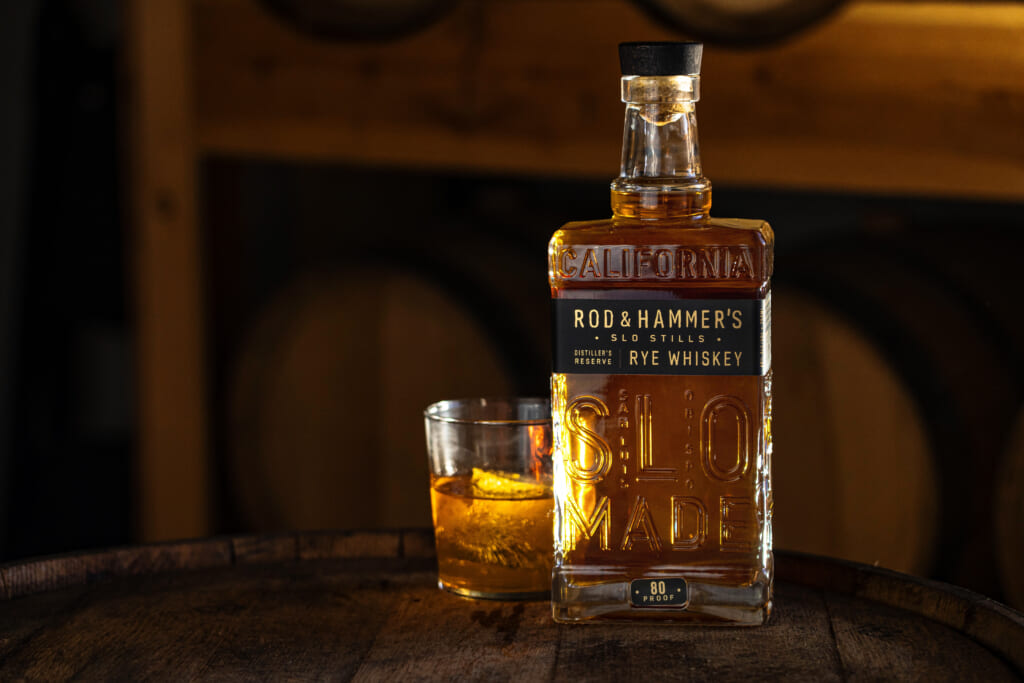 San Luis Obispo's SLO Brew may be the Central Coast's longest-standing microbrewery (hopping since 1988), but they've been developing a suite of spirits under the SLO Stills banner for a minute now.
Their Rod & Hammer line of whiskies includes Straight Bourbon (aged two years in New American oak), Cask Bourbon Whiskey (pulled at full strength straight out of the barrel, uncut) and Straight Rye Whiskey (distilled from 95% rye).
Of them all look out for the latter; SLO's Rod & Hammer Rye is an impressive whiskey that's helping California edge towards the top-tier whiskey states. $70 / 40% ABV
Michter's US1 Barrel Strength Rye
Michter's takes its ryes very seriously, it's the reason why the Kentucky-via-Pennsylvania distillery has grown in repute into one of America's finest whiskey producers (the lineage of the brand dates back to using rye from the Pennsylvania Blue Mountain Valley in the mid-18th century).
As with all their limited production bottles the barrels are plucked only when they reach peak maturity. For the past two years what they had aging in their barrels simply hadn't quite reached the Michter's standard so no new US1 Barrel Strength Rye was released.
This changed in 2021 when Michter's next barrel-strength rye hit shelves. Their 2021 US1 Barrel Strength Rye whiskey adds no water to the golden nectar in order to yield a richer, purer and more full-bodied whiskey.
The highly-allocated single barrel product may SRP for $100 (55.2% ABV), but you'll be lucky to find it under $300. $287 / 55.4% ABV
Basil Hayden Dark Rye
Basil Hayden was built upon a high-rye bourbon recipe, but in 2017 further committed to the grain by introducing a limited edition Rye Whiskey expression.
The first-ever permanent Rye extension to the Basil Hayden's family, Dark Rye, takes things to the next level. They start with their Kentucky Rye and blend in Canadian Rye from Alberta Distillery, and then for extra depth of flavor add in a splash of California Port. Not a port barrel finish mind you, but actual port is poured into the rye whiskey blend.
The results are a deeply rich, nuanced and flavorful fruity molasses rye with luxurious mouthfeel and gorgeous dark color. A steal for its price, a perfect gifting whiskey. $45 – 40% ABV
George Dickel x Leopold Bros Collaboration Blend Rye
George Dickel has been crafting Tennessee whiskey at the Cascade Hallow Distillery for a very, very long time. It's what they do. (Sidenote: if you ever have a chance to swing by Cascade Hallow, it's one of the most humble, unique distilleries we've seen this side of Oaxaca.)
So it's quite the tectonic shake that the Dickel brand is releasing their first rye ever — the first time a rye distilled at Cascade Hollow Distilling is being released to the market.
The collaboration with the Leopold Bros see Dickel's own never-before-released traditional column still rye blended with the Denver family distillery's 'Three Chamber Rye' for a delicious entry into the exploding segment.
Bountifully floral, George Dickel x Leopold Bros Collaboration Blend offers whiffs of roses and lavender before the sweetness (and a bit of cocoa) hits your palate. The limited release Tennessee x Colorado juice comes bottled at 100-proof. $200 / 50% ABV
Stellum Rye
Launched by Barrell Craft Spirits, Stellum features simple elegant blends and single barrels all selected with care and intention. Praise came quick out of the gates.
Stellum Rye (95% Rye Indiana mash bill) picked up a Double Gold and Stellum Bourbon (a trio of Indiana Bourbon mash bills: two high-rye + one almost exclusively corn) earned a Gold at their first-ever appearance at the San Francisco World Spirits Competition.
Stellum Rye also received a Double Gold at the New York International Spirits Competition. Potent in both alcohol punch and flavor, Stellum Rye seems ideally aimed at the cocktailverse. $45 / 58.3% ABV
High N' Wicked Kentucky Straight Rye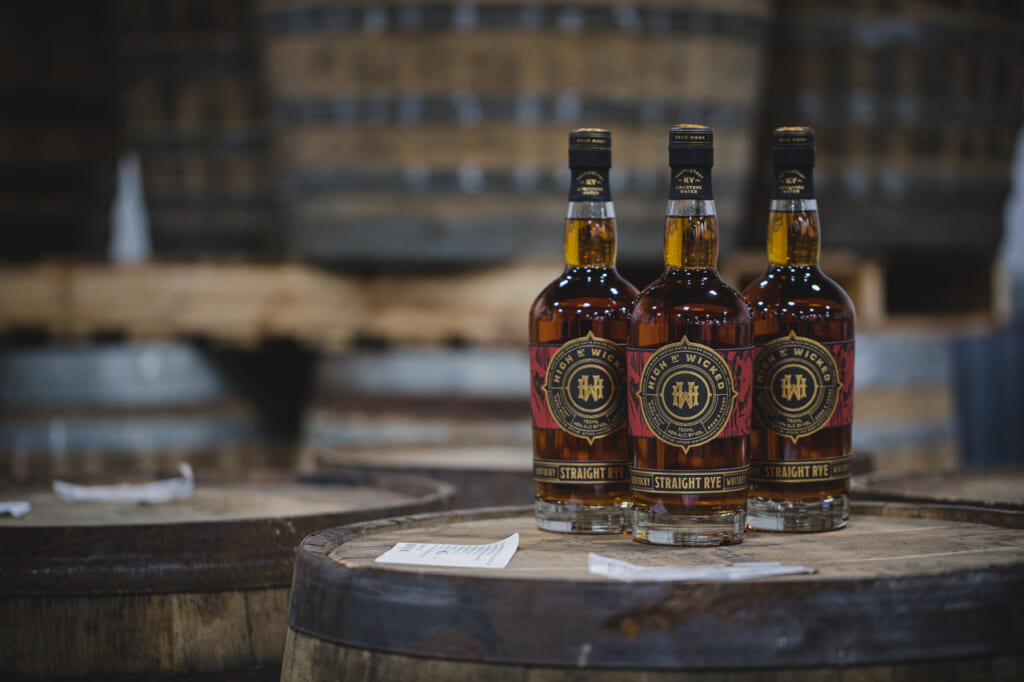 Jackson, Wyoming's High N' Wicked was founded by the minds behind Altamar Brands with the mission to source the best whiskey (and other oaked spirits) they could find and share it with the world.
Their second expression, a Kentucky Straight Rye (95% rye + 5% malted rye) sourced from the superb New Riff distillery helps launch their efforts in great form.
It all starts with New Riff's limestone-rich Kentucky aquifer water. The mash is fermented for 3 days and then distilled through an 'All-Copper Distillation Path' — meaning the mash/distillate touches copper at every point it is heated, via both a column beer still and doubler.
The white lightning is then aged for a full 5 years in toasted and charred (#4 55-second 'alligator char') new American oak barrels before being bottled without chill filtration at 45% ABV.
This particular aging grants High N' Wicked's rye an overall caramel and honey sweetness with the expected spice — plus a gorgeous amber color. $73 / 45% ABV
High West A Midwinter Night's Dram Act 9
Seemingly every year High West's A Midwinter Night's Dram tickles our whistle, and this year is no different.
For the ninth edition of their experimentation with rye the Utah distillery — the first legal one in the teetotaling Beehive State since the 1800s — starts with their already excellent High West Rendezvous Rye and pours it into both Ruby and Tawny port barrels to rest for another 1-2 years.
Each year the batch tastes a little different, and for the Act 9 Master Distiller Brendan Coyle's limited edition rye provides a profile of dark fig, cinnamon strudel and blackberries. Sure it SRPs for $100, but good luck finding it at that price. $300 / 49.3% ABV
Follow @nickstecher + @boozeoftheday on Instagram for the latest gems in the spirits world.