The Latest 'Booze & Vinyl' Book Pairs Classic Cocktails With Iconic Albums
Pairing Old Fashioneds, Dirty Martinis and tropical tiki drinks with cuts from your favorite records.
In 2018 Running Press published a book called Booze & Vinyl that instantly became a cult classic, thanks to its brilliant matchups of classic albums and equally iconic cocktails.
Due in large part to its gorgeous graphic design, authors André and Tenaya Darlington's impeccable taste in both music and drinks, and Jason Varney's fantastic photographs, it went on to sell more than 100,000 copies.
Now the collaborators have come out with a follow-up that's equally enthralling, Booze & Vinyl Vol. 2. Also published by Running Press, it adds a further 70 albums and 140 recipes—since each LP is paired with a Side A and Side B tipple.
"The renaissance of the long-playing record has brought back the listening session: playing one album, all the way through, preferably with a drink in hand," the authors wrote in their introduction to book one.
"Between the appealing sound of vinyl and the sense of nostalgia they elicit, LPs possess an enduring quality that we crave. The album art. The poetic hisses and pops. These are the elements of a rich and deeply personal musical experience, without earbuds." An experience that is ineffably enhanced if you shake up the perfect cocktail to add a whole new level of sensory pleasure.
When they wrote the original volume, the Darlingtons "could feel the meteoric momentum behind LPs," with vinyl making a massive comeback—"maybe due to nostalgia, a love of the sound quality, or the desire for a tangible medium in the digital age."
And then in 2020, vinyl sales surpassed CDs for the first time since the 1980s. The concept behind both books is a sort of "music history class with benefits," i.e. a curated list of "epic music paired with handcrafted cocktails that connect to a song or songwriter in a unique way." The idea being that you might "find a signature drink to savor over and over," along with a favorite song.
The eclectic albums selected run the gamut from 1930s swing through 2000s rap, organized by mood, each designed for a two-side, two-drink listening session. "From the Ramones' punk antics to Beck's space cowboy jukebox," you've got LPs that will "start parties and burn the house down," or leave you feeling mellow as hell, with cocktails to up the ante; everything from a classic Dirty Martini to Kamikaze shots and tropical tiki drinks.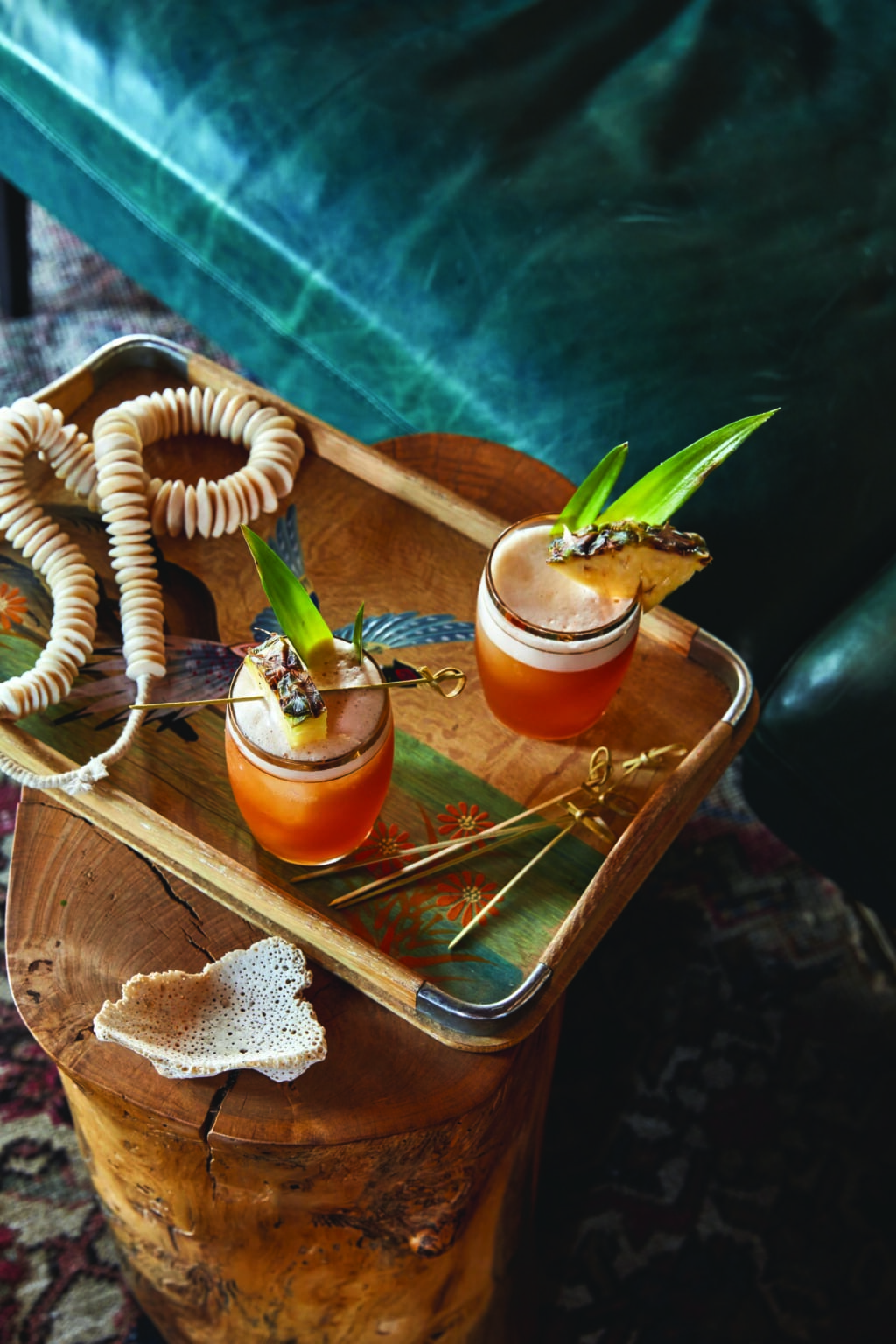 Some of our favorite combos involve either pairings we would never have thought of on our own, and rare or forgotten recipes that the music-and-mixology experts dug up in the course of their extensive research.
But nothing beats their genius take on The Blueprint, Jay-Z's soul-sample-heavy album from 2001 that is not only his best critically reviewed album, but the one that produced his first top 10 single, "Izzo (H.O.V.A.)". For starters, they suggest lighting up a cigar—the rapper is pictured smoking one on the album's cover— and then getting out some fine cognac.
Again the excellent eaux-de-vie from Ferrand would seem to be indicated here, though the authors note that Hennessy, Courvoisier and Rémy Martin are all solid choices. For Side A they specify a Brandy Sling, with its origins dating back to the earliest-ever mention of the cocktail over 200 years ago, and the perfect concoction for "toasting past and future successes"—Jay-Z would eventually go on to have more No. 1 albums than Elvis.
And for Side B, the coup de grace adds Angostura bitters to the mix for a Cognac Old-Fashioned, "the natural progression after a sling" and truly a cocktail for the ages. Play that one again, Sam.
This article originally appeared in the Sept/Oct 2022 issue of Maxim magazine.