The Ready-To-Drink 'Gold Fashioned' Aims To Elevate Bottled Old Fashioned Cocktails
This $150 Gold Fashioned from Sunday's Finest seeks to shake up the RTD cocktail game.
Watching a bartender carefully craft your favorite cocktail (say, an Old Fashioned) is a rare pleasure in life, but the latest luxe ready-to-drink offering from Sunday's Finest posits the question: What if you could get the same experience in a bottle, at home?
The Sunday's Finest Gold Fashioned, in a new blend for 2022, is the second Gold Fashioned offering from the Chicago company that's on a quest to shake up the ever-expanding RTD market (Sunday's Finest dubs the category "ready to enjoy").
Consider it a turn of good fortune that the $150 bottle (available at retailers like ReserveBar) hits the market well in advance of prime holiday party season.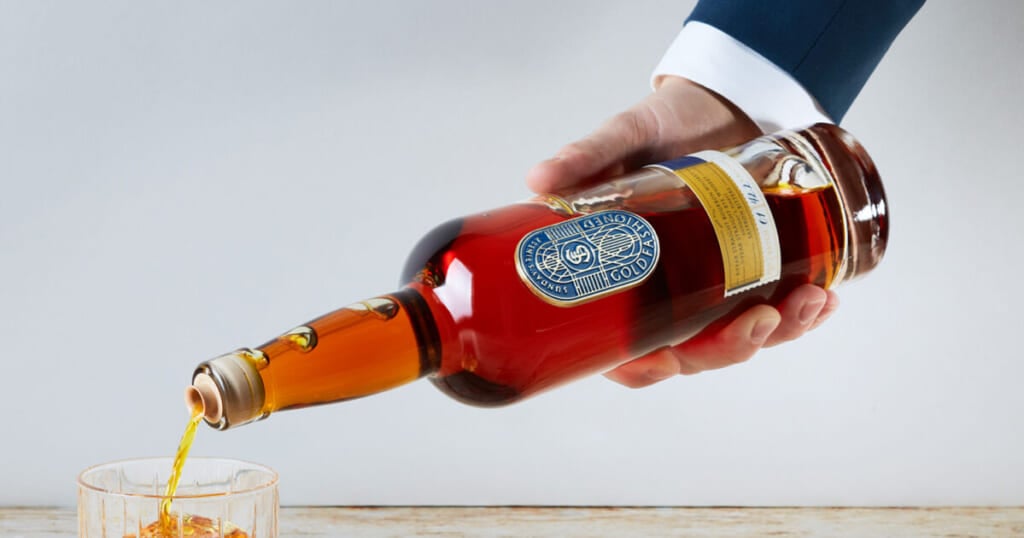 The inspiration behind Sunday's Finest certainly has some heft and pedigree behind it.
Robert Haynes, formerly of James Beard Award-winning Windy City cocktail bar The Violet Hour, co-founded Sunday's Finest.
The results — at least at first glance — appear mighty impressive. At the heart of the Gold Fashioned is a blend of two Kentucky straight bourbons (one 15-year, one 9-year expression) and a 6-year Indiana straight rye.
In-house Sunday's Finest Saffron bitters and Demerara sugar (sourced ethically from Malawi) round out the classic list of Old Fashioned ingredients.
Sunday's Finest notes that the blend itself is complex and nuanced, calling to mind flavors like "hand-harvested Afghan saffron, wild-harvested French gentian root, and Seville orange peel" for bitter citrus and floral top notes.
Think of it as a cocktail that's as subtle yet striking as any Old Fashioned found at a fine cocktail bar.
And for the full experience, use the included atomizer zest (made with a blend of three oranges) for a bright citrus aroma and finish.
The entire offering is delivered in a gift and display-worthy box in a handsome blue and gold color scheme, making it an ideal gifting option for the cocktail lover (or for your own home bar cart, of course).