This 'Big Lebowski' Cocktail Book Really Ties The Room Together
Dude-worthy cocktails that you can make at home.
The Dude abides, and although he might prefer a White Russian, there's plenty of imbibing inspiration to be found in The Big Lebowski. Luckily for fans of the '90s cult classic, lifestyle writer André Darlington harnessed that inspiration and turned it into an extensive volume inspired by The Dude himself.
Due out in March 2023, The Unofficial Big Lebowski Cocktail Book features more than 50 recipes covering just about every inch of the hilarious, quirky and memorable comedy (and yes, the book includes a White Russian).
Unofficial though it might be, the volume also includes food and song pairings tied into the movie, fitting given the film's eclectic (and again, memorable) soundtrack.
Darlington's extensive work covering spirits also includes memorable booze-meets-drinks volumes like this year's Booze & Vinyl, Vol. 2, and what's more fun than finding the perfect pairing between film, music and libations?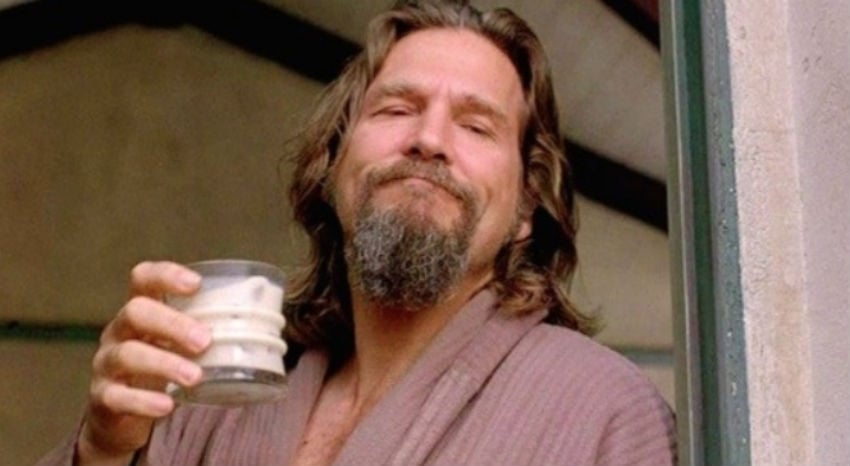 The book is packed with notable and fun cocktails and knowing nods to the film, be it "Maude's Manhattan" or "Bowling with Jesus."
Better still is the fact that the book is illustrated in vivid fashion drink by drink, as diverse and vibrant as the film's dream sequence (keep up if you can).
Secure your copy early before it ships next spring for under $20, and in the meantime, get your home bar ready with a look inside one of the book's delectable recipes.
Tai the Room Together
"Tie" your home bar cart and next drink of choice together with this spirited recipe, a la The Dude's rug of choice for Tai Chi. The book suggests you pair the drink with Captain Beefheart's track, "Her Eyes Are A Blue Million Miles."
Ingredients:
1 oz. light rum
1 oz. dark rum
1 oz. orgeat syrup
3/4 oz. fresh lime
1/2 oz. heavy cream
Process:
Shake the rums, orgeat and lime in a cocktail shaker with ice. Pour into a rocks glass. Top with heavy cream. Toast to The Dude.