This Boston Hotel Boasts The City's Hottest New Restaurant
The red-hot Coquette at the Omni Boston was named Best Hotel Restaurant of 2022 by Boston Magazine.
Boston, for all cachet, has a hard time when it comes to cool restaurants. It's big on chains, especially steakhouses; but if you're not into Asian food, or the kind of eatery that's really just a bar with snacks, and want to stay within walking distance of the center-of-it-all Seaport, options are fairly limited. Hence in 2021 when Coquette opened at the Omni Boston Hotel at the Seaport, there was much rejoicing in the land. Finally a cool brasserie-type joint with style, a Bathazar for the Boston set who sorely needed one.
Eater Boston calls Coquette "sexy and night-out worthy," and it's well worth a visit whether you're staying at the hotel (which also opened in 2021) or not. It's overseen by local chef Tom Berry, who has a proven track record with hotspots like Lolita, Yvonne's, Mariel, and Cocorico.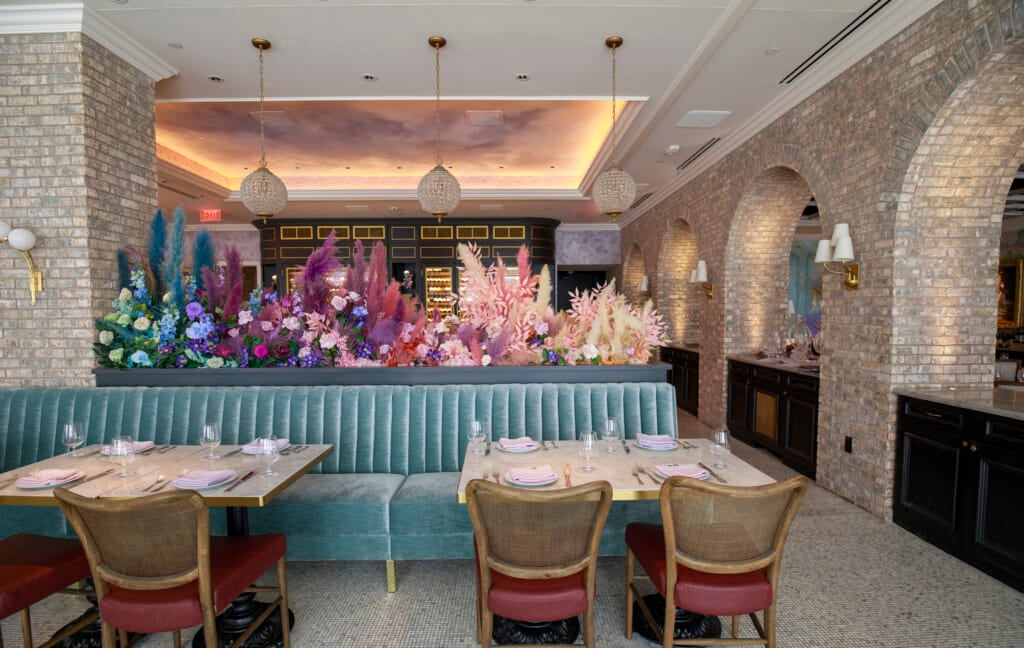 Regarding Coquette, "The philosophy going in was, 'How can we expand that definition of French and make it a little more tailored to what we already do with the other restaurants—bold flavors; interesting ingredients and presentations?'" as Berry told Eater. "That led us to adopt a bit of the Basque element, and it evolved into anywhere in France being game, any French territory became game."
With Bar Boulud at the Mandarin Oriental permanently closed, there was definitely demand for a fun new French spot. Coquette has the requisite raw bar and seafood towers, but it all feels refreshing rather than trite. And it goes beyond expectations with menu items like Biarritz Bar Toast made with salmon tartar and Boursin; duck confit and roquefort flatbread; and wild boar sticky ribs.
It also pays close attention to its bar offerings, with perfectly-sized martinis that come ice cold, accompanied by a trio of garnishes in an extra glass so you can customize them to you liking; and craft cocktails like the the Smoking Section, made with armagnac, Punte e Mes, walnut and cacao, with a peated Scotch rinse. And of course there's an extensive wine list to boot. No wonder Coquette was named Best Hotel Restaurant in Boston Magazine's Best of Dining 2022 Awards.
With 1,054 guestrooms, including 52 suites, Omni Boston Hotel at the Seaport is a fairly large hotel that manages to give off boutique luxury vibes thanks to very well-executed design. It's home to a heated outdoor rooftop pool, unique in the Seaport, offering impressive views of the city skyline and South Boston, as well as the Lifted pool bar, which as the name suggests brings an energy boost to the proceedings.
The open-air oasis of contemporary food and cocktails with a large deck allows for both indoor and outdoor revelry. And that's all in addition to The Sporting Club, designed for those who want to take in sporting events—the main Club Room features twelve high-definition TVs—yet still enjoy a stylish atmosphere; and Kestra, an equally aesthetically-pleasing and playful tribute to Boston's rich orchestral history, with a Mediterranean-American flair and a contemporary take on Mid-century style.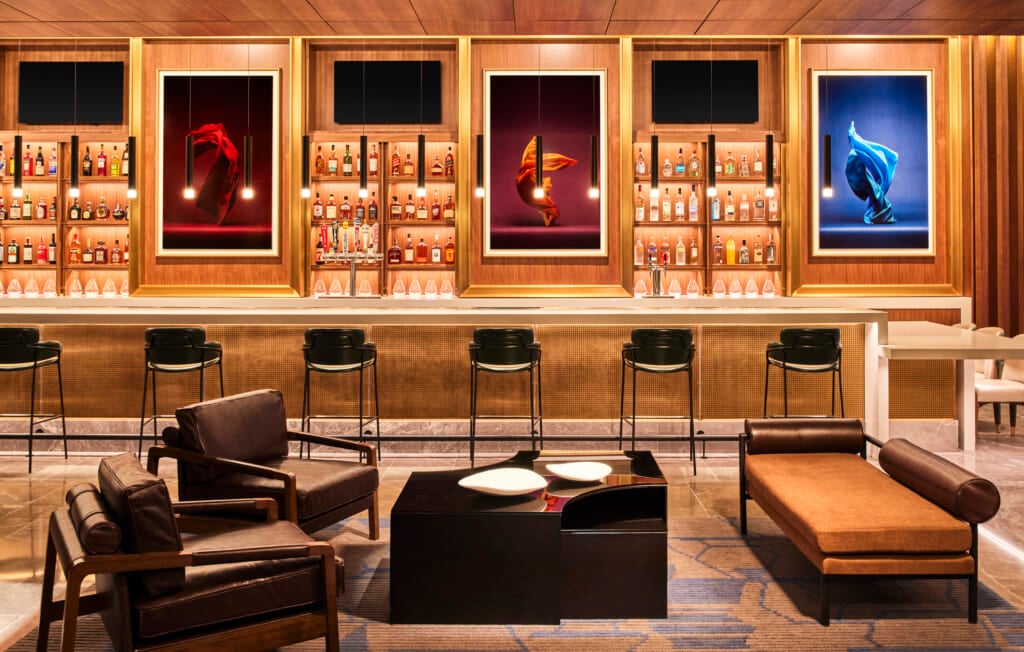 The furniture and artwork used to achieve this effect are in evidence throughout the hotel's public spaces, creating sanctuaries with a unified design theme and art-focused aesthetic that draws you in to each one, be it a bar or seating area off the main lobby. The integrity of the materials and finishes used keeps everything on an elevated plane.
On equal footing with the various dining venues, and another amazing new asset for the neighborhood and the city, is the Omni's Breve Spa. With an organic-feeling decor of wood, stone and natural hues, it soothes you from the moment you walk in. Breve features a full salon with an infused drink bar, seven single treatment rooms, one double treatment room for couples, and a tranquil relaxation lounge.
"Inspired by ancient techniques and modern therapy," Breve's curated treatment menu ranges from full-body reflexology to all types of massage, light and sound therapy, CBD products, and more. Combine more than one element if you really want to push the limits of relaxation. Book a suite at the hotel and they'll have your table at Coquette waiting when you emerge. There's no more stylish way to experience the Seaport in our opinion.