This Supercar-Style Italian Range Is Like A Ferrari For Your Kitchen
Forza's colorful, professional-grade powerhouses are painted using the same tech as Pagani hypercars.
Designed and built by hand in Modena, Italy—the center of Emilia-Romagna's famed "Motor Valley," home to the likes of Ferrari, Lamborghini and Maserati—and painted using the same technology that gives Pagani hypercars their distinctive colors, Forza's powerful kitchen ranges are now being imported Stateside. If you're ready to go full Carbone in your at-home chef sessions, and give your kitchen a supercar-worthy style infusion to boot, these are well worth a second look.
As the company notes, they are totally dedicated to "the proposition that dramatically sculpted lines, inspired colors, superb technology and engineering will enhance every culinary experience"—whether you're making tomahawk steak or whipping up an omelette.
Built to professional standards, the Forza ultra-premium lineup includes top-of-the-line gas ranges, dual convection electric wall ovens, professional range tops, among other items. Forza is the American brand of parent company Glem Gas, which has been producing high-performing appliances that "embody the spirit of Italian craftsmanship" for more than 60 years.
The ranges are their best-known product, and they're rife with proprietary features designed to "make creating masterful meals an elegant experience," with true Italian style. Among other honors, the brand won the prestigious 2021 Good Design Award from The Chicago Athenaeum: Museum of Architecture and Design and The European Centre for Architecture Art Design and Urban Studies for their impressively-sized 48-inch Professional Gas Range.
Founded in Chicago in 1950 by legendary designers Eero Saarinen and Charles and Ray Eames, Good Design remains the oldest and the world's most recognized program for design excellence worldwide. The oven on the 48-inch marvel goes from 0 to 400°F in just eight minutes and tops out at 536°F in 20 minutes, with a 19,000 Btu bake burner. In 2020 Forza's also won a Good Design Award for their 30- and 36-inch ranges. All exhibit the solidity and masterful attention to detail you'd expect out of Modena.
Forza gas ranges feature their proprietary MassimoBlu Hyper Double Broiler, the industry's only blue-flame double broiler. With a potent 18,000 Btu, it's designed to heat the oven cavity evenly from edge to edge, "eliminating cold spots and maximizing the heating area."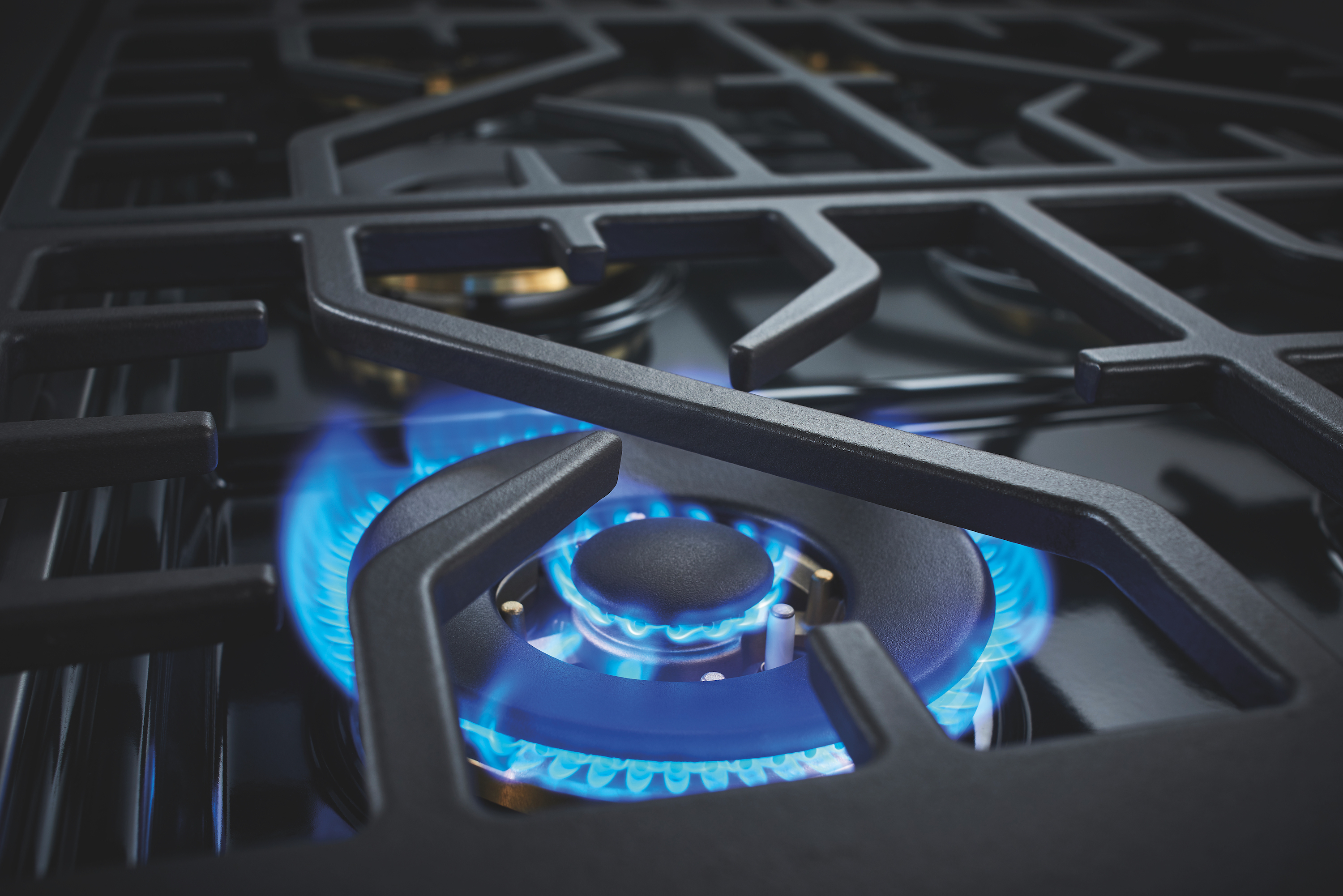 An additional ultra-premium function is the brand's exclusive Infinito Grate System, the industry's only continuous grate system with an integrated bullnose, utilizing edge-to-edge cast iron grates. The ranges feature distinctive angular racecar-inspired lines and come in seven vivid colors: Audace Black, Dinamico Blue, Radicale Red, Ardente Orange, Ribelle Yellow, Valoroso White and Stainless Steel.
We spoke to Marco Guerzoni, Forza's Director of Product Development, about the background and design of the brand's unique products:
What is the meaning of the name Forza and why was it chosen?
We needed a name to reflect the brand's Italian origin, while giving it a strong, culturally connected meaning, with coherency to the brand's proposition. We landed on Forza because in Italian it means strength and force, similar to the power of our product offerings. The word "forza" is also used in the Italian language as an expression of support or an added push for someone in need, oftentimes used on the sports field. Similar to Forza Ferrari"—aka "Go Ferrari!", shouted by F1 fans the world over—"the word is very connected to our Italian roots."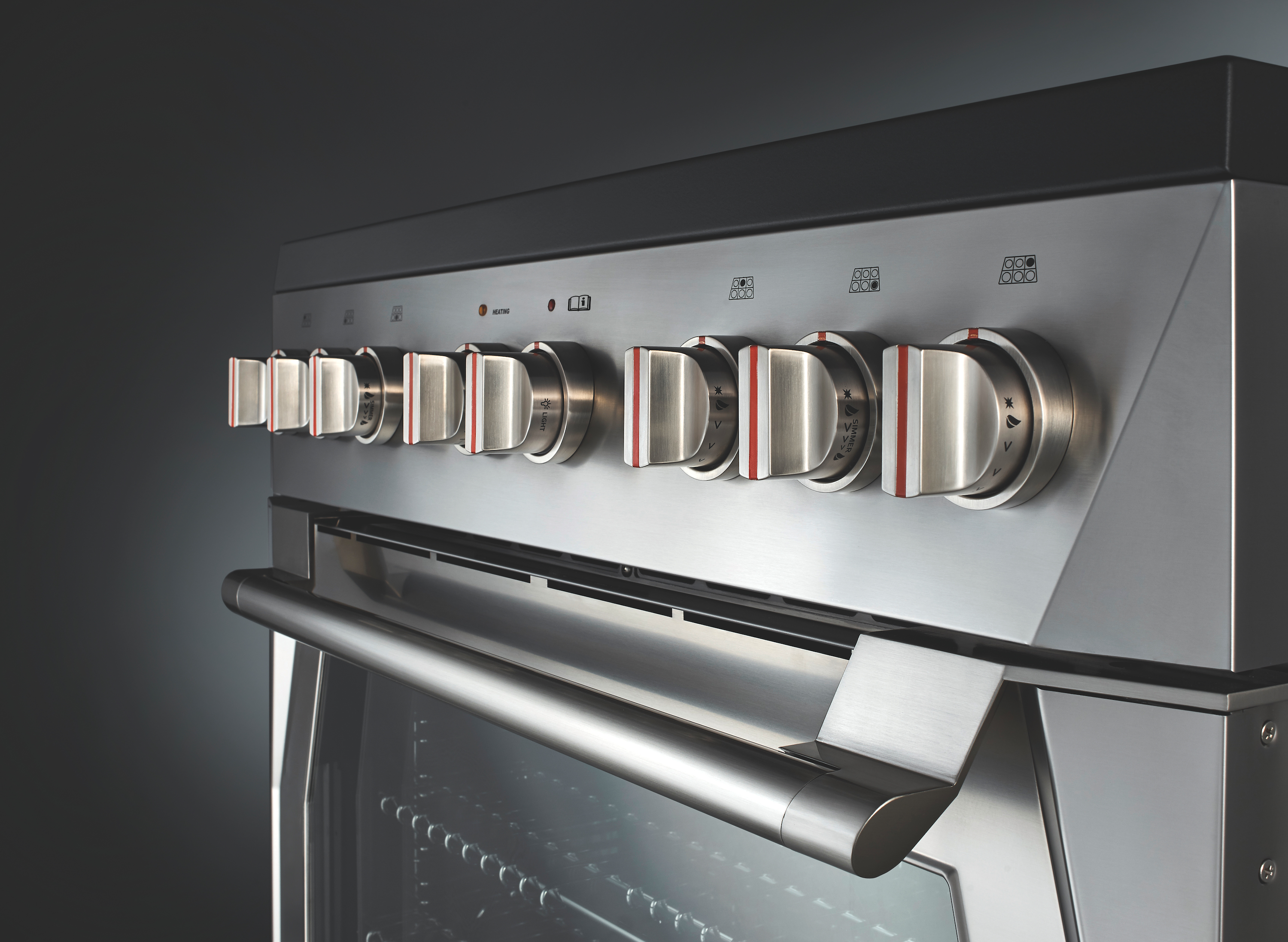 What sets Forza apart from other makers of luxury kitchen ranges?
Forza is the only Italian manufacturer of ultra-premium, pro-style cooking appliances that provides a feeling of originality, through our radical Italian design. Without a doubt, we offer the sexiest design in the industry. If you're attracted to those dynamic, sculpted lines and performance, Forza is truly the only way to go.
Why is it important to be located in Modena?
Modena is my hometown and it's an amazing place where you can find the best in class in many different industries, from sports cars, to fashion, food, and wine. How and why? It's a fusion of heritage, dedication and passion to achieve new goals and new levels of expertise. It's a different way of thinking and challenging the status quo, to find the perfect recipe for success. To sum it up in two words: outstanding people.
How do the likes of your neighbors like Ferrari and Maserati influence Forza's designs and construction?
Those iconic brands are our daily inspiration in the way that they continue to research innovation and excellence in every aspect, without ever compromising the spirit of their own brand. This combination is what we're looking to achieve with Forza–a never ending library of ideas for continued growth and adaptation, from the shapes, colors, and finishings, down to the company's visual format.
What inspired the references to sports car design?
We had a strong desire to reflect where we come from at first site, words unspoken; a high-end product with an original design, made in Modena, Italy. Coming from the Modena and Emilia-Romagna regions, motorsports are in your DNA. Whether it's a car or motorcycle, you fall madly in love with it.
What else inspires the designers of Forza ranges?
Our inspiration comes from Italy's design trends. For example, this week is Design Week with the Salone del Mobile in Milan, and we are able to walk the show, and touch and feel products to trigger new ideas. For cooking needs, we are lucky to be surrounded by many incredible chefs including the great Massimo Bottura with his Osteria Francescana restaurant, and his current and former brigade including Luca Balboni, who we frequently collaborate with. Finally, for material and technological innovation, we find inspiration from the best industries around our region. For example, the painting technology of our sporty colors comes from the same car painter of Pagani hypercars.
What does being Italian mean for Forza?
It means a lot in terms of inspiration. We are living in a fantastic country with many defects, but we're surrounded by art, historical heritage, industrial knowledge, curiosity, culture, beauty and wellness. Our way of living and spending time together works as our lifeline and way of rethinking to improve our daily activities. Forza needs it and we will always want to be a part of it.
What are your thoughts regarding the controversy over gas ranges in the USA? Don't most serious cooks agree gas is best?
As a manufacturer, we are keen to meet all industry and government standards for safety and UL Ratings. We also recommend that customers purchase a quality ventilation hood to ensure that the water vapors, steam, and heat are all vented out for the best air quality in the kitchen. Indeed, a majority of professional chefs cook with a gas oven. While the differences may be subtle in cooking performance, and may come down to personal preference, there is a significant difference when it comes to cooking certain foods using gas.
Who is the clientele for Forza ranges?
Our target audience in an affluent, 35 years or older cooking enthusiast, looking for a professional Italian style range with style and performance. The home chef enjoys spending time in their kitchen and entertaining.
Will Forza be expanding into other products in the future, perhaps even beyond the kitchen?
Over the course of our five-year plan, we are focused on completing Forza's kitchen suite with full electric ranges (induction), fridges, and other specialty products. After that, I'm excited to take into consideration other parts of the home, but only in the purest spirit of Forza.
Would Forza ever create a partnership with other Italian icons, like Ferrari or Maserati?
Let's say that we are having a very interesting conversation with one of our closest neighbors… the future is in progress!