The Best American Whiskeys to Try Right Now
These standout bottles are required drinking for fans of All-American whiskey.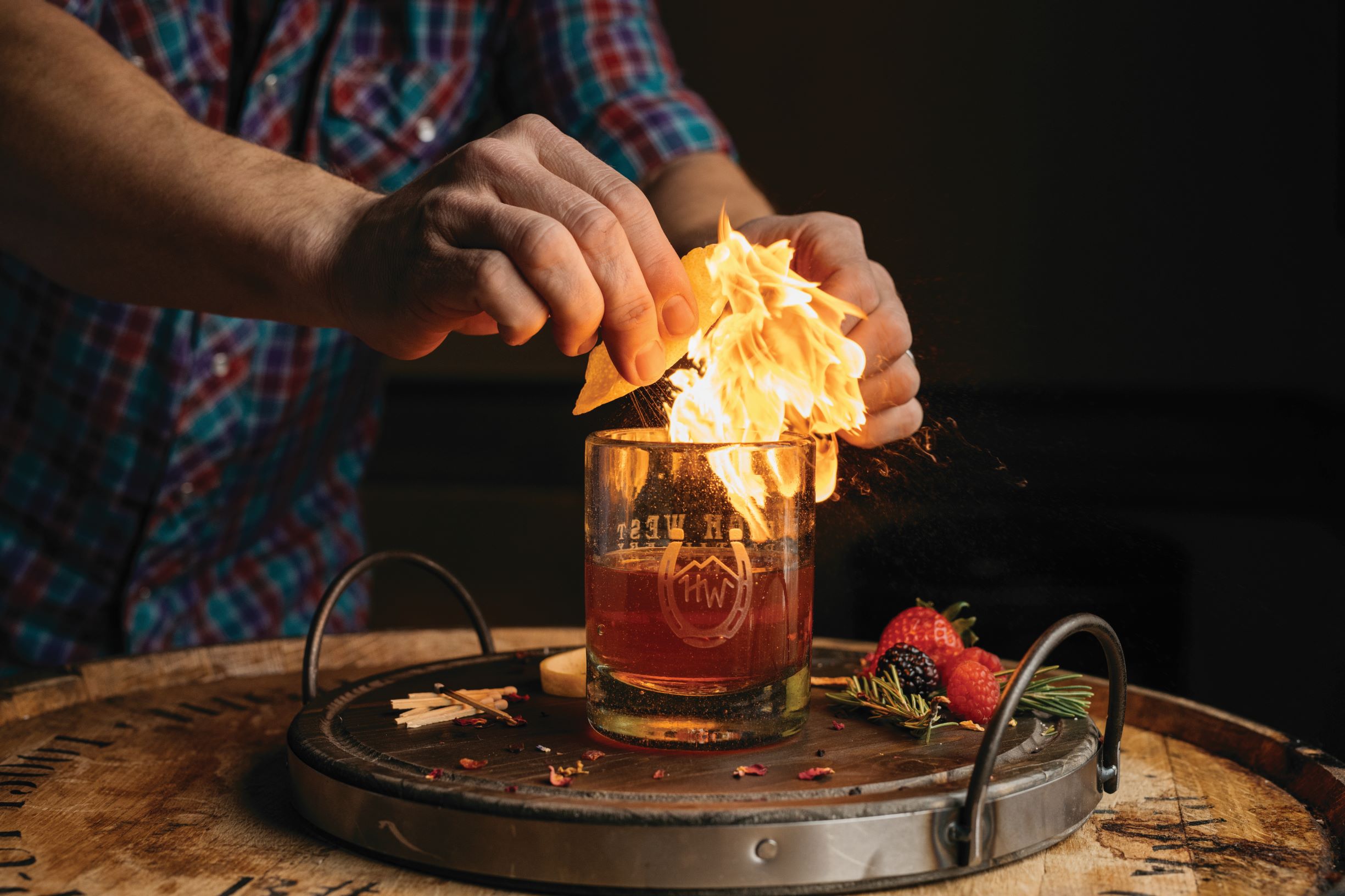 It's hard to miss the veritable explosion of American whiskies popping up on the shelves of your neighborhood spirits shops and watering holes lately. Even casual observers have probably spotted a dozen new labels of native browns, while enthusiasts are eagerly licking their lips at the scores of new options available. There are so many, in fact, that some aficionados are suffering from fatigue. Eager to dig deep into the varied offerings of the new American whiskey landscape, we recently sampled over 100 bottles from across various categories to find those worthy of closer attention—and a healthy pour. 
"Given the growth of interest in American whiskey and proliferation of craft distilleries, as well as new products by large distilleries, it's clear we're in a golden age of whiskies," David Ozgo, Chief Economist for the Distilled Spirits Council of the United States (DISCUS), tells us. "We're enjoying a greater variety and higher quality than ever before."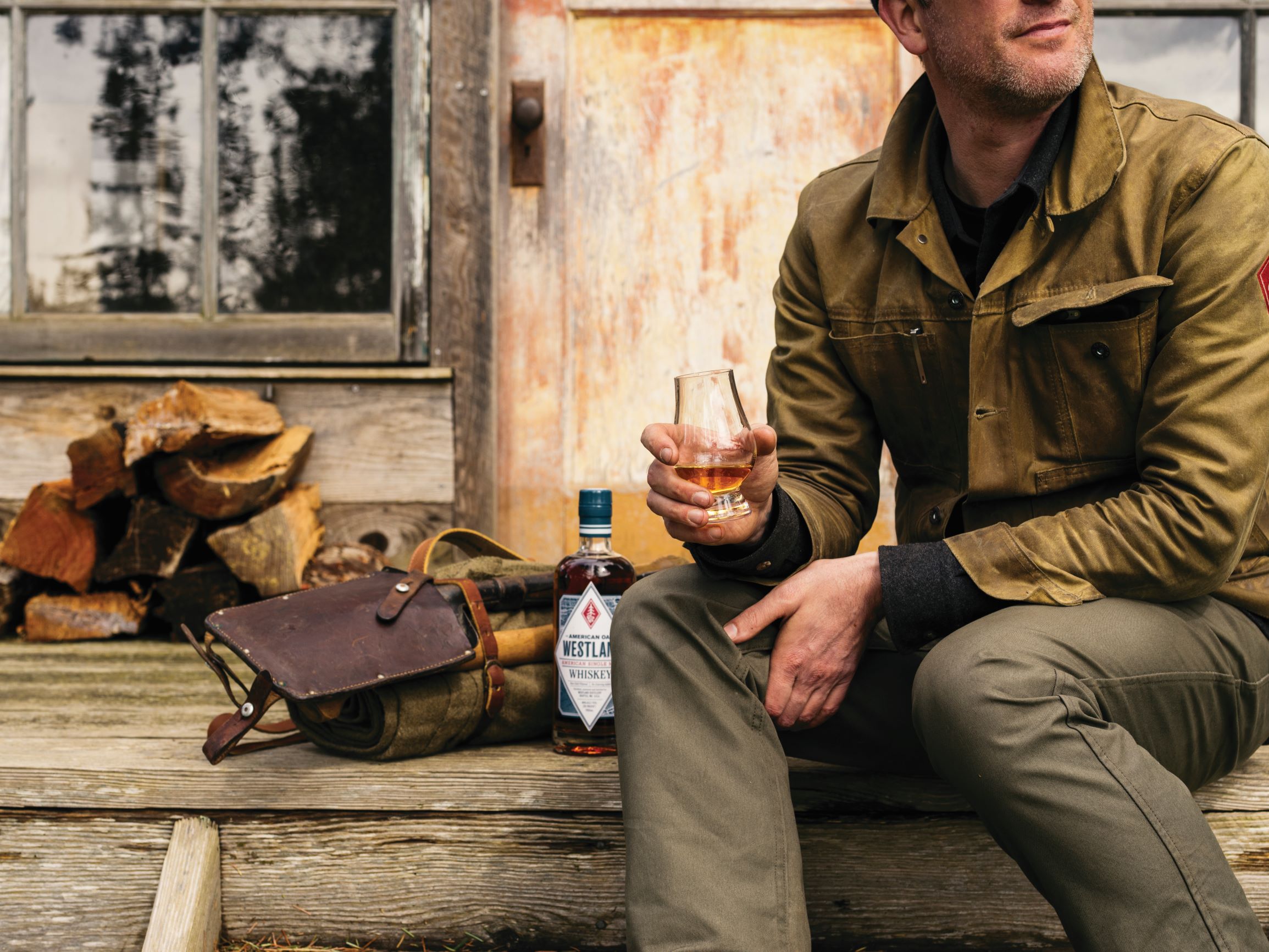 According to Ozgo, over 2,000 craft distilleries have opened across America in the last decade, everywhere from the frozen void of upstate New York to the tropical climes of South Florida, and the impressive elevations of the Rockies to the scrubby desert brush of the American West. 
Overall, sales of super-premium whiskey offerings have ballooned 136% from 2013 to 2018. Three categories / trends in particular stand out: American Single Malts, the wild world of Innovations, and Bottled in Bond. Among the burgeoning number of options, including different cask finishes, mash bills, single barrels, and more, these are the bottles that we think should be on your radar. 
American Single Malts   
While Scotch and Japanese single malts have long held the crown for global whiskey acclaim, it's time to make room for the Yanks. Formed in 2016, the American Single Malt Whiskey Commission was created to establish, promote and protect this emerging yet underserved category of whiskey. While still not legally recognized, members of the Commission pledge that every bottle is distilled from 100% malted barley at a single American distillery, among other qualifications—authenticating arguably the most exciting thing to happen to domestic whiskey this century.  
Hood River Distillers – McCarthy's Oregon Single Malt Whiskey 
Steve McCarthy is credited with creating the American Single Malt category more than two decades ago. On a fateful fishing trip to Ireland he fell in love with peated Scotch, and upon returning to his little distillery outside Portland began sourcing malted barley from Inverness. Distilling in 60-gallon Holstein copper pot stills, McCarthy harnessed his craft and unknowingly launched a segment that would not gain traction for another 20 years. While retaining an Islay-inspired smokiness, his Oregon Single Malt does not overwhelm with an intense campfire potency—think more Caol Ila than Ardbeg. Credit the mellowing to the Oregon oak it ages in for a minimum of three years. $49.99
Stranahan's – Diamond Peak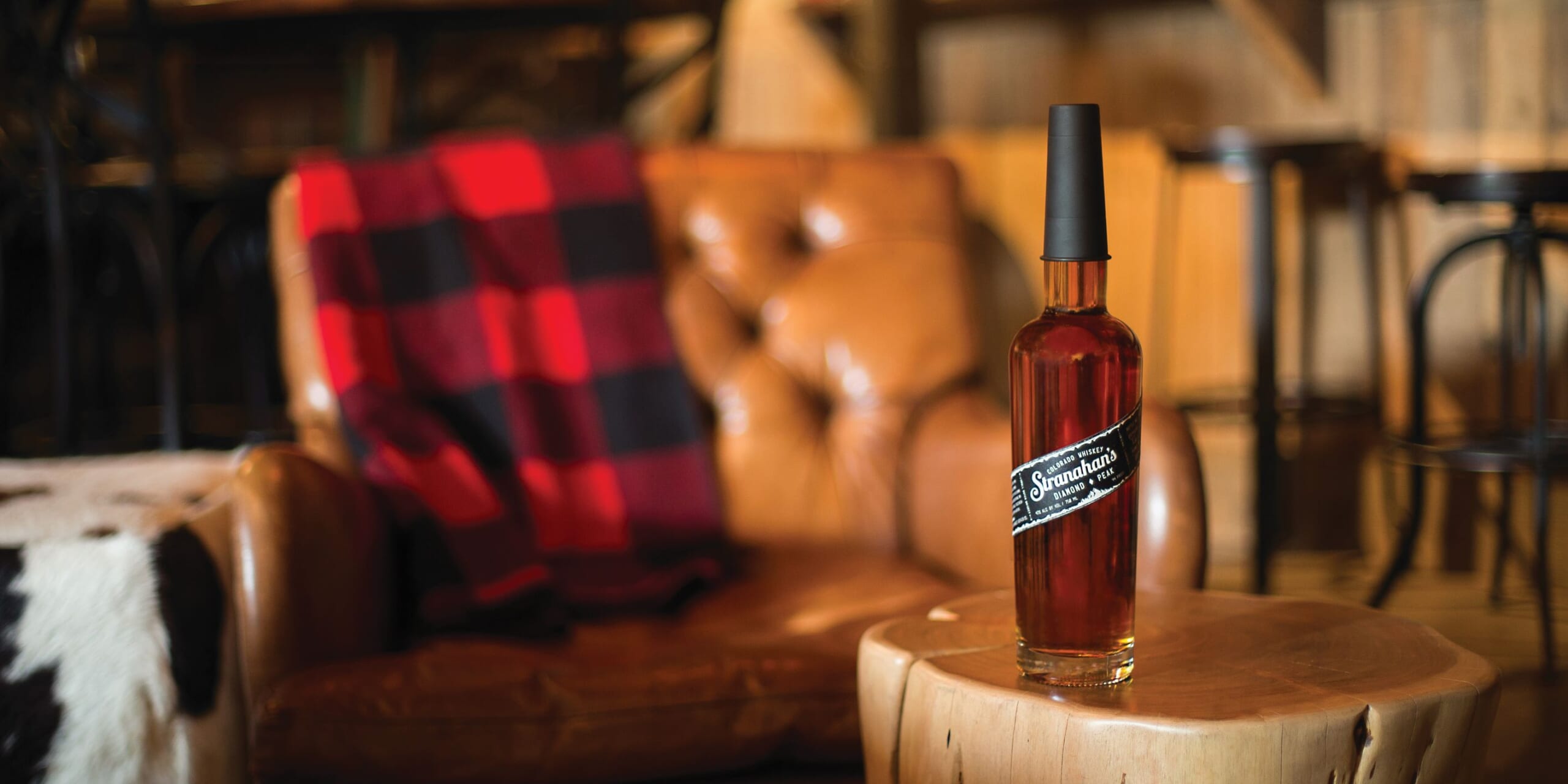 Colorado's finest, Stranahan's Diamond Peak is a testament to exquisite whiskey crafting by keeping it simple: made in small batches with 100% malted barley and Rocky Mountain water, aged in new American white oak barrels for four years, and then finished with the Solera method. There's also a limited Sherry Cask finish, but when your core product is this good there's no need to get clever. $59.99
Hillrock Estate Distillery – Single Malt
Hillrock is a truly "field-to-glass" endeavor, growing their own organic barley at their Hudson Valley farm and then malting it for 12 hours using imported Scottish peat at the first American malthouse built since Pro – hibition. The mash is then small-batch distilled using Vendome copper and brass pots, and entirely aged and bottled at their Hudson Valley estate. The Single Malt's peat adds a whiff of tobacco to Hillrock's signature notes of cinnamon, clove, and caramel. $104.99
Balcones Distilling – Balcones "1" Texas Single Malt
Balcones arguably coined the term Texas Single Malt. Launched in 2008, the Waco distillery quickly gained acclaim for its flawless attention to detail and flair for experimentation. Although cofounder Chip Tate is gone, Balcones continues to pour great detail into their product—combining traditional elements (Golden Promise barley, Scottishmade pot stills) with Texan flair (aging in the varied central-Texas climate). Their complex Texas Single Malt boasts beautiful color, cocoa notes and creamy mouthfeel, and has helped earn Balcones more than 350 awards since their first bottle in 2009. $74.99
Westland Distillery – Garryana 4|1
Fans of Scotch barley aficionados Bruichladdich will certainly gravitate to Westland, who consider the distant Islay distillery soulmates (and Rémy Cointreau stablemates). Like Bruichladdich, Seattle's Westland takes the concept of terroir to the furthest levels imaginable—going so far as sourcing peat from a nearby bog on the Olympic Peninsula. Furthering this goal they've also turned their attention to wood; the latest edition of their Native Oak Series, Garryana 4|1, partly ages in barrels made of Garry, an indigenous Pacific Northwest oak. Wonderful rounded mouthfeel for this limited expression. $154.95
American Single Malts – Honorable Mentions
Corsair – Triple Smoke
Originally brewmasters, that spirit of innovation lives strong in Corsair. Several of the Bowling Green, Kentucky distillery's juices could've made this but we'll elect Triple Smoke — a single malt whose barley is smoked by a trio of different fuels (peat, cherry and beech wood). Despite the potential flavor clash, the resulting whiskey is remarkably smooth.
$49.99
Santa Fe Spirits – Colkegan Apple Brandy Cask Finished
While many follow traditional Scottish methods in distillation and aging, New Mexico's Colin Keegan manifests his single malt through the terroir of his homestate. Meaning instead of using peat to malt its barley, Sante Fe Spirits uses its famed local fuel: mesquite. While the most recent addition to the Colkegan is the Apple Brandy Cask Finish — as smooth as your favorite Speyside — we're most excited about their single malt finished in Pedro Jiminez casks coming this year to celebrate a decade of Sante Fe Spirits.
$65
10th Street Distillery – Peated Single Malt 
Hailing from San Jose, California, 10th Street Distillery's Peated Single Malt is a meticulously crafted homage to the traditional 'old leather and cigar' varietal of scotch, not the smoke monsters that often make headlines. The founders studied old-world techniques, added an American touch by aging the spirit in ex-bourbon barrels and using water from the nearby Sierra Nevada snowmelt, and created a superb Californian take on an elegantly peated scotch. This was partly accomplished by finding a supplier in Scotland who custom peats the malt to their exact specifications, creating an ingredient than interacts perfectly with the calcium-rich water of the Hetch Hetchy reservoir. The result is an absolutely superb all-American celebration of the best traditional Islay scotches. Only released this past July, 10th Street's Peated Single Malt already earned Gold Best in Class at Whiskies of the World and Double Gold at NY World Spirits Competition. $63
Innovations 
As American Whiskey hits light speed, innovation fuels much of its acceleration. While cousins across the pond rest on tradition, American distillers are rabidly experimenting with new mash bills, forms of distillation, aging techniques and barrel finishes that are opening up doors not even dreamt of a decade ago. Certain entries can seem gimmicky or harebrained, and sometimes they are, but more often these attempts at innovation are well rewarded. 
High West – Campfire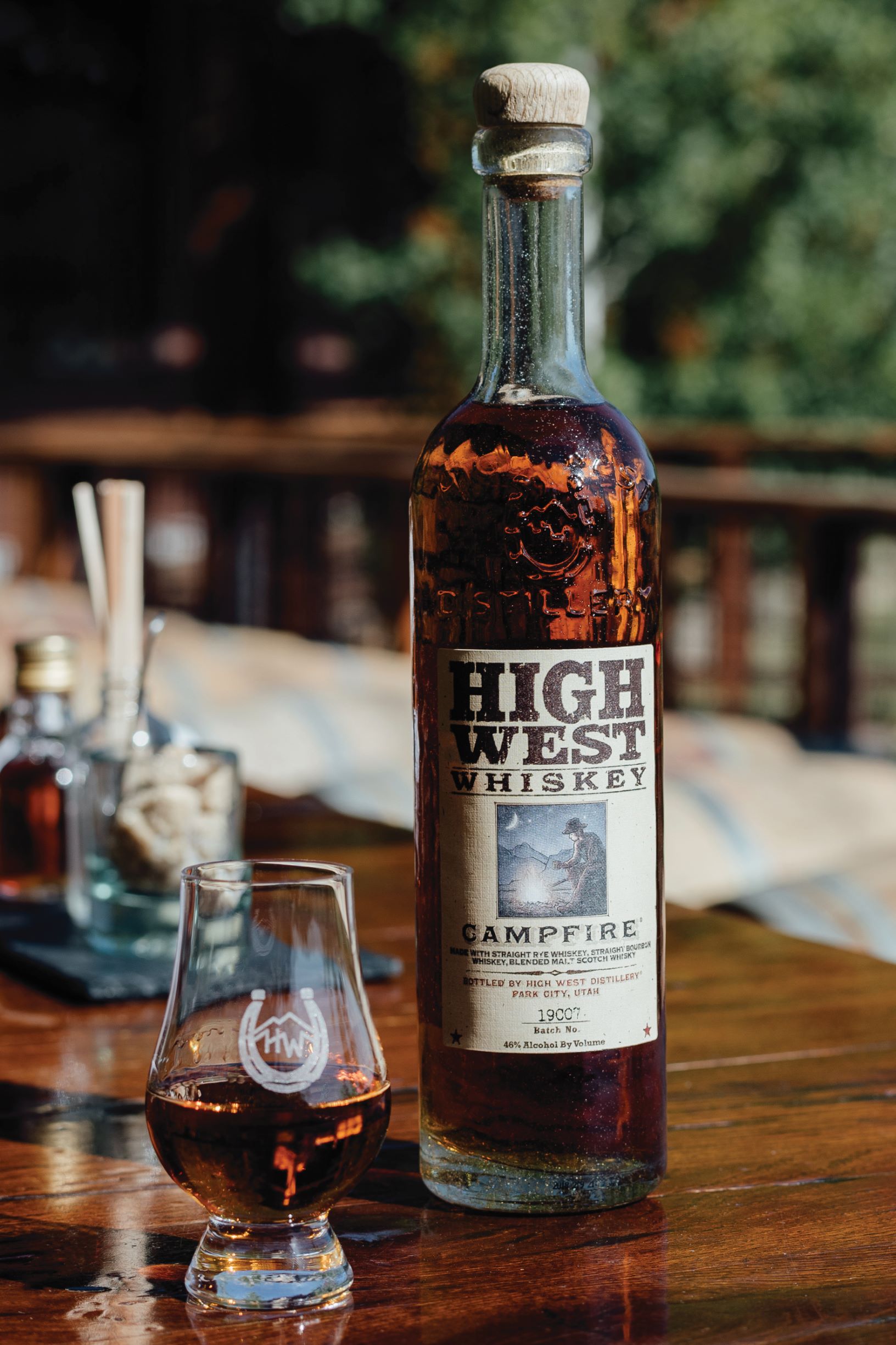 Despite its origins in one of the more teetotaling states in the Union, Park City's High West has garnered a ton of acclaim. And while their limited edition Bourye (bourbon/rye blend) and Yippee Ki-Yay (rye finished in port casks) are worth seeking, it's their core Campfire we couldn't stop pouring. Adding a peated Scotch to their bourbon and rye blends, Campfire takes on a paradoxical but explosive taste that some – how marries the vanilla and black cherry sweetness of bourbon with the smokiness of an Islay single malt, resulting in a truly singular whiskey. $67.99 
Widow Jane – The Vaults 2019 
One of the more exquisite bottles we've tasted, Widow Jane's aptly named The Vaults is the first in a planned annual release that collects the oldest, rarest and best bourbons from their Brooklyn stocks and blends them to perfection. The Red Hook distillery cherry-picks 20 barrels worth of Tennessee and Indiana bourbons aged at least 14 years, blends them and then finishes the married whiskey for nine months in American oak barrels made from staves that are air-seasoned. According to Head Distiller Lisa Wicker, allowing the staves to age outdoors in harsh climes eliminates the wood's tannins and greenness, yielding unique flavors and notes of anise dipped in dark chocolate. $270.99
Woodford Reserve – 2019 Master's Collection Chocolate Malted Rye Bourbon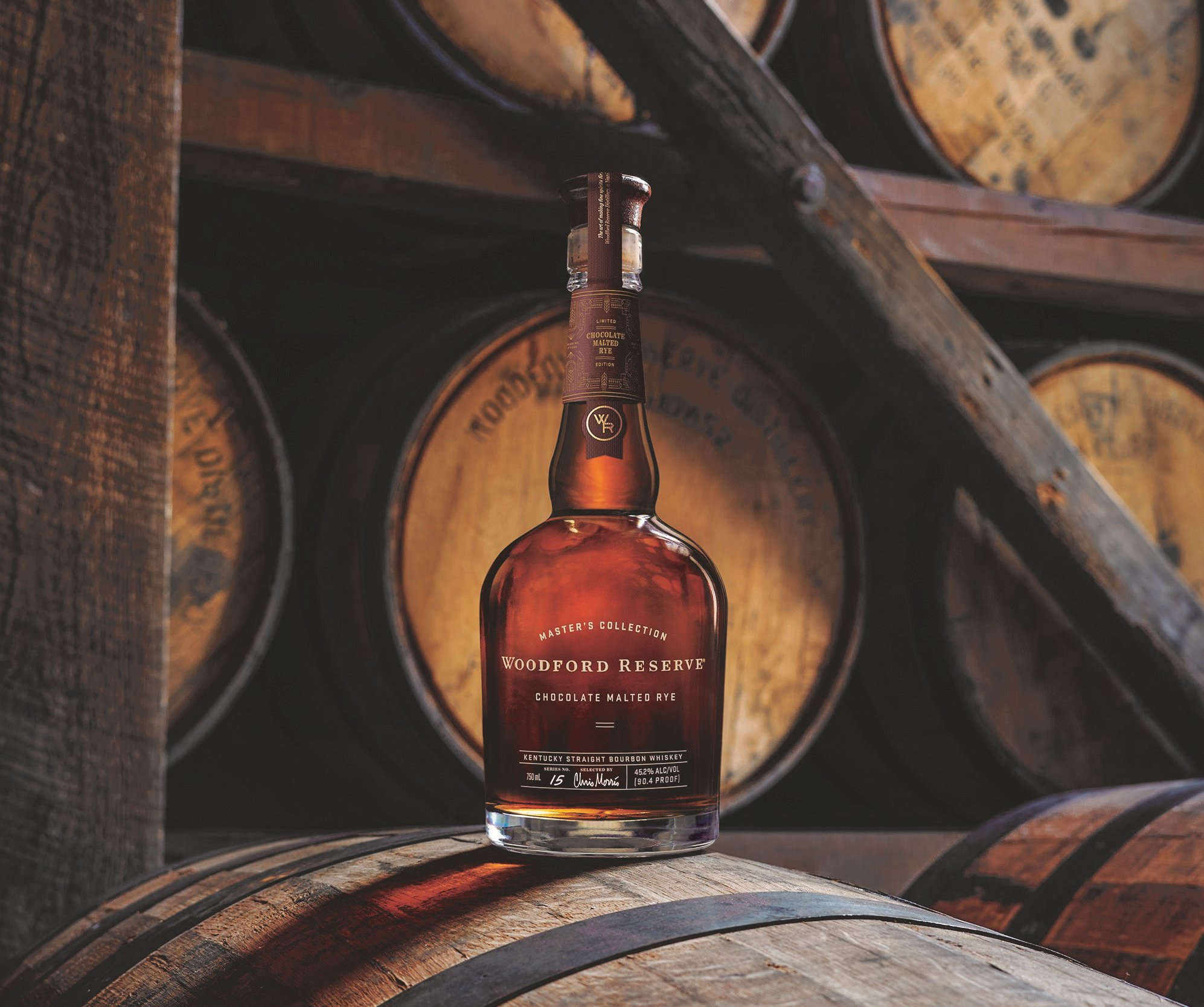 Woodford Reserve's Master Distiller Chris Morris has long been renowned for his innovation in the industry. With the recent release of their new Wheat Whiskey, the Kentucky distillery is now the only brand to offer all four of the approved grain styles. But it is Morris' work with his aptly named Master's Collection that illuminates his finest artistry, as enjoyed in their latest Chocolate Malted Rye Bourbon expression. When you toast rye for extended periods it yields a chocolatey deliciousness. Think subtle notes of mocha and caramel, with a tasty roasted nut finish. $153.99
Maker's Mark – Wood Finishing Series 2019: Stave Profile RC6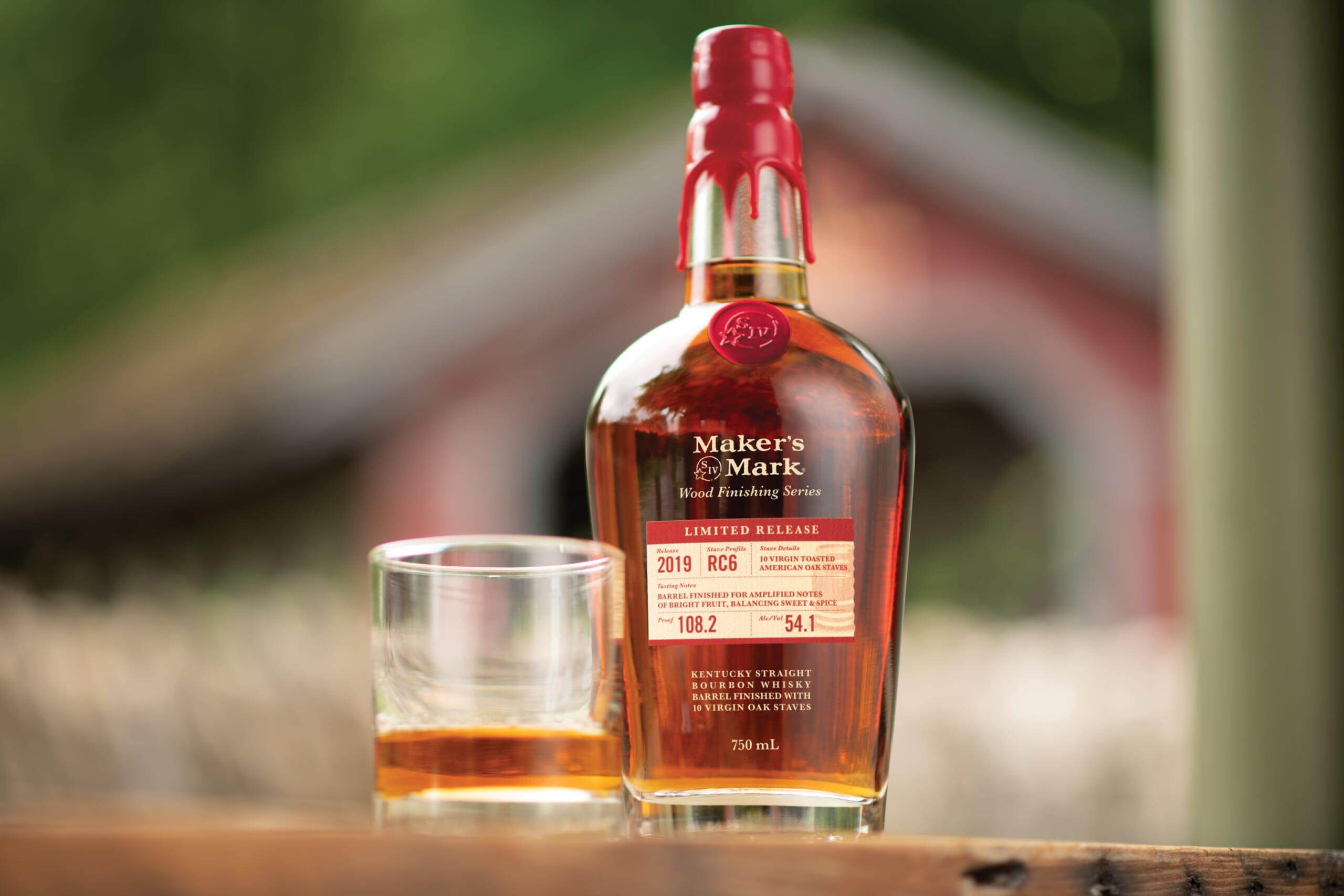 The dedication to quality in Maker's Mark is astounding for a volume brand, so its first foray into deep wood experimentation is certainly worth seeking out. Employing innovative stave-finishing techniques (varying woods, char, toasting, seasoning periods, heat levels, etc.) to highlight specific notes, Maker's selected this specific stave profile (known as RC6 internally) to amplify Maker's ripe fruit flavor to balance the sweetness and spice. $69.99
Beam Suntory – Legent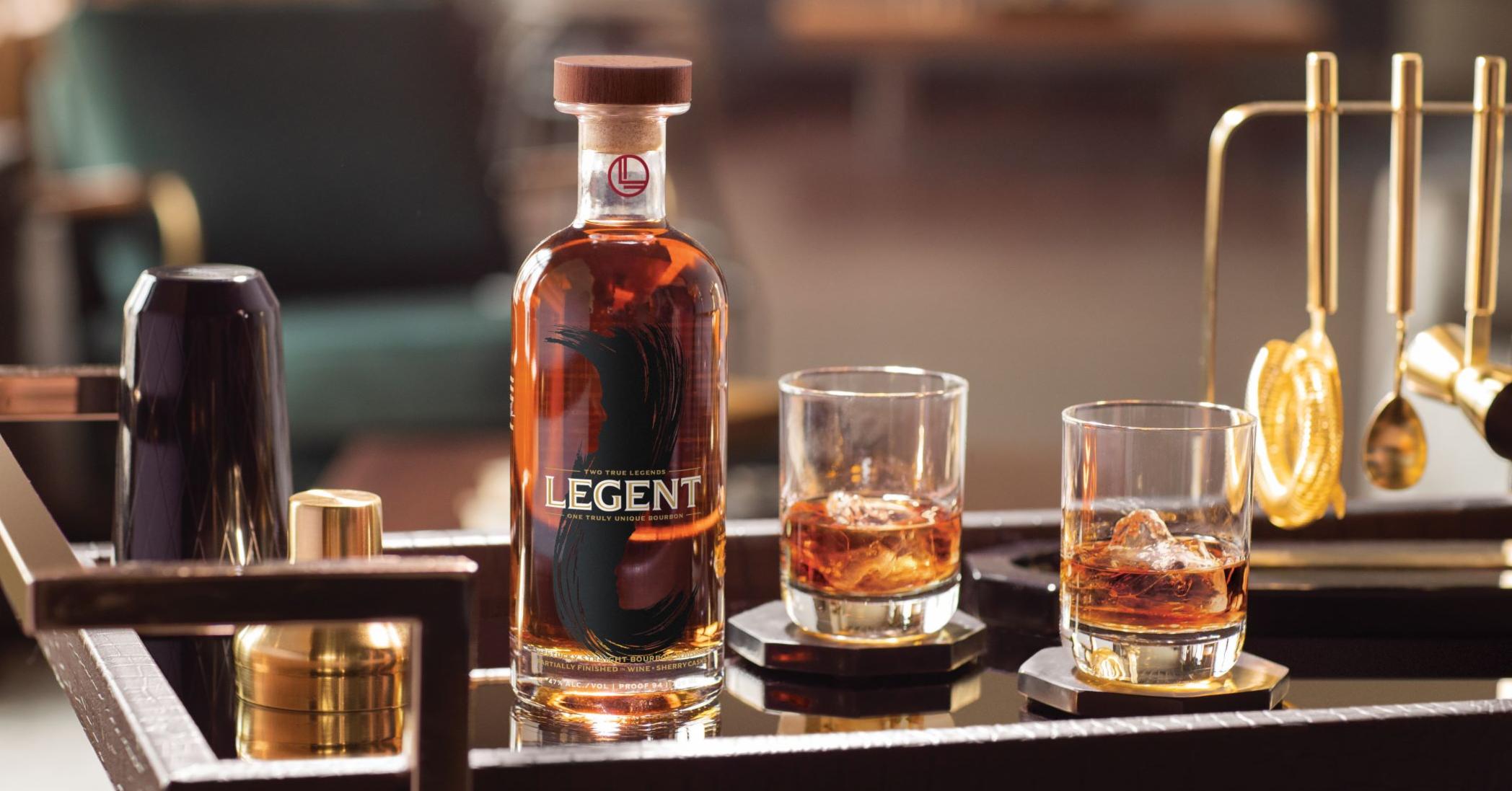 What do you get when you conflate a Kentucky bourbon created by Jim Beam legend/seventh-generation Master Distiller Fred Noe with blending techniques perfected by Suntory legend/Chief Blender Shinji Fukuyo? Legent. Start with the historic Noe bourbon recipe, age in hand-selected wine and sherry casks, and then allow Fukuyo-san to blend the barrels to perfection. An artful experiment in East-meets-West whisk(e)y. $49.99
J. Henry & Sons – 5-Year Small Batch Wisconsin Straight Bourbon and 2019 10th Anniversary Limited Edition Blend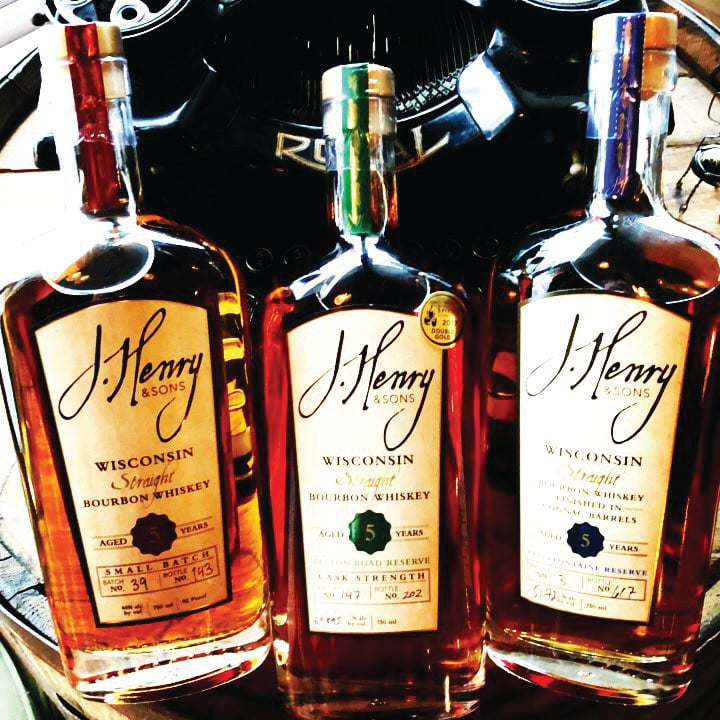 Joe Henry's chosen strain of corn, an heirloom red, was first grown by his father on a small family farm in Wisconsin, way back in the 1940's. With the help of UW-Madison they've resurrected this rare strain and now grow it (as well as the rye and wheat) on that same farm for use in their award-winning bourbons. The spirit also ages in an unelectrified barn, allowing Wisconsin's rollercoaster climate to lay its hands on the barrels' aging effects. The Henrys' 5-Year is already near impossible to find, and their 10th Anniversary Blend sold out in a day. $59.99, $152.99
Smooth Ambler Spirits – Old Scout Straight Bourbon Whiskey 
This past fall Smooth Ambler re-released its now legendary Old Scout Straight Bourbon, bringing joy to whiskey nerds worldwide. The pio – neering West Virginia distillery gained quick and widespread acclaim for this golden elixir, and pretty much built its business upon it. When you have something this delicious—notes of leather, sweet tobacco and butterscotch with a luscious honeyed mouthfeel—pursue it like happiness. Because once the exclusive batches of Old Scout are gone, who knows how long until it's back on the market. $49.99
Wolves – Winter Run
When you hear streetwear marketing mavericks are launching a new American whiskey you'd be forgiven for rolling your eyes. But don't sleep on Wolves—we just wish it was a little easier to get hold of. All 898 bottles of its First Run were snapped up within a week, and the Winter Run of 1,338 bottles released last November quickly followed suit. A blend of whiskey distilled from craft stout beer, aged in French oak for eight years; whiskey distilled from craft pilsner beer, aged in New American oak for five years; a rye selected for its spice; and a single malt whiskey aged for nine years in used French Oak barrels, the latest Wolves experiment hit a bullseye. $185
Jefferson's Bourbon – Ocean
https://www.instagram.com/p/B7rM3JLpFeM
Father and son duo Chet and Trey Zoeller founded Jefferson's in Kentucky in 1997 with the goal of testing the boundaries of what is possible in the world of whiskey. And who knew how far they'd go to achieve those goals—literally. Their Jefferson's Ocean expression crosses the equator four times, touching five different continents and over 30 ports of call in its pursuit of extreme aging. Stashing matured Kentucky bourbon barrels in their friend's research boat, the idea was to test how extreme elements: temperature fluctuations, salt air, and the gentle rocking of the ship would affect aging. The result is a fascinating combo of dark chocolate and dried plums with an aroma of cinnamon and red apples and a touch of salt. $86.99
Innovations – Honorable Mentions
Basil Hayden's – Caribbean Reserve Rye
Basil Hayden Bourbon's renowned for its high-rye mash bill, so when they focus on rye the results have been exceptional. Their limited edition Caribbean Reserve Rye finishes their core Dark Rye (blending 4-year Canadian and 8-year Kentucky ryes) and adds black strap rum for a whiff of molasses and brown sugar.
$53.99
Wild Turkey – Master's Keep Cornerstone Rye
Even when rye was unpopular Eddie Russell insisted on producing them throughout his 40-year tenure helming the legendary Wild Turkey. Now for the fourth installment in their limited Master's Keep series Russell releases the oldest rye ever from Wild Turkey. Instead of the regular four years, Eddie hand-picked barrels aged between nine and 11 years to show how deep aging will affect the grain's legendary spice. Eminently smooth and sippable.
$150.99
Lux Row Distillers – Blood Oath Bourbon
You could say Lux Row Distillers are masters of blending. Their Blood Oath collection is founded on a very simple concept: marry three distinct small batch bourbons and finish them in a unique way. Oh, and never repeat that exact combination again. Their first Blood Oath (Pact No. 1) is somewhat of a collector's item, so Pact No. 5 — only released in April — is already hard to find. For this latest release the Bardstown, Kentucky distillery blended a 13- and eight-year-old bourbon with an 11-year wheated, and then finished the spirit in Caribbean rum barrels. The result is a velvety bourbon that teases notes from each of its sources, including black pepper, vanilla and chocolate. $177.99

Few Spirits – Cold Cut
Illinois' FEW Spirits excels in innovation, recently collaborating with Alice In Chains on an extremely limited release bourbon finished in tequila barrels (apparently guitarist Jerry Cantrell and FEW founder Paul Hletko bonded many a night over bottles of agave). Their wider release Cold Cut raised eyebrows by cutting cask strength bourbon with cold brew coffee. Yes, coffee. Note this isn't a liqueur or infusion, rather they replace the "proofing" water with cold brew. Like Patrón's XO Cafe the results are better than expected.
$49.99
St. Augustine Distillery – The Saint
https://www.instagram.com/p/B8b1c-qjoEg
When you think of American whiskey, Florida just might be the last state to enter your mind. Yet the St. Augustine Distillery, founded in 2014 in the oldest city in America, innovates far beyond its provenance. The distillery makes a slew of product (including gins and rums), but its finest creation is undoubtedly The Saint. What makes The Saint unique is its use of casks from another St. Augustine creation — their signature barrel-aged Old-Fashioned Mix — to finish their three-year-old bourbon. As the first and only Old Fashioned-finished bourbon, The Saint unsurprisingly features notes of toasted vanilla, maple and even cocoa. Since St. Augustine sits on the coast, the ocean climate lends its aging yet another unique element. As only 600 bottles were produced and bottled at barrel strength (57% ABV), The Saint is as exclusive as it is delicious.
$200
Rabbit Hole – Heigold
Apparently this Kentucky distillery's founder and distiller Kaveh Zamanian's wife, Heather, led him down the "rabbit hole" of American whiskey, rerouting his obsession from scotch to bourbon. When he founded the brand in 2013, Zamanian focused on unique mash bills, small batches (never more than 15 barrels per), proprietary cooking techniques and an emphasis on aging in wood-fired new American Oak barrels that are both toasted and charred. His latest offering, Heigold, is a high rye bourbon (70 percent corn, 5 percent malted barley and 25 percent malted rye) that comes out of the barrel bursting with caramel color and rich notes of butterscotch and honey.
$73.99
Kentucky Owl Bourbon – Batch #9 
The original Kentucky Owl Bourbon dates all the way back to the late 19th century when it was founded by a man named Charles Mortimer Dedman. Resurrected in 2014 by Dixon Dedman, Kentucky Owl has been regularly releasing high-quality, top-shelf bourbon without an exact provenance or age statement, making many very curious about its exact origins—and no doubt leading to even more exploratory sipping. Its latest limited edition bottle, Batch #9, makes waves through raw power; at 63.8% ABV, or 127.6 proof, it's one of the most potent bourbons ever released. $599.99
Angel's Envy – 2019 Cask Strength Bourbon Finished in Port Wine Barrels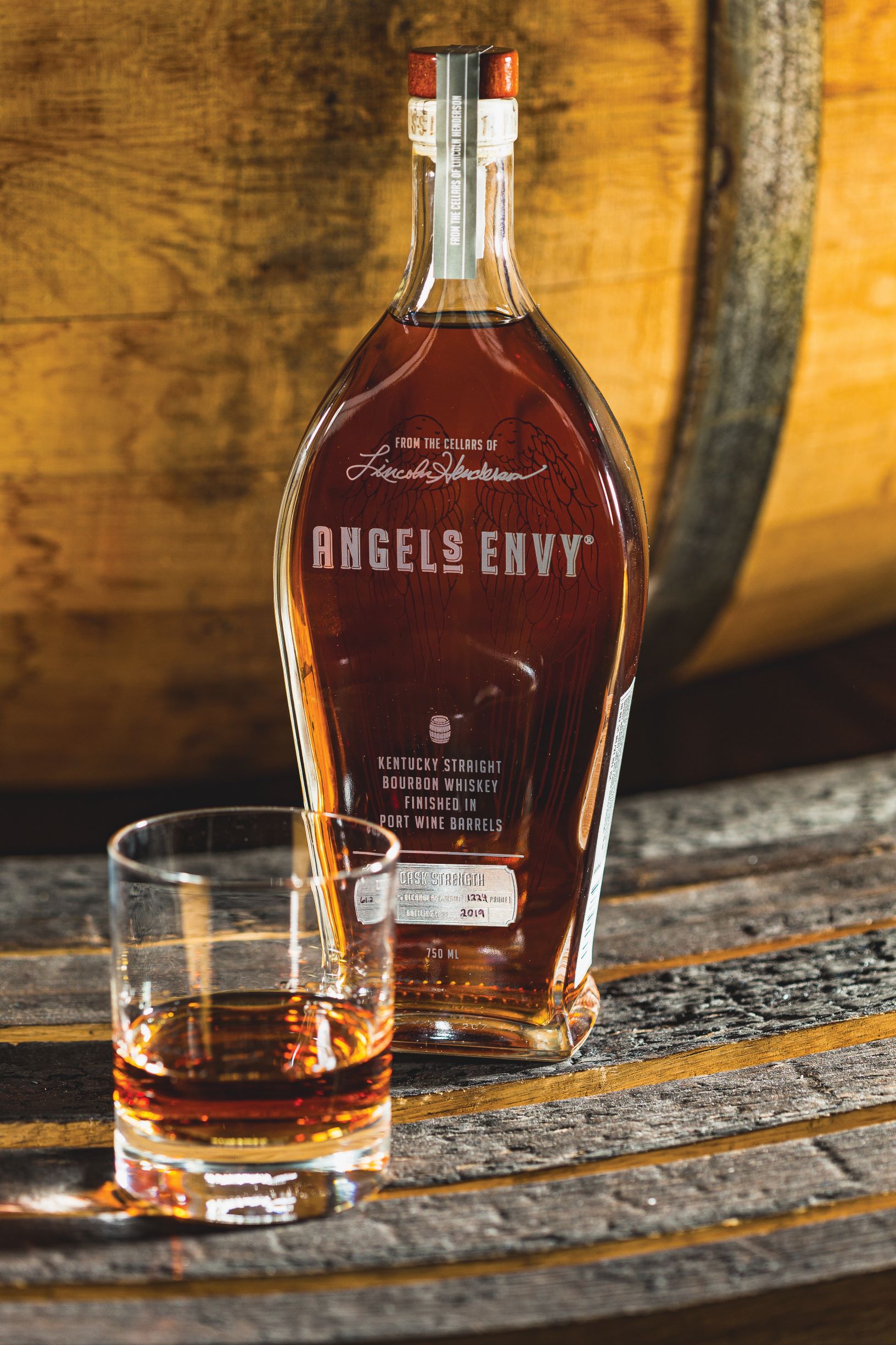 This Louisville distillery's Cask Strength program is truly a family affair. Back in 2012 three generations of the Henderson family melded minds to start extending the aging of their bourbon in hand-selected port wine barrels. That first year rang true: exalted critic F. Paul Pacult dubbed it the "best spirit in the world" in his Spirit Journal. Now in their eighth year, for Angel Envy's new high-proof (61.2% ABV) limited-edition drop the Hendersons used juice aged between six and 15 years, with the alchemy of bourbon and port yielding unique notes of butterscotch, honeyed apple, overripe banana and toast. $252.99 
Bottled in Bond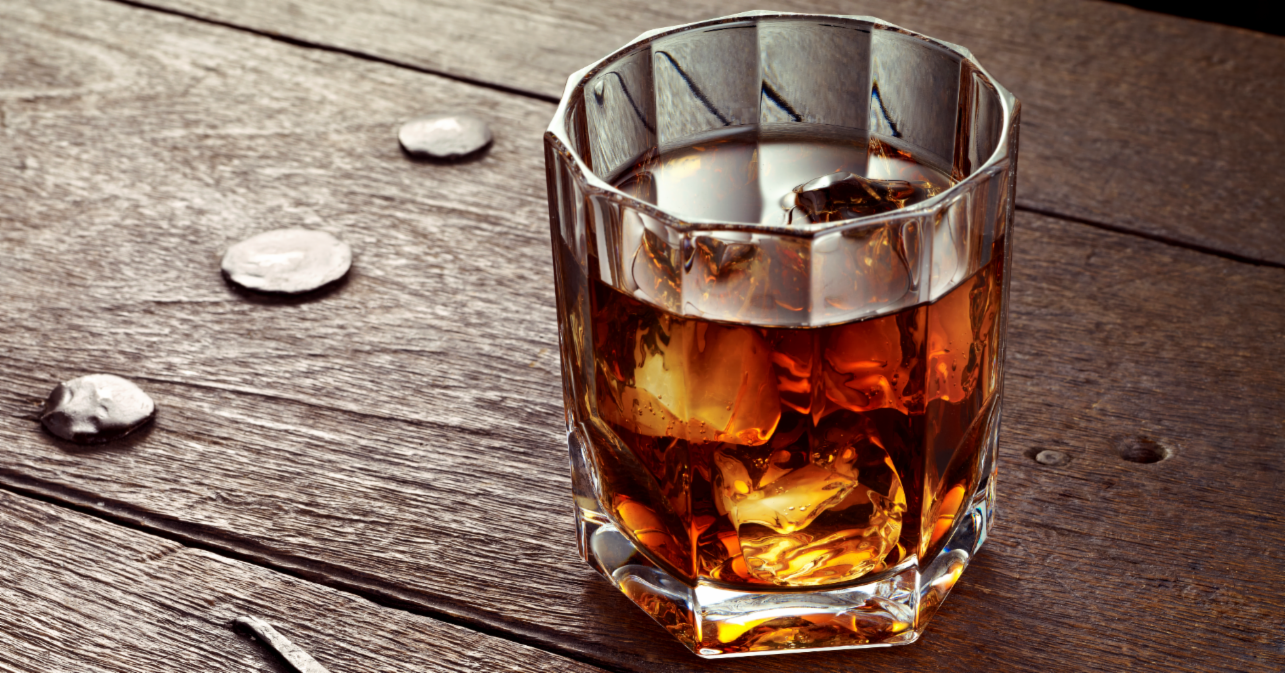 Although in the midst of a renaissance, bottled-in-bond whiskies are anything but new. In the nascent liquor industry, additives and bootlegging were rife, so in 1897 the government signed the Bottled-in-Bond Act to assure buyers the labeled spirit was the real deal. Bottled in bond (BIB) guaranteed three things: the whiskey was the product of one distillation season at a single distillery; it was bottled and stored at a federally-bonded warehouse under government supervision for at least four years; and it was bottled at 100 proof.
"Transparency in the whiskey industry is paramount—consumers want to know what they are getting," says Tommy Tardie, owner of Manhattan's Fine & Rare and The Flatiron Room. "BIB takes the guesswork out of it. There is no question of who distilled it, where it was sourced, the ABV, etc…. It's all right there on the label in three simple words."
As the proprietor of two of New York's most acclaimed whiskey dens, Tardie knows a thing or two about liquid gold. A few of his favorite BIBs include two from distilleries located right in New York. McKenzie's wheated Bottled in Bond Bourbon Whiskey from Finger Lakes Distilling "tastes wonderful," he enthuses, with notes of "hon – eyed vanilla, caramel and cherries with a gentleness you wouldn't expect in a 100-proof whiskey." And just over the bridge from Manhattan lies New York Distilling Company in Williamsburg, Brooklyn. "They've been quietly carving out a great of a portfolio of spirits," Tardie tells us. Their Ragtime Rye Bottled in Bond "is a brand new release for them and I expect it to fly off the shelves."
From Kentucky, the traditional heart of American bourbon coun – try, Tardie touts both the Heaven Hill Bottled-in-Bond and the Colonel E.H. Taylor, Jr. Amaranth Bottled in Bond as standouts. "You may know Heaven Hill from the iconic Elijah Craig, but they produce a bunch of other great brands including this one," he tells us. "In 2019 they released a new version that's been aged for seven years—a little more expensive, but worth it. The Amaranth BIB meanwhile is "a onetime, very limited run that uses the ancient grain amaranth instead of rye. The amaranth, also known as the grain of the gods, adds some interesting character to the bottle," giving it "nutty and earthy notes that you won't normally find in a typical bourbon."
Glassware 
Norlan Whiskey Glassware Collection 
Once you've harassed your local bottling shop for a rare Japan-only bottle of Blanton's, or scoured the dark corners of the interweb for that Four Roses older than you longest friendship, it would be a shame to sip that nectar out of an old Burger King Empire Strikes Back collector's cup (just kidding, we all know that's awesome). You want glassware whose quality matches that of the brown for which it will act as a vessel. Look no further than Norlan, purveyors of fine glassware for the serious whisk(e)y enthusiast. 
Their eponymous Norlan Whisky Glass ($48/set of 2) and Rauk Heavy Tumbler ($50 each) are specifically designed for whiskey (neat and on the rocks, respectively) — their weighty blown-glass construction and gorgeous faceted architecture not only adding substance to the drinking session but also a sense of true aesthetic delight. Digitally crafted, the drinkware was meticulously designed with the help of master distiller Jim McEwan to capture and express the spirit's luminosity, flavors and aromatics for a full-sensory experience. Recently Norlan added the Drave Carafe and Water Pipette ($350) and Raif Decanter ($375) to their growing collection — making even the simple act of dropping some water to open up your cask-strength American single malt an exercise in sophistication.