These Morning-After Pancakes Will Ensure Your Valentine's Day Date Sticks Around
Behold the ultimate flapjack recipe.
https://www.instagram.com/p/BeJTpkFBUg4
After a romantic dinner and a night of Valentine's Day sex, there's only one thing left to do—whip up some breakfast. 
Flapjacks are quick, easy, and admittedly, a little boring. If you really want to blow her mind (for the second time), Brooklyn-based chef Jaime Young's Malted Pancakes with Hazelnut Maple Syrup are the perfect choice. 
Among other decadent dishes, they've helped make Young's restaurant, Sunday In Brooklyn, one of the hottest brunch spots in NYC.
"When my business partners and I were developing the brunch menu, we were trying to decide whether we wanted to do a waffle, french toast, or pancakes," Young told Maxim. "We started with the pancake, and it ended there! For some reason, I decided to mix hazelnut butter and maple syrup together to elevate the standard pancake dressings, and it just worked. The flavors and the size of our pancakes are what make them special and set them apart. They are almost ridiculous, and super decadent."  
Follow the instructions below to give make your V-Day date a breathtaking breakfast that'll leave her wanting more. 
Malted Pancakes With Hazelnut Maple Syrup
Makes 16 pancakes for 4-6 people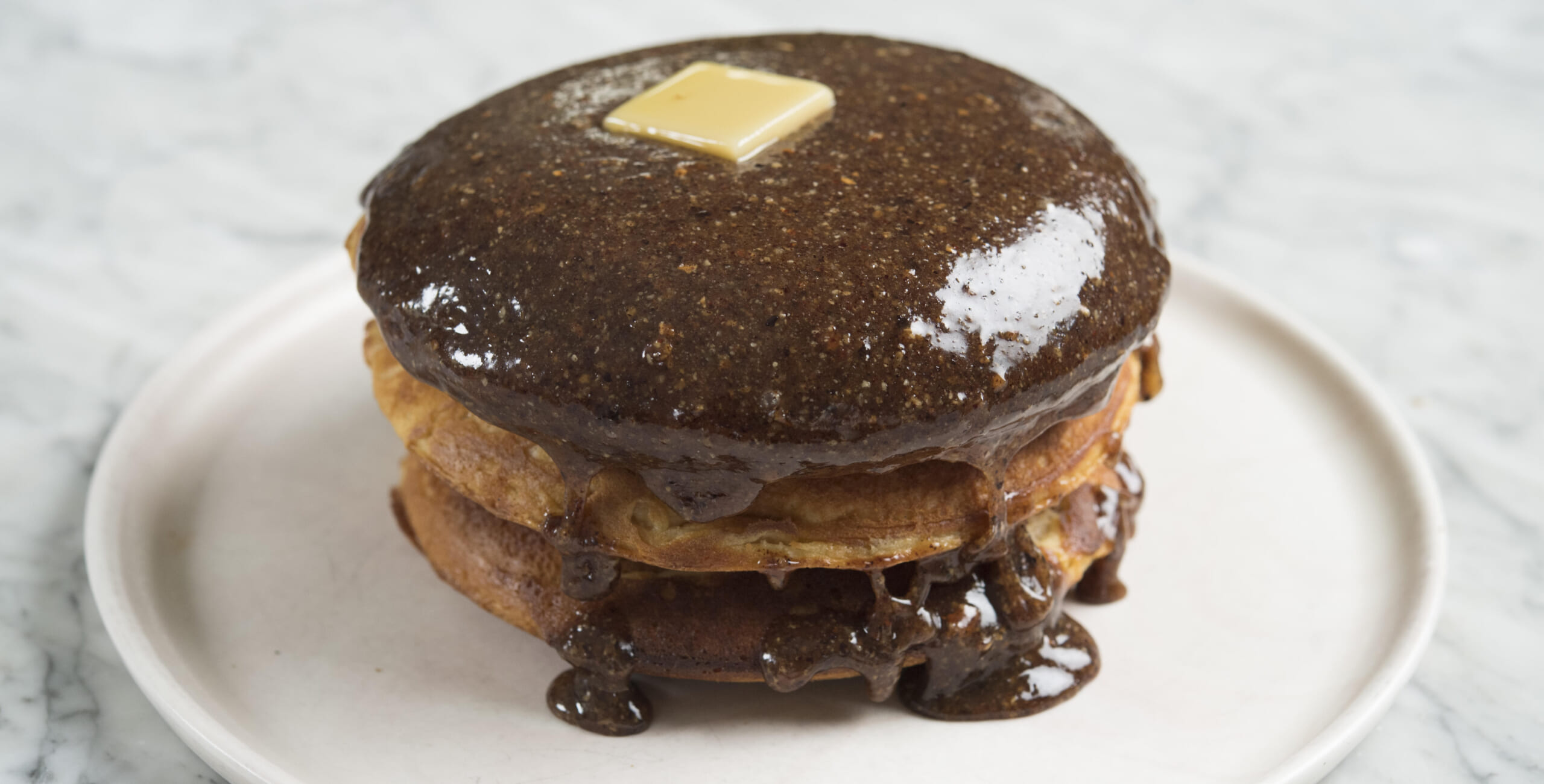 Hazelnut Maple Syrup Ingredients:
1 cup hazelnut butter
¾ cup, plus 2 tablespoons, maple syrup
¼ cup water
½ tablespoon salt
Pancake Ingredients: 
2½ cups all-purpose flour
½ cup granulated sugar
2 tablespoons malted milk powder
2 tablespoons baking powder
2 teaspoons baking soda
2 teaspoons kosher salt
4 cups buttermilk
8 eggs
1 stick unsalted butter, melted
Nonstick cooking spray
Directions:
Make the hazelnut maple syrup: In a small bowl, whisk all of the syrup ingredients together until smooth, then set aside.
Make the pancakes: In a large bowl, whisk together the flour, sugar, malted milk powder, baking powder, baking soda, and salt.
In another bowl, whisk the buttermilk and eggs until smooth. Slowly whisk the wet ingredients into the dry until incorporated, then whisk in the melted butter. Make sure not to overmix the batter.
Heat two 6-inch nonstick skillets over medium heat. Spray each with cooking spray, then add ½ cup of batter to each pan. Let cook until small bubbles appear on the surfaces of the pancakes and the bottoms are golden brown, 1½ to 2 minutes.
Carefully flip each pancake and let cook until puffed and golden on the bottoms, 2 minutes more. Transfer to a plate and continue until you've used up all the batter. You should have 16 pancakes.
Divide the pancakes between plates, then top with the hazelnut maple syrup and serve.