Where to Eat, Drink, and Stay in Detroit
Your guide to the best bars, restaurants and hotels in the Motor City.
This storyline isn't new, but it's true—Detroit is undergoing a serious revitalization. 
Once bleak, vacant areas of the city are experiencing a marked uptick in population, and new bars, restaurants, and stores are opening to satisfy the demands of the locals. Just five years ago, the city declared bankruptcy, but it's come a long way since then with neighborhoods like downtown, Corktown, and Midtown flourishing. 
Here are some of the best places to eat, drink, and stay in Detroit right now:  
Drink
Bad Luck Bar

Enter Bad Luck Bar through a doorway halfway down a downtown alley, and prepare to be absolutely stunned by the drinks menu found within. The bar opened in December of 2016, serving high-end drinks inspired by Tarot cards with garnishes like Pop Rocks and gold honey dust. 
Try The Hammera blend of cashew-infused rye and spiced syrup that comes to your table in a mystical-looking smoke-filled glass. For something that will really wake you up, go for the Illumination, made with genever, eel sauce, and something they call Sichuan electric buzz button bitters. And if you really feel like splurging, the $200 Admiral (a dram of 1953 British Royal Navy rum) is your best bet.
Second Best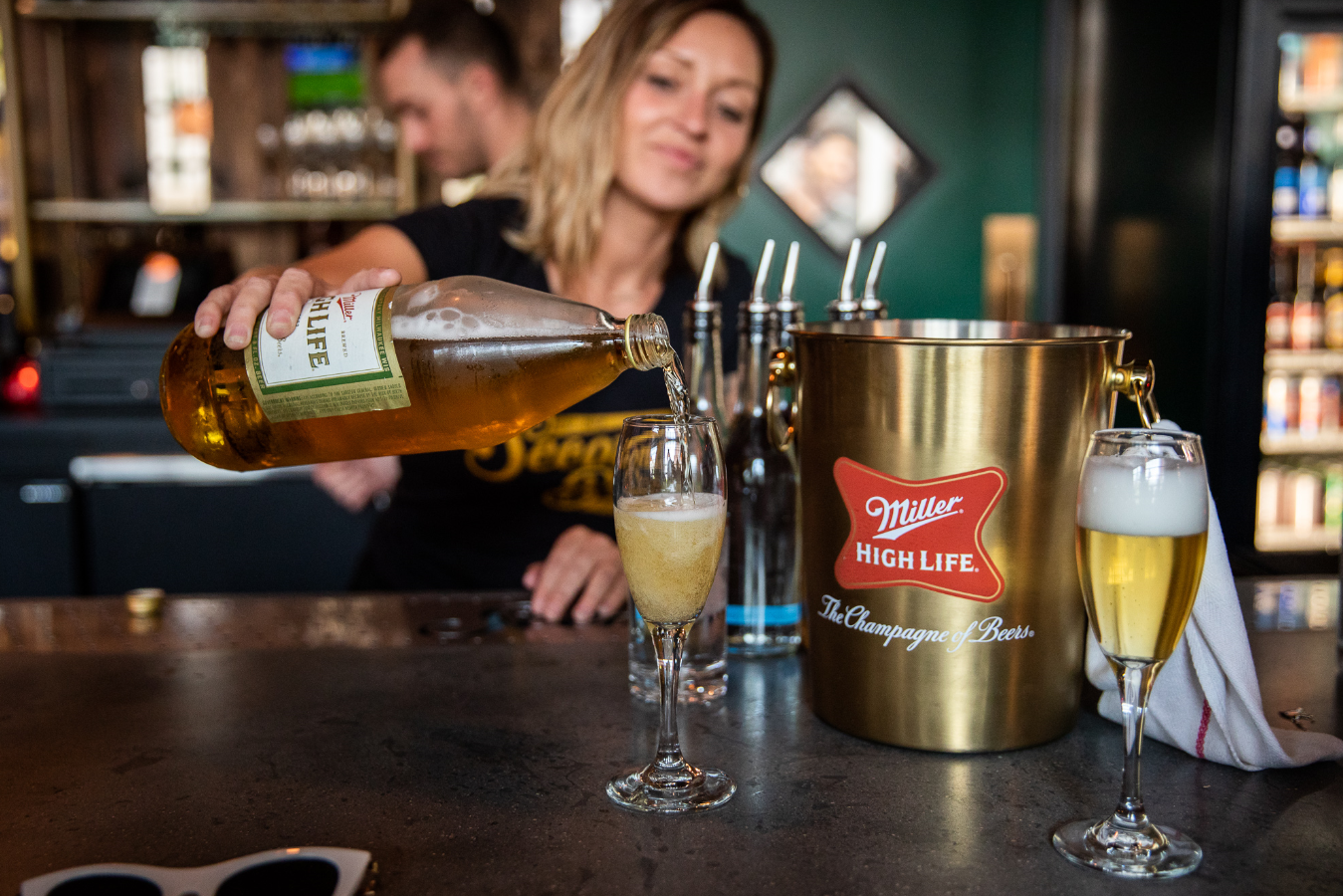 This brand-new dive bar concept opened this past August just across the street from its sister restaurant Grey Ghost. Second Best keeps it simple and comfortable, with a range of craft and mainstream American beer on draught, and kitschy cocktails like the House Zima, My First Old Fashioned, and Second Best Cosmo Ever. 
If you're hungry, order something off the elevated bar food menu like a Nashville-style hot chicken sandwich, pulled pork hush puppies, or corn elote served with fried bologna. The bar can get crowded, especially if there's a game going on at one of the nearby stadiums, but this new drinking hole hits all the right marks.
Deluxx Fluxx

Deluxx Fluxx is a brand-new bar located in the Belt alley that might be unlike any other you've ever been to. It's part-bar, part-art installation, part-music venue, and all decked out in neon and Day-Glo colors with various cocktails on draught. 
A row of arcade games lines one wall, all retrofitted with new themes inspired by designs from artists Faile and Bast, with music from Les Savy Fav's Seth Jabour. The bar actually got its start as a traveling art installation hitting cities from London to Edinburgh to New York before finding a permanent home in Detroit.
Volt at Detroit Marriott at the Renaissance Center
Volt, located within the massive Detroit Marriott hotel located next to the RiverWalk, is a fine entry into the category of hotel bars. 
But what makes it really special is that it's the only place you can find Chef Brett's Cherry Wheat Ale. This beer was created by Michigan's Saugatuck Brewing Co. in partnership with executive chef Brett Montgomery, and is available on draught at the bar and as an amenity for hotel guests. Another local option is to go for a Manhattan or Old Fashioned made with rye whiskey from Detroit City Distillery. 
New Order Coffee Roasters

Take a break from the booze and stop by New Order Coffee Roasters for some truly excellent third-wave coffee. The beans are roasted in-house by a team of serious caffeine nerds who know a ridiculous amount about coffee. 
The physical space looks kind of like a Pinkberry, but the drinks are delicious. Until mid-November you can get a PB&J Latte (strawberry jam, peanut butter powder, espresso and steamed milk), along with really well made classic espresso drinks. A new location will be opening in Royal Oak, a suburb of Detroit, this winter.
Eat

Prime + Proper
Nearly every city has a good steakhouse, but Detroit's Prime + Proper would be a standout wherever it was. This high-end restaurant is housed in the Capitol Park Loft building, built in 1912, and features a huge dry-aging vault showing off countless steaks aging amidst Himalayan salt walls for at least 28 days. 
The meat is ridiculously good, with both Japanese and American wagyu, a tomahawk ribeye, and Kansas City strip among the menu highlights. Go the extra mile and dose your meat with some shaved truffles or foie gras "salt"; it's worth the extra calories. Also, look out for special cuts aged in rye whiskey or cognac that are served on holidays like New Year's Eve. 
Grey Ghost
Grey Ghost is just across the street from its sister bar, Second Best, but the atmosphere here is very different. The name is a nod to a Prohibition-era rumrunner who sailed the Detroit River, and the cocktail selection here would make him proud. 
The drinks menu is divided into "Stirred," featuring Strange Clouds (Laphroaig single malt, Irish whiskey, maple, walnut, applewood sea salt), and "Shaken," featuring Twenty Fifth Hour (Thai chili pisco, mezcal, lime, orange bitters). The food is just as inspired and creative. Try the amazing Cajun shrimp dumplings to start, then go for a flat iron steak with kimchee or a half chicken served with peach barbecue sauce and creamed corn grits. 
Gold Cash Gold
Gold Cash Gold would feel entirely at home in Brooklyn, but this trendy restaurant in the midst of the Michigan Avenue bar and restaurant scene is proudly Detroit. The cocktails are excellent – try My Posse's Gettin' Bigger, made with tequila, mezcal, watermelon, lime, and mole bitters. 
The food menu is where this place really shines, though, with amazing homemade ravioli stuffed with corn and zucchini, butter-roasted sardines paired with cucumber chimichurri, and a turmeric-roasted cauliflower that is much, much better than it sounds. 
Folk

Folk is a casual cafe in the Corktown neighborhood that offers comfort food with lots of vegetarian options and some really interesting "infused milk" drinks – ginger and turmeric, beet root powder and rose simple syrup, and matcha and honey. 
Pretty much everything on the menu leaves you feeling satisfied and healthy, like the Tigress Aussie meat pie made with coconut curry, "Tah-Ma-Toe" Toast topped with pimento cheese and pickled green tomato, and a breakfast hash plate with the option of subbing smoky tempeh.
Stay

Aloft Detroit at the David Whitney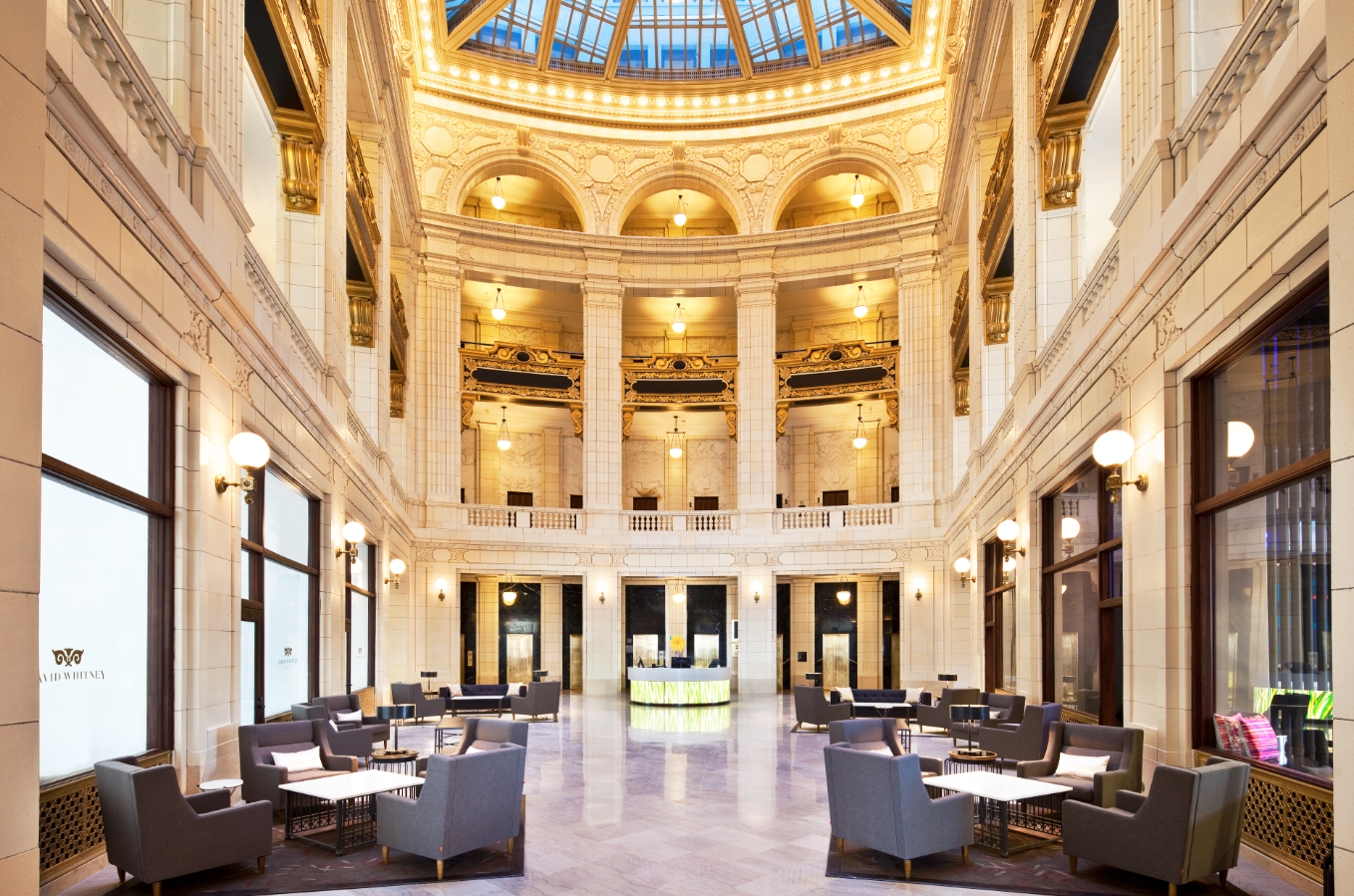 There are plenty of old buildings in Detroit that have been given a new lease on life as hotels, and Aloft Detroit is one of them. This downtown hotel is housed in the historic David Whitney building, a former office complex that was completed in 1915. 
The lobby is stunning, a four-story atrium built with marble, terra cotta, and gold leafing that is topped by a massive skylight. The rooms are not quite as impressive, but the price is right at less than $200 a night, the People Mover stops right outside, and the Tigers, Lions, and Pistons are all play home games within walking distance of the hotel.
Shinola Hotel
This new hotel from Shinola is set to open in December, with 129 rooms, a food and beverage program from famed chef Andrew Carmellini, and 16,000 square feet of retail space. This is just the latest member of the rapidly expanding downtown Detroit hospitality scene, and the hotel promises to be a stylish addition. 
The team says it was inspired by London's private clubs, and guests should expect cream-colored hallways with a pop of Shinola blue, bronze and leather furniture in the rooms, and several bars including a beer hall called The Brakeman. 
The Westin Book Cadillac Detroit

The Westin Book Cadillac is a landmarked Neo-Renaissance building built in 1924, and at 29 floors it was reputed to be the tallest hotel in the world at the time of its opening. 
Nowadays you'll find Michael Symon's ROAST restaurant on the lobby level, a classic hotel bar called Motor Bar, and more than 450 rooms to choose from. It's also right in the middle of Detroit's thriving downtown bar and restaurant scene, with many options just a short walk from the lobby doors.