Where to Eat, Stay and Play In & Around San Juan, Puerto Rico
There's never been a better time to visit San Juan, thanks to stylish boutique hotels and elite eateries.
Puerto Rico has always held enormous appeal as a relatively exotic and tropical destination rife with natural beauty and numerous other attractions, along with the convenience of it being a U.S. territory, which doesn't require dealing with customs and immigration, foreign currency, or the myriad other hassles involved in international travel.
With pristine beaches, rich cultural and culinary traditions, first-class resorts, and the impressive history of Old San Juan, there's always been lots to love and plenty to explore. Now with some of the standard-bearers of the island's brand of luxury hospitality debuting major renovations, while some new players have emerged on the scene, there's never been a better time to visit.
For our latest Puerto Rican excursion we stayed within a 75-mile radius of the storied capital city of San Juan, beginning our journey with a stay at one of the city's most chic and contemporary beach resorts, Condado Ocean Club. The property opened in November 2020 as part of the Condado Collection portfolio, and is located next door to the iconic Condado Vanderbilt, which dates from 1919. With beach-y vibes that are a mix of Miami and the Caribbean, the modern adults-only boutique resort has brought a breath of fresh air to the luxe Condado neighborhood.
Condado Ocean Club has 96 rooms and suites which all feature seemingly endless ocean or lagoon views, with waves crashing on the shore below making for a dramatic backdrop, framed by floor-to-ceiling windows. Sleek and whitewashed with pops of nautical blue and luxe amenities like custom bar cabinets, the rooms are soothing and make you feel at one with the sea. And of course there's an expansive sun deck with private cabanas next to an infinity pool on the main level.
Condado Ocean Club is also home to SOCIAL, which has quickly become a favorite for stylish dining both indoors and out. As the name suggests, it's designed to be a place for friends to connect, and the decor, courtesy of fashion industry veteran Nono Maldonado, plus the layout with a mixology-focused bar, dining rooms, and spacious deck, are made to enhance a feeling of conviviality.
Chef Ramon Cruz is the man in charge, crafting seasonal menus that feature locally-inspired, globally-influenced dishes that "put a modern twist on classic Puerto Rican cuisine." SOCIAL is open for bistro-style breakfasts, oceanside dinners, and late-night small plates, so there's always something to suit your mood. One menu standout is the 8 oz. filet mignon with Yukon gold mashed potatoes, crispy onions, and rosemary demi-glace, which can be ordered with truffle butter and a lobster tail on top for a luxe take on surf and turf.
Next door, the legendary five-star Condado Vanderbilt, which celebrated its 100th anniversary in 2019, recently debuted a $200 million renovation that revitalized the original Spanish Revival building and added two new Suite Towers to accommodate even more guests in covetable comfort. As the hotel puts it, "the reopening of the property signifies a return to the 'Roaring 20's' style, sophistication and service" that the hotel has long been known for.
On the high end of its offerings, each of the hotel's 108 suites comes with 24-hour butler service, and there are three first-rate restaurants helmed by renowned Chef Juan José Cuevas, including Ola Oceanfront Bistro. The latter serves breakfast, brunch, lunch, and dinner, as well as drinks from a picturesque al fresco bar, all focused on Puerto Rican-inspired dishes made from fresh, local products.
The revamped Spa at the Condado Vanderbilt is a desirable destination in its own right. Posh and thoroughly relaxing, it offers numerous face and body regimes, from high-touch and technology-infused treatments, to indoor/outdoor experiences, and warm-to-cool therapies. The spa also boasts the island's only Hammam Ritual steam bath, "weaving ancient purification rituals with modern techniques to help you connect with your inner self, while enveloping you in a sense of ancient mystery."
From Condado we ventured to the equally impeccable Royal Isabela resort, which boasts some of the island's finest accommodations and amenities. Located 70 miles from San Juan on the rugged northwest coast, the intimate property on 550 acres is comprised of just 20 casitas, or private villas, perched on a cliff above the Atlantic Ocean, designed in a Mediterranean-meets-Colonial style that embodies timeless elegance.
Each Casita encompasses 1,500 square feet of indoor and outdoor space, including a private plunge pool, sited to make the most of Royal Isabela's captivating ocean vistas while blending in with the environment. Royal Isabela is also home to a world-class golf course, two miles of sandy beach, a profusion of walking trails, frontage on the mysterious Guajataca River, a library, two swimming pools, tennis courts, a fitness center, and more.
Designed in the manner of a historic sugar plantation, complete with a tower made of old stone, the property's Jota Restaurant is one of the northwest coast's main attractions. Fresh, seasonal ingredients are sourced from the property's extensive fruit, vegetable and herb gardens, going beyond the usual scope of so-called farm-to-table cuisine. That's in addition to the bounty of the ocean and the chef's arrangements with local fisherman and farmers who provide victuals daily. With both indoor and outdoor dining spaces, a circular bar overlooking the ocean, and an extensive wine cellar, it's a locale you will never want to leave.
Royal Isabela was founded by former professional tennis player Charlie Pasarell and his brother Stanley, and it has the feel of a luxe private estate, as it is also home to their personal vacation residences. The property is offering a limited number of oceanfront luxury home sites, for those who want to establish their own stunning footholds on the dramatic coast, with easy access to area attractions such as El Pastillo Beach. From January to April, humpback whales can often be seen breeching right off the cliffs.
Heading back to San Juan, we checked into the city's very newest and coolest boutique luxury hotel, O:LV Fifty-Five. Puerto Rico's first true design hotel, its Gatsby-esque decor, anchored by tons of marble, is an avant-garde expression of Art Deco, featuring just 26 suites. The adults-only property overlooking the tranquil Condado Lagoon has put San Juan on par with European capitals with its design-forward ethos and sleek sophistication. The hotel's motto "loads of city swagger" gives you some idea.
Created by the firm responsible for winning The Best Design Hotel of the World and Best New Boutique Hotel from London's Boutique Hotel Awards, O:LV Fifty Five is sumptuously stylish and reflects its owners' extensive travels abroad. A mix of oversized artwork, custom fixtures and furniture, vintage industrial items repurposed as lighting and design accents, and a life-size statue of Rolls-Royce's iconic Spirit of Ecstasy greet you when you enter the marble-clad lobby.
Instagrammable moments abound, with each space more photographable than the next, and Rolls-Royce is also present in the hotels' rooftop lounge, where a vintage 1970s Silver Shadow has been transformed into a custom DJ booth and champagne bar unlike any other. The lounge opens onto the opulent two-level rooftop deck, infinity pool and Jacuzzi, all swathed in even more marble, overlooking the Lagoon from a privileged height.
The rooftop restaurant and lounge, called Arya, has become one of the city's hottest spots, both for guests, locals, and other visitors who come to catch the stunning sunsets as much as the curated DJ sets and the delicious small plates, cocktails, wine and champagne. Overall it's symbolic of San Juan's evolution from traditional family-style beach destination to a place with more sophisticated appeal, bolstered by a burgeoning restaurant scene as well.
On the vanguard of that phenom is OLV: Fifty-Five's own Raya, located off the posh lobby, from local celebrity chef Mario Pagan. A unique take on Caribbean-Asian cuisine, with equally Gatsby-esque design chops, it's was made to "bring the spirit of Asia to the heart of Puerto Rico." Pagan's version of fusion extends to Thailand, Vietnam, Korea and Japan, and menu highlights include tuna toro sashimi, spiced adobo Kurobuta pork ribs, seared Kobe beef tartare with caviar and shiso crème fraiche, and a signature take on duck fried rice.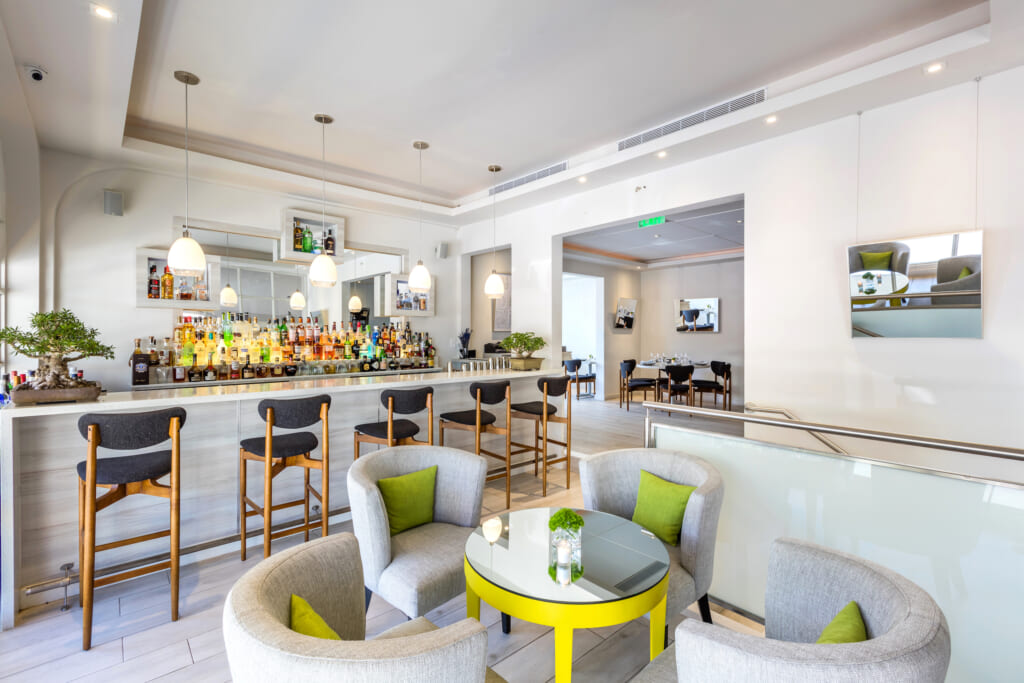 We also found time to visit Pagan's original namesake restaurant in nearby Condado, serving up, in their words, "sexy modern Puerto Rican cuisine" in a contemporary, tropical-inflected setting. Pagan, a member of the James Beard Foundation's State Department Culinary Diplomacy Chefs Partnership, with a mission to educate on sustainability and food consciousness around the world, and was featured at the 2015 Milan World Expo. More recently, he collaborated with his friend and fellow celebrity chef José Andres on creating awareness and support for World Central Kitchen and Chefs For Puerto Rico. Small wonder his restaurants are always packed.
Elsewhere in the city, the recently-opened Pio Pio, in Old San Juan, is not to be missed. The champagne, wine and tapas bar, serving up tasty bites of everything from caviar to crab crumpets and confit rabbit rillettes, comes courtesy of Laura Madera Nadal and chef Ciarán Elliott, who met while working together in New York City. The neighborhood spot is designed to "blur the line between luxury and comfort" with an unpretentious atmosphere and world-class cuisine.
So it should come as no surprise that Nadal is a veteran of Thomas Keller's Per Se and Eleven Madison Park, while Elliott, a native of Scotland, spent nearly five years in the kitchen at Per Se, working his way up to a sous chef position. Nadal works with local wine importers to feature "interesting varietals from lesser known regions and producers," and the pair have gained a dedicated following despite facing the challenges of opening a restaurant in the midst of the pandemic. Look for Pio Pio to feature prominently in articles about Puerto Rico's culinary renaissance.
Last but not least, well worth the one-hour drive up into the hills of of Cayey south of San Juan, Bohemia Cocina en Movimiento is one of the coolest eating experiences anywhere in the Caribbean. The five-course, all-day affair, punctuated by fine wine and craft cocktails, is overseen by chef Mariano Sena from Argentina, and his business partner Federico Molla, who initially conceived of the idea as a pop-up at various locations in the Puerto Rican countryside. Eventually establishing themselves at a rugged mountaintop estate, it is fine dining meets boozy brunch, complete with curated live DJ sets matching each course to a musical style.
"In an effort to break with tradition and monotony," as they explain it, "plates change from week to week, and ingredients come to life" as the chef explains each and every dish as well as the cooking techniques involved, to a chorus of raucous applause and the clinking of innumerable glasses. Guests arrive from all over the island, having made reservations months in advance, to snag one of the coveted tables, with large parties warmly welcome. There are long breaks between each course so that you can soak up the incredible mountain vistas and socialize on the various terraces and outdoor spaces.
Among the many Argentinian influences are grilled and barbecued meats, some buried in the ground Inca-style, where they cook for hours locking in amazing flavors. Fresh pasta is also a highlight as Chef Sena has a passion for Italian cuisine as well. This is more fun than fine dining has any right to be, and eschewing the traditional trappings of a white-tablecloth restaurant has enabled Bohemia Cocina en Movimiento to create something truly unique, a fitting complement to San Juan's newly revitalized urban scene, and a concept that's sure to be emulated around the Caribbean and beyond.