Where To Eat, Drink, Stay and Play in Turks and Caicos
Find out why Turks and Caicos is the West Indies' ultimate island paradise
A few summers ago when one of the world's biggest megayachts slipped into its
berth in Providenciales in the Turks and Caicos, according to a report in the local
newspaper, its owner may have been on a mission to buy property there.
If you've ever been to the idyllic British Overseas Territory, comprised of dozens tropical islands and picturesque private cays east of
the Bahamas, off the coasts of Haiti and the Dominican Republic,
it's easy enough to see why anyone would want to invest. 
Aside from their status as an offshore financial hub, the
Turks and Caicos are spectacularly beautiful and relatively unspoiled,
elegant and sophisticated yet in an utterly relaxed way, a true tropical
paradise that hasn't been besmirched by overblown developments or
hordes of souvenir tee-shirt-seeking tourists.
With fewer than 40,000 inhabitants, the Turks and Caicos is one
of the West Indies' smaller territories, making it even more of a relaxing getaway. Though it has long been popular with some very A-list
names, including Rihanna, Drake, Bill Gates and Tom Cruise, the
country's 230 miles of white sand beaches afford plenty of solitude.
Approximately three hours by plane from New York City, it's perhaps inevitable that more people will discover and come to love the
place; American Airlines recently launched new non-stop service from
Chicago, and it remains quite popular with the private jet set, according to Doug Jellison, Senior Director of Business Development at
Private Jet Services (PJS), the blue-chip charter company whose clients have included Beyoncé and Jay-Z, the Rolling Stones, the Boston
Bruins and Vice President Mike Pence.
"Providenciales airport has a runway long enough to accommodate
larger aircraft," Jellison notes, making it more accessible for the most
luxurious private jets than St. Barths or the British Virgin Islands. "We
have flown in everything from a twin engine turbo prop all the way
up to an ultra-long range Global 6000 business jet", which costs $60
million-plus and runs on Rolls-Royce engines. 
Jellison cites privacy as
one of the area's main draws for his well-heeled clients; the rarified atmosphere of their personal aircraft isn't ruined once they disembark.
Stylish yachts are also a preferred way to visit the
island nation for well-heeled travelers who frequently choose it over
Mustique and St. Barths, modern day counterparts of the pirates who
once favored the sheltering coastline. "[A] superyacht charter is quite
possibly the ultimate bespoke vacation," Sophie Holmes, London based Charter Broker with Burgess Yachts, the world's number one
superyacht brokerage house, tells Maxim. 
"Everything is tailor made to
your exact tastes, whether this be cuisine, water toys or even itinerary.
The [region] remains the most popular location for the winter season,
with many of the fleet crossing over in October from the Mediterranean. Islands such as the Turks and Caicos… provide an idyllic setting
to enjoy remote anchorages, fine dining and simply sailing the warm
seas."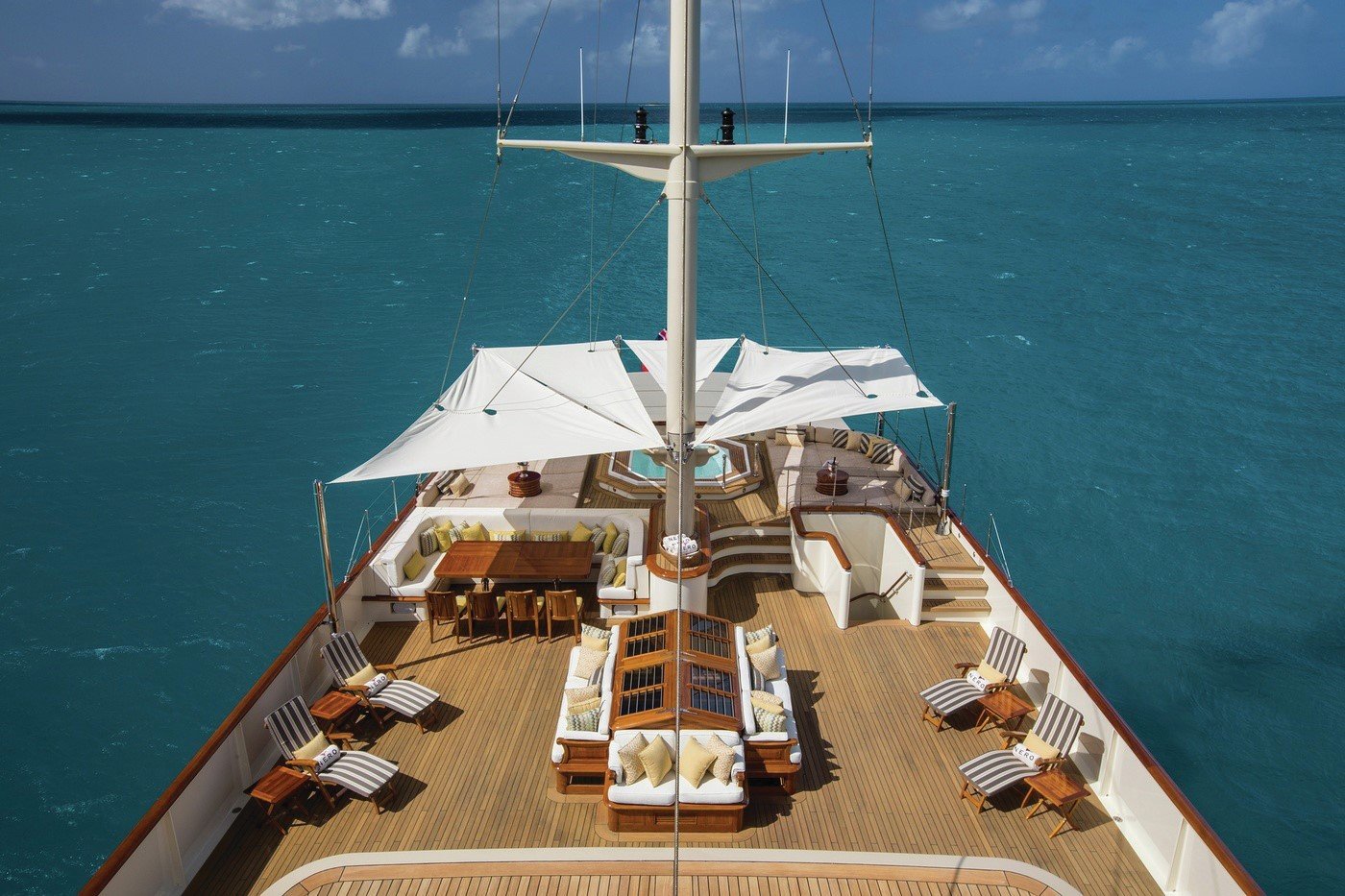 One of Burgess's most spectacular charter yachts, the 295-ft. Nero,
which was built to resemble J.P. Morgan's famous Corsair series of
steam yachts and costs $525,000 per week during the high winter
season, is ideally suited for a Turks and Caicos excursion. 
The yacht's
captain proposes a relaxing eight-day itinerary to make the most of its
spectacular coral reefs. The Nero, which can accommodate 12 guests
with a crew of 20 is fitted with oak-paneled salons, a swimming pool,
Jacuzzi, gymnasium, interior and exterior cinema projector screens
and an impressive master suite with a private lounge and study connected via a stairway to the upper deck.
If yachts aren't your thing, there are equally luxurious private villas to take advantage of. Kylie Jenner celebrated her 19th birthday at
what has to be one of the most luxurious Airbnbs ever, a $50 million,
23-bedroom Turks and Caicos estate equipped with a private chef,
butler and personal concierge, who surprised the birthday girl and her
friends with a beachside fireworks show.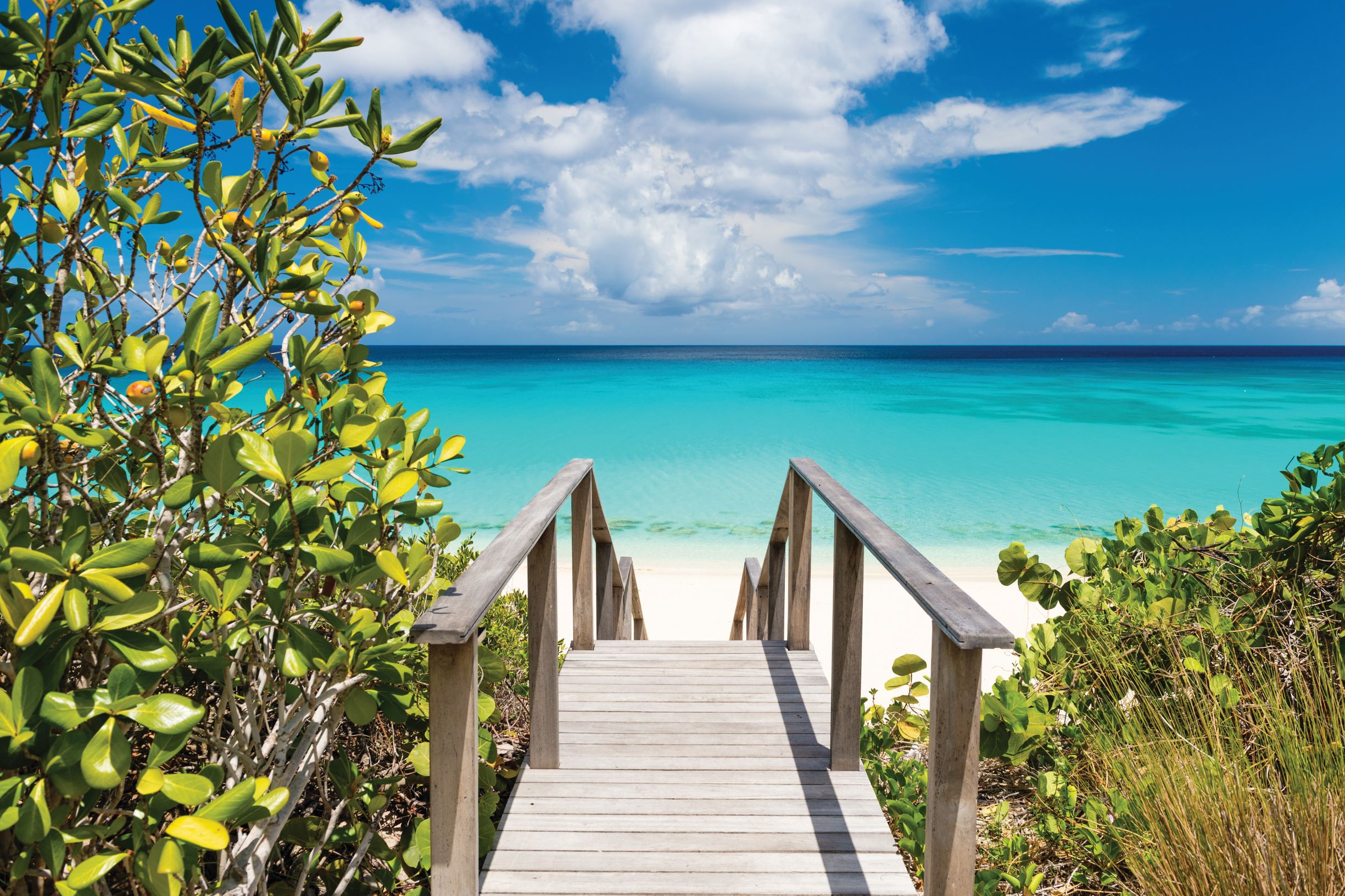 In 2016 it rented for $10,000
per night with a five-night minimum. Other stars like Keith Richards
and Bruce Willis obviously enjoyed their visits to the Turks and Caicos so much they purchased properties of their own.
Some of the most alluring private beachfront villas are for sale or
rent at Amanyara on Providenciales, surrounded by a nature reserve
and overlooking a marine park, also home to one of the island's
most beautiful resorts courtesy of the Aman Group, designed with
a contemporary Asian vibe and a suitable setting for a James Bond
film. 
The property boasts half a mile of secluded beach dotted with
wood-furnished, timber-shingled villas surrounded by lush tropical
vegetation, and its health-conscious cuisine is among the best in the
region. A-list Amanyara visitors have included Brad Pitt and LeBron
James. 
The nation's luxury real estate market has been sizzling of late
according to International Investment, and an Amanyara villa recently
sold for $6.55 million while a stunning five-acre, six-bedroom estate
on Providenciales formerly belonging to rock star Prince had been
listed at $12 million.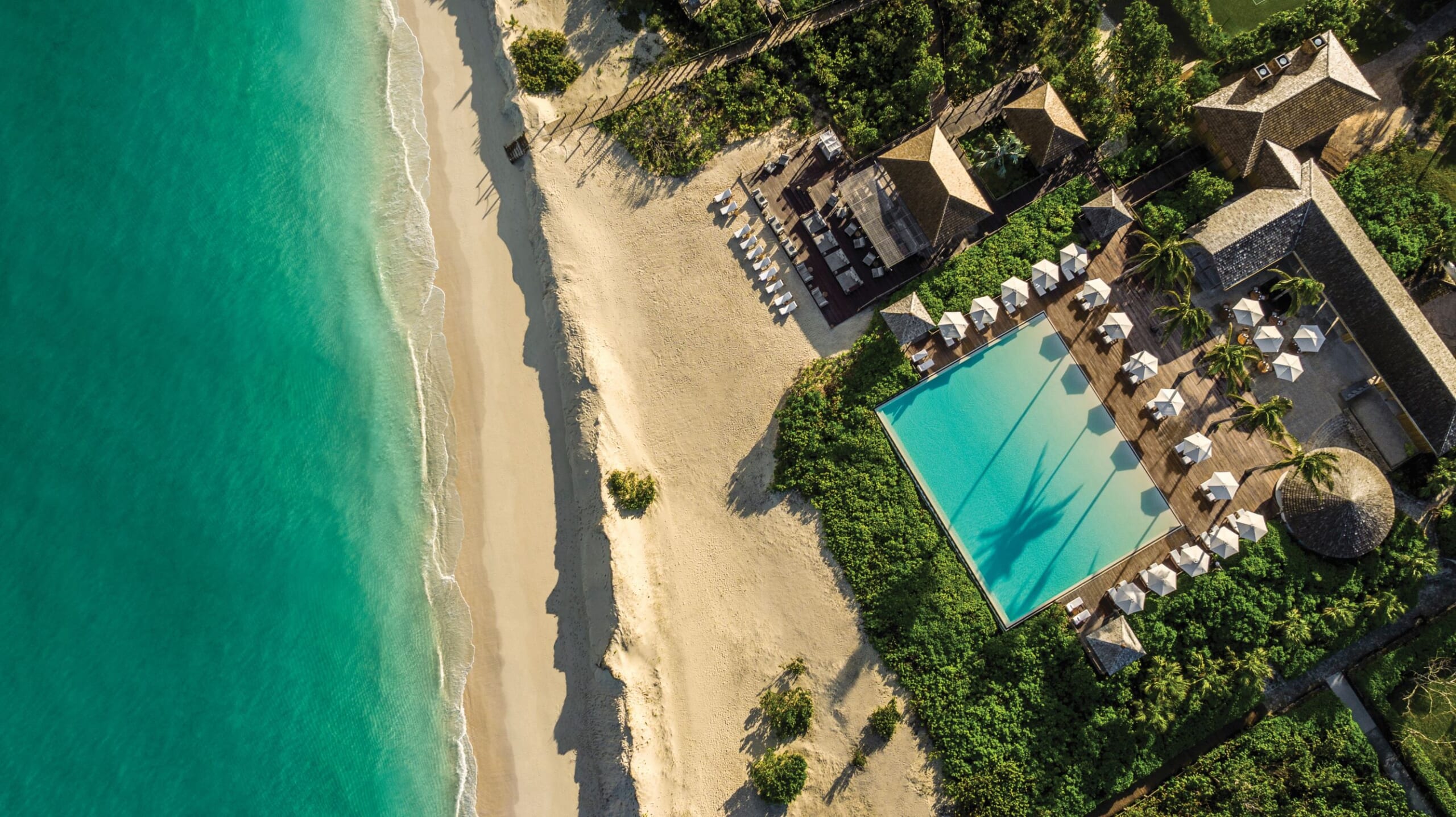 Just 30 minutes away by boat is the 1,000-acre private island of Parrot Cay, where Keith Richards's villa is located, and which also has a
posh COMO resort; the Rolling Stone can be found propping up
a local beach bar, where he once had a run-in with a visiting Justin
Bieber.  The serenely beautiful Parrot Cay was also the setting for the weddings of Ben Affleck and Jennifer Garner and Bruce Willis and
Emma Heming.
Many of COMO Parrot Cay's light and airy beachside villas—the
grandest, called the Sanctuary, designed by island resident Donna
Karan, usually goes for $24,000 a night—have plunge and infinity
pools, though the ocean offers some of the best swimming we've ever
experienced. 
Villa owners and renters can take full advantage of the
resort's amenities including its water sports, a full-sized swimming
pool, gym, spa, yoga classes, tennis courts, world-class restaurants
and beach club with attentive bar service; the tropical drinks are
mixed to perfection. 
The signature COMO Shambhala cuisine features dishes focusing on energizing and organic ingredients with an
emphasis on raw foods which they note are "more easily digested as
well as richer in living enzymes, vitamins and sea minerals," combined
with pan-Asian influences.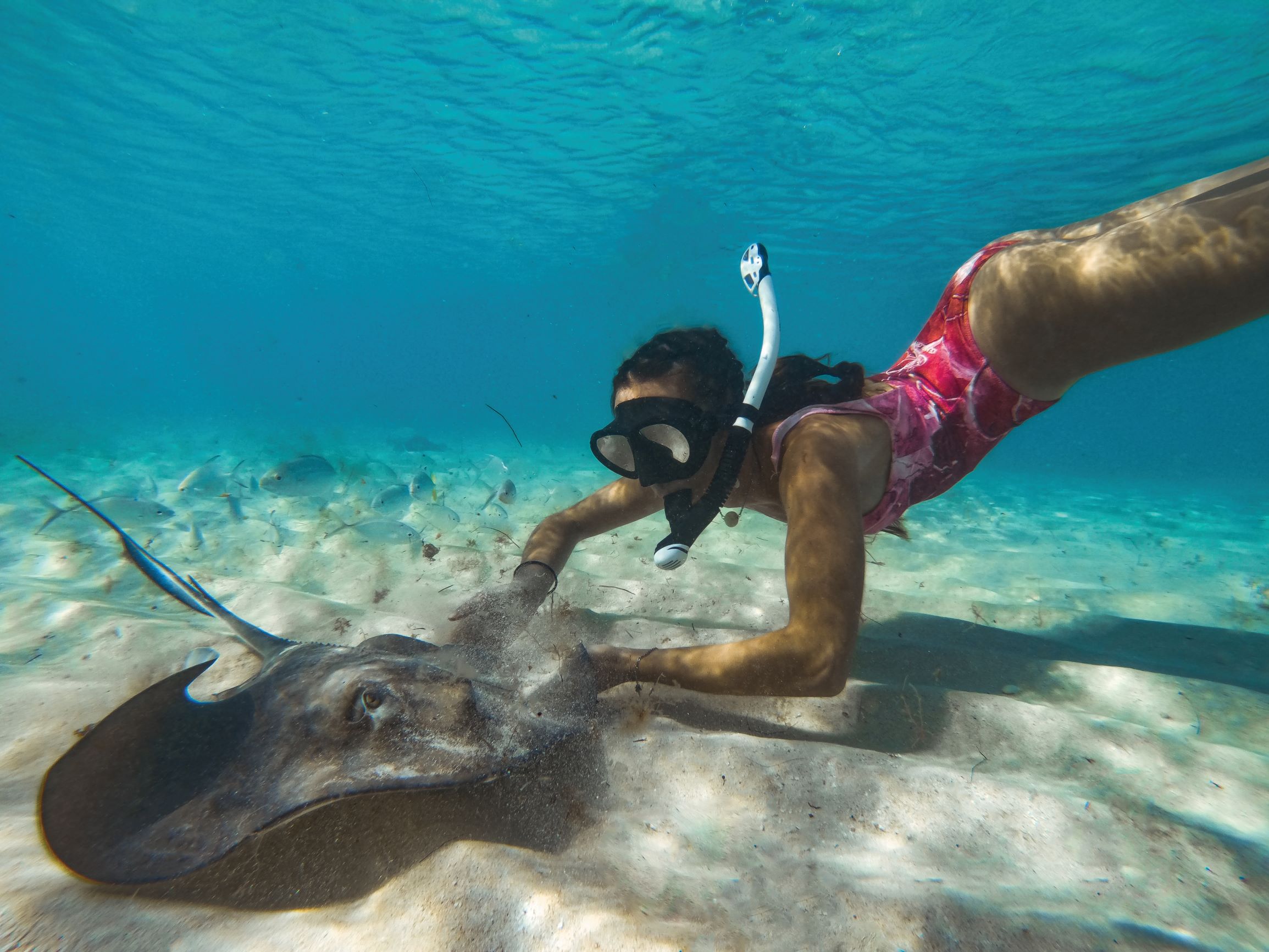 Those who favor a more traditional luxury resort experience head
to the Grace Bay Club, which recently celebrated its 26th anniversary
and has long been the gold standard in its category, with interiors
by celebrity designer Thom Filicia, whose high profile clients have
included Tina Fey, Jennifer Lopez, and Marc Anthony. 
Of course it
also offers luxurious five-bedroom villas for renters who appreciate its
more central location but still want the Turks and Caicos' ultra-private
experience. Grace Bay has expanded its portfolio to include other hospitality offerings including Point Grace, a boutique resort inspired by
classic, turn-of-the-20th Century British Colonial architecture. 
Grace
Bay Club is also well known for its Infiniti Bar [see sidebar below]. And the
former Gansevoort resort nearby, recently re-branded as Wymara Resort and Villas, is famed for its scene-y 7,000 square foot infinity pool.
It also offers private villas, complete with indoor-outdoor living areas,
sunken outdoor fire pits, and over-the-water swimming platforms with
direct ocean access,
Other enchanting places to stay include the recently-opened Ambergris Cay, a three-mile-long private-island resort located at the southeastern end of the Turks and Caicos archipelago, featuring just 10 beachfront
suites with plunge pools and butler service.
Or back on Providenciales
consider the forthcoming Club at Beach Enclave Long Bay, from one of
the Turks and Caicos' leading luxury villa ownership and rental companies, which offers both three-bedroom beach houses and 20 hotel units,
set on a secluded corner of Long Bay beach with eight acres of lush,
tropical landscape and over 800 feet of white sand beach.
If you want to show off your wealth and wardrobe, Turks and Caicos,
with its decidedly low-key atmosphere and lack of showy venues, may
not be the ideal destination. But if it's natural beauty, privacy, barefoot
luxury and even a measure of anonymity you're after, it should be at the
top of your list. 
As Keith Richards puts it, it's a place "where I can loosen
up," and people "don't give a shit who I am." In other words: priceless.
Smoke Show
The tropical paradise is also a haven for cigar lovers
If you should never judge a book by its cover, then it's also wise to
never judge a cigar by its wrapper, or at least by its nation of origin.
For while some might turn their noses up at anything that wasn't
born in Cuba, the truth is that world-class cigar rollers today can be
found in lots of locales, and it just so happens that the Turks and Caicos Islands is on the exclusive list of places crafting cigars of a quality
on par with those produced anywhere in the Caribbean.
There's no denying the Cuban influence on cigars in the Turks and Caicos, especially when you enter Cuban Crafters TCI, also known
as the Turks and Caicos Cigar Shop and Cigar Factory. Using Cuban-seed tobacco, top quality cigars are rolled throughout the day
and are only available on the island. 
You can watch as expert fingers
hand roll the choicest of tobaccos into cigars of your selection and
personal preference.
Master cigar rollers allow you to see their expertise up close, as
they cut, sculpt and roll their masterpieces with the precision and finesse that only years of experience and long-held traditions can teach.
Order a box of your favorites and watch the resident craftsmen (and
women) go to work on your customized cigars, or relax away from the
midday sun with a round of dominoes while you wait.
There's a satisfaction that comes from observing the entire process, appreciating the skill and artistry that goes into sculpting the
final products. Of course you can always place your order and take a
single exquisite cigar for a walk around the scenic area, or down to
the heavenly beaches, while their craftsman execute your exact wishes. 
Besides, the only thing better than enjoying paradise with a fine
cigar is enjoying the ultimate paradise with a local cigar that would
pass judgement on any Havana street corner. — Keith Gordon
Below the Surface
The Turks and Caicos offer some of the world's best diving
While it may be captivating to stare out over the clear, turquoise waters of
the Turks and Caicos, there is perhaps just as much beauty underneath the
surface of this jaw-dropping archipelago. 
To experience the wonders that
surround the islands, hook up with one of the dozens of dive operators and
guide services that are available on the islands, must-visit destinations for
the world's scuba diving enthusiasts.
The islands boast access to the third largest barrier reef system in the
world. This ensures a beautiful array of colorful reef fish, and the imposing
predators that follow them (sharks, stingrays, and so on). 
But the islands
also sit on an underwater plateau that quickly falls off more than 7,000 feet to the ocean floor, offering not only a diversity of marine life, but dramatic
undersea views of this drop into the abyss. This makes the area ideal for
divers of all experience levels, and ensures an array of dive options to suit
anyone's personal preference.
The four major zones for diving include the area around Providenciales, various sites on Salt Cay, the awe-inspiring wall dives on offer at Grand Turk, and the myriad quirky dive sites found throughout North and
Middle Caicos. 
Salt Cay offers not only diving, but from January through
March, whale-watching possibilities as well. Only Salt Cay Divers is currently operating on this small island, which also offers some limited wreck
diving for adventurous types, including what's left of a British 44-gun warship that sank in 1790.
Grand Turk is home to the Columbus Landfall National Park, one of
several islands where Christopher Columbus is speculated to have first set
foot in the New World. A playground for the scuba enthusiast, this area
offers anything a diver could desire. 
Reefs are stuffed full of a diversity, and
density, of fish found in only a few places on Earth. At the edge of these
plateaus, cliffs drop off into a darkening, mysterious world that entices
those divers with the courage — and deep-water certification — to explore
these walls as they fall away into the unknown. 
While there are numerous
well-regarded dive outfits, the longest continuously running operator is
Blue Water Divers, who know the area well and are conveniently located
in Cockburn Town.
For sheer convenience, diving from Providenciales makes a lot of sense.
Not only is it where you'll most likely spend time on land, but the number of quality dive operators is topped only by the number of high-quality
dive spots in the the area. 
Diving takes place largely within three protected
zones, the Princess Alexandra, Northwest Point Marine, and West Caicos
Marine national parks. Trips are available for long, multi-tank outings that
will get hardcore scuba divers all of the underwater time they can handle exploring the more than 70 miles of available barrier reefs and walls. 
But
one can also create a day filled with shallow snorkeling, easy scuba dives,
and relaxing time for family, a celebration with friends or whatever one can
imagine in a paradise like this, above and below the surface.— Keith Gordon
Island Spice
The culinary and cocktail scene in the Turks and Caicos is really heating up
"A passionate food culture set amongst the backdrop of an absolutely
stunning location" is how chef Shawn McClain of Sage at ARIA Resort & Casino in Las Vegas described the culinary scene in the Turks
and Caicos following a recent visit. "The cuisine reflects an international influence executed by very talented chefs." 
McClain, like an increasing number of foodies, dropped in for the Caribbean Food and
Wine Festival, an annual event that is turning the quiet island nation
into "one of the hottest destinations for culinary travel" in the region,
festival co-founder Nikheel Advani told Forbes. 
"Before farm-to-table
became trendy, or even discussed, local seafood was available right
off our shores and had always been a staple of our island diet."
Spiny Caribbean lobsters are a local delicacy, as
is conch, a sort of supersized
tropical escargot which is
obviously a star attraction at
Da Conch Shack & Rum
Bar on the beach on Providenciales, named one of the
world's top 50 beach bars by
CNN and featured in the
book 1,000 Places to See Before
You Die. 
You can have it as
salad, chowder, fritters,
stew or curry as you wish,
and the place turns in to a
full-on beach party on Wednesdays, Fridays and Sundays with live
music or a DJ.
Kim Canteenwalla, executive chef of Buddy V's Ristorante at
The Venetian, and chef-owner of Honey Salt, both in Las Vegas, and
and a headliner at the Caribbean Food and Wine Festival says it's all
well worth trying. 
"I loved the great rum punches," he told Forbes,
"and the local fish fry festival on Thursday nights is a warm and fun
party atmosphere that showcases the island culture and its cuisine."
Canteenwalla's wife Elizabeth Blau, a James Beard Award nominee
and restaurateur who was honored at the festival, agrees, adding,
"Turks and Caicos is a great food [destination] to visit. There are
many talented chefs on island."
Many of them are to be found at the top resorts, such as Amanyara, which serves fresh seafood-focused fare, including red snapper, tuna and grouper, accompanied by organic produce from the resort's
aquaponic vegetable garden, at its restaurant. Guests can also book
a private torchlit dinner in a secluded cove attended by a butler, while
the property's beautiful bar is a favorite for refreshing cocktails. 
And
at Coyaba Restaurant on Providenciales, chef-owner Paul Newman
has been serving up some of the freshest and most delectable fare in
the islands for almost 20 years. 
He and his team strive to create a true
"oasis" in a lush tropical garden setting where guests can truly relax
while enjoying his cuisine, a mix of Caribbean, West Indian, and European cooking with the perfect amount of spice, and of course
drinks from the bar.
Cocktails are really top notch at the Grace Bay Club, one of the
main venues for the food festival, and home to the Infiniti Restaurant
& Raw Bar with its famous 90-foot-long outdoor bar made of reflective black granite, one of the area's most famous landmarks. 
While
tropical drinks have long ruled the roost on the Turks and Caicos,
the Infiniti Bar now has a bona fide mixologist offering artful riffs on
the classics that will still satisfy your warm weather cravings.
Overseen by executive chef Christopher Meredith, the Grace
Bay Club's food and drink options are refreshed every year to respond to changing tastes and constantly improve its offerings. 
Current standouts at Infiniti include mahi-mahi carpaccio with cilantro,
jalapeño, and cachaça dressing; and locally caught grouper with
peekytoe crab, crushed new potatoes, and Peruvian rocoto chili
emulsion; as well as a 28-oz. prime tomahawk steak for two if you really want to go big.
If you're renting a villa while traveling to the island, a popular option with visitors who cherish their privacy, consider hiring a private
chef to make sure you eat well during your stay. 
Local chef Jonathan
Krespil, originally from Montreal, who has 20 years of international
food and beverage experience in five-star hotels, restaurants, bistros
and cafes, prides himself on creating "memorable and eclectic" dining
experiences for his clients. 
Which sounds like a perfect way to crown
a visit to the island paradise. —Jared Paul Stern