The World Is Facing a Shortage of Irish Whiskey, According to Industry Insider
Drink up.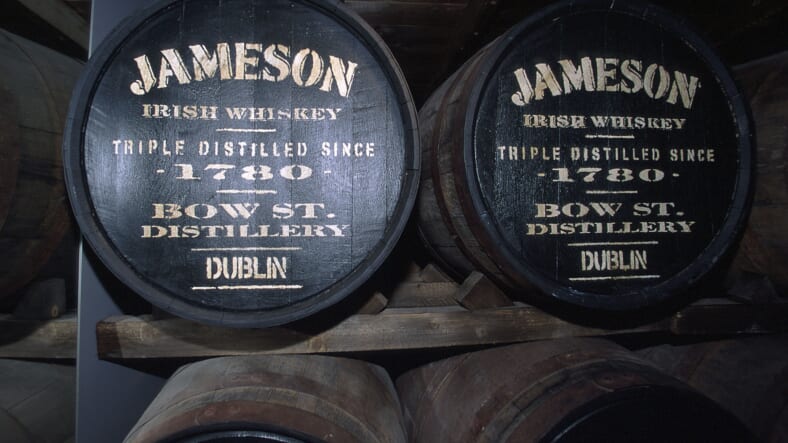 Getty Images
If you're a lover of Jameson, Bushmills or Tullamore Dew, we have some potentially very bad news.
According to The Irish Times, whiskey magnate John Teeling has warned that there may be a scarcity of Irish whiskey within the next few years due to surging global demand.
"Soon there will be a shortage of Irish whiskey. What we are making now, you won't sell for seven years. So we will have a shortage if the rate of growth continues at a cumulative rate over the next six or seven years."

Sales of Irish whiskey are growing at 10 per cent-plus a year in more than 75 countries. Mr. Teeling has built the Great Northern Distillery (GND) at the old Harp Brewery in Louth to supply bulk malt and grain whiskey to the multitude of new brands on the market.
That distillery, it seems, isn't enough to keep up with the spirit's recent explosion in popularity. Whiskey drinkers want their booze immediately, but the malt that's currently aging in barrels won't be ready to make the stuff for another six or seven years.
Worse yet, it seems the same might be the case for Japanese whiskey. Per Popular Mechanics:
Suntory recently announced it was pulling some of its best aged whiskies from the shelves due to shortage, like Hibiki 17. The distillery didn't set enough aside 17 years ago to age, and it can't keep up with demand now, so it's rationing its stock. 
This could all be alarmist fearmongering—or perhaps an evil ploy to sell more Irish whiskey—but considering we're also on the edge of a possible worldwide tequila shortage, our advice is to keep it homegrown and start getting into good old-fashioned American bourbon.