10 Reasons Why Microsoft's New Xbox One X Console Is Literally a Game Changer
Prepare to get hooked.
Credit: Xbox
Internally called Project Scorpio, Microsoft officially took the wraps off of its latest console this summer at E3 when it unveiled the Xbox One X to the world. Now that it's finally arrived, the suped-up Xbox One X is proving what it can do with all that extra power. Take a deep dive into the reasons we're blown away by the Xbox One X.
1. 4K Power
The biggest boost that the Xbox One X brings to the Xbox ecosystem is a quadrupling of the resolution of your Xbox, bumping it up from 1080p to straight up UHD 4K. The extra power of the One X pushes all those extra pixels without blinking an eye, and games look even more incredible as a result. 
We tested out the Xbox One X on the Samsung Q7F 4K HDTV (the official partner TV of the Xbox One X) and were amazed by the look of our favorite games after getting a resolution boost.
2. High Dynamic Range of Color
4K is great but, without HDR, you won't get the maximized effect of the resolution bump. HDR makes it so your games are bright and beautiful, rarely leaving a spot on the screen without the color brightness to see even the tiniest of details, details that might have even been there all along but you just didn't see them because patches would be too dark or too washed out. 
Like its ability to push 4K pixels, the Xbox One X also pushes that huge spectrum of color and brightness without the slightest hiccup.
3. Free Enhanced Versions
Most games up to this point haven't been developed for 4K resolution or HDR, and that means software developers have some work on their hands to get their games prepped to maximize the graphics horsepower of the Xbox One X. Wisely for the devs and lucky for us gamers, Microsoft and the other publishers are adding these UHD assets to their games free of charge, costing little more than some extra internet bandwidth to download the assets that'll upgrade the games you already own for maximum graphic mind-blowing — games going back as far as Halo 5 — all for free. 
Just make sure your Xbox One X settings are turned on to download the additional 4K assets, and the console will take care of the rest of the heavy lifting. You can check out all the games getting the Enhanced treatment here.
4. 4K Recording
What's the point of 4K if you can't show it off to the world. The internal recording mechanism inside the Xbox One X doesn't just pump out 4K graphics, it also lets you record and edit them or export them to an external HDD so you can edit them in professional video editing software on your Macbook or PC. Editing higher resolution videos also gives you the option to zoom in closer on details and can give anyone who views your videos a full scale sense of the way you're playing your games.
5. Better 1080p
Even if you don't have a 4K TV yet, the Xbox One X will still lend its graphics boost to the 1080p TV and games you already own. Framerate drops, washed out colors and stuttering menus are a thing of the past with the Xbox One X. Whether you have a 4K set or not, the One X will automatically give you a better experience.
6. Small Form Factor
Like last year's S model Xbox, the One X also sports a diminutive form factor, coming in with a significantly smaller footprint than the original model, making it easier to swap into your existing home theater setup without sacrificing anything but an additional kinect-specific USB port. 
Kinect users may be upset with the lack of a dedicated port, but we're betting they're more upset by the way Xbox has entirely abandoned the Kinect peripheral that Microsoft originally claimed was a completely necessary component of the Xbox ecosystem. Still, if you're looking for Kinect-style functionality, the Xbox One X will play nice with almost any USB webcam out there just by connecting the two.
7. Lightning-Fast Menus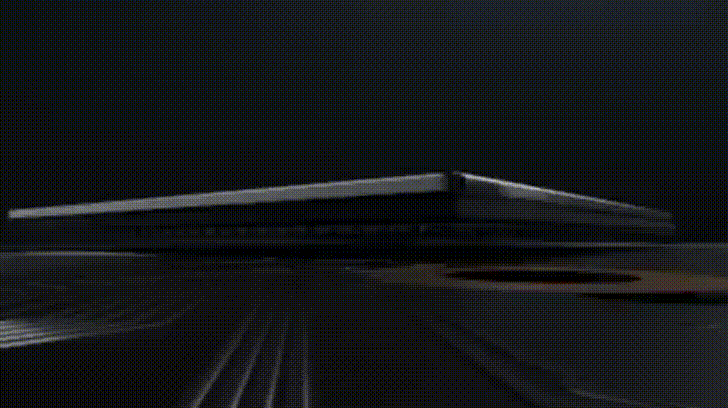 Gone are the days of waiting five seconds between the time you pressed the Xbox button on your controller and actually having the menu show up. The new Xbox dashboard, an update that just rolled out, and the Xbox One X give new meaning to the word immediately. 
Whether you're trying to dash off a party invite to a friend in the five seconds before that Rocket League match starts or you absolutely need to get that screen capture of a fleeting moment in Destiny 2, the Xbox One X will easily and quickly have you flying around the menus so you can get done what needs to be done and continue gaming.
8. Ultra High-Def Streaming and Blu-Ray Movies
We've been following along as Netflix has become one of the largest suppliers of 4K content over the past two years and the biggest supplier of HDR content over the past year, and the Netflix app on the Xbox One X will deliver all of that UHD content with ease. That's a valuable capability considering other streaming services are set to jump on the UHD bandwagon in the near future. 
One of the considerable benefits of the Xbox One X over the PS4Pro is that it also doubles as an Ultra-High-Def Blu-Ray player as well, something that, bafflingly, Sony's own hardware doesn't do. Microsoft included the UHD Blu-Ray of BBC's Planet Earth in the box with our review unit and were were floored by the look of true UHD content. Though, we have to say, Netflix's original series, like The Defenders, look equally stunning in 4K+HDR.
9. Cloud Saves
It doesn't matter if you're using your Xbox One X to play Xbox One games or backward compatible Xbox 360 games, wherever you left off on your previous console will be waiting for you on the One X courtesy of Xbox's cloud saves. No transfers necessary, just sign in with your Xbox gamertag and pick up your game wherever you left off before you swapped over to the new console.
10. Easy Upgrade
Xbox has made it incredibly easy to upgrade to the One X. If you have a decent sized external HDD, bulk storage transfer abilities are built right into the operating system so it's as simple as plugging in the external, choosing what you want to bring over and then plugging it into your new One X. Games on your old Xbox One will come over without needing to be reinstalled so you can get to gaming on the One X immediately and easily. You can even download the free 4K content for the games you already own so that they're ready to go in UHD the first time you fire up your new console. 
Alternatively, network transfers are equally easy (though take a while longer) if you're comfortable keeping both your old Xbox One and your new Xbox One X connected to the same network simultaneously. Of course, you'll always have the option to reinstall all of your disc-based games and redownload all of your digitally-purchased games too if you're not into the whole "get it done quickly" thing. 
Grab your own Xbox One X here.