Here Are The Best 4K TVs For Under $2,000
These stellar sets give the most bang for the buck.
The wave of 4K content is rolling in steadily. Netflix Originals are being shot in the higher-res standard, Sony's Playstation Pro has been pumping out 4K resolution and HDR color for almost a year. Microsoft's Xbox One X is due this fall and will gave most of their games a 4K overhaul. 
James Cameron is re-releasing Terminator 2 in the UHD standard and now Christopher Nolan has announced his Dark Knight trilogy will be getting a 4K remaster too. Then there's also the little fact that your iPhone has likely been shooting 4K videos since the iPhone 6S and you haven't even seen your own videos in their true resolution! 
All these factors make it the best time to take the plunge into 4K. Here are the five best 4K TVs that you can get on a budget of $2,000 or less.
Samsung's screen quality and smart integrations really lead the pack here. HDR integration means you won't just get terrific resolution and clarity but also excellent color and contrast as well, since HDR can often improve a picture more than just a jump in resolution does. 
What most impressed us about the MU9 was the way it seamlessly picked up on all of our other connected devices. Everything from Xbox to Playstation to AppleTV were picked up by Samsung's UI and were (almost) fully controlled via the included Samsung remote, which is wonderfully minimalist when compared some of Samsung's previous remote controls. 
This is a fully-featured 4K TV that delivered excellence across the board, even providing clear, vivid images with minimal glare in the sun-soaked living room where we tested it. Originally priced at $1,999, Amazon currently lists the 55" MU9 for under $1,500. There are only two drawbacks we've seen here. One is Samsung's proprietary One Connect approach to centralizing your HDMI inputs. 
The One Connect box plugs into the back of the TV and runs down a channel of the TV stand to a small box where you plug in all of your inputs. While this did create a somewhat elegant wiring solution, it also created a rats nest of HDMI wires that are just slightly separated from the TV itself. Depending on your setup, especially in wall-mounting situations, this could be a dealbreaker. 
The other issue, one that we found in our research but didn't experience personally, was issues with the Samsung remote's inability to control Sonos devices. Obviously that only applies if you rely on a Sonos soundbar for your TV's audio. It's a minor inconvenience but one that could annoy you if you have this specific setup. It certainly wasn't a problem for us but we thought it was worth mentioning.
Vizio has been making progress toward becoming a well-respected TV maker in leaps and bounds these past few years. Don't get us wrong, they're certainly still on the cheaper side of the spectrum overall but that cheapness doesn't downgrade any of the Vizio P-Series' quality. 
Vizio is pushing hard on all fronts with the P-Series. UHD resolution, super-high color and contrast thanks to their XHDR Pro and some smart dimming that keeps blacks darker without sacrificing color brightness. The 65" P-Series that we tested (55" wasn't available for review) also comes in at an astounding $1699, an impressive price for such an enormous screen with these capabilities. 
FYI the 55" with P-Series with the same capabilities costs $999. Beyond that, there are some terrific bonuses under the hood here. Built-in Chromecast makes it dead simple to beam content from any number of the devices in your house, from your phone to your home PC. Similarly, the connected smart remote app. called SmartCast Mobile, for your phone gives you the option to make your phone an additional, powerful remote for the TV. 
Finally, Vizio has told us that there are several improvements on the horizon for the P-Series later this summer with even better apps being added natively so you can have content streamed directly to the TV without the need for external devices.
 Still, we tested it out with both Xbox One and PS4Pro and the P-Series performed admirably across the board, giving us a great viewing experience regardless of where the content was coming from.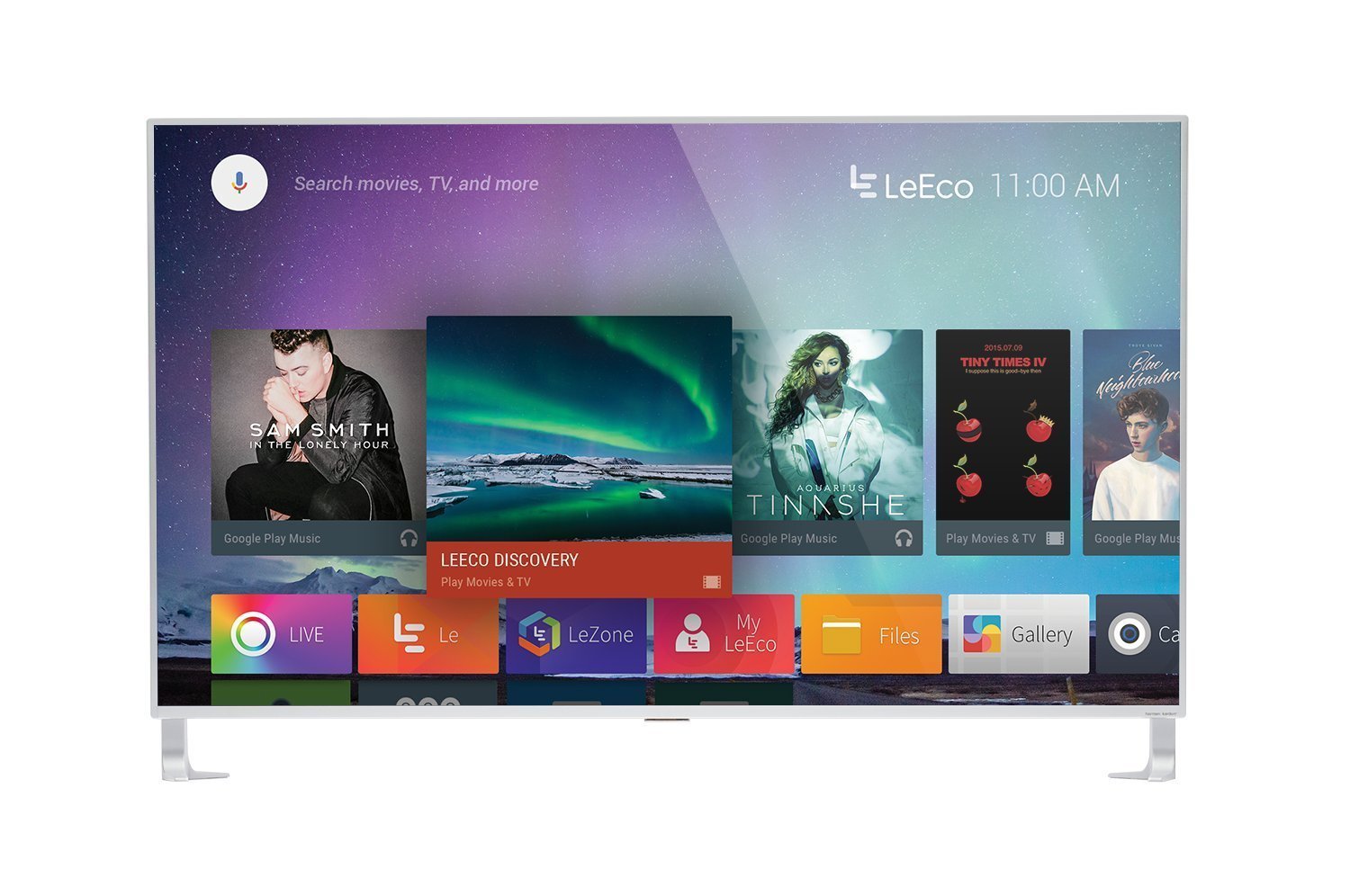 We're not sure how to approach this one since LeEco made a really great, fully-featured TV that impressed us with its quality and capabilities. That's on the one hand. The other thing is that the company seems to be falling apart on a global scale, with a planned merger with Vizio set to take place and then getting abandoned, leading to lawsuits against the company and a creditors circling. 
Sadly, back-end support needs to be a consideration when buying a big ticket item like a TV, if only in terms of situations that may arise down the line and it looks like LeEco may not be around too much longer to provide that. That said, the Super 4 X55 that we tested comes through with a gorgeous display, some phenomenal features like Google integration and voice control, a bevy of third-party apps for getting content onto it without the need for additional devices and impressive design cues among the bunch that we tested. 
The LeEco's display certainly impressed us but it's the beefy CPU under the hood that made this set one of the most powerful and versatile we tested. The Android-based UI means the X55 has lots of perks that are usually seen in tablet computers than PCs. 
Carrying that forth, there's also 32 gigs of HDD space here for adding apps and/or media internally. A lower refresh rate than we'd like made the LeEco less effective than the rest when it came to gaming on it but nice touches all around – and the potential for a price drop below the $799 list on Amazon.
Sony is well known for having some of the best displays out there and the XBR is no exception. They're also known for being at the high end of the spectrum in terms of price and, again, no exception here as the 55" X930 comes in at the top of the pack at $1998, down from its original $2299 price, leaving it to qualify for this round-up but only barely. 
For that price you're getting what amounts to the best picture quality that we've seen in the field of TVs we tested. Unfortunately, that's pretty much where it ends because the X930 comes up short in many other aspects, from a sluggish and clunky Android UI that didn't perform nearly as well as the LeEco that's less than half the price of the Sony. 
Furthermore, form factor is a definite shortcoming here as the X930 is physically bigger and heavier than the rest of the field here, feeling more like the 1080p displays of yesteryear than the cutting-edge forefront of 4K that we'd hope it to be. If you're willing to sacrifice features and pay extra to get moderately better image quality, this is the best option for you but it definitely left us feeling that any purchaser would have buyer's remorse if they looked more closely at the competition's offerings. 
TCL is a company on the rise and we were happy to check out their Roku-enabled 55" P-Series. Boasting the same 4K resolution as the other screens in this list, it also is made better by Dolby Vision HDR – a competing but largely equal dynamic range standard that also boosts color brightness and contrast. 
Of course, the big perk here is the integration of Roku's 4K streaming abilities baked right into the guts of the set. That integration also extends to the TCL's remote which acts much like a typical Roku remote, including voice search and a headphone jack, a nice convenience if you want to watch TV but your bed mate doesn't. There is some serious tech behind the panel itself, specifically regarding 72 separate contrast control zones that enable the TCL to independently dim or brighten sections of the display depending on what you're viewing, allowing for better clarity over TVs without this particular tech. 
During testing, the TCL went above and beyond expectations, especially on the gaming front where games on both Xbox One S and PS4Pro displayed crisply, colorfully and without lag. Even more so on the PS4Pro side where HDR-capabilities gave the looks of games an extra boost. The TCL Roku P-Series 55" is currently going for $649 on Amazon and is one of the most fully-featured sets we've seen at that size and price range.