5 Easy Tips To Maximize Your iPhone Storage
Send that "Storage Almost Full" alert straight to hell.
If you own an iPhone, the dreaded "Storage Almost Full" message exemplifies one of the megapopular gadget's greatest drawbacks—it has no removable memory. 
While we can hope and pray that Apple outfits their next fleet of smartphones with a memory card (don't hold your breath), here are five simple rules courtesy of Mashable that will make your storage last longer and ensure that you're ready to take pictures, download apps and add music at a moment's notice.  
1. Don't shoot every video in high resolution. 
Unless your using your iPhone's camera to do some serious shooting, your buddy's drunken karaoke performance probably doesn't need to be recorded in high-res. 
Head to "Settings," "Photo & Camera," and find the "Record Video" tab. From here, you can set your camera to shot at a lower quality. If you're a regular user of the video function, this will save you many megabytes of memory. 
2. Don't keep messages forever. 
By default, your iPhone saves all iMessage, SMS and MMS correspondence. Especially if you have contacts who send videos and pictures frequently, this setting can really hog your storage space. 
You can set your iPhone to automatically delete messages after 30 days or a year by going to "Settings," finding the "Messages" option, and selecting the "Message History" section. 
3. Don't keep multiple photo exposures.
High dynamic range," or "HDR" is a nifty camera setting that takes multiple exposures and combines them into a single high-def photo. But by default, your iPhone will save all of the exposures, even though the final version is all you probably really want. 
To set your phone to keep just the HDR pic, go to "Settings," then tap the "Photos and Camera" tab." Scroll down until you find the "Keep Normal Photo" toggle, and turn it off. 
4. Don't automatically download purchases from other Apple devices.
If you have Apple content on multiple devices, every purchase will automatically download to all of them. 
You can turn this feature off by going to "Settings, selecting "iTunes & App Store," and select which content category you want to automatically sync to your iDevices, if any. 
5. Save high-res photos to iCloud.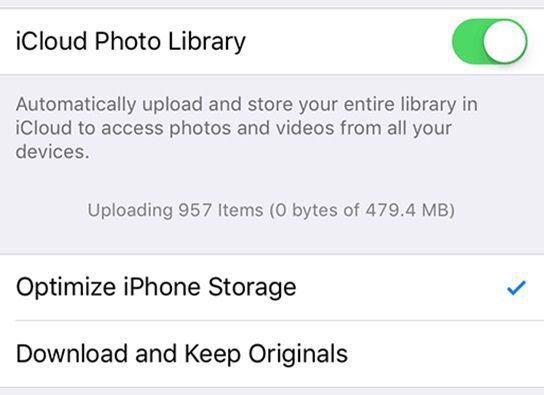 You'll need to activate iCloud Photo Library service to fully take advantage of this hack, but when you do you're photos will be automatically be uploaded to iCloud. 
Once this is done, you can keep smaller versions of your photos and video on your phone because the full-resolution originals are will already be stored in iCloud. Head to "Settings," then "iCloud" and turn "Optimize iPhone Storage" on to free up even more space.