9 Awesome AirPods Hacks To Try Right Now
Here's how to get the most benefit out of Apple's bluetooth earbuds.
Apple
AirPods and AirPods Pro—whichever you received as a Christmas present—are at the top of the wireless headphone game for a reason. Whenever the less expensive version—in this case the non-pros—is still better than 90 percent of the competition, you have a seriously high-quality product stuck in your ears.
And the thing is, Apple has made a proactive effort to get ahead of the pack by making their wireless earbuds much more than just listening devices. The AirPods can connect to just about anything with Bluetooth ability, act as audio caller ID, and even function as a hearing aid.
No doubt you pay for this quality—the basic AirPods are $159 and the Pros are $259. But a list of additional functions might serve to underscore the fact they're worth it. 
Here are just nine, per Kim Komando for USA Today. Numbered headings are quotes from her column, but we've condensed the instructions: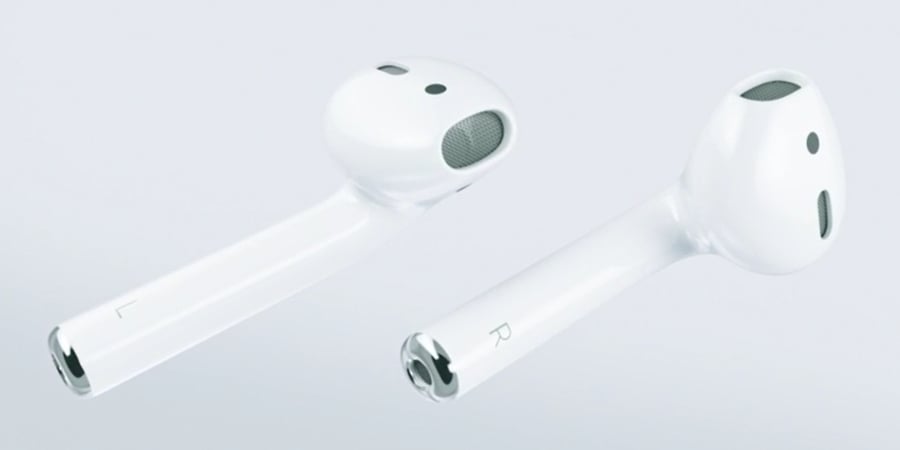 1. Use only one pod when in a pinch
Tweak the settings to use just one Airpod at a time. Keep one in the charging case at all times, swapping the when the battery in the one you're wearing is low. That gives you all-day wireless audio if your fine with just using one ear. 
2. Put Siri to work for you
We're still not sure everyone gets all they can out of Apple's groundbreaking digital assistant. With Airpods Pro and Airpods, you can command Siri to do everything from reading messages aloud to using your voice to send your own.
3. Easily connect your AirPods to your various devices
You can pretty much pair them with everything in addition to your phone—iPad, Mac, Apple Watch. 
4. Share the AirPod love
The beauty of wireless headphones of all kinds—sharing them with another is ridiculously easy. Just make sure you clean them before and after; you don't know where that person's ears have been. 
5. Find your lost AirPod
This is a nice surprise: "Find my iPhone" works on Airpods. Yes. Apple's easiest product to lose can be tracked just like your iPad.
6. Know who's calling without looking
This one is so simple and straightforward: Go to iPhone settings, tap on the Phone icon. Select Announce Calls, then Always.
7. Use your AirPods with non-Apple products
This is one that might not occur to a lot of people. You can use Airpods with damn near anything, including Android devices. Put your Airpods in the case, leave it open, press the button in the rear. Open Bluetooth settings for the new device, add Airpods. One device at a time, though—Bluetooth doesn't multitask very well.
8. Turn your AirPods into a makeshift hearing aid
Yes, seriously. It's a little-known Airpod function that's been available for a few years. In iPhone Settings press Control Center. Tap Customize Controls then find the plus sign beside "Hearing," press that. When using your iPhone, swipe down to get the quick menu and tap the icon that looks like an ear. You'll boost weak hearing and maybe even be able to eavesdrop on others as well.
9. Customize how you use your AirPods
It's easy to change the individual settings on AirPods by getting into your Bluetooth menu then selecting your AirPods. You can then tweak to define most audio controls per earpiece—for example, set it so you can tap the left AirPod once to play and pause.
These are just some key points—there's plenty more you can do with AirPods, and there are plenty of lists breaking down how to set them to your liking. 
Click through and start tweaking today.