Apple Leak Reveals Radical iPhone Upgrade
It's hiding in plain sight.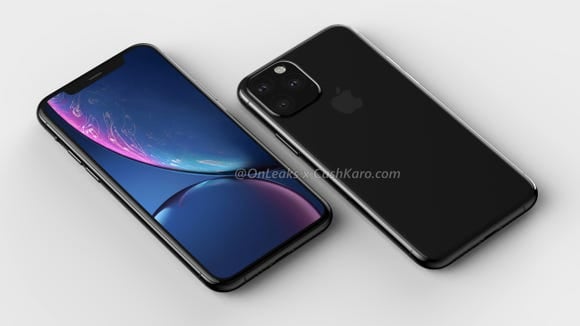 iPhone 11 Render via Cashkaro.com
Extremely clever animators have been creating iPhone 11 and iPhone XR and XR2 renders from leaked specs for a while—but those don't quite meet the requirements for true reveals, do they?
No, those happen when they verifiably come from Apple itself. And in their beta release of iOS 13, they did drop a little surprise—one that for once might be a relief to fanboys and girls everywhere. According to sharp-eyed French-speaking Apple fan Raphaël Mouton, we're getting a USB-C port in the next generation of iPhone. Lightning is (probably) dead.
https://twitter.com/Raf___m/status/1136979530944565248
"More lightning and iTunes on the Restore screen, USB-C?" Mouton asks in his tweet, "and a future utility for iPhone on Mac?"
Look closely at Apple's first beta of iOS 13 and you will find there is a new recovery mode screen for your iPhone, and on it the Lightning cable shown in iOS 12 has been swapped for USB-C.

With iPads moving to USB-C last year and MacBooks using nothing but this connector, it would be a huge boost to see iPhones make the transition to this industry standard as well. It's a radical move too, given Apple's exclusivity over the Lightning port and its lucrative MFi licensing program.
Wow, go figure: Apple might do something convenient with its peripherals. That's new.
Seriously: the software and electronics giant has long had a rep of making great apps and implementing all sorts of beautifully intuitive functionality on screens only to get weird with little details like ports. Many may have already forgotten just how pissed the average Apple devotee was when the company elected to make the lightning port the headphone jack as well.
It's the little things. If Apple really has lost some customers over time as these minor irritations piled up, then learning they finally get it when it comes to small conveniences might actually start growing its customer base again.
Not that it was hurting, but there has been a sense in recent years that both Windows and Android were catching up on the desktop and mobile ends of things.
For now, of course, even the informed renderings of the next iPhone generations and small leaks like this are to be taken with a grain of salt. 
We'll see if these positive assumptions are correct sometime in Fall 2019, when Tim Cook takes the stage to unveil his new family of wallet-draining delights.