Apple Just Announced Its Most Powerful Computer Ever, And a Bunch of Other New Stuff
Check out the latest details on Apple's new iOS, iPad Pro and revamped home speaker.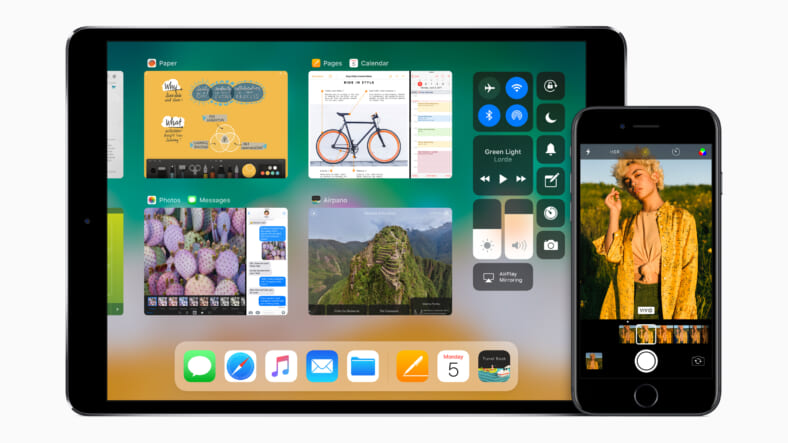 Credit: Apple
Apple's annual Worldwide Developer Conference kicked off Monday with its usual keynote address. Dedicated largely to the software that is a signature of what separates Apple from the rest of the hardware makers out there, today we saw what the tech giant has in store for the iOS platform on their phones and tablets, the OSX platform that runs on their computers and even a few hardware surprises like a new iPad and iMac. Oh, and their home speaker too.
iOS
The operating system that makes the millions of Apple's devices go, iOS11 was shown off and it seems this round is a moderate improvement instead of a major overhaul like iOS10 last year. That means upgrades to the dock, a consolidation of Control Center to a single page, similar improvements to Notifications, significantly more control of your photos and Live Photo editing. Apple is continuing to push hard on Apple Pay, boasting that it'll be accepted at 50% of retailers in the US by year end and the new ability to pay friends directly through it. Look out Paypal and Venmo. 
Hyper-aware of the texting-while-driving epidemic around the world now, Apple is introducing Do Not Disturb While Driving, a mode that iPhone will automatically activate when it senses the motion of driving in a car. DNDWD can automatically respond to incoming messages with a standard response, can be overridden if you're a passenger or even allow important emergency messages through its net.

Major changes to the App Store on your phone, mainly aimed at curating the apps that give iPhones and iPads so much of their value in a better way, showing what's new front and center and giving you a deeper look at apps, including in-app purchases, in a more transparent way. iOS11 will be a free update available to everyone in the fall, presumably when that rumored iPhone X launches.
MacOS High Sierra
The "fully baked" new version of MacOS gets down to the core of the OS that runs your Apple computer, changing over the 30-year-old file system to the modern Apple File System which is better suited for handling larger files from multiple sources, like an SD card or flash drive. There's also been an overhaul to the video capabilities and graphics in High Sierra, nuts and bolts improvements that will make GPU-heavy tasks you throw at your computer smoother and better. 
These improvements are also creating a better ecosystem for VR development, hinting that Apple may throw their hats in the VR ring in the near future. High Sierra also brings moderate improvements to Apple's native apps like iPhoto and Mail and also an updated version of Safari that is more private and has more benefits, like blocking of annoying auto-play content, built right in. The High Sierra dev beta is available today with a public beta coming later this month and full-fledge launch – for free – later this year.
iMac and MacBook
The iMac and MacBooks have become standard equipment for creative professionals and Apple seems tuned into that fact. The iMac's have received horsepower boosts across the board, with much bigger capacity for RAM, better display (for the iMacs), more power and better pricepoints. Coupled with MacOS High Sierra, it seems Apple's push into VR development is a two-pronged approach on both the hardware and software sides. The introduction of the iMac Pro, also announced today, confirms this with options up to 18 cores, which is absolute insanity in terms of power. We'll have to wait to see those until December though.
iPad Pro
The new iPad Pro has moved from the 9.7" to 10.5" and that seemingly small boost will actually give the screen 20% more real estate and finally allows the smaller iPad Pro to have a full-sized virtual keyboard. This also marks a somewhat momentous move to the iPad's being capable of a 120 hertz refresh rate that will surely have a dramatic effect on both working and playing on the iPad. 10-hour battery, 12MP camera, starting at $649. It seems the 10.5" will also be replacing the 9.7" which got no love during the keynote.
Siri Speaker
Putting Alexa smack in their crosshairs, Apple is making a push to give Siri some physicality beyond the way she lives on your phone, iPad or laptop. Set to launch later this year, Apple's now-unveiled HomePod is a bluetooth speaker that Apple wants to replace your household music ecosystem. While this sounds ground-breaking for Apple, we have seen almost all of this functionality from other speakers with a digital assistant built-in. Only now it'll play nice with all your Apple gear, especially HomeKit home automation products. HomePod got tagged with a $349 price point and consumers will be able to buy them this December.