This Short-Barreled Tactical Shotgun Is Designed For Home Defense
Lock and load.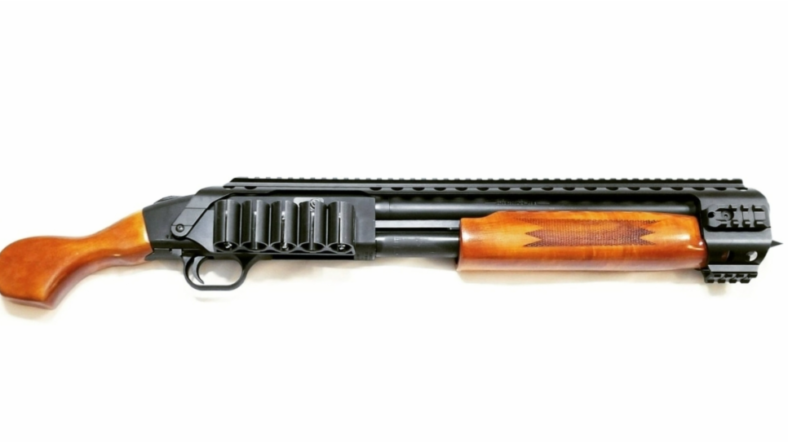 Black Aces Tactical
If you don't already have a short-barreled 12 gauge shotgun—or even if you do—this badass boomstick from Black Aces Tactical (BAT) could make a striking addition to your home armory.
Based on the Mossberg 590 Shockwave, the new BAT Pro Series Shockwave boasts upgrades like a nickel-plated bolt, charge handle and release button, optional walnut grip and forend, and a lightweight aluminum receiver chambered for either 2 3/4-inch or 3-inch shells packed with light or heavy loads.
https://www.instagram.com/p/BpBBic4g-mi
Though barrel length is just 14 inches, the lack of a buttstock exempts the weapon from prohibition under the National Firearms Act, making it legal in every state except California and Massachusetts.
https://www.instagram.com/p/BuT_OisAb9q
Gunivore reviewed the BAT Pro Series Shockwave and reports that it's affordability doesn't conversely affect reliability:
I want to make it clear that you shouldn't let its affordable price tag lead you into thinking that they cut down on its durability or reliability.

In reality, these are capable of handling plenty of abuse and are not known to experience any functionality problems.
In fact, their 6061 T6 aluminum receiver is well-built and plenty reliable.

It's also worth noting that they incorporated a cross-bolt safety behind the trigger guard and a bolt release on the right of the aluminum receiver.
https://www.instagram.com/p/Bt8uapdAHj9
The Florida-based firearms company also offers a plethora of accessories. Gunivore recommends their combination quad rail/shell holder, as well as this super gnarly anodized magazine spike.
Available with a four-plus-one mag capacity, the BAT Pro Series Shockwave is available here.