Fire Up Your Kitchen With This Airbrushed Flaming Skull Fridge
Every time you grab a beer it's like visiting the gates of hell.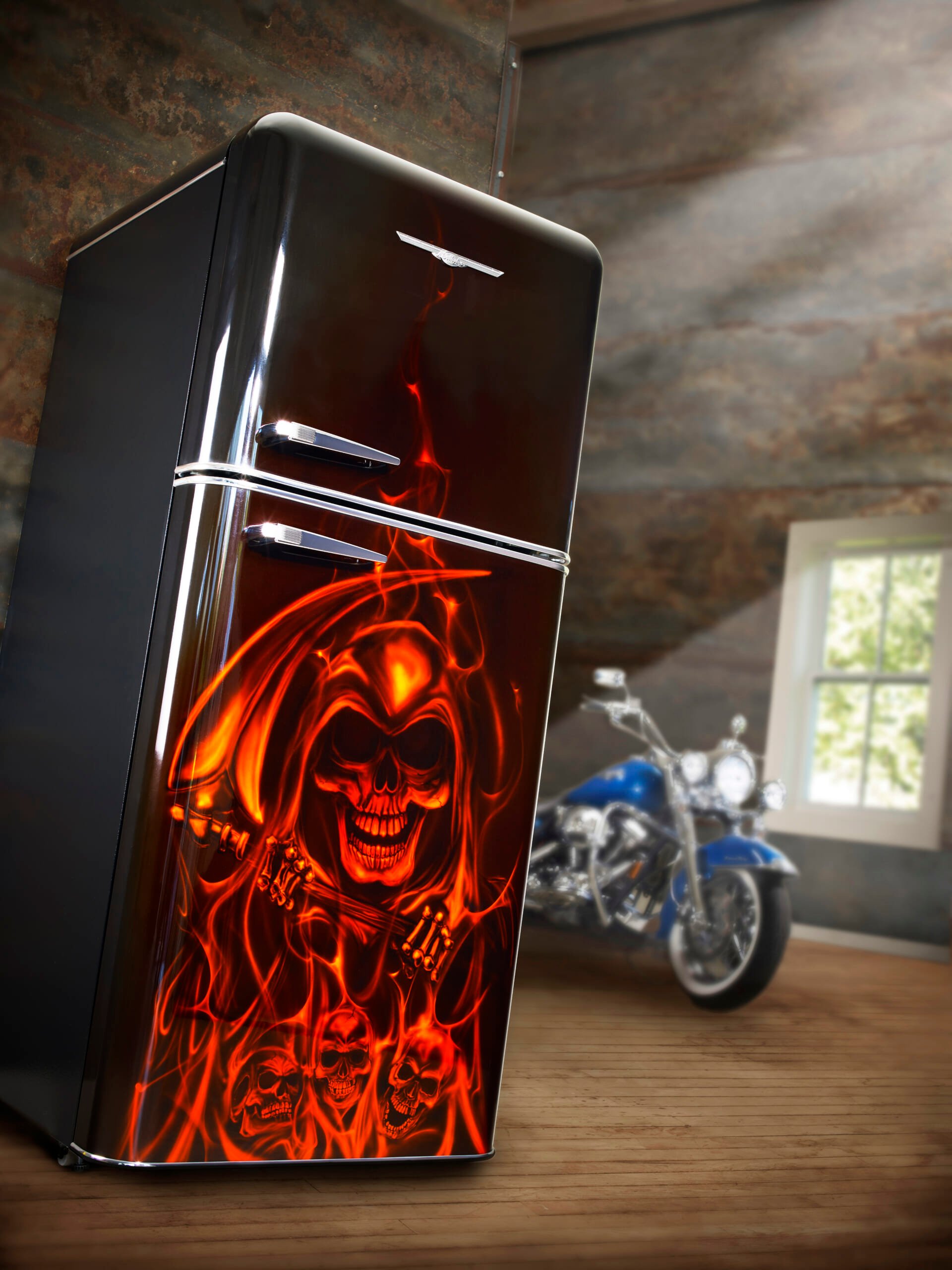 It's undeniable that skulls, flames and grim reapers look positively badass as custom paint jobs on hot rods and choppers (not to mention retro '70s vans), and can even make for some pretty sweet tattoos if you're into that sort of thing. But now Canadian vintage appliance company Elmira Stove Works has partnered with airbrush artists from Studio Uneek to put death's head designs on an unlikely canvas: a goddamn refrigerator.
A press release from Elmira explains: 
These flaming fridges are not for the faint of heart. Exclusive airbrushed models are the antithesis of the industry's stainless steel counterparts. They're dark and assertive. Immaculate detail, multiple layers of airbrushing, "orange candy" iridescence, and clear coating result in skulls and flames so realistic one can almost hear the skulls cackle and the flames roar.
That's right. They're offering their retro Model 1952 Northstar fridge with a blacked out exterior and a custom painted portrait of a ghoulish scythe-wielding grim reaper and his cackling little flaming skull buddies. 
But don't worry – this freaky fridge is all business inside. Standard features include visi-shelving, frost-free operation and Energy Star efficiency, and can even be outfitted with an optional BrewMaster draft beer system. 
They might look pretty awesome in your pool room or auto shop, but good luck getting your wife or girlfriend to work this devilish appliance into your next kitchen remodeling.