This Boba Fett Mountain Bike Helmet Is the Most Badass in the Galaxy
Bomb down trails while looking like everyone's favorite "Star Wars" bounty hunter.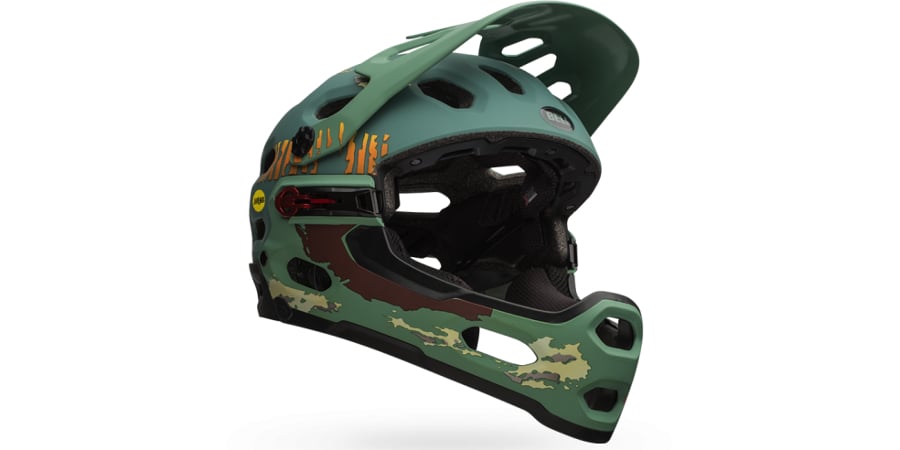 Bell Helmets
It seems like inherently all Star Wars merchandise can be lumped into either amazingly awesome or pretty ridiculous. Bolstering the former category, Bell Helmets has added to their Star Wars collection with a Boba Fett-inspired mountain biking helmet.

Though the Stormtrooper version just kinda looks like a white bike helmet with black accents, this one is unmistakably Fett and undeniably badass—though perhaps not quite to the same degree as its Boba Fett motorcycle helmet equivalent.
You can see from all the crash testing they do in the video below that this'll offer your rebel scum head some serious peace of mind. Based on their award-winning Super 2R, it provides multi-directional impact protection from real-world trail riding falls and crashes.

Part of keeping you safe includes an adaptable visor system that accommodates glasses and goggles. And an integrated breakaway camera mount, so your all-important action camera doesn't injure you more than the fall itself.

But whether you take a digger or not, you'll be comfortable as you conquer the hill, thanks to a two-axis fitting system and dozens of channeled vents to keep your cranium cool.

In the meantime, you'll look super cool. Cause again, Boba.

h/t: HiConsumption