Bentley & The Shoe Surgeon Collab For Custom Sneakers Inspired By Mulliner Line
The British automaker enlisted The Shoe Surgeon to handcraft kicks as customizable as its bespoke luxury cars.
Bentley Motors is speeding into the sneaker game courtesy of a new partnership with Dominic Ciambrone, the custom sneaker king known as The Shoe Surgeon, to create a limited line of Bentley-inspired kicks for the luxury British automaker's Mulliner clients.
Bentley is set to unveil a 1-of-1 Bentley x The Surgeon supercar next month at Art Basel Miami's Design Week to hype the sneaker collaboration. Its deep-pocketed buyer will receive a matching pair of 1-of-1 sneakers—the "Bentley x The Surgeon Adidas Forum Low."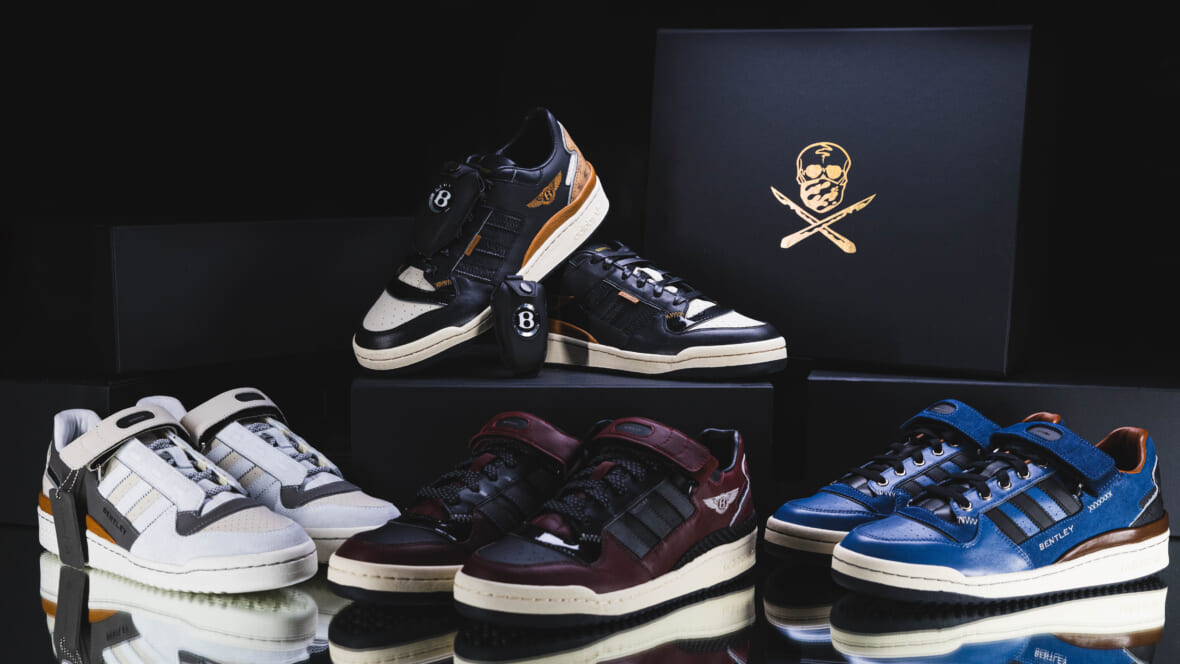 Ciambrone, who designed Odell Beckham Jr.'s $200,000 diamond-encrusted Super Bowl cleats along with other extravagant footwear creations, kicked off his Bentley collab after visiting the Bentley campus in Crewe to immerse himself in the luxury British automaker. He explored the materials, finishes and bespoke elements used in the making of every Bentley.
He was inspired by the coachbuilding division of the brand, Bentley Mulliner, to realize additional creative details and bespoke elements of his designs. Each of the limited-edition, handcrafted sneakers boasts Bentley's signature diamond quilting, cross-stitching found on the steering wheel, and premium hides identical to those used to trim Bentley's automotive interiors, along with The Shoe Surgeon's signature skull-and-scalpel monogram.

Ciambrone and the Bentley Mulliner team worked to create sneakers customize for three styles of Bentleys. The Performance range, for example, is inspired by Bentley's S and Speed ranges, comes in Titan Grey and Cricket Ball deep red color palette, and is meant to evoke performance-ready athletic ethos of the Continental GT Speed Convertible.
There's also a sneaker inspired by Bentley's blue Bentayga Extended Wheelbase Azure and another pair inspired by an upcoming bespoke Mulliner collaboration car—a stealth Beluga (Black) and Anthracite (Dark Grey Metallic) exterior with matching Linen and Beluga interior.
"Creativity and bespoke design is consistently woven into our DNA and has been since 1919, especially as it relates to our private coachbuilding division of Mulliner," says Christophe Georges, president and CEO of Bentley Americas in a statement.
"Connecting and producing with a like-minded creative like The Surgeon is not only rewarding but also exciting to watch as we support the next generation of diverse craftspeople who share similar brand values."