This Custom Damascus Steel 1911 Pistol Set Is a Six-Figure Collector's Item
High-end gunmaker Cabot unveiled its "Fire and Ice" pistol package.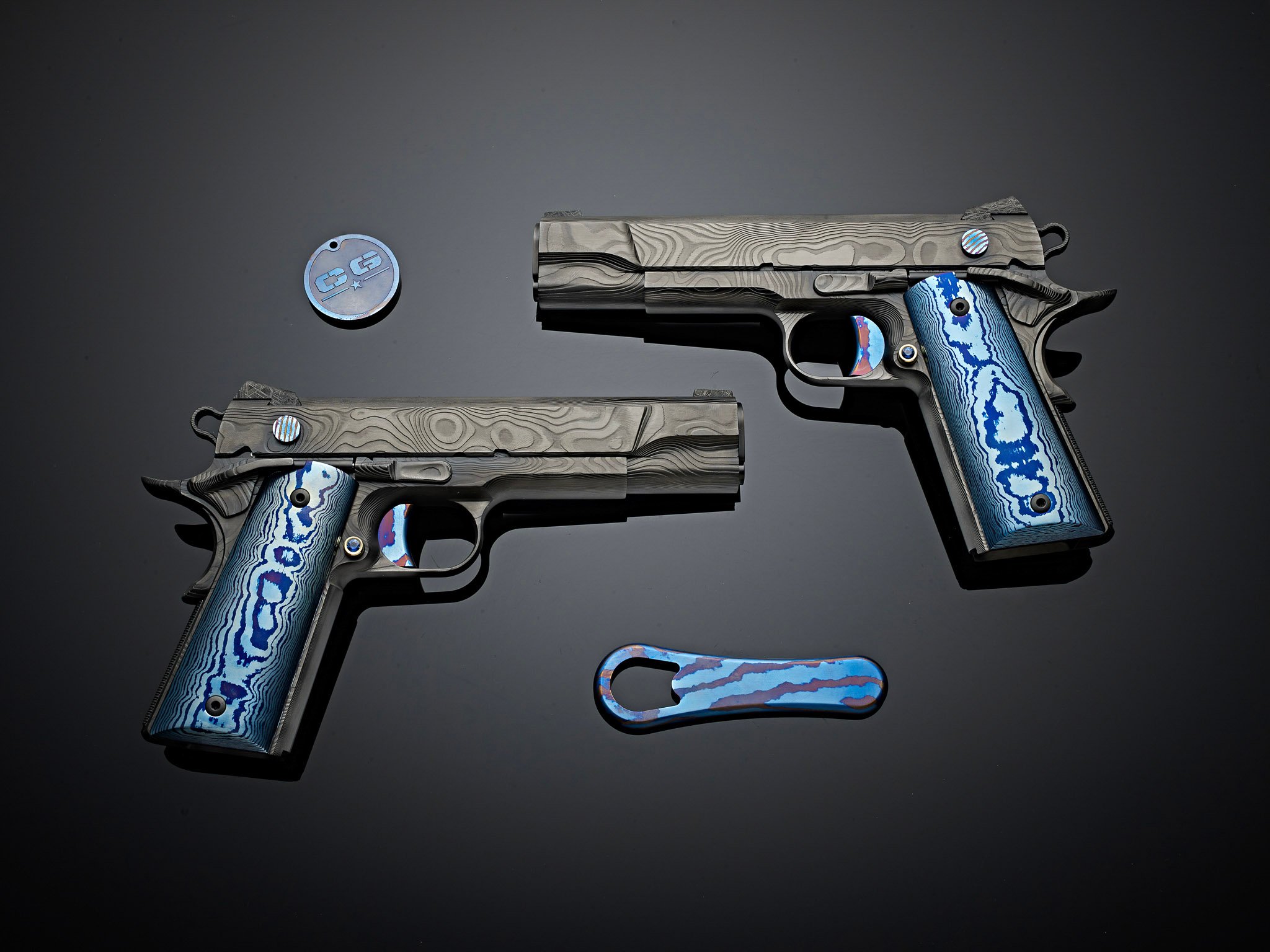 Pennsylvania's Cabot Guns is billing their ultra-exclusive "Fire and Ice" pistol set as perhaps "the most beautiful ever crafted." Anyone familiar with high-end firearm company's past work—including the Mosaic Damascus and Diablo Damascus release— knows that this is a helluva statement. 
Cabot specializes in crafting custom Colt 1911-style sidearms forged from Damascus steel and then tricking them out with beguiling, one-of-a-kind finishes inspired by a central theme. The Fire and Ice set is no exception.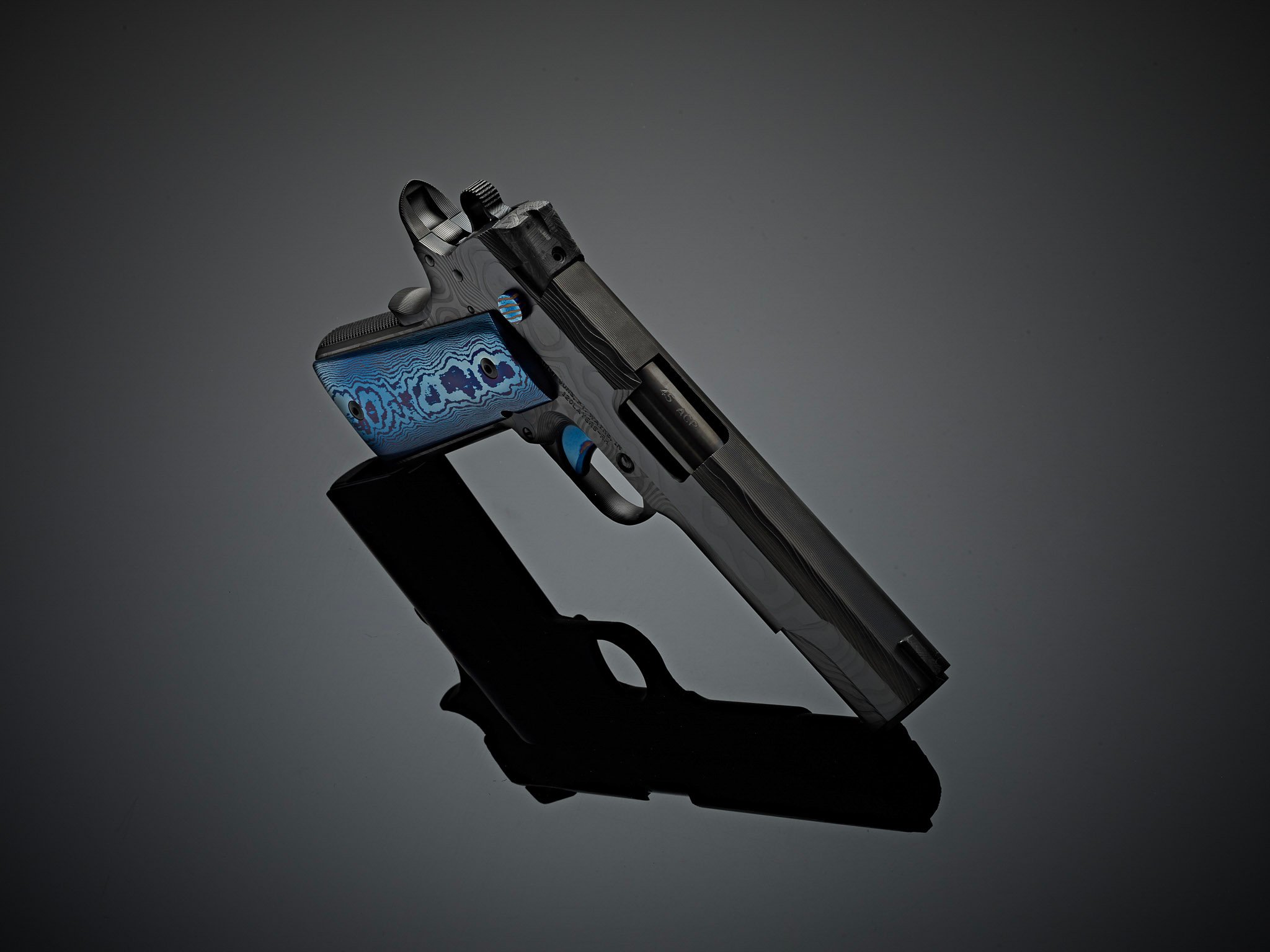 With a "yin and yang" motif in mind, the expert gunsmiths made mirror right- and left-hand pistols chambered for .45 ACP. The upper receivers, lower receivers and many of the inner workings were crafted from artisan Damascus steel, Damascus referring to a technique originally used to make ultra-strong blades with wavy, intricate patterns.
The blue grips and triggers were also formed using the Damascus method on titanium and then coated in a glistening layered blue finish. Material for the front and rear sights, however, was sourced from a 4.5 billion-year-old meteorite. (Given that Cabot also used the otherworldly space rock in its Big Bang and Stellar Fusion sets, we imagine they're supply has gotta be running low.)
Blue sapphire-set buttons serve as the mag releases, and unique cocking studs, which are also made from Damascus titanium and match the grips, were installed to aid in racking the slide.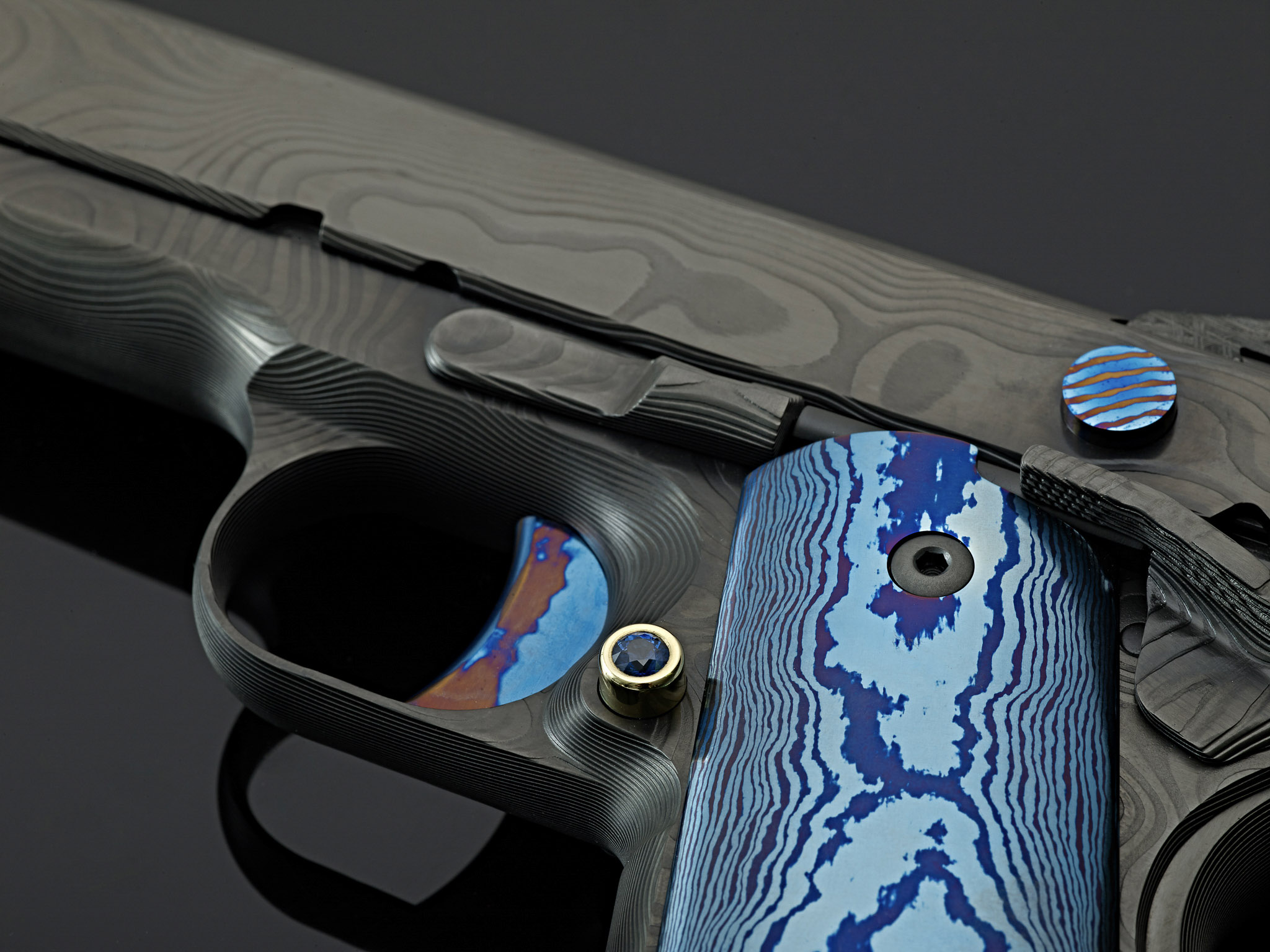 All of the freshly contoured Damascus was etched to create a topographic surface that enhances tactility and then extensively hand-polished before being treated with a final diamond-like "Black Ice" carbon finish. 
As if these pretty pieces weren't already meticulously detailed enough, Cabot took that "yin and yang" mirror image philosophy to an extreme by inverting the direction of the rifling in the left-handed pistol's barrel.
One doesn't just sell these weapons in a run-of-the-mill black polymer box, so Cabot presented them in a custom-made case with a hammer, bushing wrench, and knife, all of which were crafted from the same slabs of Damascus metal used for the guns.
Amazingly, someone picked up the Fire and Ice pistol set just days after it was unveiled for an unknown amount of money. When asked, a Cabot representative told Maxim that it sold for "six figures", and it sounds like some well-heeled gun collectors believe it's worth every penny.