The Amazing Coffee Table That Chills Beer And Charges Phones Is Now Half-Price and Comes in Two New Colors
The ultimate party table just got even more awesome.
Storebound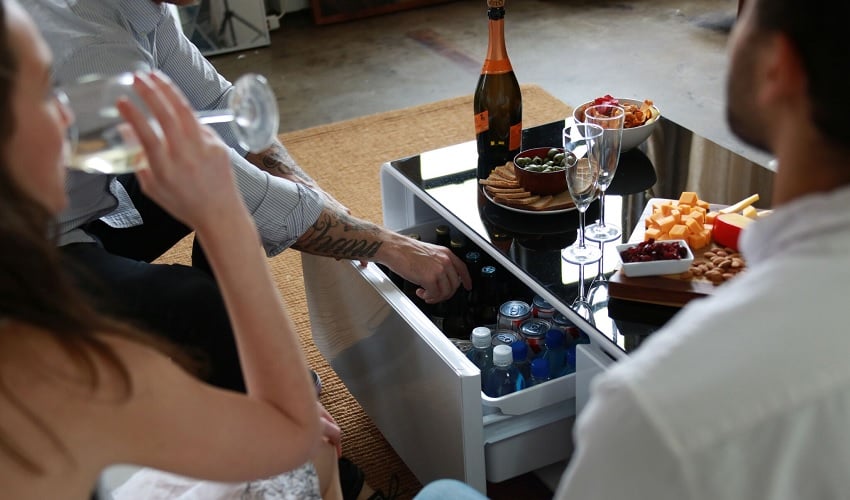 The beer-chilling, phone-charging living room game-changer known as the Sobro Cooler Coffee Table has hit the $1 million mark for its Indiegogo campaign, and if you act fast, you can now own one of these beautiful babies for half-price. 
Even better, hitting that million dollar landmark unlocked two new colors to join the traditional white Sobro—classic-looking wood and sleek black. 
Here's Sobro's offer for customers who act now: buy a Sobro for $649. When it is delivered this fall, the $850 discounted from the retail price of $1,500 can go toward all the beer, wine and cold cuts you'll want to stock in the cooler portion.  
We reached out to the folks behind the Sobro to learn more about the lust-worthy table: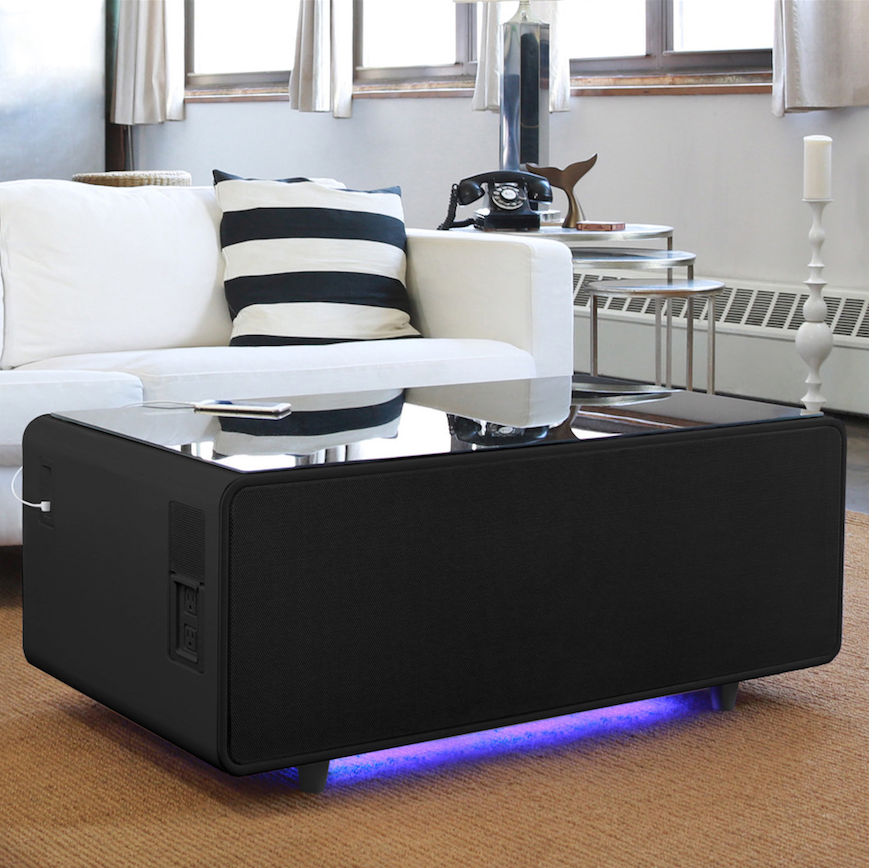 Why does the world need a cooler coffee table? Don't we need a reason to get off the couch sometimes? 
The Sobro is a smart coffee table designed to support your connected lifestyle with technology that aims to enhance your every day. With a refrigerated drawer, Bluetooth speakers, charging ports, and LED lights, the Sobro keeps you powered up at all time. Our cooler coffee table is the furniture of the future and we are on track to become the greatest living room innovation since the remote control.
While we see innovation all around us especially when it comes to phones, computers, electronics and transportation, nothing has really changed with furniture. We wanted to re-invent a piece of furniture that was suited to our connected lifestyles we live today. That's how the Sobro was born. Our goal is to make every day more convenient so we don't miss out on the finer moments in life.
Fair enough. How many have you sold so far?
We have 1,487 backers and have raised $1,060,000 in funding to-date. It's great to see tremendous excitement and acceptance of the Sobro and we are really excited to get the product into our backers' homes in September. In fact, we have reached our stretch goals meaning backers now have the option to choose their color and also get a dongle that allows them to play the TV sound through the coffee table via bluetooth. 
Are these tables strictly for man caves and bachelor pads, or will wives and girlfriends actually allow them in living rooms?
We originally thought this would be a man cave or bachelor pad item; however 30 to 40% of our supporters are actually women. The Sobro isn't just a beer cooler, it has an actual refrigerator allowing storage of wine, champagne, food and snack that serves for a great entertainment piece for everyone.
When and where can people get one of these tables? 
Consumers can purchase the Sobro online for a limited time only at $649, 56% off MSRP. We are offering our backers a significant savings in order to help us bring this product to market. Once it is available to the market this fall, the full retail price will be $1,500. 
Glenn De Stefano is the president of StoreBound, the company behind the Sobro. He explained the need for one in concrete terms, noting that "The living room and den have really become the center of the home."

His company "felt that there was a white space opportunity to bring technology into your furniture to make life more convenient. The ability to plug all of your devices into the table makes your connected life simpler."  Sounds about right to us.
The Sobro goes on sale in September, so prepare to never leave the couch again.