This Boombox Projector Is the Perfect Portable Cinema
Literally blast movies anywhere.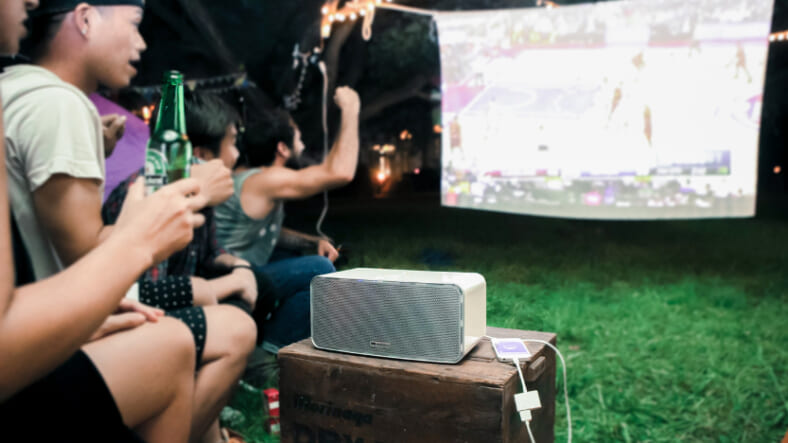 By definition, big projectors are too bulky to bring with you. And small projectors are great for images on-the-go, but not so much for doing audio on their own. The medium-sized Dashbon Flicks brings the best of both worlds, with big sound in a portable form factor.

Its HDMI input offers you a way to not only pipe in videos from your phone or tablet, but also via streaming sticks (from Amazon, Google or Roku), which you can power through its USB port. Speaking of power, its super beefy battery offers up to eight hours of movie projection or a whopping 56 hours of Bluetooth audio. With juice to spare, you can certainly use it to charge up your mobile devices.

An audio input selector allows you to bop between sources. So for instance, you could be watching the big game—up to a 100-inch HD image no less—while blasting songs streaming from your phone, then skip back to the game audio only when you care to.
Should you wish a theater of one, it offers a headphone jack, as well as a separate auxiliary audio line. All its inputs are on the back of the unit—along with the projector lens—and the speakers are on the clean-looking front. So the unit is meant to be positioned in front of you, with the sound driven backward and the video forward.

In our experience with the unit, the video was plenty bright and the audio was pretty expansive. The sound isn't the crispest we've ever heard, but it's more than adequate quality and volume for how you'd be using it, as a venerable boombox providing a video venue wherever you go.

" tml-embed-width="600″ tml-embed-height="337″ tml-render-layout="inline

Flicks comes in two capacities, 140WH ($599) and 280WH ($699). They're both the same size, but the more powerful one is about 1.5 pounds heavier. The less powerful one still does four hours of movies and a very respectable 28 hours of Bluetooth audio. But for just an extra C-note, why not double your pleasure?