The Dual Screen V50 Is LG's New Version of a Folding Smartphone
This could be the ultimate gamer's phone.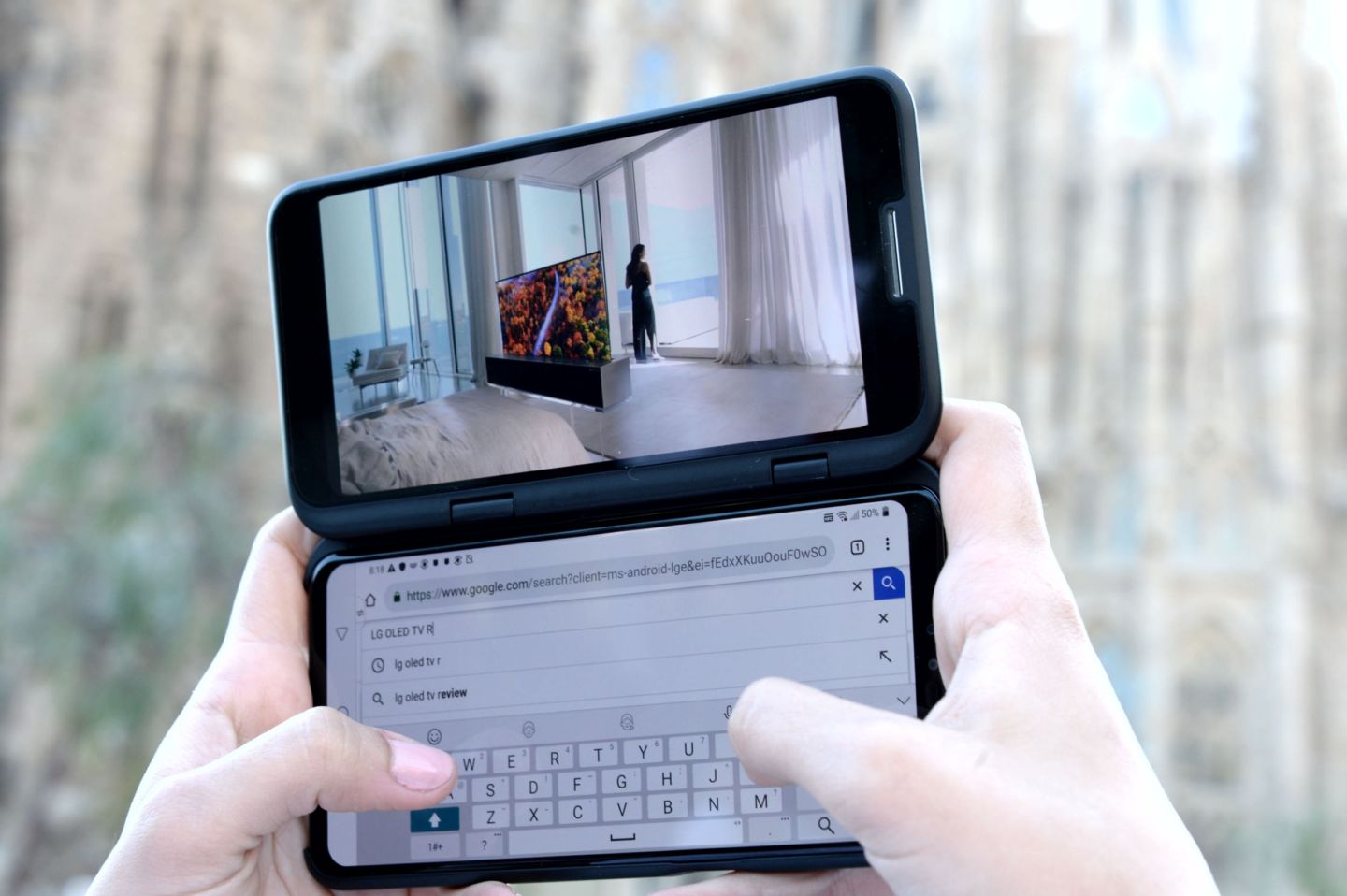 LG
No one knows what Apple will do yet, but Android-flavored competitors like Samsung are producing futuristic folding phones right and left. It's striking tech, with fluid screens that can expand to mini-tablet size. 
With its new dual-screen LG V50 ThinQ 5G, LG has taken what looks like a more practical approach to a manufacturer being able to say, "hey look, we have one too!"
Well, sorta. 
The ThinQ 5G was officially introduced at the Mobile World Congress 2019 (MWC 2019). Ars Technica has further details:
On the surface, the LG V50 is mostly a bog-standard 2019 smartphone. You're getting a 6.4-inch 3120×1440 notched display, a Snapdragon 855 SoC, 6GB of RAM, 128GB of storage, three rear cameras, two front cameras, and a 4000mAh battery.

There's a microSD card, an increasingly-rare headphone jack, and a USB-C port. The one thing that makes it stand out from the pack is that this is a 5G phone, with mmWave capability brought to you by the Snapdragon X50 modem.
What seems clear here is that LG is after a particular target market: mobile gamers. That's a guess, of course, but the company's ad images seem to back it up.
As to whether gamers will be into something like this, where one screen will simply function as a control pad while the other is broadcasting gameplay, remains to be seen. The appeal for non-gamers will be the 5G. From Ars:
LG says of its 5G service that the company is "partnering with 10 major carriers in markets where 5G service will be launched this year, including the United States, South Korea, Australia as well as a number of European countries."

In the US, Sprint—which is not building a 5G mmWave network—is calling the phone its first 5G device. Sprint says the V50 will be out sometime this spring, and there are already pictures of the V50 with a bright yellow "5G" stamp on the back from Sprint.

Verizon has signed up to launch the phone this summer, but there's no word yet on how many 5G logos the company will manage to silk screen onto the back.
The ThinQ doesn't have a release date or price range yet, but it's a good bet that it won't cost nearly as much as the Samsung Galaxy Fold ($1,980) or Huawei's Mate X, which clocks in at $2,605 or so.