Electrohome's Bluetooth Turntable Blends Modern Streaming With Classic Vinyl Sound
Analog or digital, this stylish retro turntable can handle anything.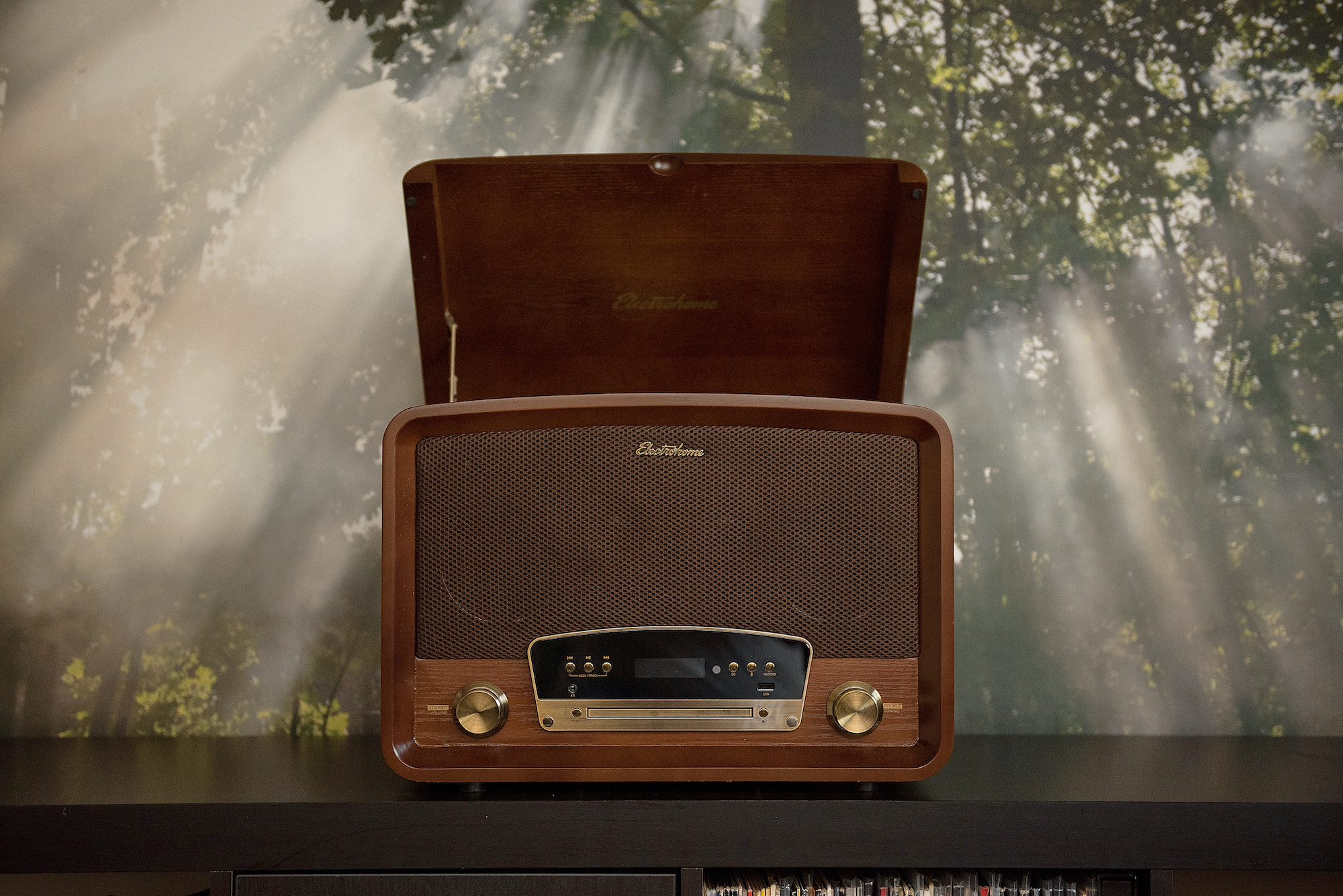 Electrohome has been in the audio equipment manufacturing business for more than 100 years. With their new 7-in-1 Kingston Vintage Vinyl Record Player Stereo System, consumers would be justified in wondering if the company has even bothered to change designs in all that time.
They have, but it's all under the hood, where these things matter. The Kingston may look like an artifact from a stylish mid-20th century American home, but it's actually a versatile all-in-one audio system. Whatever you want to play, the Kingston has you covered.
That's no exaggeration. 
In their press release, Electrohome says the Kingston "allows users to revisit their favorite 45s, EPs and LPs with the sound of classic vinyl and easily connects to smartphones and tablets via Bluetooth for wireless music streaming." 
But that's not all—additional options include playing CDs as well as the ability to "plug in a USB drive to play and record music." There's also an AM/FM radio. The only thing missing is a cassette player (and let's face it, no one is really missing that).
Electrohome says the Kingston, however, does have the capacity "to digitize and preserve vinyl records or CDs with instant playback."
You don't even need special software—just plug in a USB drive and hit "record."
The Electrohome Kingston has four speakers built into the cabinet for well-balanced room-filling sound. Even better for true vinyl fanatics, the turntable comes equipped with a sapphire needle for the clearest possible analog experience, and you can play 7", 10" or 12" records at 33, 45 or 78 RPM. 
That 78 RPM ability in particular means the Kingston turntable can pretty much handle anything recorded from the 1920s through today. 
Electrohome has incorporated more than just superb audio engineering into the Kingston—its eye-catching retro look is partly due to the acoustically-tuned real wood cabinet. It comes with three color options: walnut, black, or cherry.
The walnut Electrohome Kingston is available now, but customers who prefer the black or cherry can pre-order as of March 3rd, and they'll ship two weeks from that dat.
For a limited time, Electrohome is selling the Kingston for $99.96. The MSRP is $199. Buy yours online at Electrohome.com or Amazon.com.