Elon Musk's Flamethrowers Have Arrived and Customers Are Crazy About Them
"I love fire."
Unlike Frankenstein's Monster ("fire bad!"), about a thousand customers of Elon Musk's Boring Company realized yesterday that fire is good. Especially when it's coming from the end of your brand spanking new $500 "Not a Flamethrower" fire-dispensing gun. 
The Guardian was there to interview some of them. Many responded like kids in a candy store while others sounded like they shouldn't have easy access to fire-flinging machines.
For instance, an IT company owner named Earle Tabula reportedly said, "I love fire. I play with torches and gasoline all the time so this is the ultimate toy that I'll play with for all my life."  
"I've bought a bunch of wood," he continued, "I'm ready." 
Almost forgot! Due to recent regulatory/customs rules enacted to inhibit transport of anything called a Flamethrower, we have renamed our product: "Not a Flamethrower".

— Elon Musk (@elonmusk) June 9, 2018
No one took Musk too seriously when he first said he would sell what he now calls "Not a Flamethrower," (see his tweet above) but the tech billionaire and Tesla founder has proven over time that he's willing to turn what seem like jokes into reality—and others are down with that reality.
One is Shane Nickerson, who co-owns Superjacket Productions with Rob Dyrdek. 
" tml-render-layout="inline
Nickerson was one of the customers in line at The Boring Company Saturday. He told Maxim that once he arrived to wait for his Not a Flamethrower, he "didn't know what to expect," but he found a festive atmosphere and a "huge line of … all types of people."
Speaking with us from his Tesla, Nickerson made it clear that he's a fan of Musk's out-of-the-box approach to innovation and is pretty much a fan of "anything he does."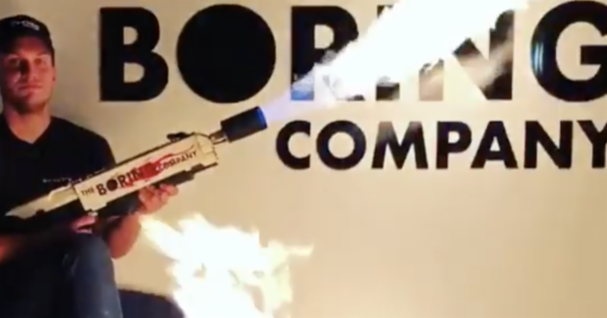 We asked Nickerson what he might do with his (Not a) Flamethrower and he said, "Mine is still sitting in the box, I haven't even opened it," but joked that he might use it for "roasting marshmallows"
In all seriousness, Nickerson indicated he feels like purchasing products from Musk's companies is an investment in the future—that he's owning a piece of history. And unlike some interviewed by the Guardian, he has no plans for "flipping" his purchase on eBay.
If Shane Nickerson's feeling about where Musk can go with his products and innovation is correct, then the first 1,000 who picked up their fiery grown-up toys were taking part in an historical event.
Let's just hope they stick with marshmallows or creme brulee and not dry grass, houses, or kittens. Fire can be bad, too.
[Guardian]