Rock Out With Fender's First-Ever Bluetooth Speakers
The legendary guitar brand is blowing up the wireless speaker game.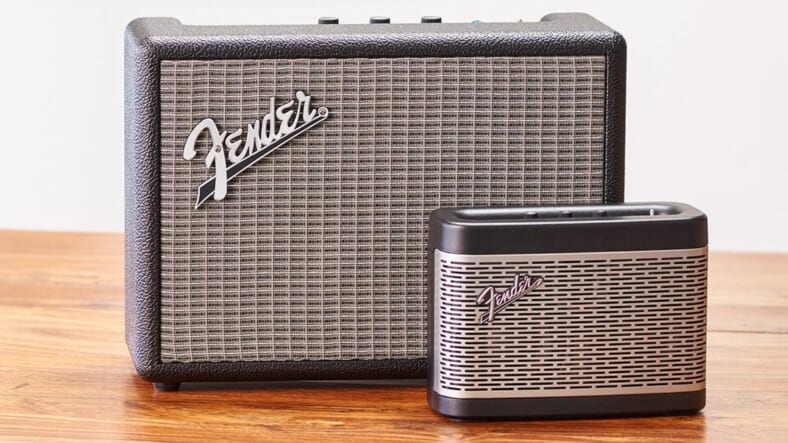 Photo: Fender
The iconic Fender Stratocaster has been strummed and shredded by guitar gods such as Jimi Hendrix, Eric Clapton and Billy Corgan, often in front of a giant stack of Fender amps. Now, the beloved brand has created two authentically-styled Bluetooth speakers.
The larger of the two, dubbed the Monterey, channels 120 watts of power into a quad-driver system that uses two woofers and two tweeters to produce hi-fi audio. 
Should a pesky phone call interrupt your jam session, a mic with echo cancellation ensures your call is as clear as your tunes.
For those who wish to listen the old-fashioned way, the Monterey is also equipped with a 3.5mm auxiliary input jack and comes with a pair of RCA connectors, meaning it can even plug in to preamp-equipped turntables. 
Their portable Bluetooth device, dubbed the Newport, weighs just a fraction of it's 15-pound bigger brother at 3.2 pounds.
With the exception of one tweeter and the RCA connectors, it has all of the same features as the Monterey with the addition of a USB charging port and a battery with enough juice to charge a smartphone twice. 
The aesthetic of both is inspired by Fender's classic '68 Custom amps, and they sound totally awesome pumping out ZZ Top's "La Grange" in the video above.
Pick up the the Newport ($200) or Monterey ($350) at Fender dealers everywhere and online now.