Franklin Barbecue Pits Are Handmade Professional Smokers For Serious Pitmasters
Austin BBQ legend Aaron Franklin says his pits are built for "purists who want to take their craft to the next level."
Franklin BBQ Pits
Aaron Franklin's new handmade Franklin Barbecue Pits come with a pedigree that's nearly unrivaled in the ultra-competitive world of Texas barbecue. The Austin-based BBQ icon serves legendarily good brisket, pulled pork and other smoked meats daily to long lines of loyal customers at his lunch-only Franklin Barbecue restaurant. 
Franklin has also won regional awards usually only given to chefs, written books with titles like A Meat-Smoking Manifesto and has his own series of Master Classes on the art of the 'cue.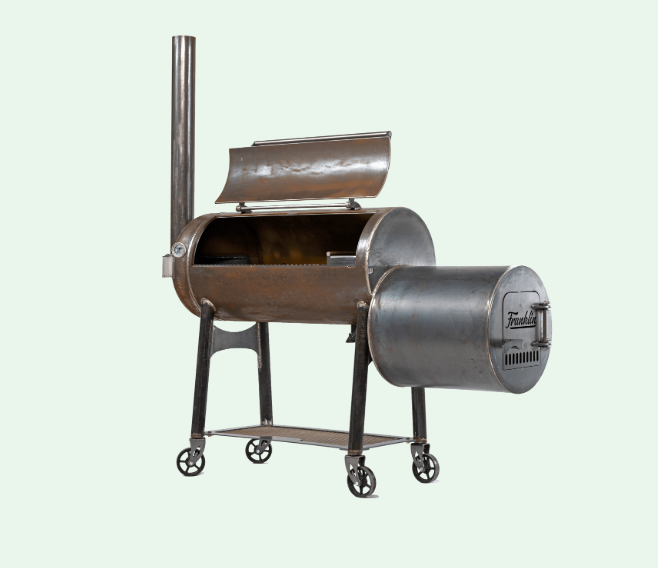 So Franklin knows what he's doing, and more than that, he definitely gives a damn about teaching people how to make good barbecue. Franklin says his handmade-in-Austin pits are  built for "BBQ purists who want to take their craft to the next level."
" tml-render-layout="inline
"They are built with purpose," Franklin writes on his website. "They are the result of everything I've learned and all the happy accidents I've made over the years. But my pits don't cook on their own. They need you. They need your hard work, your passion, your patience and your craft. Give them that, and they'll reward you every single time."
According to the Washington Post, Franklin's hallowed pits are the culmination of years of planning. "We move pretty slow around here," he explained, "Plus, we have some other projects going on."
Details for the Franklin Barbecue Pit are as impressive as you might think:
Nearly seven feet long and 81″ from wheels to the removable smokestack;
42″ cooking chamber that can fit 3 briskets;
Made with 600 lbs. of steel, they ship inside one single crate;
Franklin Barbecue Pits also sport a Franklin Original smoke collector;
They've been constructed for the ideal combination of airflow and convection;
There's a single dedicated cooking grate, brushed steel handle and the whole thing rolls on 5″ casters.
Franklin's pits are available in a powder-coat finish as well as steel.
Franklin Barbecue Pits aren't cheap–they retail for $2,950. But demand is still so high that there's a waiting list at franklinbbqpits.com.