10 Things We Learned About The Totally Sweet New Samsung Galaxy S8
Could this be the iPhone killer you've been waiting for?
On April 21st, Samsung will unleash their Galaxy S8 and S8+ on the world but we were able to count ourselves among the lucky few who pocketed the phone a week early.

Using the Galaxy S8 as our primary phone, we put it through the ringer and were damn impressed with what Samsung has accomplished this time around.

Here are 10 standout features of Samsung's Galaxy S8, and why it's setting a new standard for cell phones.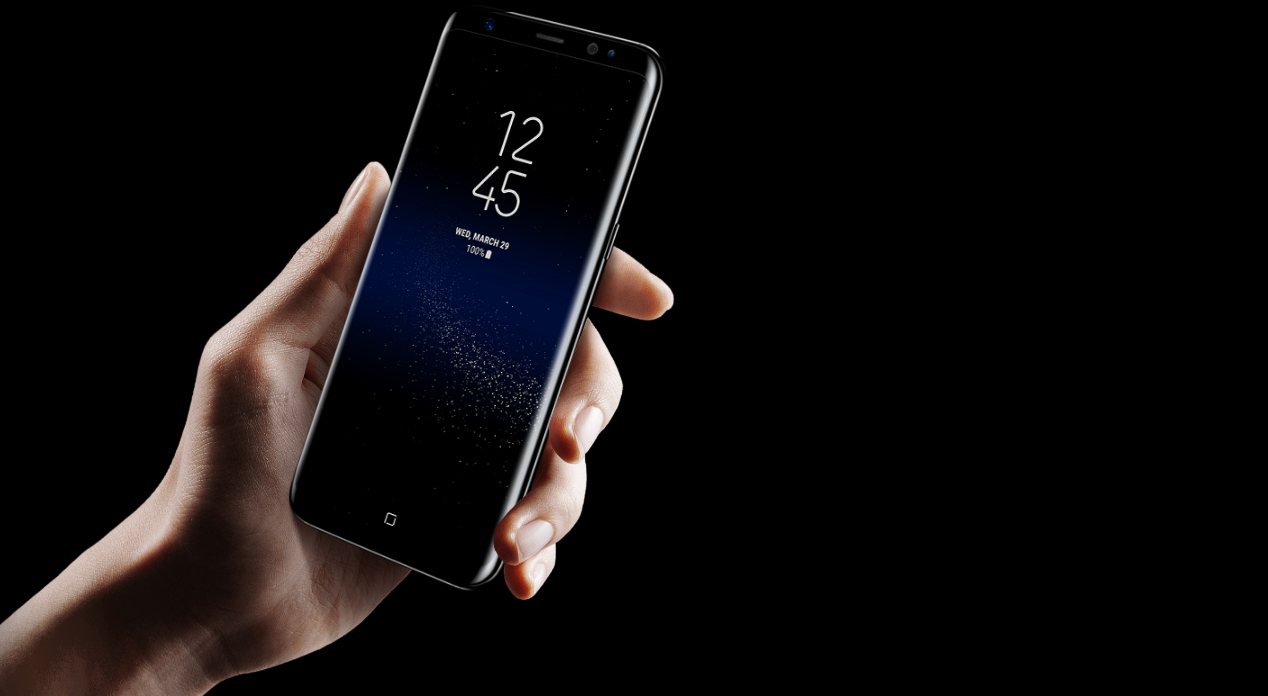 1. There's No Home Button
The main difference and first thing you'll notice about the S8 is that it's without a physical home button. The S8 isn't the first phone to do away with the home button but it is the best implementation of a software-based alternative that we've seen so far. We didn't miss the home button on the S8 because the virtual one Samsung has built into the screen is intuitively placed and gives an excellent bit of rumble feedback when you press it. After a single day with the Galaxy S8 we were able to no-look it. After a week, pressing it was as unconscious an action as pressing home on an iPhone.
2. Wall-to-Wall Screen
The omission of the physical home button seems to serve Samsung's primary objective of delivering a phone with a wall-to-wall screen. They've accomplished that admirably with the Galaxy S8. Borrowing from last year's Galaxy S7 Edge model, the S8 has slightly curved edges that makes for a bezel that's barely seen and rarely felt. Unlike the Edge, the curved screen doesn't come off quite as severe and feels more stable during one-handed use as a result. In use, the S8's 5.8" screen absolutely benefits from the entirety of its face being utilized. We'd like to say that something specific, like videos, benefited from the extra screen real estate but the truth is that every single thing we used the phone to do was better because of it.
3. It Feels Great
Prior Galaxy S phones have fallen prey to form-factors that were either too wide or too slippery for easy one-hand use. That is not the case here whatsoever. The Galaxy S8 packs a big screen and a powerful engine into a tall, narrow, glass enclosure. In fact, there was a comfort level with the S8's glass body that we haven't seen since smartphones were much smaller. Never did the S8 dig into the meat of our palms or almost slide out from our fingers and, even with its tall design, it still slipped easily into pants pockets. That pocketability diminishes somewhat in the larger S8+ and it's 6.2" screen but that's the nature of the beast and something we find to be true of every plus-sized phone out there.
4. It's Fast as Hell
Samsung took to the lab to create their own chip for the S8 and damn does it hum. The engineering at play under the hood of the S8 creates an end-user experience that is the best we've seen from Android. Everything is lightning fast and completely fluid as you switch between apps to accomplish everyday tasks. The camera is up and ready to shoot instantaneously. It even does the heavy lifting for things like displaying or stitching together VR video without breaking a sweat. We weren't able to test out the Samsung Dex extensively but what we did see was an impressive display of versatility and capability in our first experience using a mobile phone to power a desktop experience. 
5. The Battery Isn't Weak
Samsung actually scaled back the battery here–they have their reasons–but using the home-grown chipset in the S8 made it so we didn't notice any shortcomings on this front. A normal day's use left us with right around 20 percent charge by the time we'd get home and we expect that to improve the more the battery is broken in.
6. Bixby is the New Siri
We'd like to lump Bixby, Samsung's AI helper, in with the likes of Siri and Cortana but that would only be half right. Bixby itself was still limited in our testing, it is set to go online – like motherfucking Skynet – when the S8 fully launches. Even pre-launch we did find the Bixby page was a valuable collection of important info we'd normally have to cull from four or five different apps. The Bixby camera integration gave us largely accurate and helpful results by just taking pictures of the things in the world around us. The dedicated Bixby button on the side of the S8, next to the volume controls, was less than useful for us pre-launch but, when voice control is fully functional, we could see it having its merits.
7. There's a Headphone Jack
Yep, you heard that right. So everything from your expensive pair of wired headphones to that shitty pair of emergency earbuds are all still in play. Hurray for common sense! 
8. It Has Handy Desktop Capabilities
The Galaxy S8 and S8+ are the first two Samsung devices that are offering Dex capabilities. Dex is Sammy's new mobile/desktop integration. Dock your S8 in a Dex cradle that's connected to a flatscreen, keyboard and mouse and the S8 seamlessly becomes a PC tower. The OS that turns up when the S8 is connected to Dex is reminiscent of what you'd find on a Chromebook. Apps scaled to fit the desktop 16×9 screen ratio with immediacy. Mobile warriors are going to love the functionality of the $149 Dex accessory.
9. It's VR-Capable
Bundled with the phone if you pre-ordered, the latest iteration of the GearVR headset also includes a new handheld controller for an even better virtual reality experience out of the gate. The new headset doesn't change all that much but it continues Samsung's partnership with Oculus and will likely keep Galaxy phone owners as one of the biggest user-bases of VR content and the Galaxy S8 offers up the best GearVR experience we've had yet thanks to the phone's 64GB of internal memory and sheer power.
10. There's Layers of Security
You might not know about Samsung's Iris Scan technology since it debuted in last year's Note 7 and was overshadowed by the battery issues that got the Note 7 pulled from shelves. It was there nonetheless and did an excellent job of securing your phone with just a quick glance even in low-light situations. Fingerprint scanning is also available for those more security-minded and a new facial recognition is integrated for those only looking for superficial protection. For the life of us, we couldn't figure out why you'd want the less-secure facial recognition when the Iris Scan option was so fast and easy.