8 Great Gifts For Cigar Lovers
Check out these premium Gurkha cigars and accessories that are perfect gifts for the discerning stogie smoker.
Getty Images
Presented by Gurkha 
The Gurkhas, fierce Nepalese soldiers who fought for the British in colonial India, were renowned for their loyalty, bravery and military prowess. The iconic name has adorned many things over the years, but none as true to the spirit of these legendary fighters as Gurkha Cigars. 
Known as the "Rolls-Royce of Cigars," the luxurious brand is famous for producing exquisite, limited release cigars and humidors that come in distinctively beautiful packaging. Gurkha sells some of the most expensive smokes in the world, as well as fine accessories that have earned the brand a well-deserved reputation for excellence. 
The South Florida-based Gurkha's cigars are enjoyed by many of the world's most elite smokers, spanning royalty, military leaders, heads of state and celebrities, including Sylvester Stallone, Harrison Ford, Matthew McConaughey, Brad Pitt and the late Anthony Bourdain.
For the discerning stogie smoker, this guide to Gurkha cigars and accessories is indispensable. Visit Gurkhacigars.com to find local retailers near you that sell these premium products, all of which make great gifts this holiday season:
Gurkha Heritage Special Edition Sampler
This affordable sampler contains 10 Gurkha Heritage Naturals – medium to full-bodied with a rich flavor – and 10 Heritage Maduros with notes of espresso, earth, and bitter dark chocolate. $250 per box
Gurkha "His Majesty's Reserve" Cigars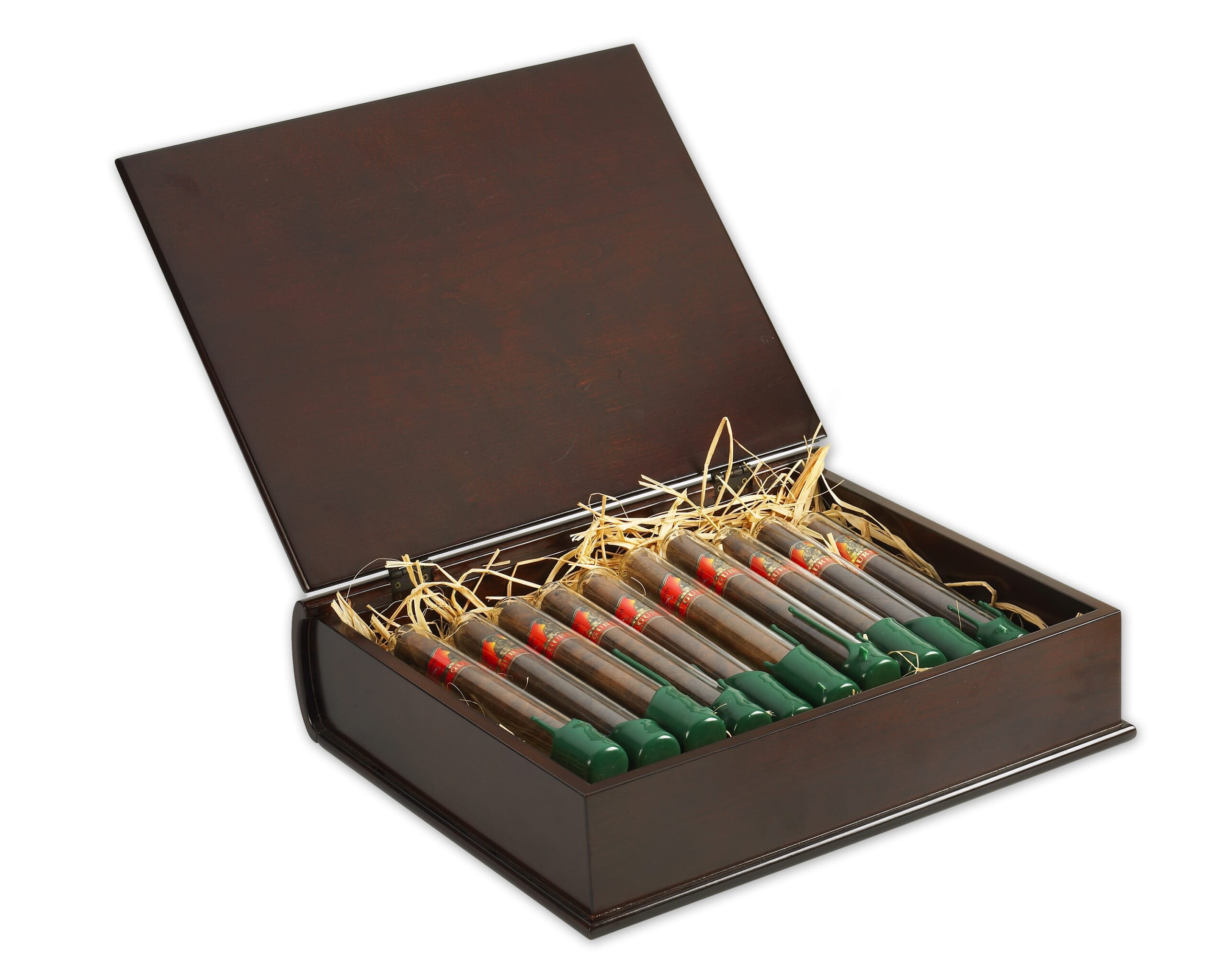 For extreme ballers only, this ultra-luxury box would be any cigar lover's gift of a lifetime. Each of these elite stogies is infused with a shot of the world's finest cognac, Remy Martin's Louis XIII. Only 75 boxes are made per year, adding to its outrageous exclusivity. $3,500 per cigar / $70,000 per box
Gurkha Art Deco Humidor
Gurkha's beautifully-designed Art Deco humidors are perfect for protecting your favorite cigars. This handsome box features a reliable seal, a built-in humidifier and hygrometer, and storage for 50 cigars. $250
Gurkha Royal Humidor
From Gurkha's Royal Humidor Limited Edition Collection, this design, beautifully crafted in cedar, is available in several stunning colors and can hold a total of up to 300 premium cigars. It's not just a humidor, it's a bonafide work of art. $15,000 
Gurkha CEO Cigar Scissors 
This scissor shape is the most attractive design for a cigar cutter, suitable for displaying on your executive desk when not in use. The striking Damascus steel pattern imbues these cutters with added appeal. $200
Gurkha Templar Cigar Cutter 
In a rose gold finish, this more traditional steel snipper is perfect for carrying carrying in your pocket, so you can enjoy a fine smoke whenever the mood strikes. $25
Gurkha Special Edition Ashtray
This Special Edition turban-shaped ashtray with gold accents has a hint of the exotic and exudes class and style. Designed to hold up to four cigars should you be hosting like-minded friends. $125
Lotus Orion Double Lighter 
The most advanced cigar lighter on the market, period. This is a durable and stylish variation on the traditional dual flame torch lighter. The flames are angled inward for pin-point accuracy. $79.99
Visit Gurkhacigars.com to find local retailers near you that sell these fine products.