These 10 BBQ Gadgets Will Make You King of the Grill
Awesome grilling gear for your July 4th barbecue and beyond.
Whether you're an outdoor chef year-round or just king of the summer grill, nothing slows down a barbecue faster than running out of gas. Quirky's Refuel App-Enabled Propane Tank Gauge ($30) helps you avoid that most heinous of party fouls. It's essentially a glorified wireless scale that lets you check how full the tank is on your phone or tablet. 
The coolest way in the galaxy to fire up the grill would be using a lightsaber. In the absence of that Jedi implement, your closest bet is the Swedish-conceived Looftlighter ($64 on Amazon). It quickly throws hot air—no flames, so it's safe. And it lets you avoid using chemicals that taint the taste of your vittles.
Take your barbecue wherever you drive without taking up extra space. This spare tire-mounted BBQ grate ($164) is made from laser-cut stainless steel. Solid steel legs prop it safely over your campfire so you can cook—but not scorch—your comestibles.
Handpicked from the purest seams located in the 600-million-year-old salt deposits deep under the rugged Punjabi landscape, this gourmet-quality, mineral-rich salt slab is able to withstand extreme temps ranging from -320°F to 900°F. Toss Bitterman's Himalayan Salt Block ($40) on the grill and it will enhance the flavor of your seafood, shish-kabobs or whatever  you put on it.
Coyote's ceramic Asado Smoker will add succulent smoky flavor to your favorite BBQ-ables. It features a 254-square inch cooking area with adjustable laser-cut grate vents. Fun accessories include a pizza elevator, beer can chicken holder, and optional cart with side shelves.
Fewer tools rules, with the Grill Wrangler Tool ($24). Its built-in spatula, fork and tongs will let you flip, poke and grab whatever size and shape of food graces your grill. Multiple functions for the grill master.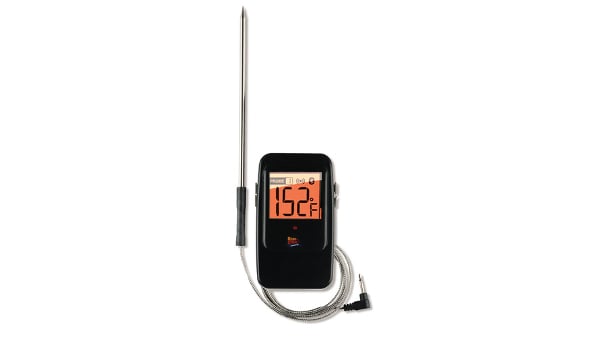 Not to take away from the manly art of standing over the grill inhaling smoke and burning your eyebrows, but Maverick's Bluetooth Barbecue Thermometer ($90) lets you step away from all that fiery fun and view your food's progress from afar on your Android or Apple phone or tablet. It comes with two water-resistant probes and the ability to connect and monitor up to four at once, taking all the guesswork out of knowing when your grills and/or meats are at just the right temperature. 
For the manly chef in touch with his inner geek, Lynx's SmartGrill series ($6,000 to $9,500) is simply the perfect grill. It mixes both brains and braun. The former includes Wi-Fi connectivity, built-in surface temperature sensors and the ability to control it directly with your voice or through a handy app. The latter is embodied by 16,000 BTU, an internally powered three-speed rotisserie and three variable temperature infrared burners. This fully functional force of outdoor cookery is available in 30-, 36- and 42-inch models, either with or without the optional matching cart.
The Angara Maximus ($15,000) is a gorgeous 8 1/4-foot outdoor table with three propane-powered grills built right in. When not barbecuing Korean style, it's great for setting the mood, both with the grills themselves providing warmth on those chilly nights and programmable colored LED mood lights. It's an elegant setting for any party of eight looking to dine al fresco.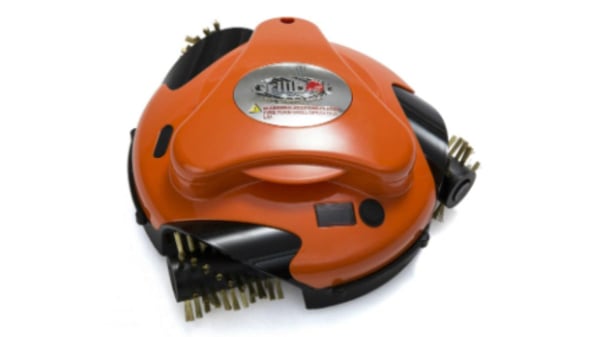 At the end of the day, there's just one chore left to do—but not for you. Let the rechargeable Grillbot ($100) automatically amble around the grill, brushing away all the grease, grime and whatever else's caked on your grates. It's entertaining to watch, but then again you've probably got way more exciting stuff to do then watch a robot clean your grill, right? Thought so.